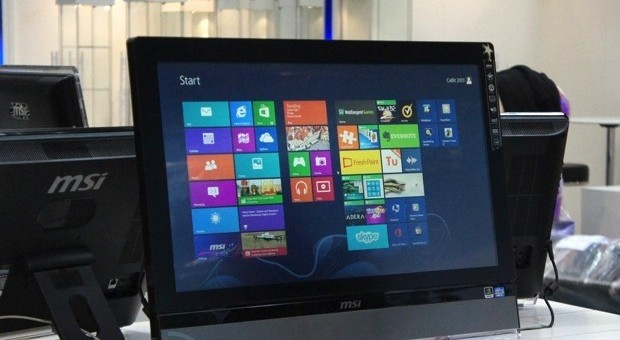 MSI just came out with an All-in-One PC, focused on gamers.  Traditionally, all-in-one PCs don't have the modular, expandable design of a tower, and also aren't mobile like a laptop.  MSI is trying to change that in the hopes that some gamers out there would prefer a slimmer, space-saving machine, even if it meant sacrificing the processing power you'd get from a robust tower.
The AG2712, which was announced a few days ago, is a 27-inch desktop that generally looks and runs like any other all-in-one. On the outside, it has a see-through stand  around the back and a wide speaker grille sitting just below the bezel. On the inside, it runs a mobile Core i7 processor — Ivy Bridge for now, though the company says that it could have a Haswell processor when it refreshes the box. Graphic-wise, it has a NVIDIA's 670MX, a laptop-grade GPU announced back in October.
The AG2712 also has a 27-inch, 1080p touchscreen, which will be offered with a wide-angle matte finish, as pictured above. Otherwise, the remaining specs are pretty standard: HDMI in / out, VGA, Ethernet, a multi-format memory card reader, a tray-loading optical drive, headphone / mic sockets, and six USB ports, two of them USB 3.0.
MSI is also showing off a 22-inch model, the AG2212, which will have optional discrete graphics and starts with a Core i3, not i5, CPU.  Either way, pricing and release date haven't yet been finalized.