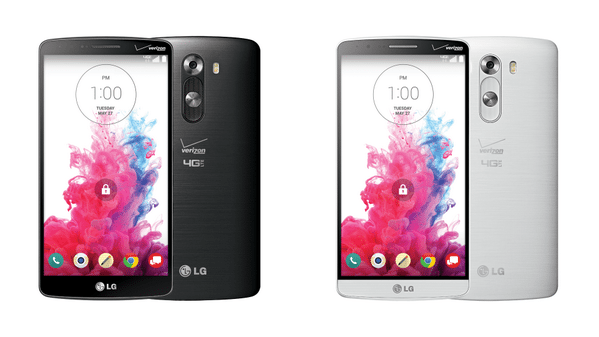 LG's latest Flagship, the G3, is perhaps the best phone the company has put out to date. With some stunning design features, and screamingly fast speed to boot, you'd be hard pressed to find a better performing phone on the market.  And it doesn't hurt that it runs on Verizon's lightening fast LTE service.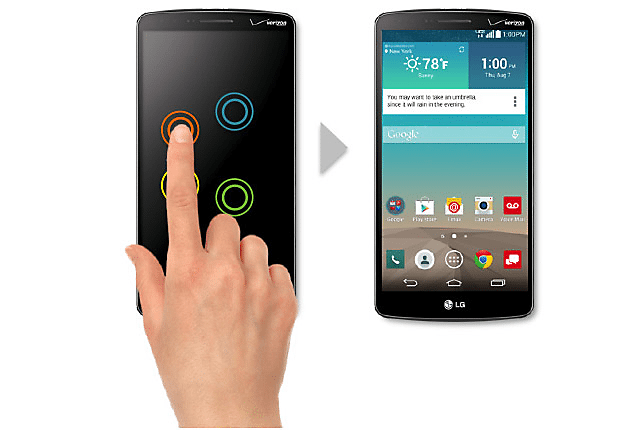 Build
With its sweet 5.5-inch display and its ultra thin bezels, it looks a ton better than its successor with its rounded edges, brushed-metal design on the back and curved back. The phone is large at 5.5-inches, but it fits a lot more comfortably in the hand than other phones its size, thanks to the curved back. Most notably, the volume and power buttons are on the back of the phone, and while this takes a little getting used to, it is a unique and sometimes handy feature set.
The phone comes in five different colors: Burgendy Red, Moon Violet, Silk White, Shine Gold and Metallic Black.

Feature Set
The skin on the G3 is not over-bearing, but more importantly, this thing is packed with useful features.  The clip tray, for example, allows you save multiple texts or images that you copy so that when you go to paste it. You can then open up the clip tray and pick up to 20 saved entries. Double tapping the display brings you to the lock screen if you don't want to use the power button, and the Knock Code allows you to set up certain points to "knock" to unlock the phone after you double tap it to get to the lock screen.
There's also Smart Notice, a feature that imitates Google Now, but it's more tailored to what you do on your phone. It analyzes the time, location and phone status and learns your habits to give you relevant tips and reminders. When you swipe to the right from the home screen, you reach a page that is occupied by LG Health and Smart Tips. LG Health measures how many calories you burn by counting the number of steps you take when you walk with your phone. It's not limited to walking, as you can change it to track running and bicycling, for example.
The bottom part of this screen is shared with Smart Tips. Tapping it gets you to a list of features the G3 can perform, such as Voice Shutter, where you can say key words to snap a photo with the camera.
Battery, Display, Camera and Engine
Battery lasts over 10 hours with heavy use…which is outstanding. The 3000mAh cell will last you an above-average day without having to plug it in for a recharge. The G3's display is a Quad HD LCD, which includes 2,560 x 1,440 resolution, and simply put, it's gorgeous.
The G3's Quad HD screen does not sacrifice performance, thanks to the 2.5GHz Snapdragon 801 processor and 3GB of RAM. Additionally, the phone has a 13MP Optical Image Stabilizer Plus camera with a clean user interface — following LG's motto that "Simple is the New Smart." The camera uses Laser Auto Focus technology that shoots out an infrared sensor that helps it find the focus point quicker, which in turn helps take faster photos.
The photos are very impressive and the phone picks up a lot of detail, especially in low-light. You can also shoot up to 4K video. The 2.1MP front-facing camera puts out great images as well, and LG has a neat feature where, if you're taking a selfie, you can bring your hand into the shot and make a fist, which will snap a picture. Pretty cool.

Concluding…
The G3 is just what we expected: Fast, well-built, and gorgeous. It has a great camera, a stunning display and the ultra thin bezels make it look very nice. The G3 is definitely the best Android out there right now. There's still a lot to appreciate in design and software.  You can buy it through Verizon for $199.99 on a 2 year contract.

This review unit was provided by Verizon for review, and no compensation has been given for the above opinions or content