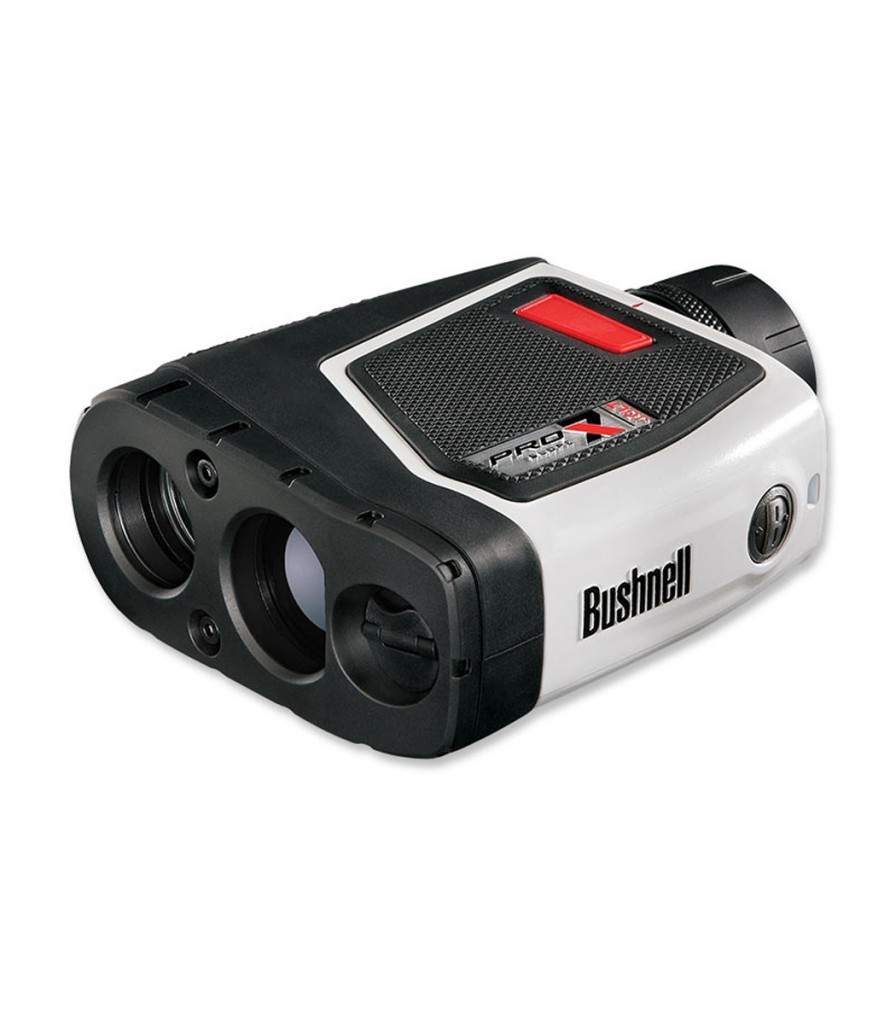 Bushnell is synonymous with top-line golf rangefinders.  Ask any PGA Tour pro.  The company's latest flagship model, the Pro X7, builds on previous versions, offering a brighter display, faster processor, better notification, and of course, how can we forget the patented technology, JOLT, which sends vibrating bursts through the device when it locks on a flagstick.  Pretty nifty, huh?

Function and Performance
The Pro X7 sells for $499 ($599 if you purchase the slope version, not legal for tournament play), but it's the most powerful laser rangefinder in the Bushnell line.  Slightly larger than other lesser Bushnell models, its weight and grip keep it secure in your hand and resting on your golf cart.  Additionally, the magnification on the Pro X7 is superb, with 7X optics. It also has killer range capability, from 5 to 550 yards for a flagstick.  The PinSeeker with JOLT Technology is new for Bushnell's flagship model, and along with the company's E.S.P. 2 (Extreme Speed Precision) technology, both allow for speedy fast readings that are accurate up to 0.5 yards.
Other Features
Other features include Vivid Display Technology (VDT) for all lighting conditions; it uses a 3-volt battery, and its all housed in a waterproof chassis.  The Pro X7 Slope has all of the features of the Pro X7 plus a slope function that provides compensated distances for elevation changes.

Conclusion
If you're shoping for a new premium rangefinder, look no further than the Bushnell Pro X7. It offer all of the features that will provide you the most accurate data for your game. Additionally, if you've never played with a rangefinder before, particularly with the Pro X7, after you've tried it, you'll wonder how you ever played without it. The speed, accuracy and brightness of the X&'s displays paired with the instant feedback of JOLT, makes the Pro X7 rangefinder a best-in-class product.
You can purchase the Bushnell Pro X7 with JOLT here.