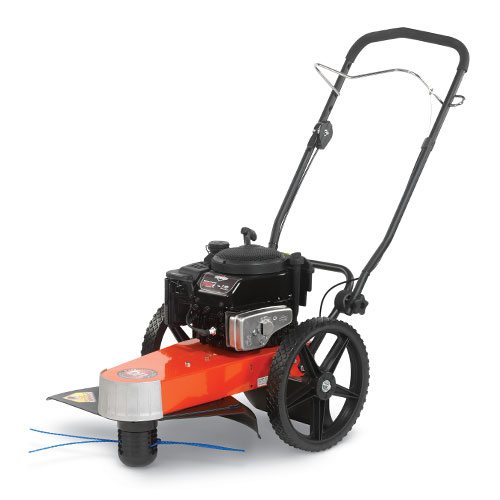 Designed for both heavy duty domestic as well as commercial use, the all new DR Trimmer 7.25 Pro offers impressive results with remarkable control. Backed by the world class craftsmanship and 25 years of cutting edge innovation of America's bestselling trimmer brand, the DR Trimmer 7.25 Pro is a sturdy and reliable machine that has been developed after hours of intricate detailing and testing.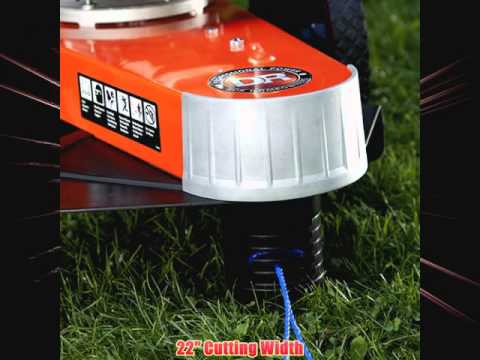 DR Trimmer 7.25 Pro Features and Build Quality
The DR Trimmer 7.25 Pro is powered by a high quality Briggs & Stratton engine that offers a choice between an easy pull manual and push button start for stress free handling, and it delivers 7.25 foot pounds of torque for superlative performance. The name is enough when it comes to Briggs and Stratton engines, which are built for smooth and strain free operation.
The major highlight of this incredible engine is its ability to protect itself from internal damages via a debris management system. A set of large 16 inch wheels makes it super easy to maneuver the mower across all kinds of terrain. With its ergonomically designed handlebars with padded grips, five adjustable levels of mowing heights and super thick and durable 175 mil cutting cords, the Pro ensures a terrific mowing experience with negligible stress to the user.
The trouble free cord attachment system allows you to select a mowing height of your choice (1.5 inches to 3.5 inches). Subsequently, you simply tether the cord to the frame without using any additional tool. It was a breeze to thread during our test. While the lowest mowing height is great for trimming the grass in your lawn, the high setting can be used for the purpose of "off-lawn" mowing wherein you need to take care of thick weeds and tall grass.
With careful attention to its frame design, the Pro facilitates effortless mowing of 22 inch swathes even against the hard-to-reach places including foundation edges, fence lines and sharp corners with absolute accuracy. The front end of the mower features a cast aluminum plate for added protection against the hazards of possible collisions.
What's new with the 7.25 Model?
You can choose to equip your DR Pro with optional DuraBlades or BeaverBlades, depending upon the level of performance that you require. The DuraBlades are super sharp metallic attachments embedded within high density polymer, and can be swapped in place of the pre fitted cutting cords for notching up the cutting strength of the trimmer to such as extent that it can easily slice through a wooden plank of thickness of up to 3/8th of an inch!
However, if you need to further enhance the cutting power of your Pro, you can turn it into a 'chainsaw on wheels' by fitting it with the Beaver Blades. The razor sharp, sturdily built Beaver Blades allow you to effortlessly cut down weed trees of up to 3 inches in diameter without having to pull out an actual chainsaw from your toolbox.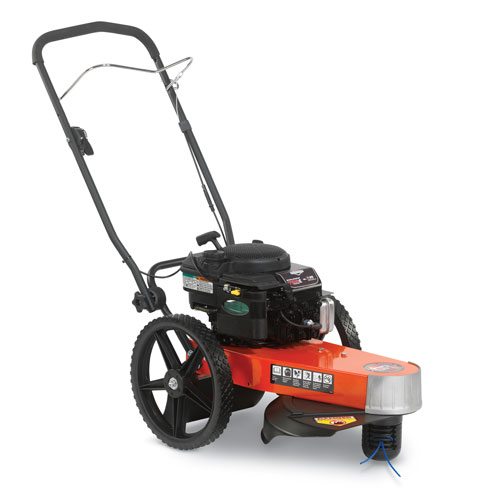 Unlike most other trimmers that stand the risk of having their engines stalled with tangled twigs and vegetation debris, the cutting edge design of the DR Pro enables it to operate smoothly even amidst the tallest of grasses and weeds, without having anything stuck around the trimmer head. If you often indulge in heavy duty mowing across dense thickets of tall grass and thick weeds, you might have encountered several instances wherein you needed to replace the mowing cord in the middle of your work. The good news is that the quick lock trimmer head of the DR Pro allows you to replace your trimmer cords within seconds! All you need to do is insert the cord within the head and it is automatically anchored in place through the gripping mechanism of the trimmer.
 
Should you buy it?
At 62 lbs, the DR Pro is one of the most lightweight and easy to use full-use trimmers on the market. With its highly advanced tech features and design engineering, this beast offers the perfect amalgamation of incredible performance, robust build quality and an entire range of world class attachment features. Given the profound mowing experience that it offers, the DR Trimmer 7.25 Pro can be rightly touted as one of the leading performers in its price range and a boon for those who wish to keep their lawns well maintained all the year round.
The DR Trimmer 7.25 Pro starts at around $600, and electric-start version will cost you an extra $100. You can buy either version here.
Also, check out a comprehensive guide on how to choose the best log splitter. It is completely free and you can find it here.