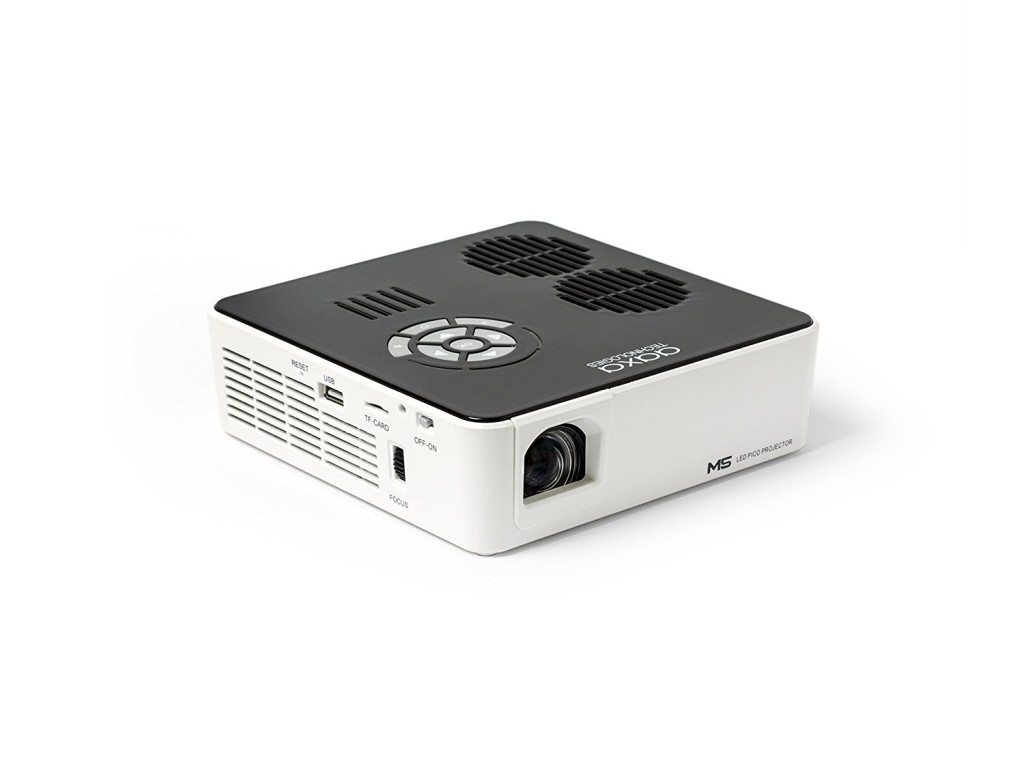 AAXA's latest M5 Mini Projector is compact, portable and lightweight and houses a powerful rechargeable battery. It is a quintessential accessory for corporates and professionals who need to give presentations on the go.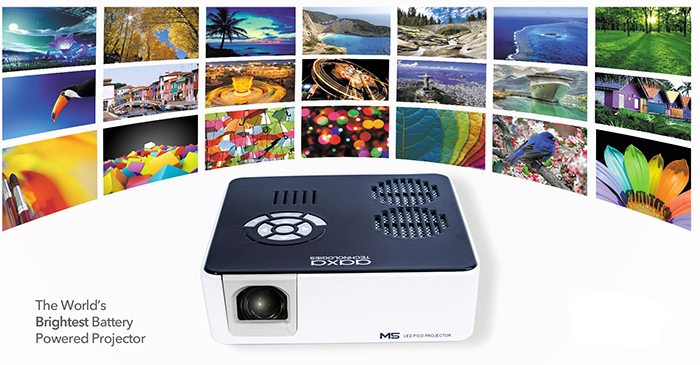 AAXA M5 Features and Build Quality
M5 Mini is a Digital Light Processing or DLP projector that incorporates the use of a powerful LED light source. The M5 is designed for optimum efficiency and ease of handling with its square shape and curved edges. It weighs only 2 pounds and comes with a mini tripod, which enables fuss free transit. With its dimensions of 1.8 x 6 x 6 (inches), the M5 Mini can easily fit into your palm. The projector frame is lined with a robust foam casing that offers maximum protection against shocks and structural damages.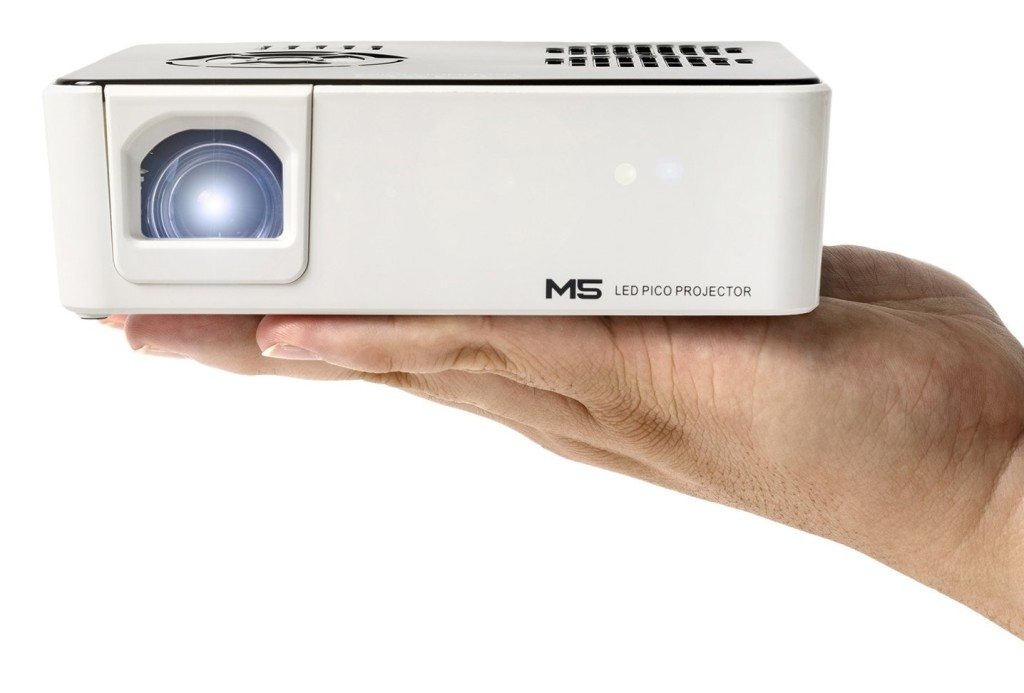 The AAXA M5 projector delivers 900 LED Lumens of brightness that comes along with 20,000 hours of  lifetime use, which implies that the LED lamp would never need a change for the entire lifespan of the projector. Its 4th generation optical engine is powered by Texas Instruments Digital-Light-Processing (DLP) technology that enables crystal clear imaging and super fast processing of data.  This makes it the brightest battery powered projector available in the market. The solid-state LEDs last 5-10x longer. They are more durable and they create a lot more vivid colors than conventional projector lamps.

Resolution
The M5 includes an impressive native resolution at WXGA, also known as 'High Definition'. The M5's native resolution is 1280 x 800 pixels. It has the capability of scaling resolutions up to 1080p, which ensures blur-free and crisp display of your data presentation slides. The AAXA M5 is powered by a 28 watt-lithium ion battery that allows the projector to operate as long as 70 minutes on a charge, and delivers three times the brightness as compared to other battery operated projectors.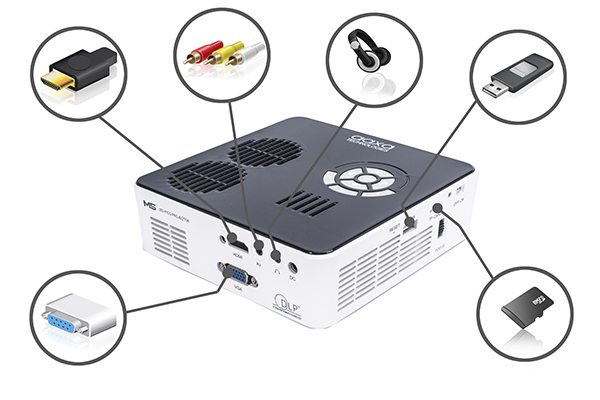 Navigation and Connectivity
M5 Mini has an array of connectivity options such as HDMI, Composite A/V and VGA. It has a powerful Media Player which reads data from USB and SD card directly. This feature makes it super portable for professionals as they don't need to carry their laptops. It also has a dual 1-watt speaker and 3.5 mm audio out jack. The M5 Mini also features a MicroSD card slot and a port for USB tethering to other devices. Additionally, there is a small metallic focus wheel that allows you to perform somewhat accurate focusing of data being displayed.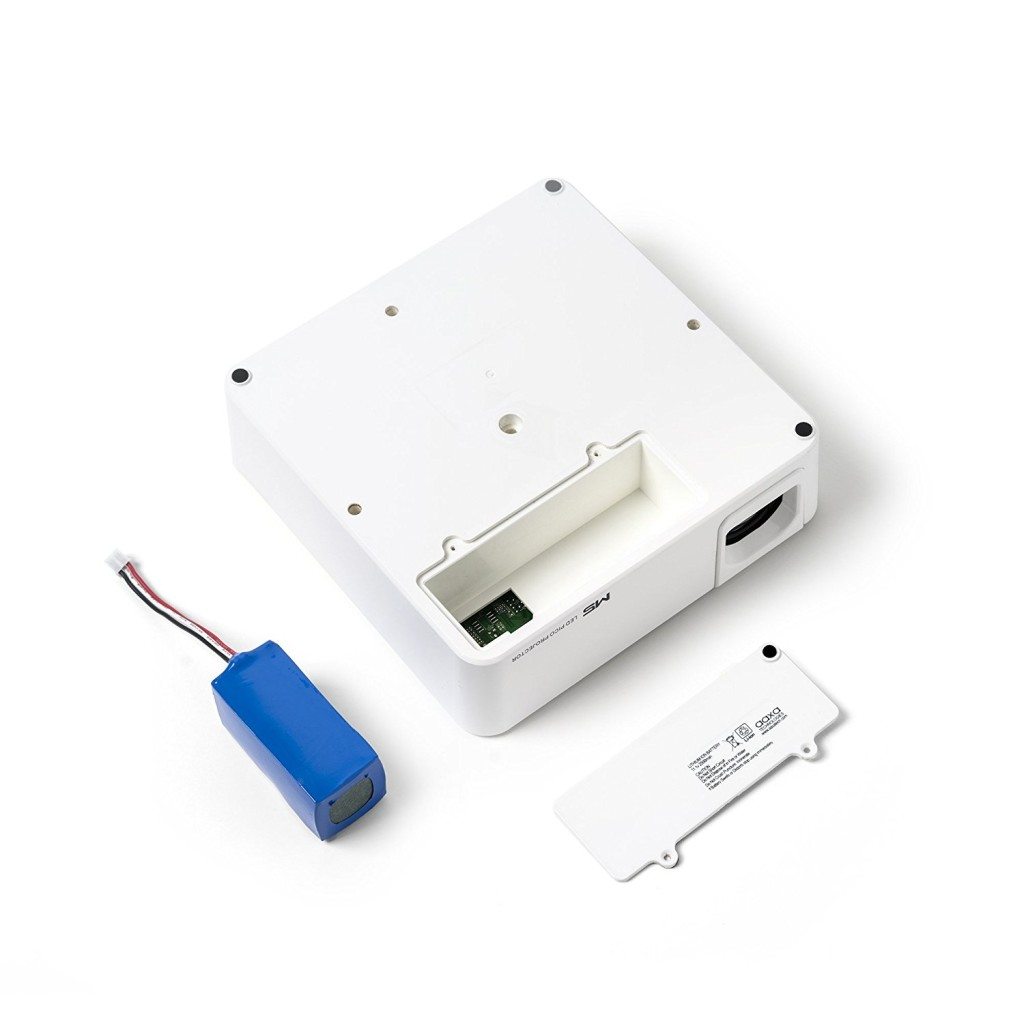 The navigation system on your M5 Mini is pretty seamless and fairly simple to operate. Once the M5 is turned on, the Home Screen pops up, displaying a list of six functionality tools including Input Source, Settings, Text, Photos, Music and Videos for you to choose from. You can select the functionality of your choice by making use of the tiny remote (that comes with the projector), or simply clicking on the arrow control button located on the projector frame. Once the OK button is pressed, you will be prompted to make a selection of your choice of data sources from between the thumb drive (USB) or Memory Card (MicroSD). After choosing the data source of your choice, you can run the stored content from it onto the projector. The Input Source functionality allows you to choose either RCA, HDMI or VGA.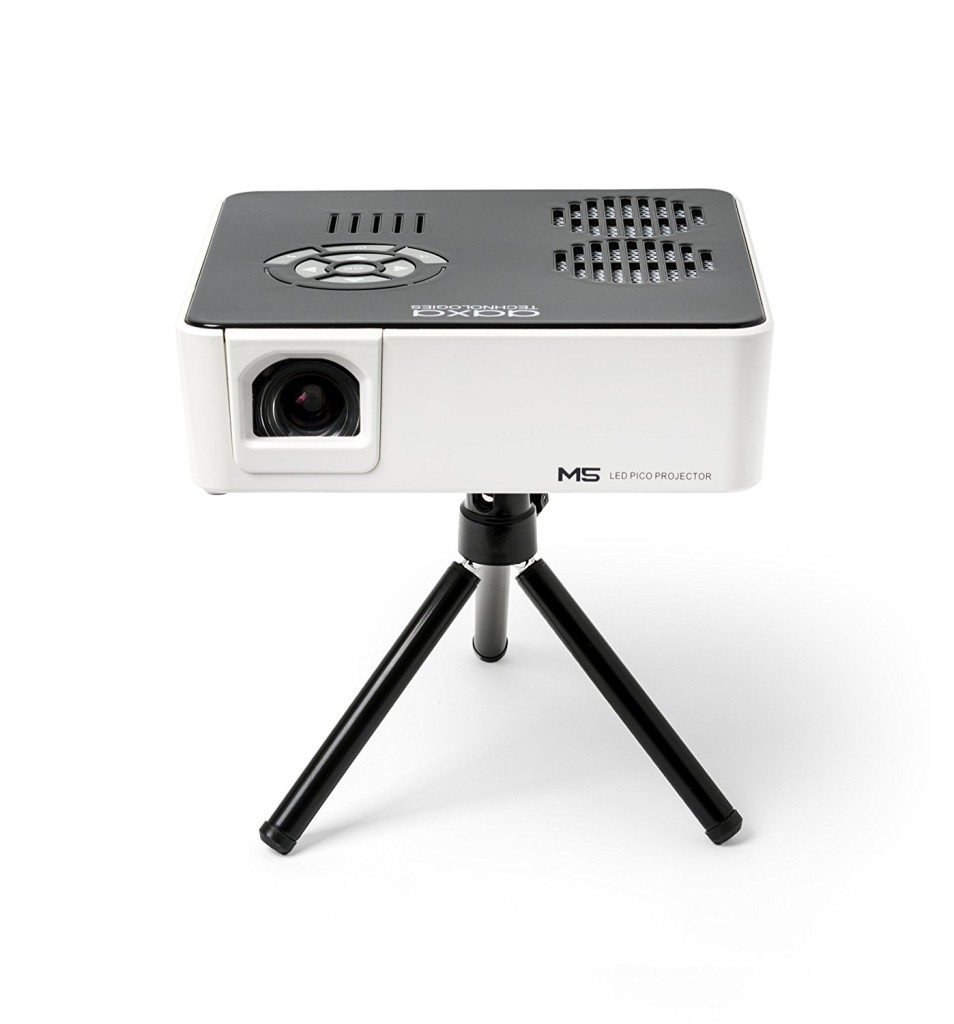 Real World Testing
After testing the M5 Mini for its projecting quality by placing it 6 feet from the screen, the results were fairly impressive. Suitable for presentations within small groups, the M5 Mini offers stable data image quality. The text quality was splendid and clear on both white and black backgrounds. Text can be read at size as small as 8 or 9 points, and the projection of colors was bright and realistic.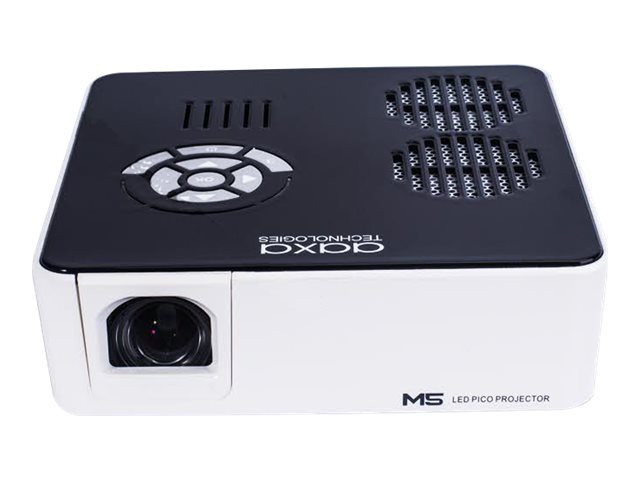 Should you buy it?
With a wide selection of powerful functionalities, well-designed features, and noteworthy image quality, the AAXA M5 Mini is a smart choice for people looking for a portable and lightweight alternative to their hefty and chunky office projectors. Priced at a reasonable $499, the M5 is ideal for data presentations and keeps you connected with your profession even when you are traveling.
You can purchase the AAXA M5 here through the company, or at other retailers such as Amazon, B & H Photo, Best Buy, Staples and Frys to name a few.