Direct-to-consumer Fezzari, known especially for their trail and road bikes, has just introduced a new line of affordable city bikes with….get this….belt-drive transmissions!  The line is called "Simbi", and the bikes use an internally geared hub to boost their versatility. They're available in men's and women's frames, and while they don't have a lot of bells and whistles, there's a reason for that. Fezzari wanted to dramatically lower the price of the bike while still offering an elegant and high-quality 2-wheeler.

Fezzari Simbi Design & Mechanics
The $399 Fezzari Simbi commuter bike is a fun ride, with a 3-speed belt, which uses an air-formed aluminum frame with horizontal dropouts and a split stay design to slide in a belt. The frame also has a full set of mounts front and rear for both racks and fenders.  The Fezzari Simbi is a high-tech looking bike with virtually no maintenance needed, and the CNC machined alloy chain ring promises a snug fit with the belt drive system, as well as a clean and quiet operation.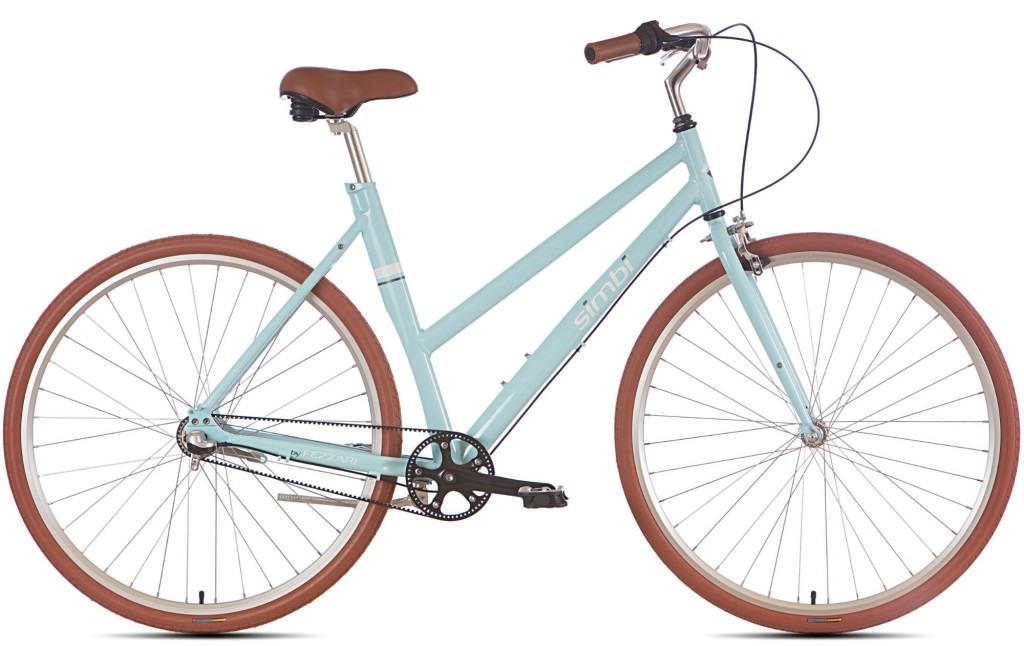 A Shimano Nexus 3-speed hub provides three internal gears that produce very smooth shifting, and the cockpit has  a 'M' shaped swept-back riser bar, a coil sprung comfort saddle wrapped in synthetic leather, and stitched grips made from the same seat material. Brake-wise, the Fezzari Simbi has both a front hand brake and a rear coaster brake.

Frame Styles
The Simbi comes in two frame styles, Hi-Rise and Low-rise, with two sizes per style and four frame colors: seafoam blue, white-rose pearl, bayside blue and onyx black.
You can also customize the Simbi bike by adding optional accessories such as an LED light set, alloy basket with wood bottom, full coverage fenders, and an alloy rear rack.

Bottom Line
The Fezzari Simbi is a really simple, but super fun bike. For what you get – a great and modern frame design, high-quality components, advanced mechanics and design-worthy appointments – the price is dirt cheap. It also magically combines modern and retro styling, which will appeal to even the non-biker, and encourage them to get out there and enjoy cycling.
Simbi bikes ship direct from Fezzari's Utah headquarters, usually within 24-48 hours of ordering. The company also offers a 30-day money back guarantee and a limited lifetime warranty. As mentioned, the Fezzari Simbi runs $399, and you can purchase it here.