Meet the new era in air conditioning, the Evapolar ($179.99 through Indiegogo), a compact cube with a small fan that runs air over a specialized material, essentially creating conditioned air. The system is uniquely simple. An accordion basalt fibers sucks in water through capillary action, and then subsequently, a small, low-voltage fan blows air through the fibers creating an intense evaporation of cool air. There is no freon, pump or window mounting…simply a little water and a tiny fan the size of a PC fan.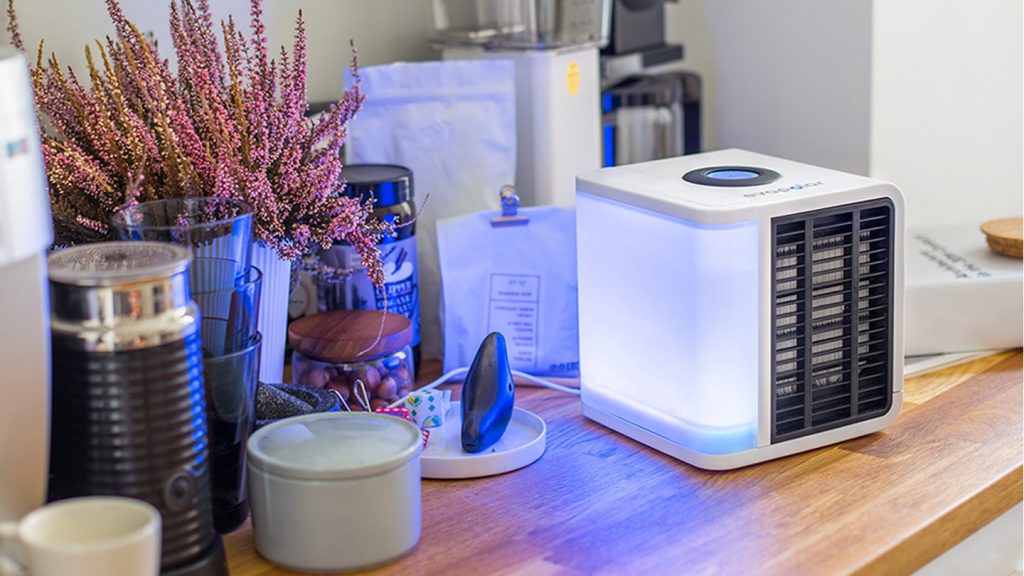 Evapolar Concept
While the Evapolar can cool a small area, it doesn't act as a full air conditioner. It's more of a "personal cooling device" or a mini climate control system that may make your office or a room in your home a lot more comfortable. It has simple controls and colorful LED lighting, and it also doubles as a humidifier. Its small size makes it ideal for creating a micro-climate in a small area.
The essence o the Evapolar is to reduce energy. Because it has almost no moving parts and, thanks to the basalt material, it won't rot or spread germs and debris while it works

Evapolar Design
The Evapolar is available in crystal white, royal blue and magic black, measures a tiny 6.7″ x 6.7″ x 6.9″ and weighs in at just under 3 lbs. It's literally no larger than a small desk fan. There's a grille on the back for air intake, and another on the front for output. The back also has an included micro USB power port, which incidentally only requires 10W. What does that mean? You can power this sucker with a powerbank or even your laptop.
On the top of the Evapolar is a circular control wheel with an LCD display that serves as the control panel. It shows you air temperature, room temperature and fan speed. You can also use the wheel to navigate through options like changing it to humidifier mode, or change fan speed, display brightness, or display temperature in Fahrenheit or Celsius. The Interface makes it very simple to use because you're only dealing with essentially one button and a useful interface.
On the bottom includes a rubber grip to keep it in place, and on the left side houses a 750mL water tank and colorful LED lighting. With the control wheel, you can choose between different shades of white, red, green and blue for various mood lighting. There's a plastic flap on top of the water tank, which serves as the lid for the water tank.
There is a second generation Evapolar coming out, which will provide a seal-proof water cap, a larger water tank, and it will be compatible with Samsung Smart Things, Google Home, Apple HomeKit and Alexa. That model is currently in crowdfunding stages, and is supposed to ship in July or around $200.

Evapolar Operation
When you look inside the Evapolar, you'll find an air filter and an evaporation, one for output and one for intake.  As already described, the fan sucks in air from the room and passes it through the evaporation pad, which is cooled by the tank's water.  While simple, it's quite effective, cooling a room by as much as 20-degrees, and feels like the most premium of air conditioning systems. Just don't expect it to cool more than one smaller room. The filters are replaceable, with a recommended replacement frequency of around a half-year.
The Evapolar is also ultra-quiet. During operation, it sounds like a faint noise machine, so you can barely hear it. The water tank lasts between around 5-hours depending on how high you have the humidifier setting, and since the Evapolar is both a cooler and a humidifier, it won't cool if the temperature is lower than 63 degrees Fahrenheit, and it won't humidify if the humidity is higher than 70 percent.

Bottom Line
The Evapolar is definitely a niche product, but one that could really benefit in an office or in a sleeping environment such as your bedroom. It covers around 45 square feet, uses next to no power, is fairly affordable and the unit itself is one of the smallest portable air coolers you can buy.
Having said that, we can't stress enough the fact that it's designed for personal use, not whole house consumption. Having said that, we will say the Evapolar is a very cool device, and does exactly what it says it will do…cool down an area for a fraction of the price. You can purchase the Evapolar for $179 here.
To comment on this article and other GadgetGram content, visit our Facebook page, or our Twitter and Instagram feeds.