The Tag Heuer Connected Modular 45 is the premium watch brand's latest stab at an Android Wear 2.0 product, which includes the Tag name and style. It's the the Swiss watchmaker's second Android Wear smartwatch after the "Connected", but with a twist. It has introduced in the Mod 45 a new modular design that lets you customize pretty much every element of the watch.
It's stuffed with more features as well, including NFC, GPS and an Intel processor. But it's not cheap. One thing that hasn't changed with this Tag watch is the price. You buy a Tag watch, you expect to pay a lot. Prices start at $1,650 and can go all the way up to $17,000 if you really want to bling it out.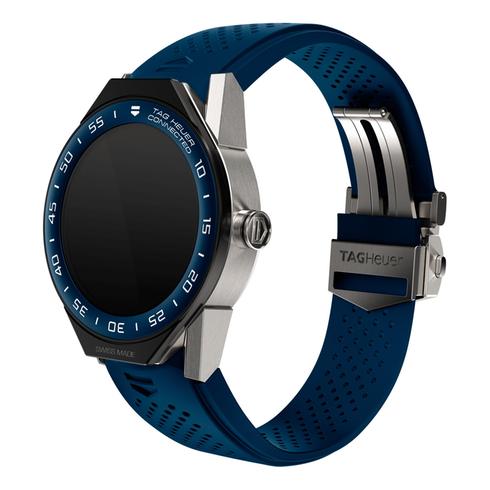 Tag Heuer Connected Modular 45 Design
The design on the Tag Heuer Connected Modular 45 is gorgeous. With all of the same luxury design hallmarks Tag is known for, including the ceramic bezel and familiar logo, you'd be hard pressed to immediately identify it as a smartwatch. Rather, it looks more like a stunning luxury Swiss watch from the company.
The 45mm body is large and it measures 13.75mm, so it's chunky but "manly". We figure the additional girth is due to the additional on board sensors Tag has placed in there. But when worn, it actually doesn't feel heavy. It seems like the weight and design are so evenly distributed, that it feels much smaller and comfortable on the wrist than it looks.  So while this is built for a man, all you women out there will be happy to know that Tag is coming out with a Connected Modular for women smartwatch towards the end of the year.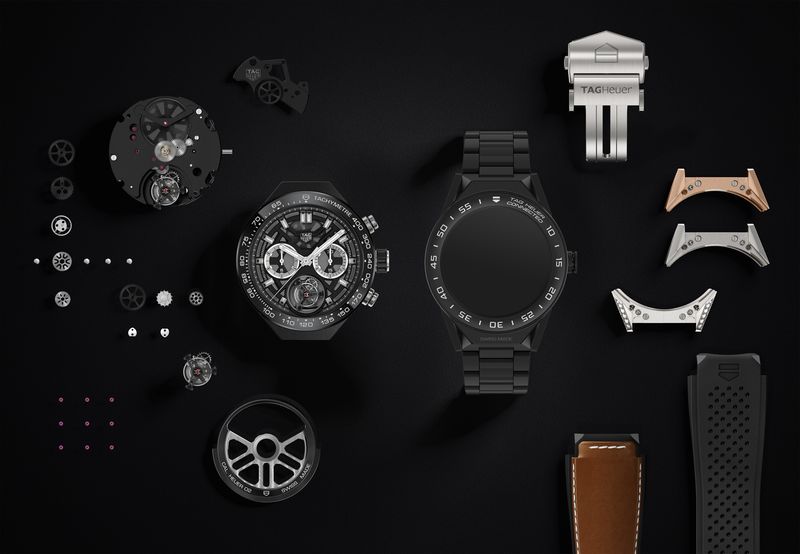 The Tag Heuer Connected Modular 45, as mentioned, is modular. In other words, you can change out the strap, you can swap out the lugs and buckle. You can even swap the digital screen for an analogue one. Of course, you won't have a smartwatch at that point. There are small concealed buttons within the design that unlock various parts, so they don't break up the slick watch appearance. In fact, the company says there are 56 different watches you can create, which is the essence of customization.
The Tag Heuer Connected Modular 45 is also completely waterproof. You can actually swim with this sucker up to 50 meters deep. If you're into more of a sporty look, Tag offers a sporty black rubber strap option to replace the titanium or calfskin straps.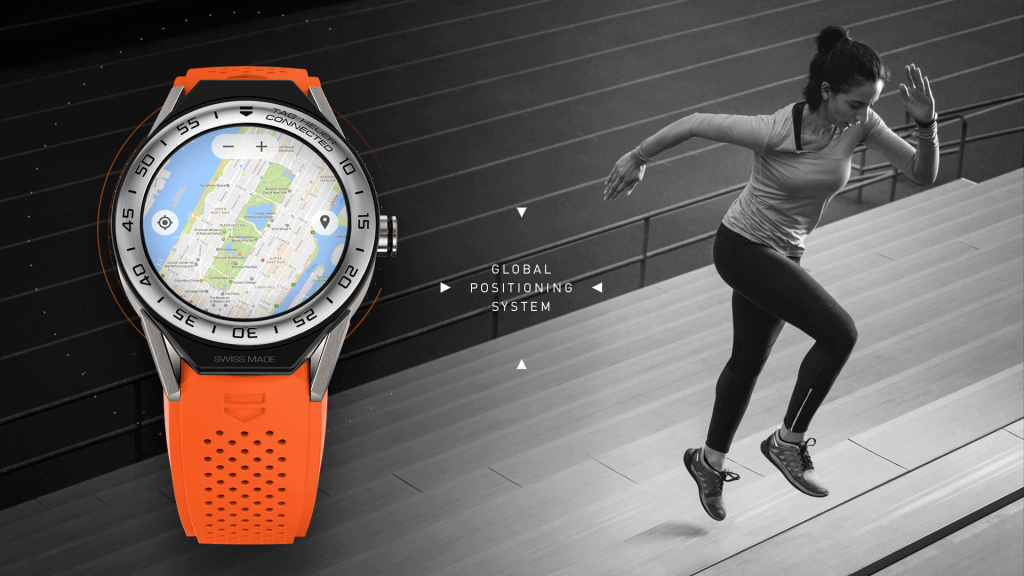 Display
While the Mod 45 predecessor's screen was nothing to write home about, Tag has vastly improved the display on this new model. Now you get a 1.39-inch, 400 x 400 resolution AMOLED display wrapped in scratch-resistant sapphire cover glass. So while the 45's screen is slightly smaller than the first edition, it's bumped up the resolution, which makes colors and details much more vibrant.
It's also very easy to see outside during sunny days, and you can increase the brightness by swiping down on the main screen. All in all, Tag has really hit a home run with the new Modular 45 display.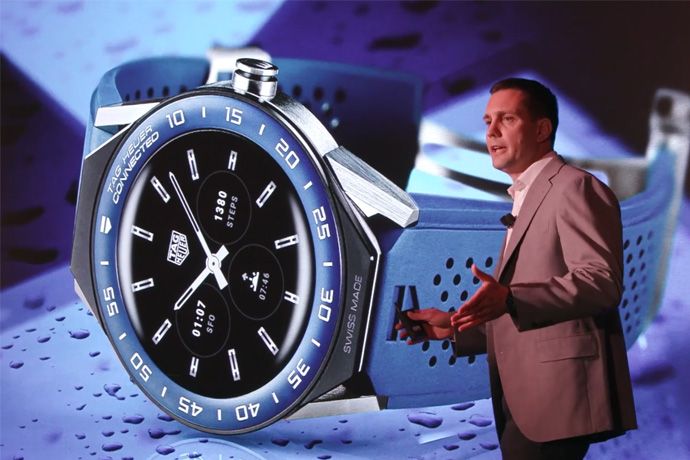 Hardware & Battery
The Tag Heuer Connected Modular 45 has an Intel Atom processor Z34XX, which is a processor they actually use in smartphones, so it's powerful and fast. It also has 512MB of RAM, 4GB of internal storage and finally, GPS!. This of course means you can track your walks or runs, although it doesn't include its own dedicated fitness application. Rather, you can use the pre-installed Google Fit or compatible third-party apps.
The GPS is spot on, and even the fitness tracking is pretty darn accurate….something we don't always see in the new Android Wear 2.0 offerings.
Battery-wise, the Tag Heuer Connected Modular 45 has the same battery as its predecessor, a 410mAh battery. But it still delivers all-day battery life with fairly heavy use, and almost 2 days with light use. Using the GPS, like any smartwatch, will drain that battery significantly. In fact, if you use the GPS for 3-hours, your battery will be drained. But that's normal on most higher-end smartwatches. 
To power it back up, Tag has included a cool charging disc that you can clip the watch onto. It takes a mere 2-hours to get a full charge, which is nice.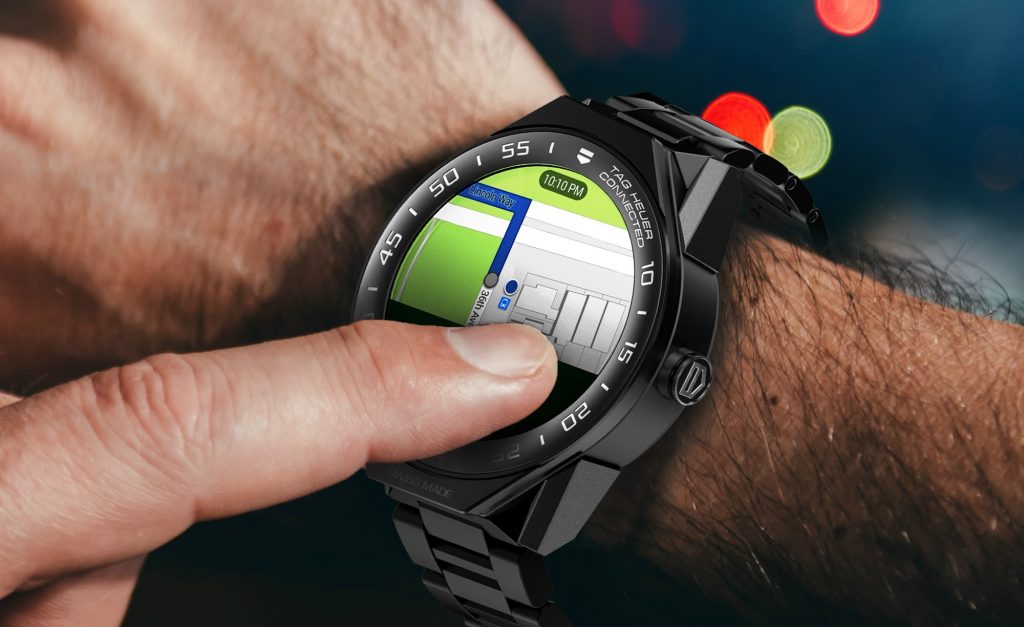 Software
The Tag Heuer Connected Modular 45 runs on the new Android Wear 2.0 update right out of the box. Wear 2.0 is better optimised for Android phones and iPhones, and believe us when we say, it runs awesome on both platforms.
With Wear 2.0, you get the new Google Assistant that you can use with the on board microphone. You also have the ability to download apps from the Google Play Store directly from the watch. There's also NFC, which means that you can use Android Pay for all of your retail commerce, and finally, it has improved messaging and standalone apps available.
With a Tag smartwatch, you know you're going to get some cool watch faces, and Tag has also added in the Tag Heuer Studio where you can access exclusive watch faces, which you can customize. There's a small selection to choose from right now, and more will be added in the future, but even the default screen that pops up when you turn the watch on for the first time is stellar.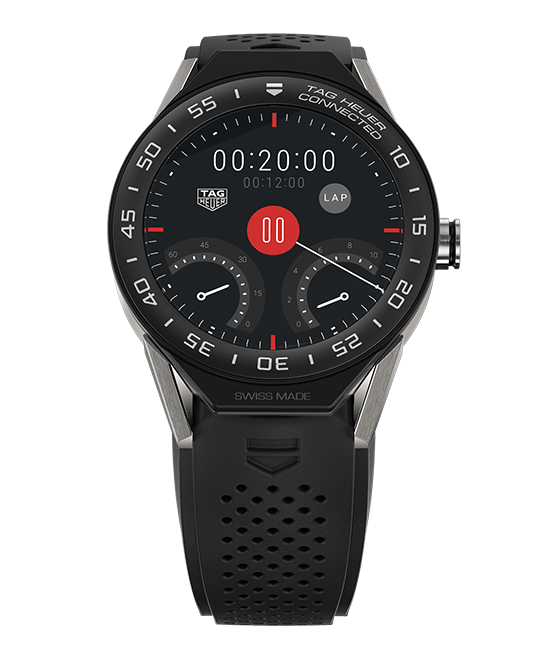 Bottom Line
The Tag Heuer Connected Modular 45 is a premium-styled watch, and a great addition to the Wear family. Sure it's very pricey, but if you're going to spend money on a luxury watch, why not be able to do a ton with it like smartwatches allow you to do. And it doesn't lose it's elegance just because it's a smartwatch. Rather, the Android features accentuate its function and beauty in a big way.
At this point, where else can you find a luxury smartwatch? There aren't hardly any out there, but TAG is now making that possible. Plus, the modular design is a huge bonus, and the waterproofing and GPS definitely gives it a leg up on its competition.
Bottom line, Tag's second attempt at the connected smartwatch is an overwhelming winner. For more information on the Tag Heuer Connected Modular 45 or to start building your own customized watch, visit Tag Heuer here.
To comment on this article and other GadgetGram content, visit our Facebook page, or our Twitter and Instagram feeds.