Chamberlain's latest Liftmaster 8500W Elite Wi-Fi Garage Door opener is in a category by itself. Unlike a lot of garage door openers, the 8500W mounts to the side of your garage door, freeing up space overhead. Better than that, it also features a built-in deadbolt that automatically locks your garage whenever it's closed…great for would-be thieves, but don't plan on prying it open if you lose your opener. This sucker is strong.
Once installed, which would probably need to be done by a professional, you can operate it via the opener or via your MyQ app using Wi-Fi, which incidentally, also works with other MyQ-compatible services including Google Assistant IFTT and Nest. The wiring itself is very simplified.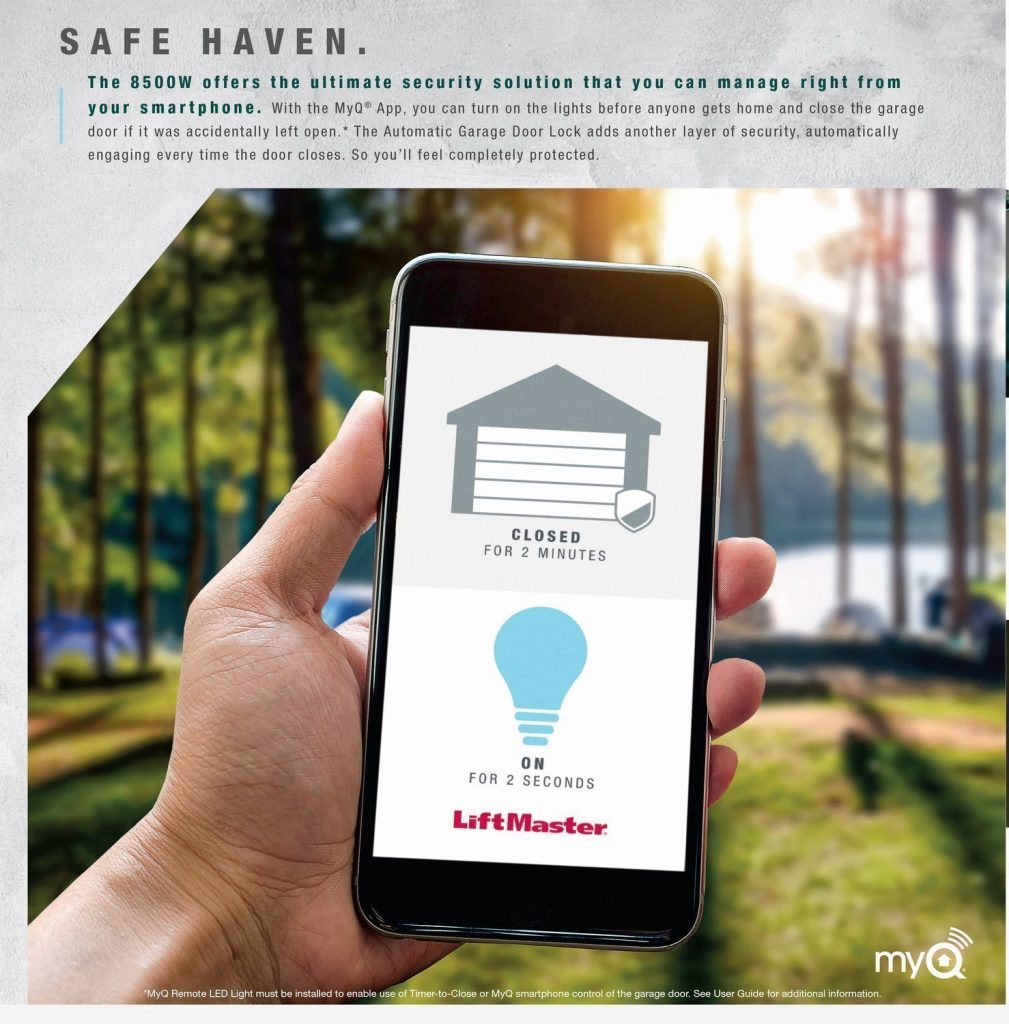 Features and Operation
The Liftmaster 8500W has plenty of features you probably didn't know you needed. For starters, it has a battery backup in case your power fails. You can also add MyQ's Remote LED lights to your setup and control those lights alongside the garage door in the MyQ app.
Security-wise, we already mentioned the deadbolt. It also has a built-in "Timer-to-close", which automatically closes the door after a preset amount of time, and the new Security+ 2.0® sends a new code with every remote control click. This is very similar to dynamic encryption, making sure others can't open it or steal your code. A motion detector will automatically turn on the light, and the Protector System® auto-reverses the door if there's an obstruction, thanks to the optical eyes installed at the bottom of the garage door rails on each side.
It's quiet as a mouse, thanks to the fact that it's jackshaft driven, not chain or belt driven, and the wall-mounted design and quiet DC motor eliminate noise and vibrations through the ceiling, providing a super slick and smooth operation.
If you have a large door, no worries. The 8500W can operate doors up to 850 lbs, and as mentioned, the integrated battery backup will work, even when the power is out.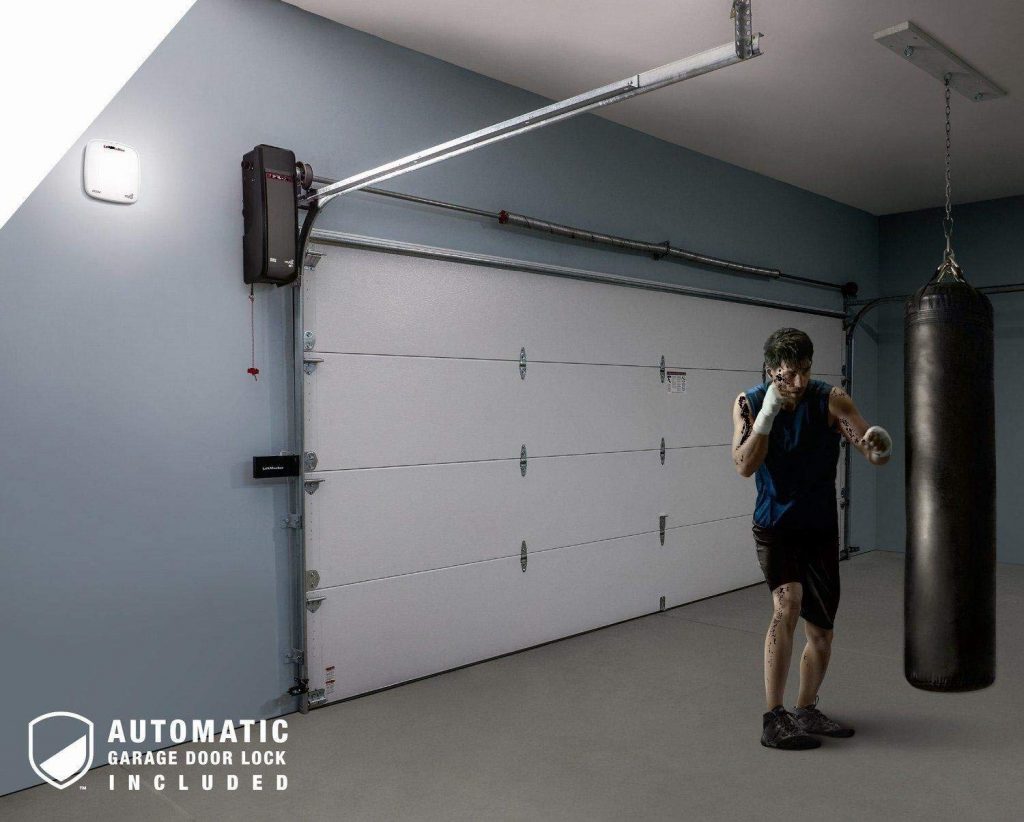 Accessories
The Liftmaster 8500W Elite Series includes the MyQ Remote LED Light, which operates automatically with the opener and works with the MyQ App. It also has the integrated battery backup, the automatic door lock and an included 3-button remote control, which operates up to three garage door openers or MyQ Light accessories. Finally, it has a Smart Control Panel® LCD display, allowing you to program and adjust the settings.
Optional accessories include a keychain-size Mini Universal Remote, a wireless keyless entry -which provides convenient, secure access from outside the garage with a 4-digit PIN. Or you can purchase the remote Light Control, which allows you to control any lamp using a garage door opener remote control or smartphone via the MyQ app. And the Garage Door and Gate Monitor, also sold separately, monitors and closes up to four garage doors or gates within range.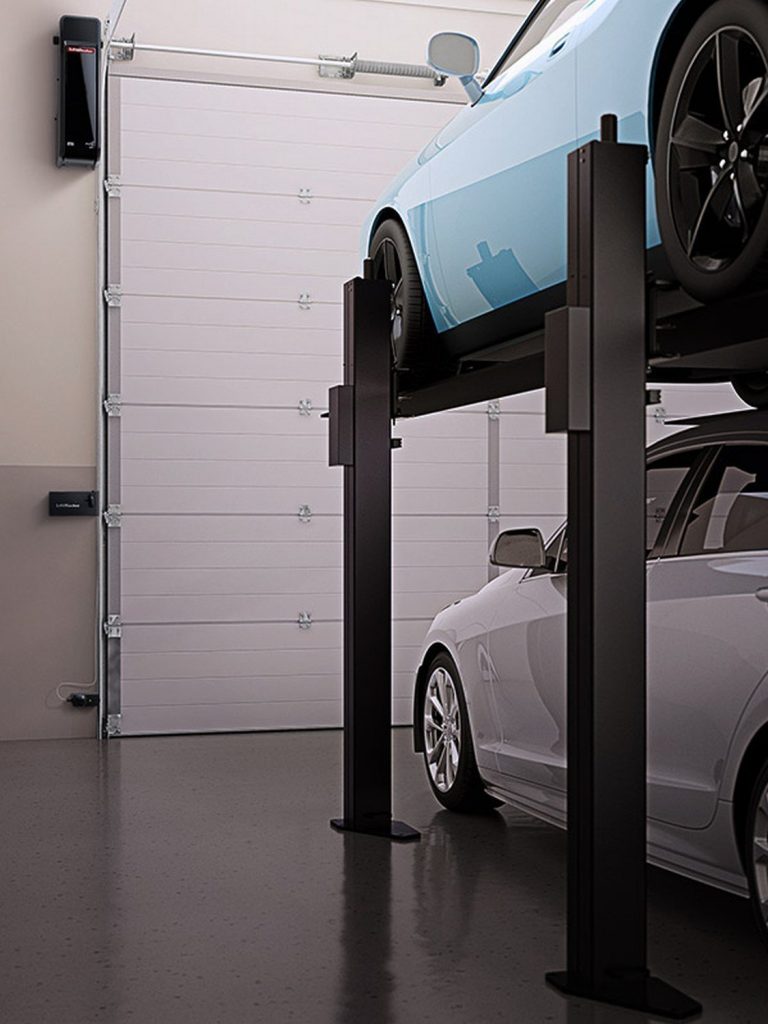 Bottom Line
The Liftmaster 8500W Elite Series Garage Door Opener is a super-premium product, and dare we say, arguably the best garage door opener on the market. You'll be hard-pressed to find something as sophisticated and feature-rich as this model. And because it's so well made, Liftmaster guarantees the motor for life, as well as a 5-year parts warranty and a 1-year battery and accessories warranty.
The 8500W Elite ain't cheap, but it's well worth it. It's starts at a little over $400, and with additional accessories and installation preferences, you could be spending close to a grand. For more information or to find a dealer near you, visit Liftmaster's website here.