Shinola, makers of watches, leather bags, bicycles, jewelry and other luxury products, got into the audio business about a year ago, debuting some headphones and its first pair of bookshelf speakers, which were built completely in-house. Now there's a next-gen version of this pair of speakers, the Shinola Barefoot Bookshelf Speakers 2.0. Shinola partnered with Barefoot Sound, an American manufacturer of studio loudspeakers and monitors, to create the second-generation Shinola Bookshelf Speakers, available now.
Shinola Bookshelf Speakers 2.0 Design & Features
The Shinola Barefoot Bookshelf Speakers 2.0 run a staggering $1,500, available in oak and black, but it's premium price tag comes with exceptional sound across the frequency spectrum, and sound reproduction is unparalleled.
Shinola and Barefoot Sound have made several changes to these 2nd-gen speakers including adding connection options like Bluetooth, S/PDIF and USB-C, as well as RCA and 3.5mm ports. They've also bumped up the per-channel power output to 100 watts RMS per channel, 300 watts total, from 60 watts RMS, and the woofer size has increased from 5 to 6.5 inches.
The dual-driver configuration also includes 1″ soft-dome dual ring radiator tweeters, which we're told reduce distortion. Input sources are selected by using a single button surrounded by LED indicators, and above that is the Bluetooth pairing button.
The Shinola's are indeed bookshelf size, measuring in at 12 x 8 x 9 inches and weighing around 17 lbs each. The black weave fabric grill really helps out the high frequencies.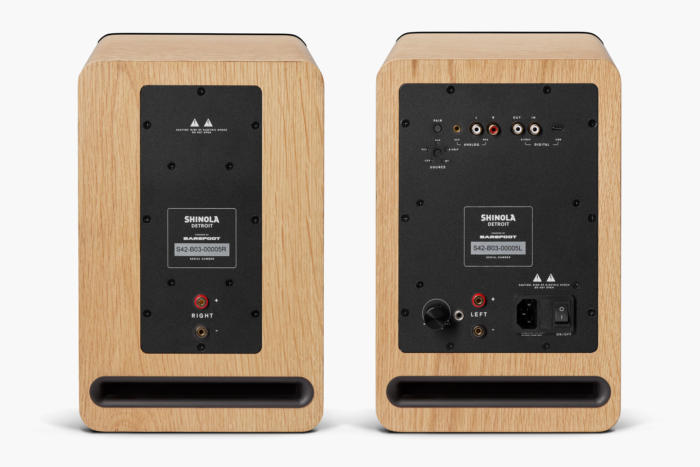 The 100W RMS per channel class-D plated amp is housed in the left speaker box, which has a single rotary encoder controlling volume and the connected right passive speaker. To wire, you simply connect the speakers, plug in the power cable, turn on the power switch and, after a couple of seconds, there is low ding that signals everything is ready to go.
Performance 
The input modes work well, including the DAC, which incidentally, doesn't need a driver installed. The Shinola's amplifier shuts off automatically after 30 minutes of silence, and you'll need to manually turn it on again from the back input knob.
As mentioned, the audio quality is awesome, even over Bluetooth.  Shinola and Barefoot Sound built the speakers from the ground up, and they say they compare well to Barefoot Sound's lineup of studio-quality monitors.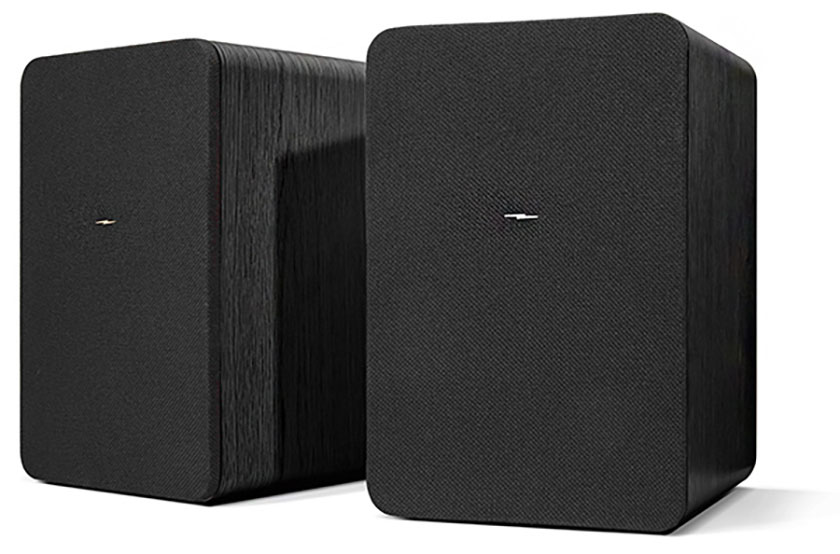 We tried out the Shinola Bookshelf Speakers 2.0 in both a desktop setting and a living room setting. Positioning-wise, it really didn't matter where or at what angle you put this pair. They sounded rich everywhere.
The Shinola speakers feature a rear slot port, which gives sound a lot of low-frequency thump. The response rate is 60 Hz – 22 kHz, which adds a lot of quality volume, with somewhat tame treble and mid. The bass is where it shines, seemingly sending that bass throughout your bones.

Bottom Line
An option between a high-end professional speaker pair and something better than a portable speaker, the Shinola Bookshelf Speakers are a way-above-par nice fit for the category. For easy listening in the living room or office, or paired with a Bluetooth-enabled TV, or streaming tunes from your smartphone or PC, the Shinola Bookshelf Speakers 2.0 offer a superb experience. For more information, visit Shinola's website here.