If you're into trail running, you should check Lems Shoes' new trail running shoes, the Lems Mesa. Lems are known for very packable, light-weight shoes. The Lems Mesa takes a light, flexible shoe and combines it with a fairly aggressive outsole for good traction on the trail, giving the mountain-to-town crowd a more capable trail shoe for varied terrain.
The Lems Mesa shoes feel more like a sock than most of the mis-matched socks in your drawer, making them great for trail running. Its lightweight materials and ultra-flexible fit make it the perfect hybrid yoga-hiking-gym-airport shoe. They're made of 100% vegan materials, and they offer a dynamic fit that makes them easy to wear.
The Lems Mesa are knit mesh, meaning they're tight-knit, incredibly comfortable, and easy to slip into. They are capable of quickly drying, so if you happen to step in water, you won't be uncomfortable for very long. They feature an active functional fit and have a full rubber outsole; the Lems Mesa shoes are tread made for pounding the pavement, blazing a trail, or anything in between. They're super lightweight, but can still tackle trails like a heavyweight shoe. Lastly, they're ultra-flexible thanks to their puzzle-like tread pattern and a very minimal upper, making the Mesa shoes built to fit anywhere.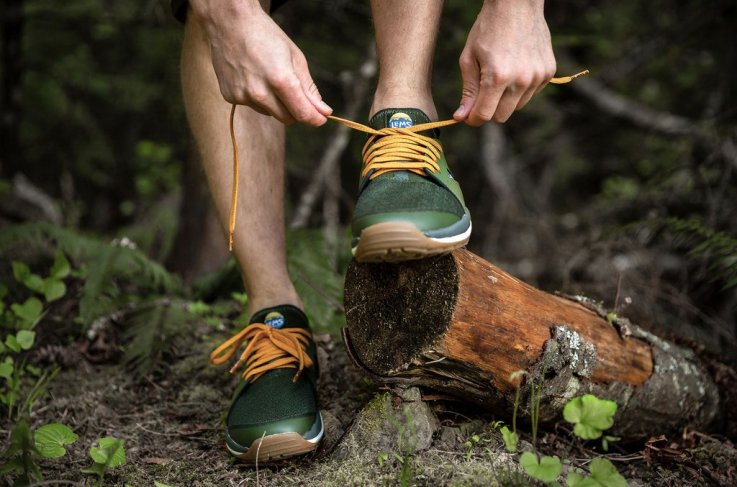 Its stretchy knit construction features a TPU frame overlay. Their EVA midsole along with its mountain-to-town outsole, which are fully made of solid rubber, are specifically engineered for both trail and pavement. Their breathable molded PU footbed is 0.17 inches tall. Their stack height goes between 0.59-0.74 inches for women shoes, and between 0.62-0.78 inches for men shoes. The drop measures 0.15 inches. The men's model weighs 9.8 oz, while the women's model weighs 8.4 oz.
If you're into trail running or any other type of outdoor hiking and are interested in getting your pair of Lems Mesa shoes, they're already available and currently priced at $125. You can find the Men's version here and the Women's version here.