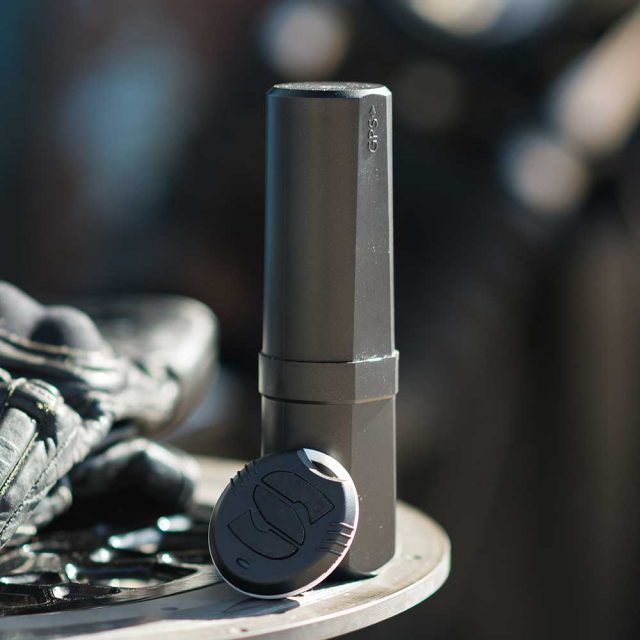 If you're a proud motorcycle owner and you're worried about your bike getting stolen, we've got good news for you. There's a great device out there that provides you with a simple and easy way of tracking your bike. Monimoto's Smart Motorcycle GPS Tracker offers you a way to always know where your bike is, allowing you to make sure it never gets stolen. Monimoto is a Lithuania based company that strives to deliver an extremely simple and convenient way to install and use mobile property alarm systems. Whether it's on a motorcycle, scooter, yacht, lawn mower, or boat engine, Monitomo has got you covered.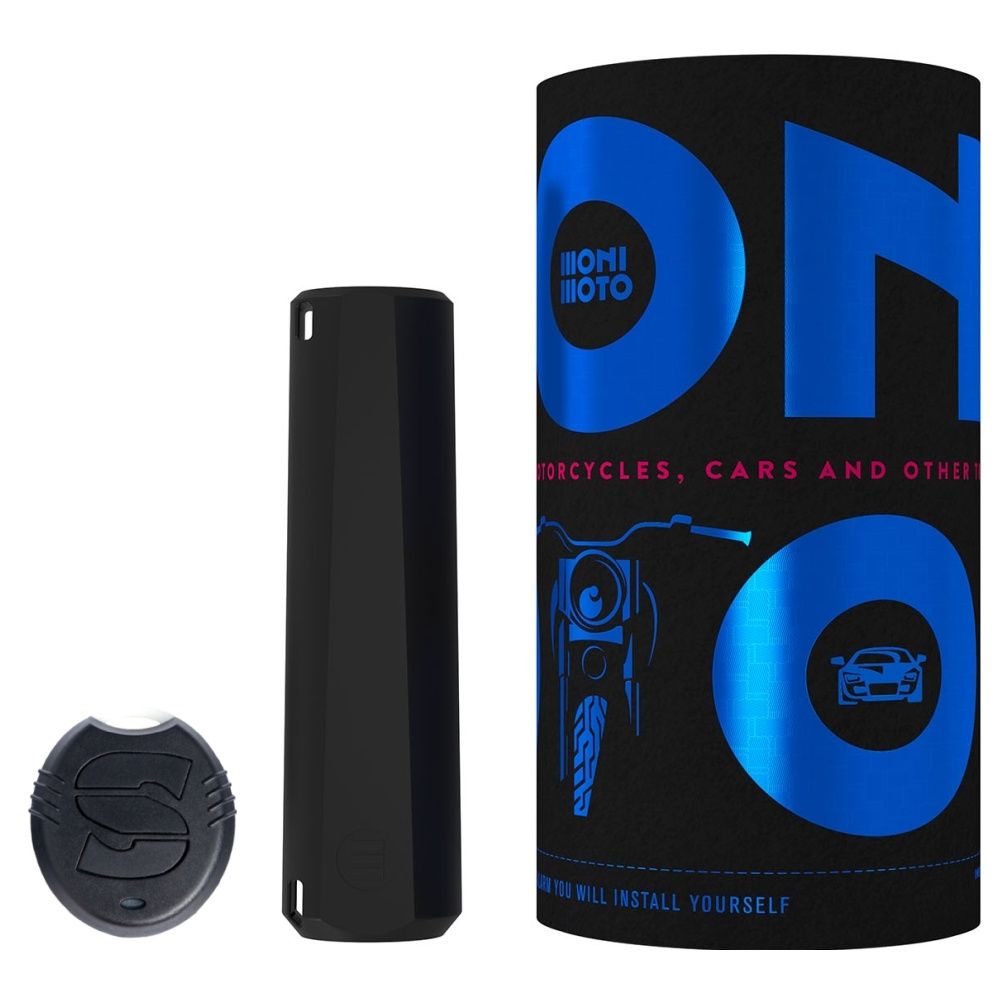 The Monimoto Smart Motorcycle GPS Tracker is a relative newcomer to the motorcycle tracker market, but can easily go against similar products. While it offers a ton of features, there's one particular thing that makes this device so special; it's wireless and can be up and running within a few minutes. The Monimoto Smart Motorcycle GPS Tracker is shipped as a kit. Inside the glossy box, users will find: the tracker unit, two CR123A device batteries, a SIM card, the Monimoto Key, one CR2032 battery for the Monimoto Key, and two adjustable zip ties.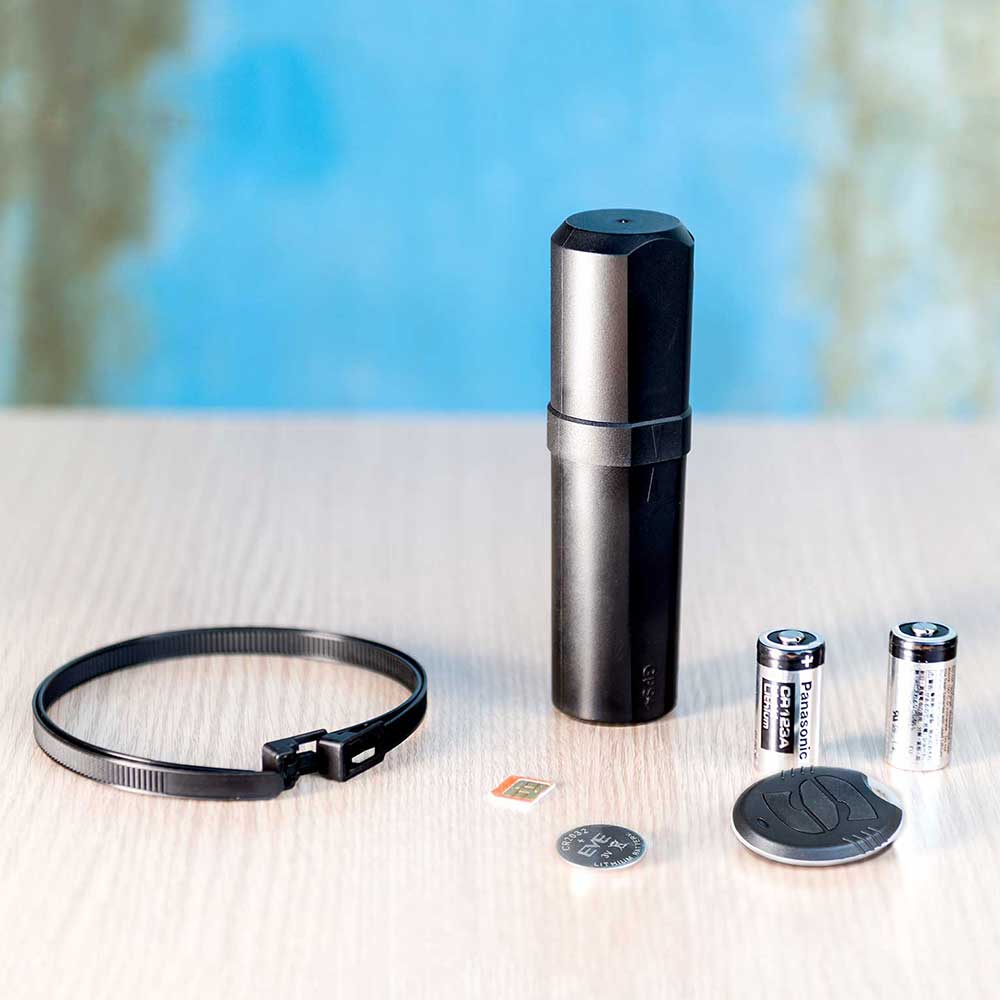 The Monimoto Device comes equipped with Swiss made GSM and GPS modules and motion detection sensors that detect motorcycle movement. Its pre-installed International SIM card is designed to call you if it detects the motorcycle is being moved or stolen. If the motorcycle's position changes, the Monimoto device will periodically send you its new GPS coordinates, directly to the smartphone app. As said before, the Smart Motorcycle GPS Tracker comes with two CR123A primary batteries. These can be easily purchased from any convenience store, or even photo equipment stores. The batteries offer up to 12 months of battery life in Stand-by mode and up to 10 days in Alarm mode.
The included international SIM card works within the European Union territory plus Iceland, Norway, Switzerland and Liechtenstein. If you're looking to use Monimoto's Smart Motorcycle GPS Tracker in any other geographical location with a GSM service available, you might need to use a different SIM card.
The included Monimoto Key is a small device that uses Bluetooth technology. It's recommended that you keep your Monimoto Key in a different location, meaning you should always have it separated from your motorcycle's keys. This will ensure that even if your keys are stolen or lost, you won't need to worry about not receiving notifications, should your motorcycle be stolen. The Monimoto Key comes with one 3V Lithium CR2032 battery that can also be purchased from most convenience or photo equipment stores. This battery will offer up to 12 months of battery life for your Monimoto Key.
Lastly, the included pair of strong zip ties will help you to securely attach your Monimoto Device to your motorcycle. The ties are also releasable, meaning you can easily remove the Monimoto Device and reposition it to any other part of your motorcycle.
Setting up the Monimoto Smart Motorcycle GPS Tracker is pretty simple. First, you'll need to download and install Monimoto's Smartphone App (for iOS and Android) and create an account using your phone number. After that, you'll just need to pair up the Monimoto GPS Tracker and Key via the App, and then register the SIM card on the GSM network. Lastly, all you need to do is hide the Monimoto device. Just conceal your Monimoto Device securely on your motorcycle, making use of the releasable zip ties if needed. After following these three simple steps, the Monimoto GPS Tracker will call you and send its new GPS location if it detects any movement and/or your paired Key isn't around.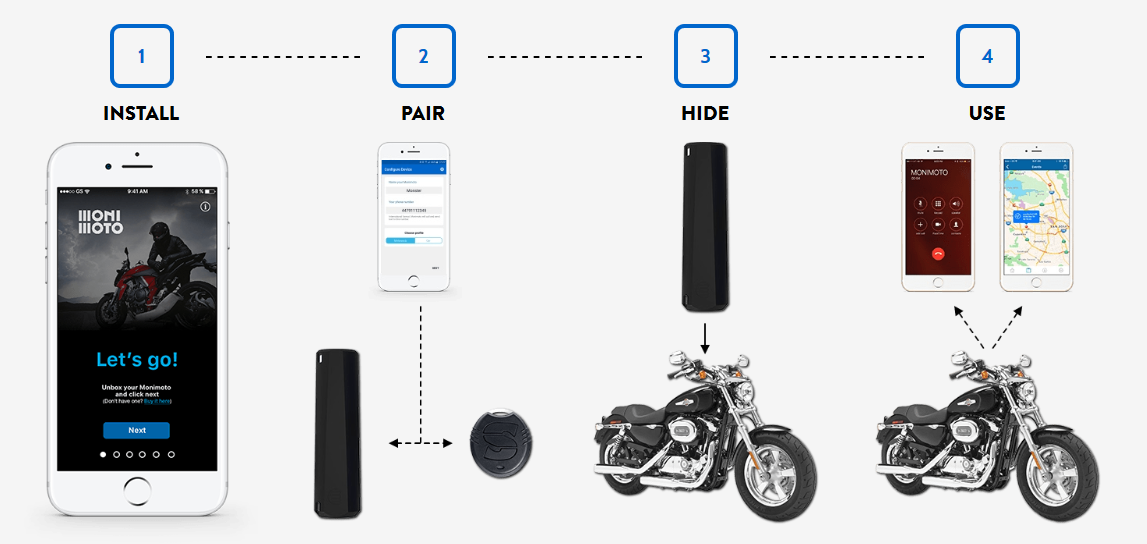 The Monimoto Smart Motorcycle GPS Tracker works for anyone, even if it's someone that doesn't know much about their motorcycle's mechanical parts. With it, there's no need to strip your bike apart of all panels to get the wiring done. This is a great GPS tracker that's highly recommend to all motorcycle riders. The fact that it doesn't need to be connected to a battery makes it great. And since you can literally hide it anywhere just makes it even better. This small GPS Tracker doesn't require any wiring, which makes it possible to hide it better, consequently making it harder to find. This means that if someone steals your bike and disconnects the battery you can still track it.
If you're interested in getting yours, the Monimoto Smart Motorcycle GPS Tracker is currently priced at $200. The shipping's free, there's a 30 days full refund, and the device comes backed by a 2-year warranty. You can find it at Monimoto's official website, by clicking here.