It's not common for Apple to participate in big industry-wide events like CES or E3. The most valuable company in the world is also known for holding its own events. Several times a year, Apple invites the press and industry professionals out to a theater to hear all about its latest products and services. The company calls these "Special Events," and even streams them online to millions of fans. Now that Apple's long waited September 2019 event (in Cupertino, California) is over, we are left with more than just memories.
The event lasted two hours, which might seem like a long time, but for an action-packed event like this one, two hours wasn't much. As stated before, the event was also live streamed to millions of fans, not only in many different Apple Stores, but also on YouTube.
In its over-hyped event, Apple announced the new iPhone 11, as well as two of its upgraded versions, called the iPhone 11 Pro and the iPhone 11 Pro Max. The company also announced its new Apple Watch Series 5, and a slightly disappoint new iPad, that basically features a larger, and somewhat better, 10.2-inch display. Apple also shared some news about Apple TV+, and also talked about some updates for its video game subscription service, called Apple Arcade.
If you wish to watch a fast recap video, this video listed below will let you do just that:
However, if you wish to watch the entire event, you can do so by watching this second video that's posted below. When watching the video on YouTube, you can find that the video's description has several timestamps that make it easier for you to watch any of the difference announcements.
The iPhone 11
Here it is. The smartphone that every single fan was hoping for and suspected that was coming. The "pièce de résistance", or to simply put it, Apple's new masterpiece. The new iPhone 11.
Before introducing the new iPhone 11, Apple CEO Tim Cook started by pointing out how well the iPhone has done, and how much it has impacted and changed our daily lives, saying "iPhone and the incredible capabilities that it puts into people's hands has changed the way we live our lives, in ways that we never could've imagined. It has become so essential for hundreds and hundreds of millions of people all over the world. It has changed industries and led to the creation of entirely new ones; and it has made a profound impact on all of our daily lives. Costumers love iPhone, and we keep striving to make it better and better."
Apple CEO Tim Cook then highlighted how well the iPhone XR performed after its launch, which led him to introduce that phone's successor, the iPhone 11.
The iPhone 11 features a glass and aluminum body. It comes with a built-in 6.1-inch Liquid Retina display (like the iPhone XR), but with the addition of another camera lens. The iPhone 11 comes with two 12-megapixel lenses, one of which is an ultra-wide-angle lens that's capable of providing jaw-dropping landscape shots. Its other 12-megapixel lens is a regular wide-angle lens.
The camera also features a Night Mode, which helps the iPhone 11 to directly compete with Google's and Huawei's most recent phones. The Night Mode function is automatically activated whenever it's required, helping to boost light, reduce noise, and allowing users to take great photos in environments with lower lighting. The iPhone 11 also received a boost to its video capabilities, now supporting 4K video at 60 frames-per-second. There's also a new feature, called Quick Take, which makes taking video much easier — by simply holding down the camera button, users can start taking videos.
The iPhone 11 also comes with improved specs. One of the biggest boosts the iPhone 11 received is its new chip, Apple's new A13 Bionic chip. A statement found on Apple's iPhone 11 introduction video points that out, saying "The Apple-designed A13 Bionic chip is the most ambitious to date. It's the fastest chip ever in a smartphone, yet more efficient than ever."
The chip features the fastest CPU and fastest GPU to date, a faster neural engine, comes with an ML Controller and ML accelerators that help with data processing speeds, a Core ML 3, and is made of 8.5 Billion Transistors. Apple's "fastest chip ever in a smartphone" statement only "adds fuel to the fire" for the ongoing heated rivalry between Qualcomm and Apple, but that's not necessarily a bad thing, since some healthy competition can also drive both companies to keep improving their chips.
The iPhone 11 also offers a better battery life, when compared to its predecessor (the iPhone XR), exceeding the iPhone XR's battery life by one full hour.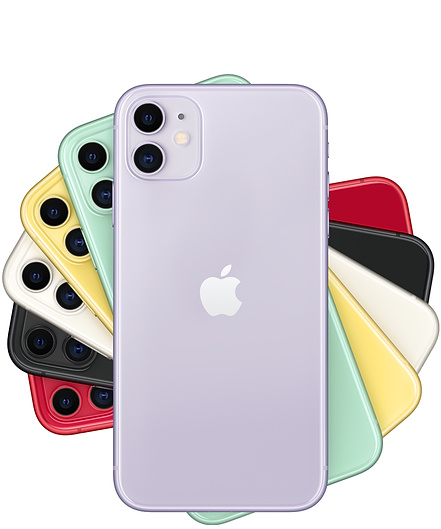 The iPhone 11 comes available in six different colors: White, Black, Green, Yellow, Purple, and Apple's Product RED. It's important to note that every iPhone 11 (PRODUCT)RED purchase contributes directly to the Global Fund to fight AIDS. Since the iPhone 11 is the iPhone XR's successor, Apple's new iPhone needed to have a great price. If you're looking to get Apple's new iPhone 11, its price starts at $699, making it cost less than the iPhone XR, which was priced at $750.
Keep in mind that if you have an old iPhone you can trade it in for some trade-in value, which will decrease the purchase cost for the new iPhone 11. You'll be able to pre-order the iPhone 11 starting September 13, and it will release on September 20. Click here to go to the iPhone 11 shopping page.
The iPhone 11 Pro & iPhone 11 Pro Max
After waiting long years for Apple to release an iPhone with the "Pro" appellation, the company has finally come up with two soon to be released iPhone Pros — the iPhone 11 Pro and the iPhone 11 Pro Max.
The iPhone 11 Pro and the iPhone 11 Pro Max feature the same general design, including a stainless-steel frame with a glass body, but they come with a matte finish.
Just like their predecessors (the iPhone XS and XS Max), most of their differences rest in their display size. While the iPhone 11 Pro features a 5.8-inch display, the iPhone 11 Pro Max comes with a mighty 6.5-inch display. Both new displays also use Apple's new Super Retina XDR technology, which Apple calls "its best ever".
Both Apple iPhone 11 Pro models also come with the previously mentioned Apple A13 Bionic processor (Apple's new and "most ambitious chip to date"). As said before, Apple's new A13 chip is powerful enough to go up against the Qualcomm Snapdragon 855.
But it doesn't end there. The company also paid special attention to make their new iPhone Pro smartphones as battery efficient as they are powerful. Apple states that the significant improvements allow the iPhone 11 Pro to last up to four hours longer than the iPhone XS, and the iPhone 11 Pro Max to last for five hours longer than the iPhone XS Max. Both iPhone 11 Pro models will ship with a 15-watt fast charger, making these the first iPhone smartphones to be shipped with a fast charger.
Their camera was also upgraded. Both models come with three 12-megapixel lenses, consisting of a telephoto lens, a wide-angle lens, and a new ultra-wide-angle lens. The iPhone 11 Pro will certainly rank high on any of the upcoming "2019's Best Camera Phones Lists". And speaking about photos, Apple's newly introduced software called Deep Fusion is present on both iPhone Pro smartphones. This software uses machine learning to combine several short- and long-exposure photos to create a single, phenomenal image.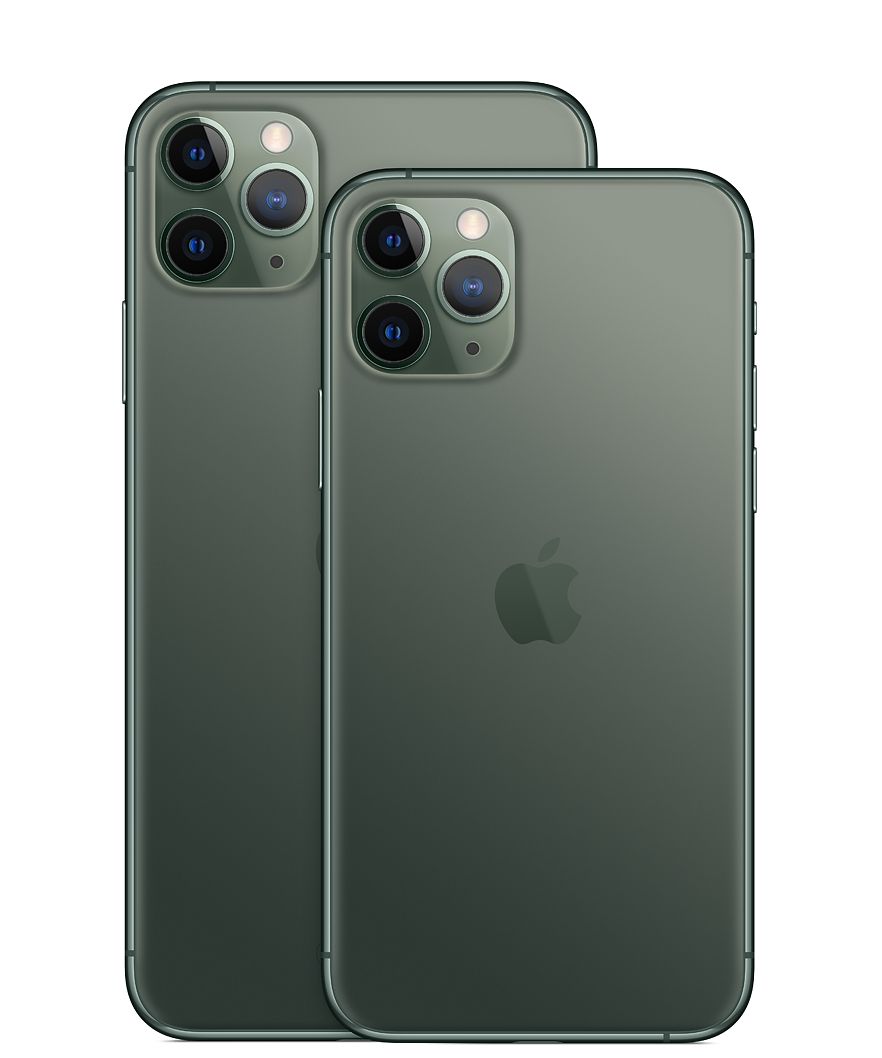 Both the iPhone 11 Pro and the iPhone 11 Pro Max are available in four different color finishes: Space Gray, Silver, Midnight Green, and Gold. If you're looking to get Apple's new iPhone 11 Pro, its price starts at $999. However, if you're interested in getting the iPhone 11 Pro Max, its price starts at $1,099.
Once again, keep in mind that if you have an old iPhone you can trade it in for some trade-in value, meaning that you'll be able to lower the purchase cost for the new iPhone 11 Pro. With the iPhone 11 Pro's release, the iPhone 8 will get a price drop (Apple's older flagship started at $449). Pre-orders for both iPhone 11 Pro models will start on September 13, and the smartphones will be shipped on September 20. Click here to go to the iPhone 11 Pro shopping page.
The Apple Watch Series 5
Tim Cook starts the Apple Watch segment presentation by saying "Apple Watch puts groundbreaking health, fitness and communications capabilities onto the wrist of millions and millions of people. Today, Apple Watch is everywhere, and it's making a difference in so many ways, all over the world."
Cook then brings out a heartwarming video with customers' testimonials whose lives have been positively affected by their Apple Watch, from those with an improved fitness level, to some whose lives were saved by their Apple Watch's ECG and fall-detection features. Tim Cook also stated that the health data gathered from the Apple Watch has been helping to advance health research, sharing some details with the audience.
After sharing those details, Cook briefly comes back to the stage, saying "Apple Watch has become the most advanced, and most loved smartwatch in the world." Cook then calls out Apple VP Product Marketing Stan Ng to announce the new Apple Watch Series 5. The Apple Watch is probably one of the best things that Apple currently has to offer. Stan Ng starts by bringing out a short introduction video for the Apple Watch Series 5.
The Apple Watch Series 5 comes with a new, always-on Retina display. With this new display you can easily glance down at your watch at any time, without even having to tilt your wrist or lift your arm to activate the display. The new display uses more power-efficient LTPO technology (previously seen in Samsung phones), making it use less energy than the Series 4, basically making the new Apple Watch offer up to 18 hours of battery life.
The Series 5 comes with an added compass, as well as with international emergency calling, meaning that you can easily call for help even when you're away from home. And just like the new iPad, the new Apple Watch is made from 100% recycled aluminum (excluding its gorgeous ceramic model).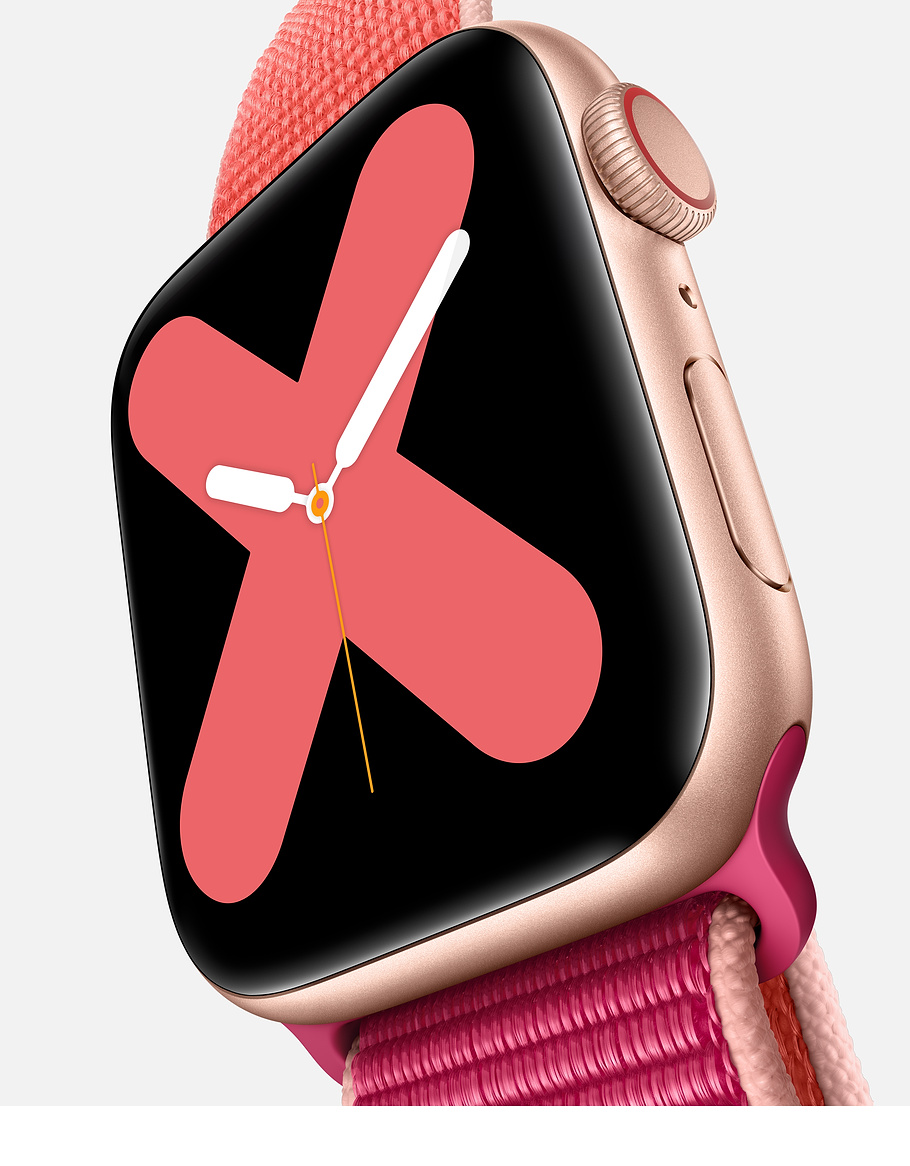 The Apple Watch Series 5 starts at $399, and the LTE models start at $499. Apple fans can already order their watches, which will also be available in stores later this month. But, the launch of the new Apple Watch also brings a drop in price for older models — the Apple Watch Series 3 is getting its price cut to $199, which is nothing less than a bargain. The Apple Watch Series will be available on Sept. 20. Clicking here will take you to the Apple Watch Series 5 shopping page.
New 10.2″ iPad
Apple announced its seventh generation of iPad with a small upgrade to its 9.7-inch iPad.
The look of the new iPad is much in line with 2018's iPad, except for one key difference — it's bigger. The new iPad has a larger, 10.2-inch display. That's an increase of half an inch, and it means you'll be able to fit more content on screen than before, which makes it perfect for use with Apple's new iPadOS.
Apple's new iPad looks similar to its 2018's iPad, and the major difference is that it's slightly bigger than the older model. This new iPad features a larger, 10.2-inch display (an increase of half an inch), which basically means that you'll be able to fit more content on screen than before, making this 10.2″ iPad perfect for using Apple's new iPadOS.
This new iPad also comes with a powerful A10 processor, and it's also the first basic iPad to support Apple's smart keyboard, giving all keyboard lovers the perfect reason to consider getting the iPad. Just like it was stated on the watch segment, the new iPad is also made from 100% recycled aluminum, which makes both products more environmentally friendly.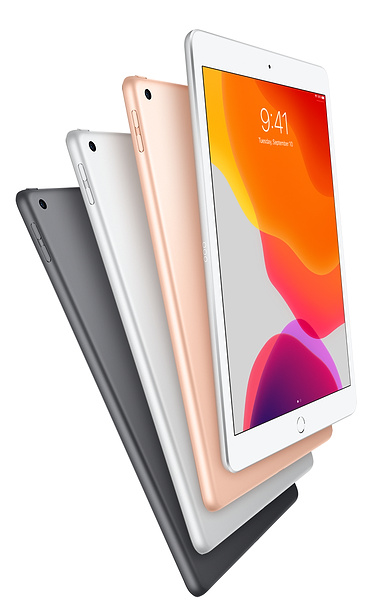 The new iPad prices start at $329, but educational customers can pick it up for just $299. The 10.2″ iPad is already available to be ordered, and shipping will start on September 30. Click here to go to the new, 10.2" iPad shopping page.
Apple TV+
While Apple previously shared many appealing shows for Apple TV+, Tim Cook simply walked out and introduced the all new TV series, called "See", starring Jason Momoa. "See" is set in a world where all humans have lost the ability to see. While human society has been decimated, the remaining survivors believe that sight was taken from humans as punishment for their sins. As a result, when children with sight are born, See's primitive society gets agitated, and so the main characters fight to save their babies from a world that views them as sinful.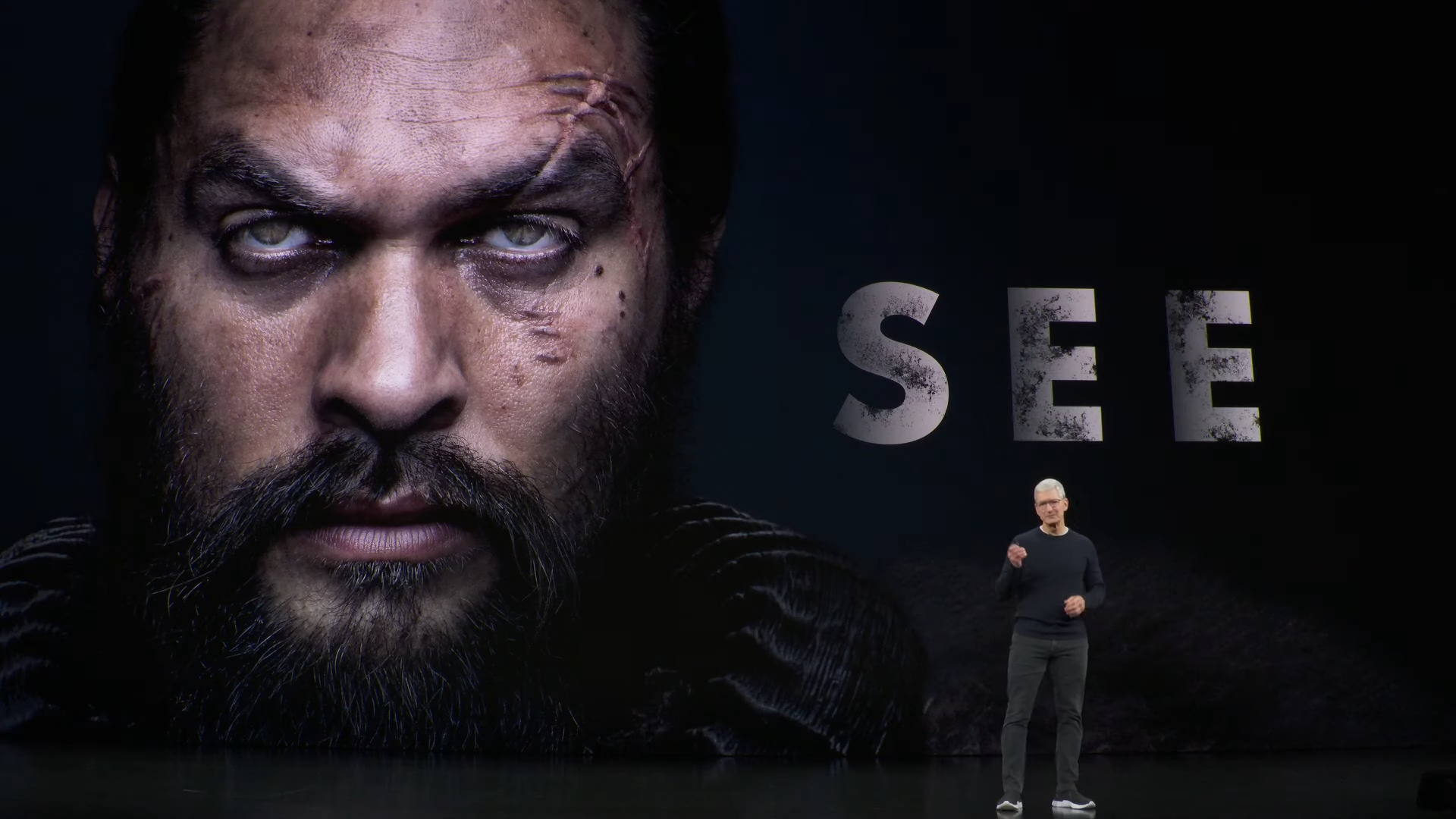 The first Apple TV+ shows will become available on November 1, and new programs will be added every month. Apple TV+ will be available in more than 100 countries right after launch, costing just a mere $5 month. But here's the best part: users will also get a year's worth of Apple TV+ included whenever they buy any new Apple device.
Apple Arcade
Lastly, we have Apple Arcade, the world's first game subscription service for mobile, desktop, and TV. Tim Cook started off Apple's event by going straight into the new Apple Arcade. The service packs all the games for iOS, MacOS, and Apple TV into one single platform, launching with more than 100 games from a bunch of your favorite developers.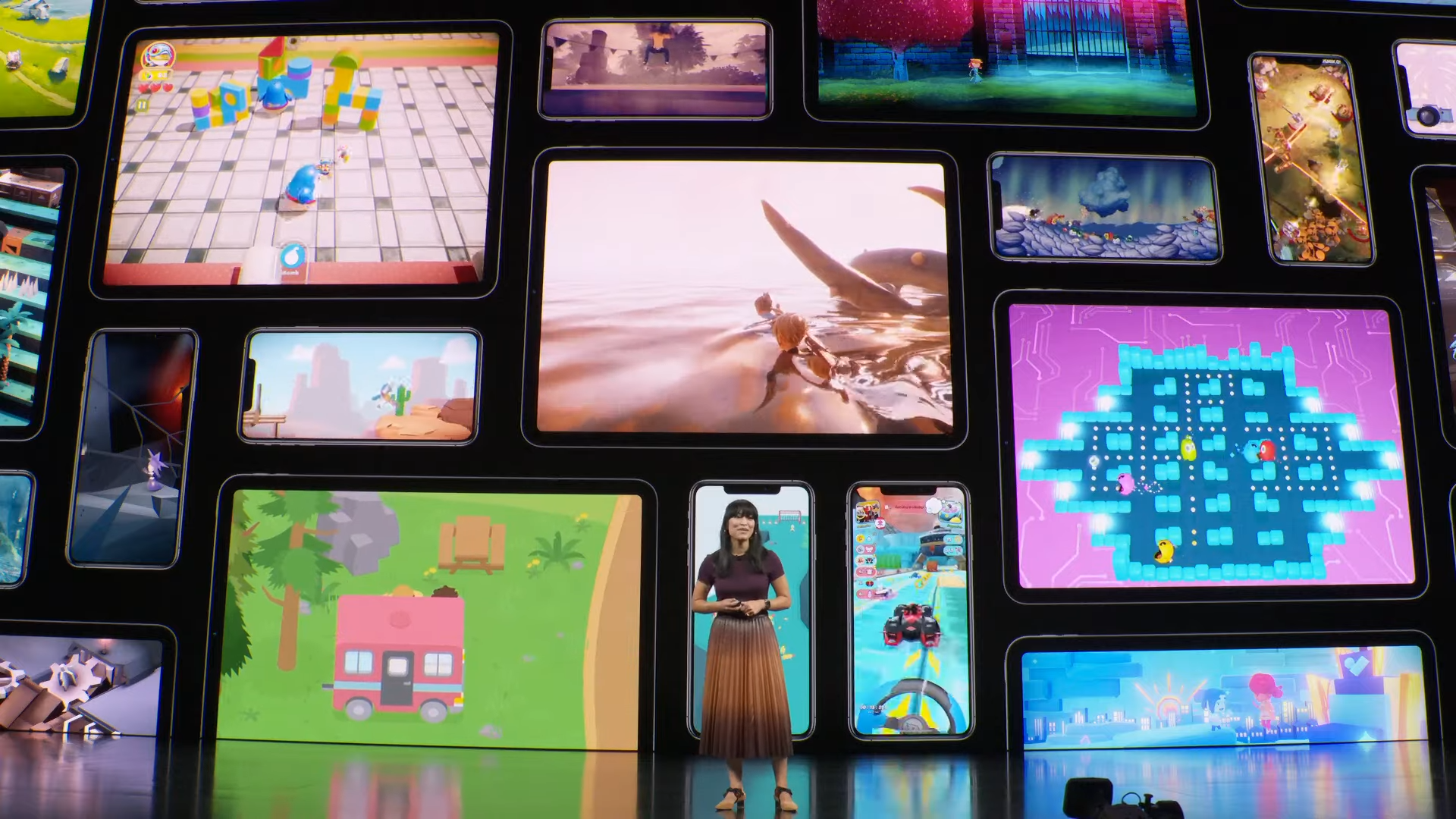 Apple will be teaming up with Konami to bring Frogger in Toy Town to its Apple Arcade service. But unlike the traditional Frogger, players can have their favorite digital frog can throwing bombs in this revamped version. Another upcoming game is Capcom's "Shinsekai: Into the Depths", where players are taken under the sea, and are challenged to survive while exploring an astonishing new world. And lastly, Annapurna Interactive brings players to the world of Sayonara Wild Hearts, an adrenaline-pumping arcade game in which players take control of The Fool, a masked biker on an interdimensional quest to find and break the hearts of rivalling bikers.
Apple Arcade is launching on September 19 in more than 150 countries, with one-hundred new games that are planned to be added in the upcoming weeks. The Apple Arcade game subscription service will cost you only $5 a month — but you'll also get a month's free trial.