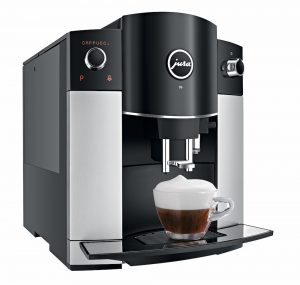 Fall is here and you know what that means…new gear! Yep, from tech gadgets covering everything from kitchen to self-care to data security, the fall season always ushers in more than its fair share of get-worthy brands. Luckily for you I've vetted many across multiple categories, with these 10 among my top-rated gifts and gets for the season.
JURA D6 Automatic Coffee Machine (www.ShopJura.com)
Offering a new twist on cappuccino, Jura's D6 automatic coffee machine easily prepares coffee classics. With the plain text display and ergonomically optimized switch, operation is easy and intuitive. Programming and maintenance are also self-explanatory.  A series of advanced innovations results in six specialty coffees prepared to professional barista standard, with the system topping off beverages like cappuccino with temptingly fine, light-as-air milk foam. Its AromaG2 grinder features a perfected cutting angle and preserves the full aroma of the beans when freshly grinding them to the ideal fineness. A Pulse Extraction Process optimizes the extraction time to bring out the full bouquet of the coffee aromas. It also uses CLEARYL water filters to supply perfect water quality for the best possible flavor. They also protect the coffee machine against limescale and remove substances that could impair flavor and aroma (such as heavy metals or chlorine) from the water. To make maximum use of the filter and its capacity, JURA developed the Intelligent Water System. The filter cartridge and coffee machine are wirelessly linked by RFID technology. The filter is detected automatically, so using the filter has never been easier or more reliable. To enhance the JURA experience, this marvelous machine can be used with JURA's Smart Connect device (sold separately) with Bluetooth communication, making it compatible with JURA's app: J.O.E. 2.0 (JURA Operating Experience). J.O.E. allows the user to easily operate the machine from a smartphone or tablet.
Linkind Aroma Coffee Maker (www.AromaLinkind.com)
If a pour-over coffee maker is more your thing, check out the Aroma Coffee Maker by Linkind—one of the most convenient, portable, durable and precise pour-overs of its kind that helps simplify your routine. Its precise timing water-to-coffee ratio delivers impressive consistency and handcrafted flavor all with the simple touch of a button. It's compact and has an aesthetically pleasing design, and the reusable extra fine mesh filter and food-grade certified materials help deliver top-quality for every pour. With the Aroma Coffee Maker by Linkind, you can be your own barista and enjoy a cup of fresh and delicious coffee without having to wait in the long lines and deal with the hassle of going out for something as easy as a cup of Joe.
Zippo HeatBank 9s Rechargeable Hand Warmer (www.Zippo.com)
The approaching holidays are to time gather with family and friends and eat, drink and be merry–and as importantly, stay warm. Whether you're out in the elements watching fall sports, taking hikes, walking the dog or other activities that'll bring you into the brisk air—or plan to shop for that family member is who is never "warm enough"—The Zippo HeatBank 9s Rechargeable Hand Warmer is a fabulous find. It's a great heat solution for any outdoor activities, cold-weather commutes or even chilly offices. It has a curved design allowing it to easily fit in and out of pockets, making it a travel companion that's built to last. It delivers dependable, dual-sided warmth at the press of a button with the convenience of a power bank. You'll get a run time of nine hours and enjoy six heat settings that deliver gentle warmth of up to 120°F/50°C. The unit is powered by a rechargeable lithium-ion battery and is capable of charging any USB-compatible device, including smartphones and tablets—a great bonus! Available in three colors, champagne, black, silver and rose gold, and it also comes with an adjustable lanyard so it can be worn around the neck. The HeatBank 9s rechargeable hand warmer keeps you warm from the office to the woods.
iStorage diskAshur² Encrypted Hard Drive (www.Amazon.com)
I'm a huge fan of iStorage's range of ultra-secure PIN authenticated hardware encrypted HDD/SSD and USB drives, which are the perfect solution to keep data secure and protected while you travel—and otherwise! The diskAshur² is the ultimate encrypted hard drive for storing precious data, such as family photos and videos of all of your fun fall festivities. Once you set your unique PIN code, everything it contains will be safe from prying eyes. They're great for storing family and work documents without the fear of the data getting lost or stolen. iStorage's diskAshur² solid state drives and its USB 3.1 the diskAshur² hard drive each feature Enhanced Dual Generating Encryption (EDGE) technology, making them THE most secure data storage drives available on the market. EDGE™ Security employs built-in physical protection mechanisms designed to defend against external tamper, bypass laser attacks and fault injections. In short, without the PIN, there's no way in! Plus with the HDD available in capacity options from 500GB to 5TB, there will be plenty of space for all the family's needs. With software free set up and operation, the diskAshur² HDD is platform/device independent, so it works across all operating systems including all versions of MS Windows, macOS, Linux, Android, Chrome, Thin Clients, Zero Clients and embedded systems. In fact, the drives will work on any device with a USB port.
EXOBeauty Home Laser Hair Removal (www.EXOBeauty.com)
This one's for the ladies out there who've probably tried everything to get rid of that unwanted hair: waxing, plucking, shaving…you've probably tried it all!  These methods are not only time consuming, but can often hurt! Oh, and maybe you tried a laser treatment at a clinic. But, an average treatment costs about $235 for just one session so that can certainly add up for the multiple visits it'll take to achieve your desired results. Instead, check out EXObeauty's portable laser hair removal kit, which costs less than one of those sessions! Plus, it can provide almost unlimited sessions at the comfort and convenience of your own home. This at-home laser hair removal device uses clinically proven Intense Pulsed Light (IPL) technology that makes it safe and gentle on your skin. As well, there are five levels that you can adjust to find the best one for you. The company reports that users start seeing results within just 2-3 uses! So this season, say goodbye to the sharp razor, the messy wax and inconvenient office appointments and try EXObeauty's Home Laser Hair Removal kit instead.
JoahBox K-Beauty Subscription Box (www.JoahBox.com)
JoahBox is a super-cool K-beauty e-commerce-driven subscription box that brings you handpicked Korean products each month with free worldwide shipping. Each month, the company selects 5 to 7 authentic, full-size beauty products like makeup, skincare, nail care and beauty tools—sometimes there are even bonuses included. The company believes the process for personal beauty care should be an adventure, but not a tireless or harmful one. So they do the sifting for you, finding up-and-coming brands with great ingredients and with social values—those that maintain "clean" production processes. JoahBox selectively curates each items to deliver the trendiest, healthiest and most beautiful products right to your doorstep, making your beautification journey significantly easier and certainly more exciting.
The Gift Card Vault (www.TheGiftCardVault.com)
Speaking of exciting retail endeavors, next I want to tell you about The Gift Card Vault, which is a great resource for unwanted and recycled e-gift cards and digital goods so they don't go to waste. The company offers discounted electronic gift cards on your favorite brands and stores—with options ranging from restaurants, shopping, entertainment, groceries and more—giving you access to products and services you are looking for at a great rate. Starbucks, Amazon, Netflix, Albertsons…you're sure to find what you're looking for. Of course, every busy shopper knows the benefits of the gift card: it's an effortless way to wish someone a happy holiday or thank them for a job well done. It allows the recipient to buy what he or she truly wants, and it's as easy to use as cash. But, sometimes gift cards go unused, so The Gift Card Vault ensures this old merchandise does not get wasted courtesy of a convenient platform consumers can use to save with key retailers. Simply put, businesses and clients sell the company their recycled or unwanted gift cards and The Gift Card Vault then resells them at an affordable price to consumers. Though there are a number of outlets for digital gift cards and services, The Gift Card Vault is known for offering some of the best overall values across its product line on a consistent basis. So this season, enter the vault and save.
VocoPro DJ Smart Lightshow (www.VocoPro.com)
Singers, home entertaining buffs and DJs alike will love the vivid lightshow displays released by the 5-in-1 Smart Lightshow by VocoPro. It pairs pre-programmed Water Wave and Moonflower effects together with UV, Strobe and Laser light effects just like professional shows, delivering all five lighting effects seamlessly and effortlessly. Even a smartphone speaker can trigger the lights! VocoPro's new DJ Smart Lightshow is a great choice for parties and home entertainment enthusiasts for those who are ready to spice up their get-togethers. It's also lightweight and portable so it's also great for amping up those vacations. It also requires no additional DMX (Digital Multiplexing) used in theatrical lighting industry and it has a unique two-stage sound-activated control, each with nine sound sensitivity levels. This is important because the product's beat-synchronized light show will work in various volume level environments.
Beachly (www.Beach.ly)
Can't get enough of the beach life, even during the fall and winter months? Me either! That's why you should dive into Beachly, a San Diego-based company that sends curated e-commerce-driven boxes of beach-inspired apparel, accessories and lifestyle products every season! The boxes feature up and coming brands from California, Hawaii and around world. This fall, they've teamed up with companies including Spirit Jersey and Pirette to create a box inspired by French seashores. Beachly has boxes for both women and men, with each box also funding beach cleanups by Heal the Bay. Each package contains 4 to 5 premium pieces of apparel from the top brands and hottest newcomers that are defining coastal style. Members also receive exclusive access to the company's members-only online store allowing them to shop for boxes for up to 70 percent off retail price.
RESCUE Pest Control GoClips (www.Amazon.com)
If you're keen on sitting outdoors to enjoy the cooler temps and changing colors of nature, taking hikes, or even leisurely strolls walking your dog, there's nothing that can ruin a mood quicker than dealing with biting and stinging insects. So for those who want to avoid being plagued by bugs as soon as they step outside, RESCUE Mosquito GoClips will keep away multiple species of mosquitoes as well as ticks and black flies. They're infused with killer scitech: all-natural essential oils that protect your body from these bugs with a "spatial" effect around your body that deters them from you. The GoClips are all-natural, re-usable, pleasantly scented and non-toxic so they're kid-safe. They're also not a spay on, so there's no actual skin contact. Plus, they provide up to a full two weeks of protection! Designed to be worn outdoors, they attach to clothing, backpacks, strollers, even pet collars, so your options are virtually limitless and you'll repel those pesky pests for weeks on end. So never be uncomfortable leaving the house or lounging outside ever again!
~~~

As the Executive Editor and Producer of "The Luxe List," Merilee Kern, MBA is an internationally-regarded brand analyst, strategist and futurist. As prolific consumer trends, lifestyle and leisure industry voice of authority and tastemaker, Merilee keeps her finger on the pulse of the marketplace in search of new and innovative must-haves and exemplary experiences at all price points, from the affordable to the extreme. The best-of-the-best across all product, service and travel categories—as well as noteworthy marketplace change makers, movers and shakers—are spotlighted in her exclusive cross-media platform that reaches multi-millions each month through several syndication channels: print and online publications as well as broadcast TV and terrestrial radio. Connect with her at www.TheLuxeList.com / Instagram www.Instagram.com/LuxeListReviews / Twitter www.Twitter.com/LuxeListEditor / Facebook www.Facebook.com/TheLuxeList / LinkedIN www.LinkedIn.com/in/MerileeKern.
***Some or all of the accommodations(s), experience(s), item(s) and/or service(s) detailed above may have been provided or arranged at no cost to accommodate this review, but all opinions expressed are entirely those of Merilee Kern and have not been influenced in any way.***