Since its release (November 22, 2013), the Xbox One has become an amazing console. It's known worldwide as a platform for fans of all sorts of games, ranging from racing games to first-person shooters. But another thing that makes this console one of the best around, is the appeal for customized controllers. While the stock Xbox One controller is a great option for nearly any player, proving to be comfortable, simple, and sleek, there are better options if you're looking for more customization.
Whether you're a dedicated racing games worshiper, love first-person shooters, or you're just into the fighting games scene, there will always be a certain Xbox One controller that will surely fit your needs.
The PowerA Fusion Pro Wired Controller for the Xbox One is one of the best Xbox One controllers that you can buy right now, providing you with an enhanced comfort experience throughout your gaming sessions. The PowerA Fusion Pro is a packed controller, offering a premium build quality thanks to its sleek, streamlined design and textured grip.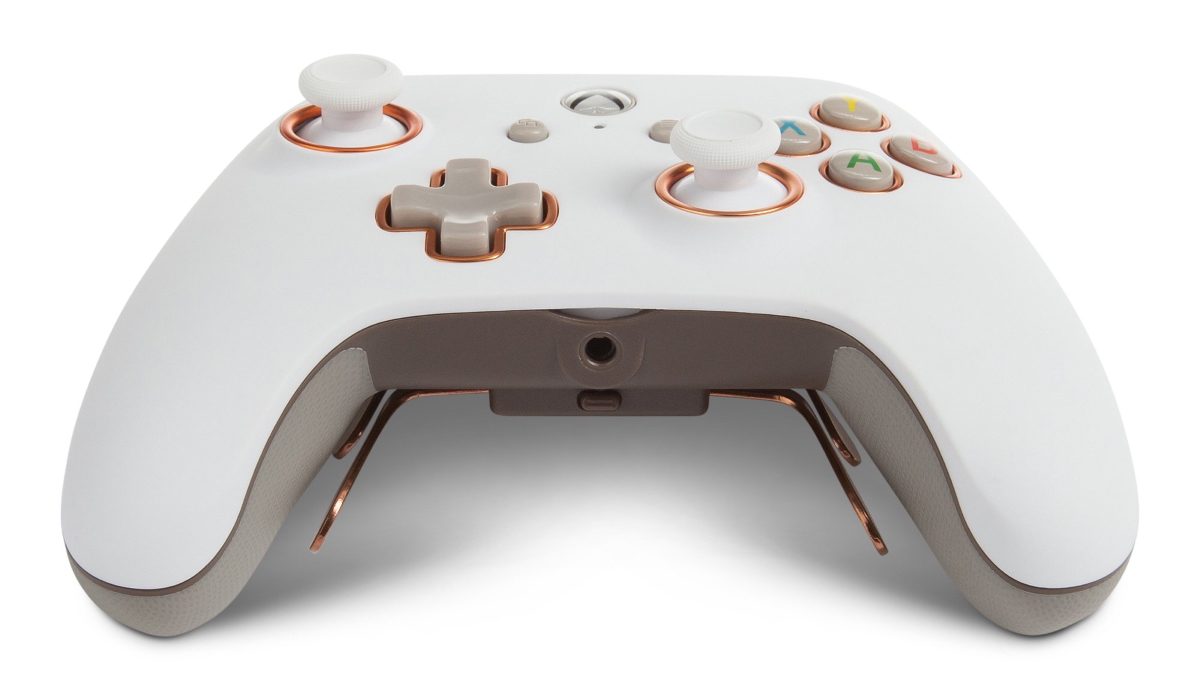 The PowerA Fusion Pro features metallic accents around its body, making it stand out from any other controller in the room with its eye-catching details and stylish look.
Its injected rubber grips allow you to play comfortably for hours and maintain a solid grip throughout, while the ALPS analog thumbsticks let you maintain a firm control over the controller. You can also switch from short to tall thumbsticks whenever you want.
The anti-friction rings allow you to enjoy smoother thumbstick motions with minimal drag or friction. These are great for when you're playing high movement games that require fast reactions like racing games or fighting games, and will certainly improve your gameplay experience.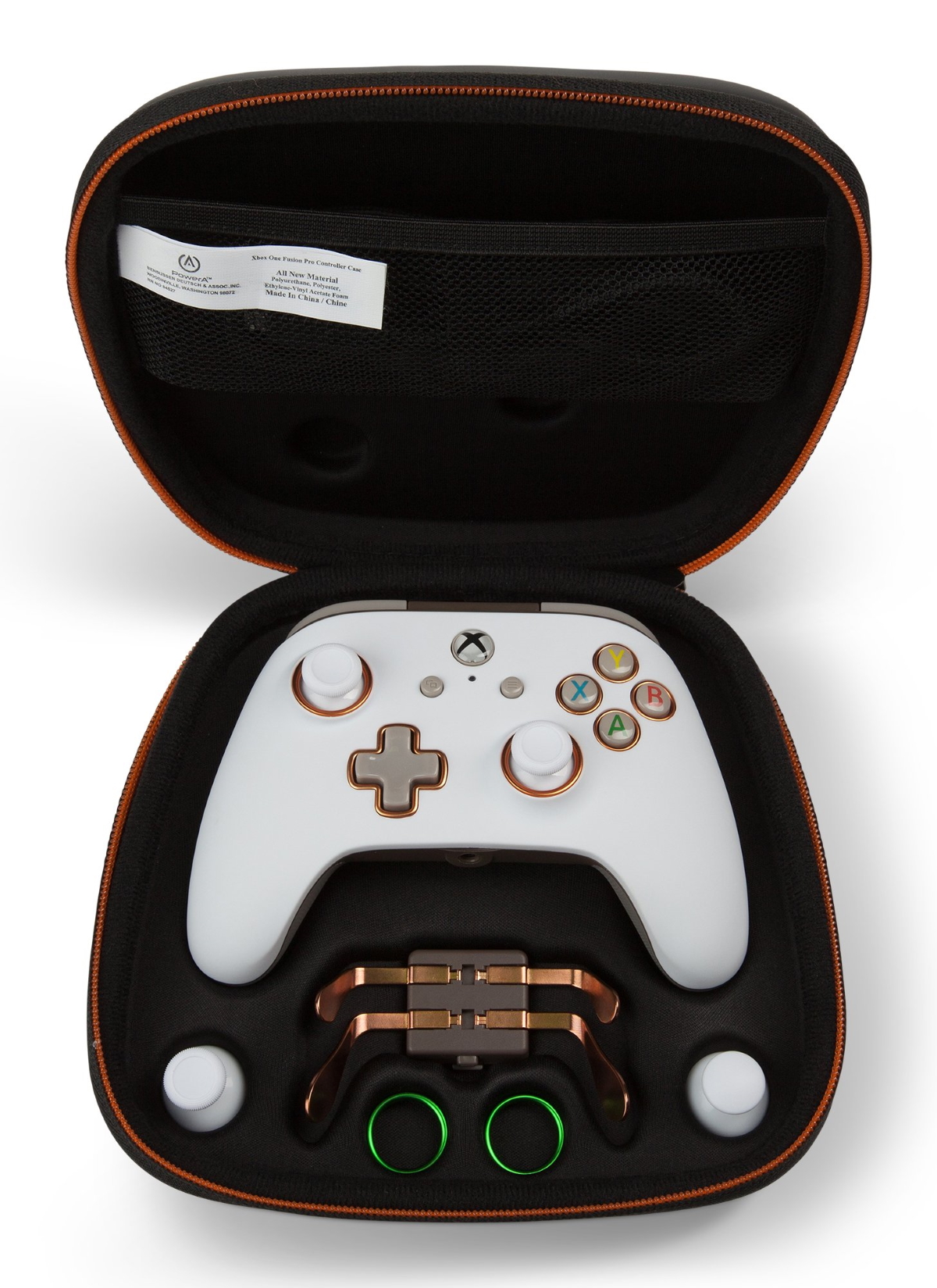 The PowerA Fusion Pro Wired Controller for the Xbox One comes with a custom protective case, where you'll find the controller, the 5mm audio jack cable, and all its accessories. The custom protective case easily fits all the items, and it's great to store them when you're not using the PowerA Fusion Pro, offering you a great solution to maintain a tidy room. The included 5mm audio jack allows you to get crystal-clear game audio when you pair it with any wired headphones.
The PowerA Fusion Pro also features colorful lighting, which includes three lighting control buttons on its back. While the first button turns on a light along the lower rim of the triangular area at the top of the controller face, the bottom button allows you to light up both analog stick bases. Lastly, the middle button lets you switch between four brightness levels.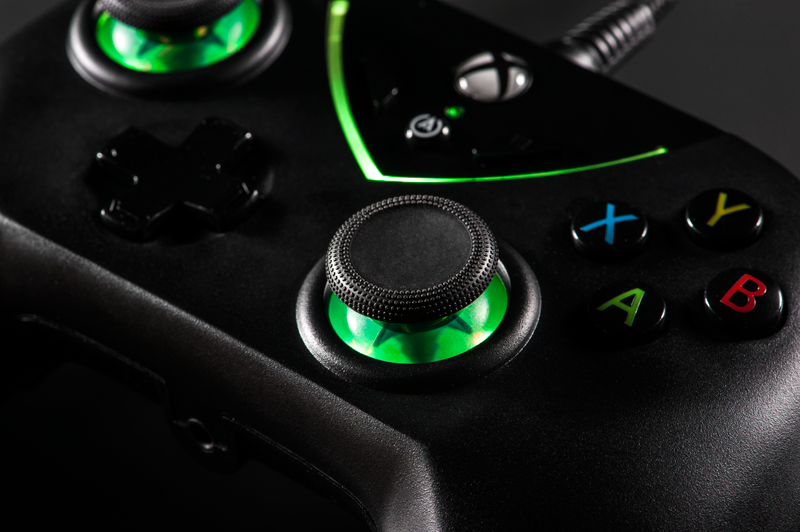 And there's another hidden feature; pressing the triangle or stick lighting buttons additional times will allow you to cycle between the available lighting modes: Color cycling pattern 1, Color cycling pattern 2, Pink, Amber, Purple 1, Purple 2, Purple 3, Green 1, Green 2, Green 3, Green 4, Blue 1, Blue 2, Blue 3, Blue 4,  Blue 5, Blue 6, and Lighting-Off Mode.
Keep in mind that when compared to colored lighting options found in computer peripherals, the PowerA Fusion Pro offers far less colors, and most are variants of the same colors. But hey, this feature still gives the controller an awesome look.
You can freely control your destiny in each gaming session with the FUSION Pro Wired Controller for Xbox One. The PowerA Fusion Pro Wired Controller is extremely customizable and packs a ton of features, allowing you to play the way you want.
Starting with its mappable Pro Pack with four removable paddles, three-way trigger locks, and swappable parts, you can easily customize the controller to fit your gaming needs. The mappable Pro Pack allows you to map buttons to the rear paddles on-the-fly without letting go of the thumbsticks, while its three-way trigger locks let you adjust for shorter trigger response and faster action.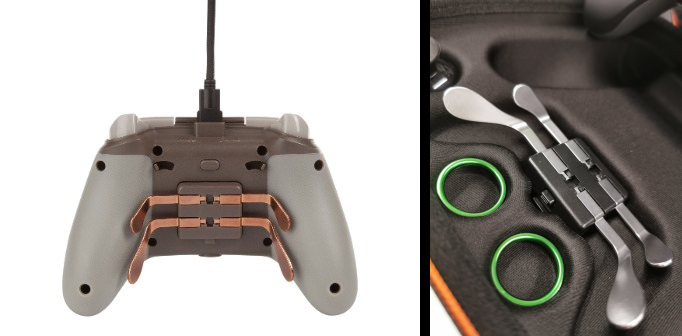 Lastly, its magnetic impulse triggers provide enhanced precision feedback for a more immersive gameplay, and its built-in dual rumble motors provide a responsive rumble feedback, allowing you to disconnect yourself from reality and immerse yourself in the game world. For intense or dangerous game situations like car-crashes (racing games), received blows (fighting games and adventures games) and received shots (FPS games), the vibrations that are created by the PowerA Fusion Pro really make you live the moment.
The PowerA Fusion Pro Wired Controller for the Xbox One fits right into your gaming lifestyle, and will definitely make your gaming experiences more immersive, precise, and connected.

The PowerA Fusion Pro Wired Controller for the Xbox One is currently available in two different colors: Black and White.
If you're interested in getting the PowerA Fusion Pro Wired Controller for the Xbox One, both models are currently priced at $80 and come with a two-year limited warranty. Its rugged design and multiple features ensure that the Fusion Pro won't break the bank. You can find both models at PowerA's online store. If you prefer to get the Black version of the controller, click here. However, if you're leaning towards the White version of the controller, go to this page.
Also Read: The Limitless Innovations ChargeHub Powerstation 360 can Charge up to 10 USB Devices Simultaneously