Water plays a major role on your pet's nutrition. All pet owners should know how important it is to provide fresh water to their pets every day. Some pets are also sensitive to the temperature and taste of water. PetSafe Drinkwell Platinum Pet Fountain
Pet owners should always encourage their pets to drink a healthy amount of water every day, and provide them with clean and fresh water at least once a day. Keep in mind that water bowls should be filled to the brim at all times.
PetSafe's Drinkwell Platinum Pet Fountain provides your pet with 168 ounces of fresh, filtered water. The free-falling stream of water entices your pet to drink more, while the activated carbon filter removes bad tastes and odors, giving your pet the best way to stay hydrated. The fountain's pre-filter easily catches large particles before they reach the motor, which ensures that the pet fountain remains working properly.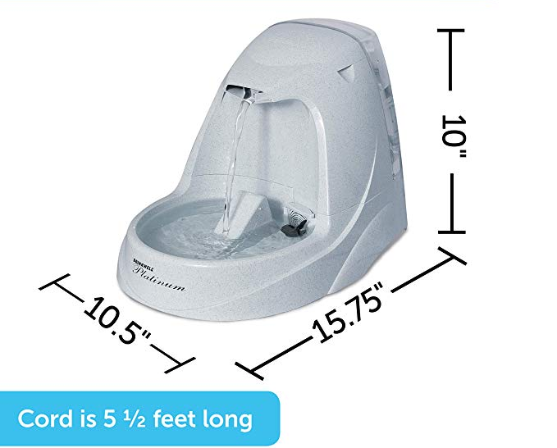 The Drinkwell Platinum Pet Fountain measures 15.75 inches long by 10.5 inches wide by 10 inches tall. The fountain was designed for indoor use only. All of its parts are made of BPA-free plastic, and these are dishwasher safe parts, which is just one of the many great advantages this pet water fountain has to offer. While the fountain can be great for pets of all sizes, it's best for small to medium-sized dogs and cats.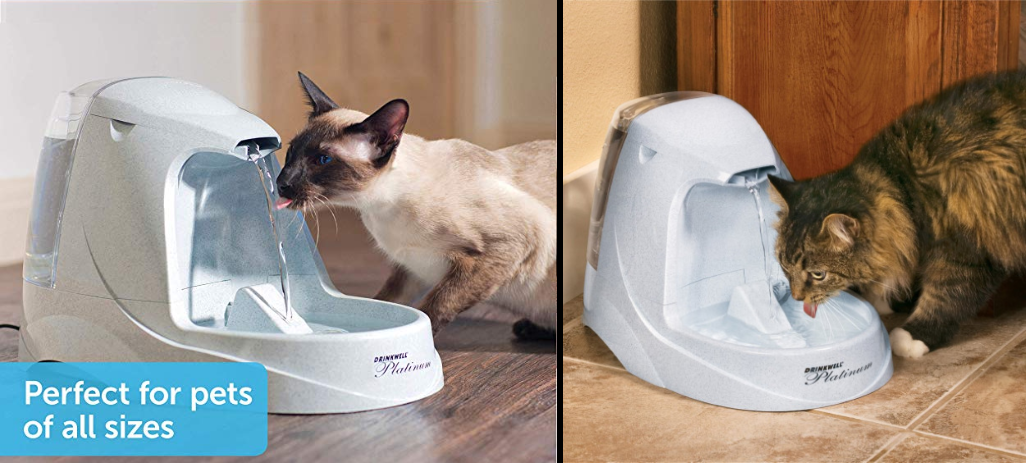 The Drinkwell Platinum Pet Fountain also comes equipped with a detachable reservoir that increases water capacity and makes refilling incredibly easy. The snap-on reservoir lid prevents accidental removal, and both the snap-on reservoir lid and rubber feet on the bottom of the fountain prevent sliding and tipping.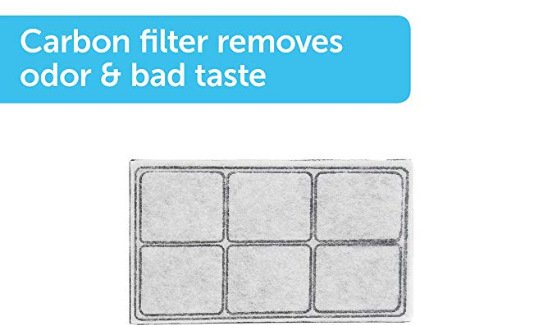 The pet fountain's activated carbon filter that's designed to remove bad tastes and odors from your pet's water is replaceable. The process is very simple and can be completed in just a few minutes.
The free-falling water stream with adjustable flow entices your pet(s) to drink more, featuring up to 1.3 gallons of water capacity. The pet fountain's spout and receiving ramp reduce splash and water noise, allowing for a more silent home environment. The fountain can offer a nearly silent operation thanks to its submersible pump. This pet gadget works at a low voltage (12V), and the system comes complete with a cord tuck (5 ½ feet long) and inline disconnect for easy plug removal.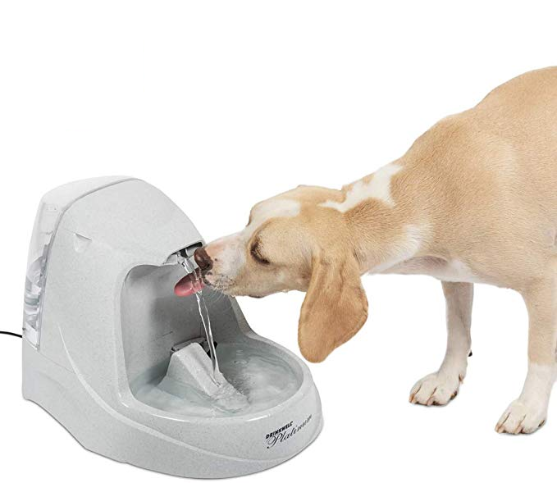 The PetSafe Drinkwell Platinum Pet Fountain can easily run 24/7 and should work for over 2 years. It's great to have around your kitchen area and can typically be used by multiple pets. Its water pump can keep working for many months in a row, and it will probably never quit working if you take good care of the fountain and clean it properly. The fountain works great, offering a quiet operation, proving to be a fantastic buy.
It's important to note that for the fountain to work properly, there's some things you have to do from time to time. Users have to keep the fountain full of water and change out the water each week after cleaning the fountain. Every 2-3 weeks (depending on how many pets use it) users have to disassemble it and wash it, clean the pump, and replace the filter. Any type of bottled water will work fine (ex: Spring Water), meaning you won't have any hard water build up like you would when choosing to fill the fountain with tap water.
All these tips will ensure that your PetSafe's Drinkwell Platinum Pet Fountain will keep working as if it was brand-new. The fountain never overflows, and mold will only come if you fail to clean the unit on a regular basis.
If you're interested in getting it, the PetSafe Drinkwell Platinum Pet Fountain is currently priced at $53. You can find it at PetSafe's online shopping page, by clicking here.
Also Read: