People with electric bikes cycle considerably more on average than the average regular bike owner. Having electric assistance on your bike unlocks extra range and provides convenience when travelling. That allows people to use their bicycle as a primary mode of transport.
Swytch Technology Ltd is an electric transport design and engineering company responsible for the recently launched Universal Swytch eBike Kit. This eBike conversion kit can convert any regular bike into an eBike (electric bike).
By converting regular bikes into eBikes, the company hopes to contribute to a more sustainable transport eco-system and be part of the bigger picture of combatting climate change. Not only is the company looking to help reduce people's emissions as they travel, but they also want to help reduce the emissions associated with manufacturing the original technology.
Manufacturing a regular bicycle requires emissions of over 200kg of CO2 during the manufacturing process, and for larger, heavier electric bicycles it is almost double that. A Swytch eBike kit takes just 50Kg of CO2 to manufacture, meaning that the environmental impact is 8x lower compared to most complete electric bicycles.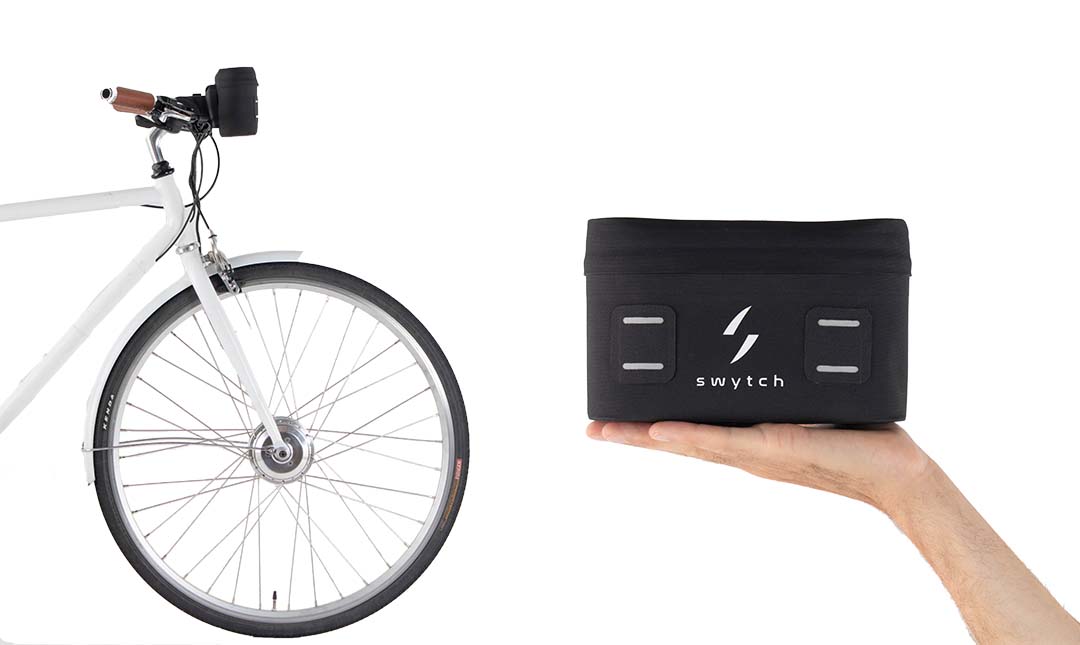 So, let's take a look at the recently announced and soon to-be-available Universal Swytch eBike conversion Kit – a kit that can convert any bike into an eBike (electric bike).
Here's how it works
By switching your original, boring, old front-wheel with the Swytch hub motor wheel and installing it into your front forks, you'll be on the first step to have your bike converted to an eBike. Keep in mind that if you're bike comes equipped with disk brakes, you'll need to remove them from your old wheel and secure them onto the new motor wheel.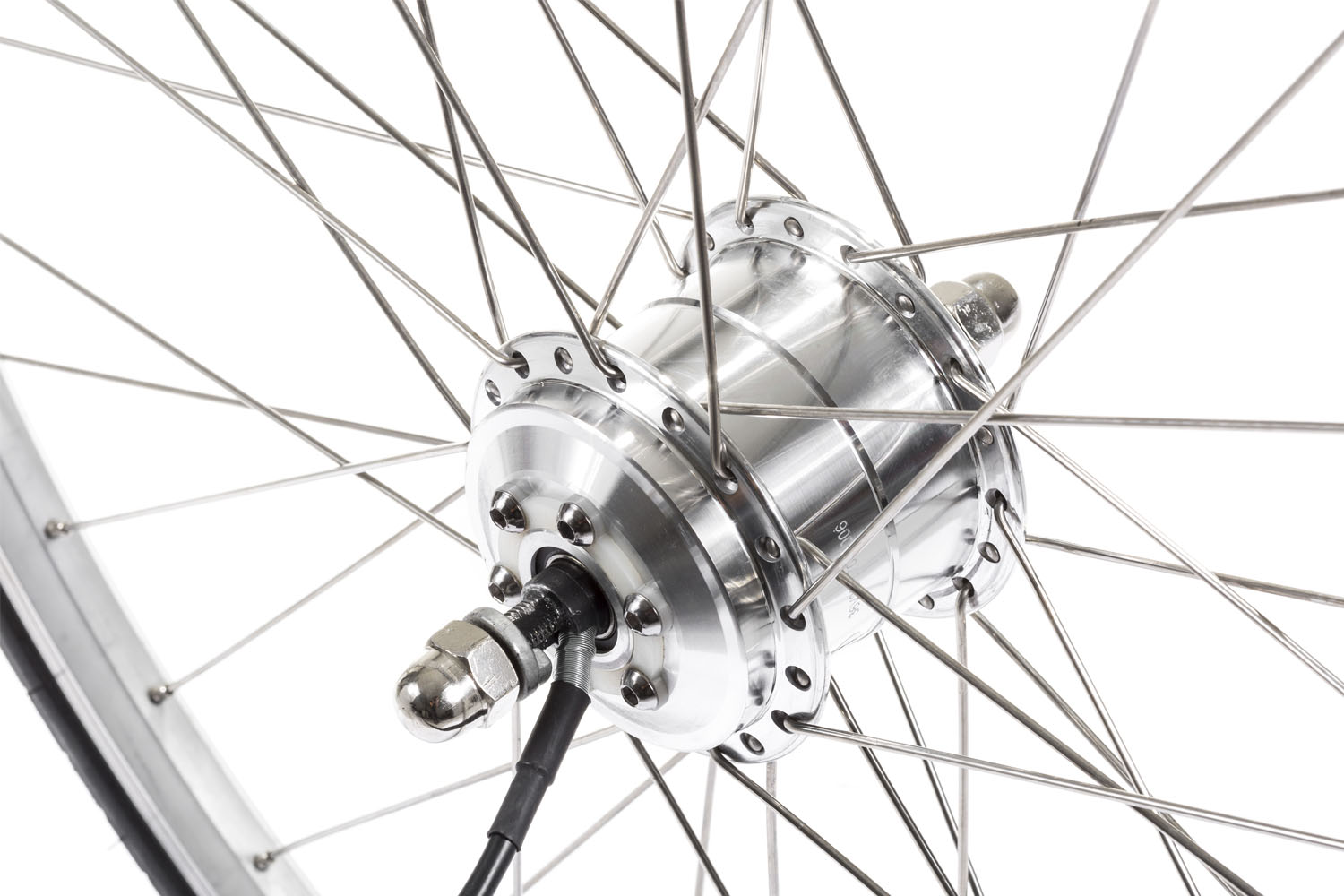 After that you'll need to install your pedal sensor. The sensor comes with a magnet disk that can be snapped onto either side of your axle (there's also a retention ring for added grip-strength, ensuring your magnet remains attached). Then, you'll have to attach the pedal sensor in line with the magnets on your bike's frame (by using the two cable-ties provided you have an extra way of securing the pedal sensor onto your bike's frame).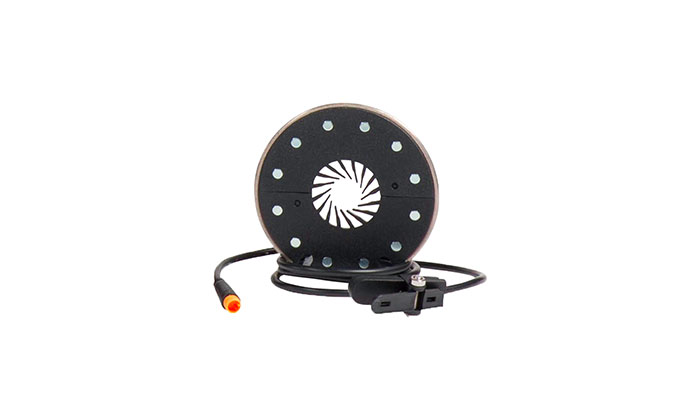 The third step is fitting the brake sensor directly onto the cable (by pulling the brake cable's out just a bit). The kit comes with two sensors, so you need to do this for both sides of the handlebar.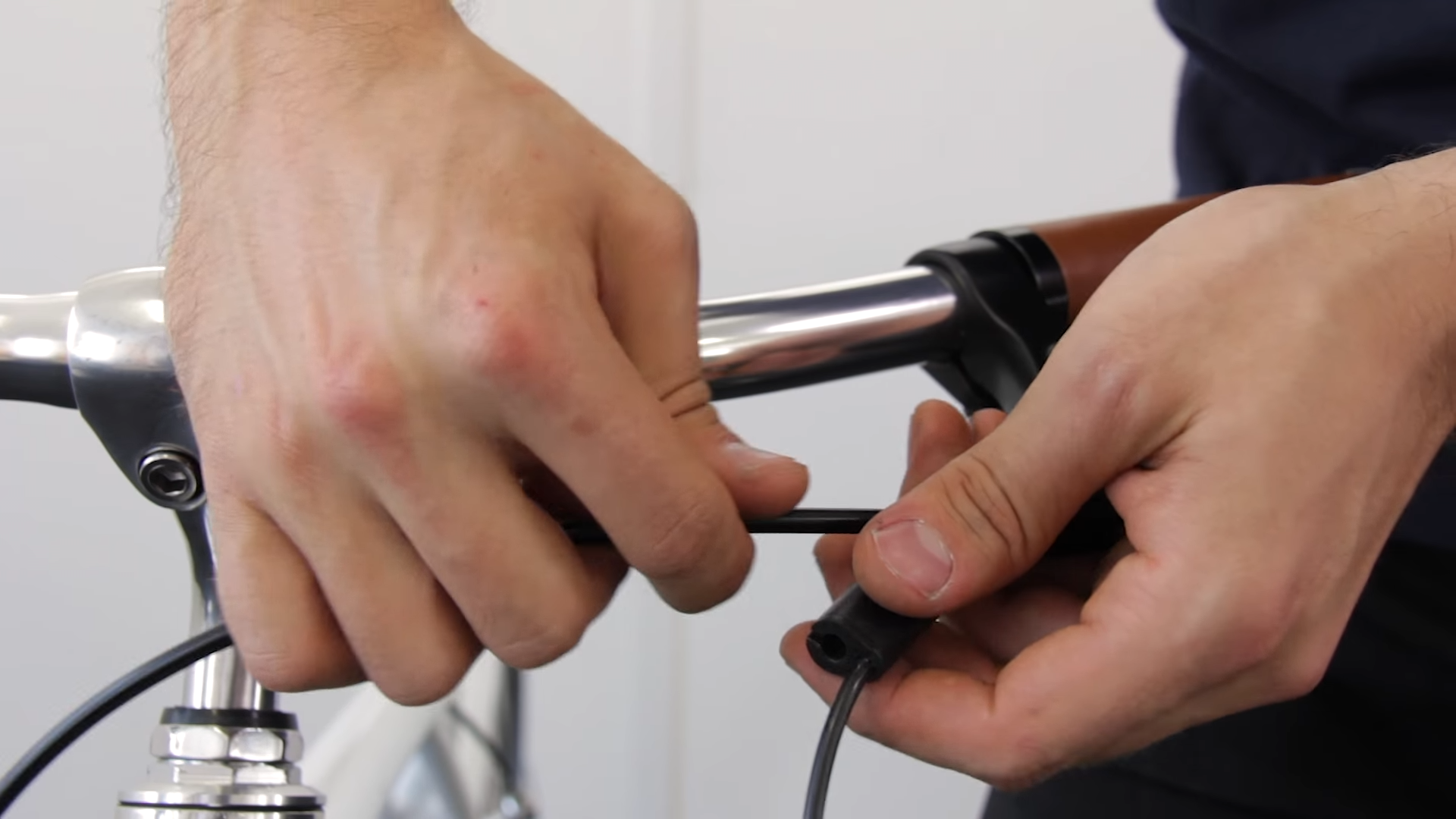 Next, you'll need to install the bag bracket. All you have to do is put the rubber spacers over your handlebars and attach the bag bracket straight on top of them.

Lastly, you'll need to plug in all the wires into the connection bracket. It takes you no time to connect the cables (the two brake sensor cables, the pedal sensor cable, and the motor cable).

Now all that's left to do is attach the Swytch Power Bag onto the bag bracket and "voilà". Guess who just got a brand-new converted eBike? That's right, you.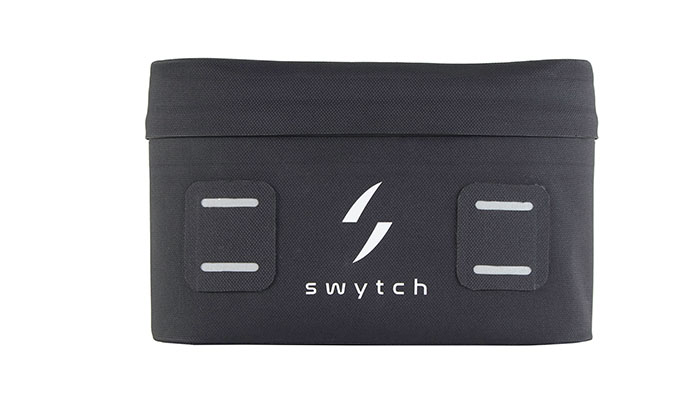 You can then turn on the Swytch Power Bag by holding down the power button (doing the same also turns off the Swytch Power Bag). The bag's interactive panel (located on the top) features a column of three buttons (on the left), and a couple of LED indicators (on the right).

The three bottoms are as follows from top to bottom: Increase Power Assist Level Button, Power Button, and Decrease Power Assist Level Button. The LED indicators are as follows from left to right: Battery Level Indicator, and Power Assist Level Indicator.
Another cool feature is that by holding down the PLUS Button (or Increase Power Assist Level Button), users can turn on the front light of the Swytch Power Bag, which serves as a presence light for when your cycling during the night time. Holding down the same button again will turn off the light.
If you would like to see a full video about the entire installation process, as well as how the Swytch Power Bag works, click the video banner below:
What's in the box
The Universal Swytch eBike Kit comes with a brand-new, pre-built hub motor Switch wheel (equipped with a discreet, lightweight, and powerful hub motor), an easy-fit pedal sensor (installed into the bike's frame between the peddals), two brake-sensors (installed directly onto your bike's brake cables), a handlebar connector (which is what you'll attach the Swytch Power Bag to), the Swytch Power Bag itself (to increase and decrease your eBike's wheel Power Assist Levels), and a charger made for the Swytch Power Bag.
Charging the Swytch Power Bag takes exactly 3 hours. This 2A Charger is UK / EU / USA plug compatible and is safety certified both in USA and EU.

Final thoughts
The Universal Swytch eBike Kit allows you to easily convert your bike into a premium quality eBike. The included hub motor wheel provides your bike with 250W power, allowing up to 15MPH of top speed. The included lithium-Ion battery pack allows riders to travel up to 31 miles (50 Km) range on one charge.
The Universal Swytch eBike Kit features a super easy installation and anyone can fit it to any bike. Even if you have almost no knowledge about how to fix a bike, you can get the pedal sensor adjusted in any local bicycle shop and have the front wheel changed as well, all in no time. Installation typically takes around 10 minutes and then you can "Swytch" instantly between bike and eBike thanks to the patented quick-connect bracket mechanism and removable lightweight power pack.
The Universal Swytch eBike is the easiest conversion kit on the planet to fit., working in four easy steps. Simply remove your regular wheel, and replace it with the Swytch motor wheel. Then fit the pedal sensor and connector bracket, connect it all together, and you're good to go. The Swytch eBike Kit is exactly what you need for your city commute. You'll have no problems going up the hill or against the wind.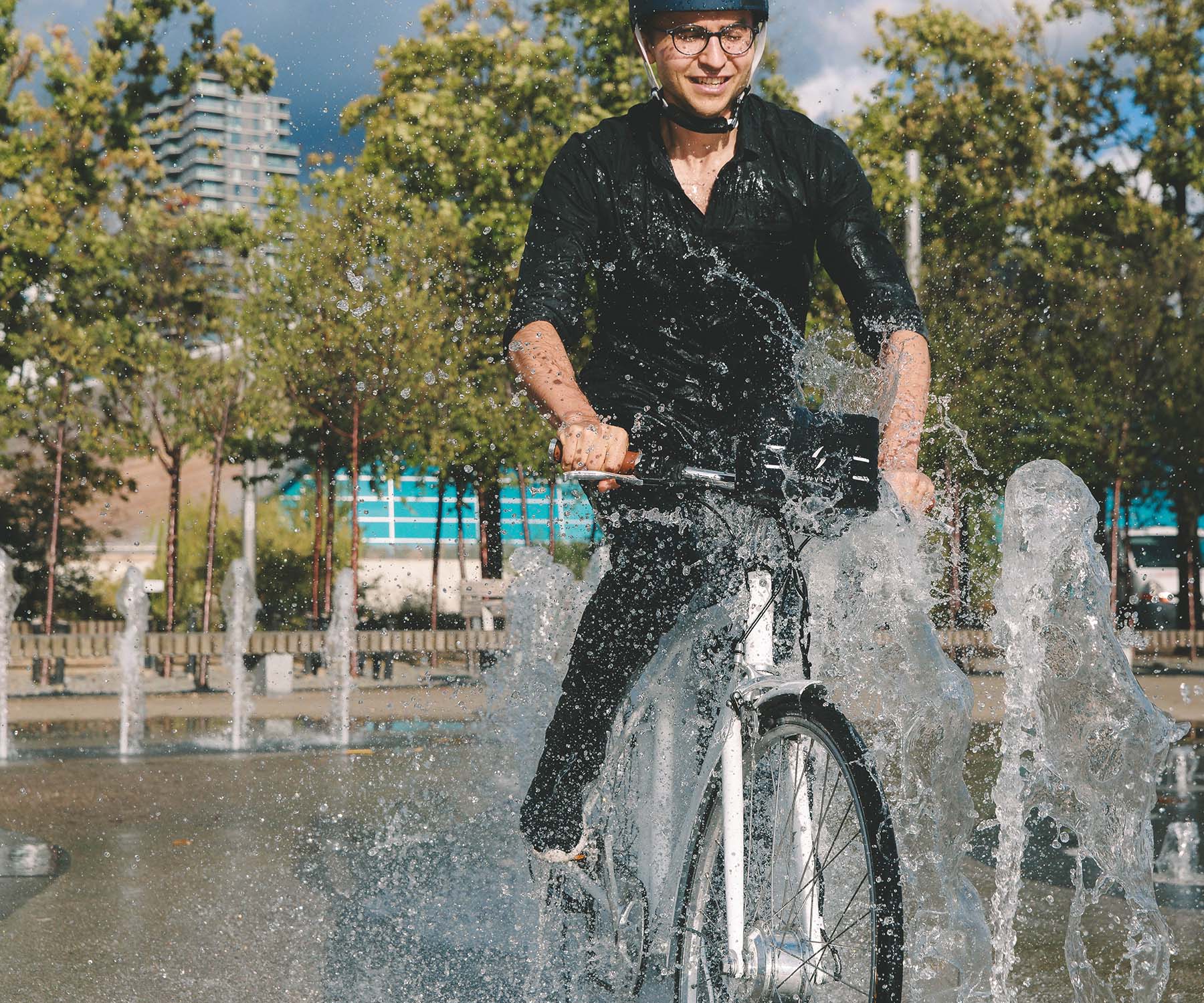 If you're interested in getting the Universal Swytch eBike Kit, the company already has it up on its website available for pre-ordering. Reserving it now will get you a 50% discount from its normal price. By signing up, you can be among the first group of people to get notified. Then, all you have to do is be ready to order it on the first day of launch and get your 50% discount. You can reserve your Universal Swytch eBike Kit at Swytch Technology's official website for the Swytch eBike Kit, by clicking here.