If you're ride a bike or e-bike, scooter e-scooter, you probably know the importance of wearing a helmet. Whether you do it for the love of sports and to stay fit (regarding bicycles), or just because you enjoy the fresh air on your face, the Morpher Foldable Helmet is handy enough to bring with you wherever you and your 2-wheeler go, keeping you safe at all times.
The Morpher Foldable Bike Helmet was designed by Morpher (company that operates under the exact same name). Morpher (the company) started with a small vision of bringing a helmet to the world that would be strong enough to protect you from any accidents, but also handy enough to feature both a light weight and small (thin) size. This would ensure that the helmet could become foldable and easy to bring along with you 24/7. As accidents are common these days, you need to be more protective and alert at the same time. You can learn more about Bicycle Accident Law Firm here. 
Additional Information
Morpher is a manufacturer and marketer of folding helmets. The company was founded in 2012 and is currently headquartered in Greater London, England, GB EC1Y 2AB.
Just back in 2017, folding helmet company Morpher raised £1m by crowdfunding. During its crowdfunding campaign, the company attracted 738 investors, including British tennis legend Andy Murray.
Morpher's founder Jeffrey Woolf is the architect behind the helmet that folds flat and easily slips into bags. Woolf designed the world's first flat-folding helmet so that people no longer have an excuse to not carry the protective headgear.
Now, let's take a deeper look at Morpher, the Foldable Helmet.
SPECS
Design
The Morpher Foldable Helmet features a convenient design, making it both thin and lightweight. The Morpher folds down to just 2.5" thin, so it fits in virtually any backpack, tote bag, or laptop case. This super lightweight helmet weighs less than 1 lb, so it won't weigh you down during your daily commute, while moving between College and home, or during your rides around the city while you wear it.

But regardless of its thin construction, extreme light weight, and foldable design, the Morpher is assured to keep you safe. The Morpher is safety certified, not only in the United States (CPSC), but also worldwide (EN1078), which means it will keep you safe while you use e-scooters, bicycles, e-bikes and more.
The Morpher's chin strap features a buckle that can easily be fully fastened, offering a secure fit that doesn't hurt when both side straps are attached to each other. Not only that, but undoing the chin strap's buckle is also extremely easy, meaning you only need one hand and you can even do it with gloves-on and just slide it away.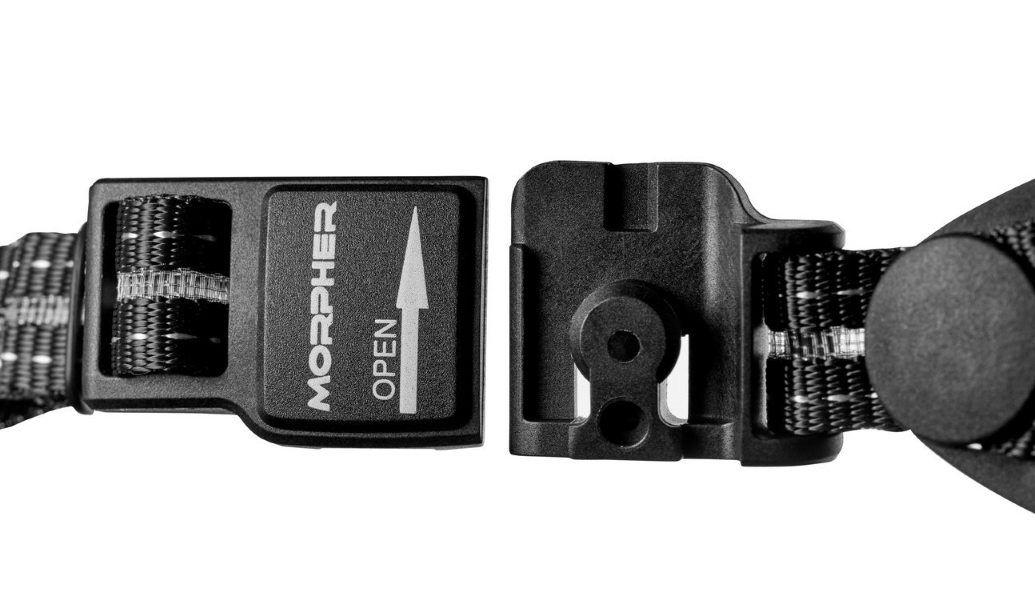 This is a very innovative chin strap, made of high-quality materials, and it's assured to stay in place while you ride your 2-wheeler, offering both security and a comfortable fit.
FEATURES
Hello? It's a FOLDABLE Helmet!
According to the company and Morpher's founder Jeffrey Woolf, their team envisioned and designed a helmet you can fold in half and stash in your bag so that you always have your helmet with you.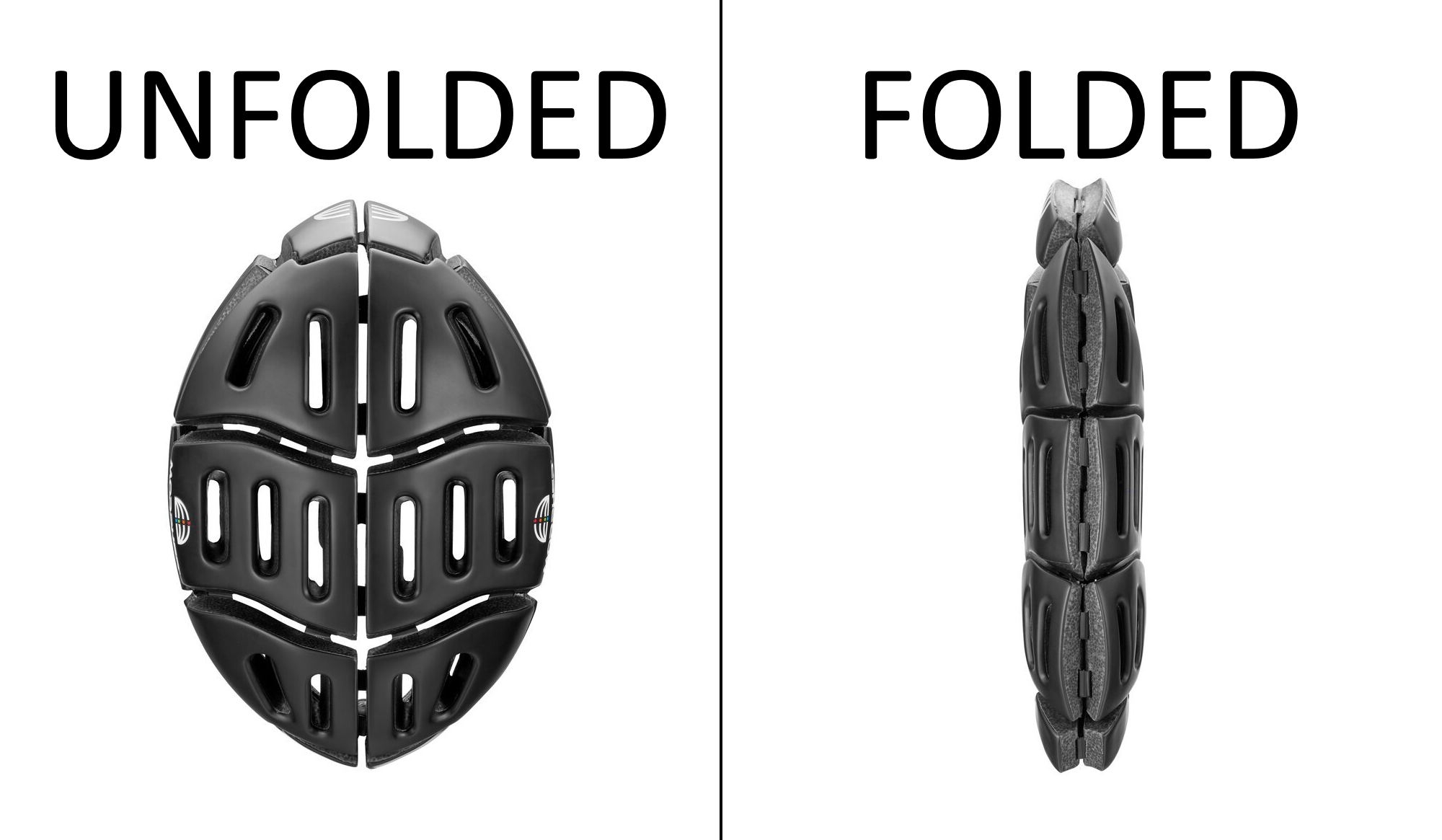 Thanks to its small size and thin construction/design the Morpher Foldable Helmet can be folded and unfolded with ease. Folding and unfolding the Morpher is incredibly easy, which means it will always be ready to wear if you bring it along with you. And the same goes for stashing it away in a matter of seconds, as soon as you arrive at your workplace, College building, or meeting place when going out with your best friends.
FINAL THOUGHTS
The Morpher Foldable Helmet features excellent design innovation. Its slim profile when folded makes it easy to take anywhere, fitting any type of bag you decide to bring along with you, making it capable of fitting in virtually any backpack, tote bag, or laptop case.
If you're tired of lugging around a clunky, old school regular helmet, try the Morpher Foldable Helmet, a thin and lightweight foldable helmet that's safety certified in the U.S. and worldwide, designed to keep you safe on e-scooters, bicycles, e-bikes and more.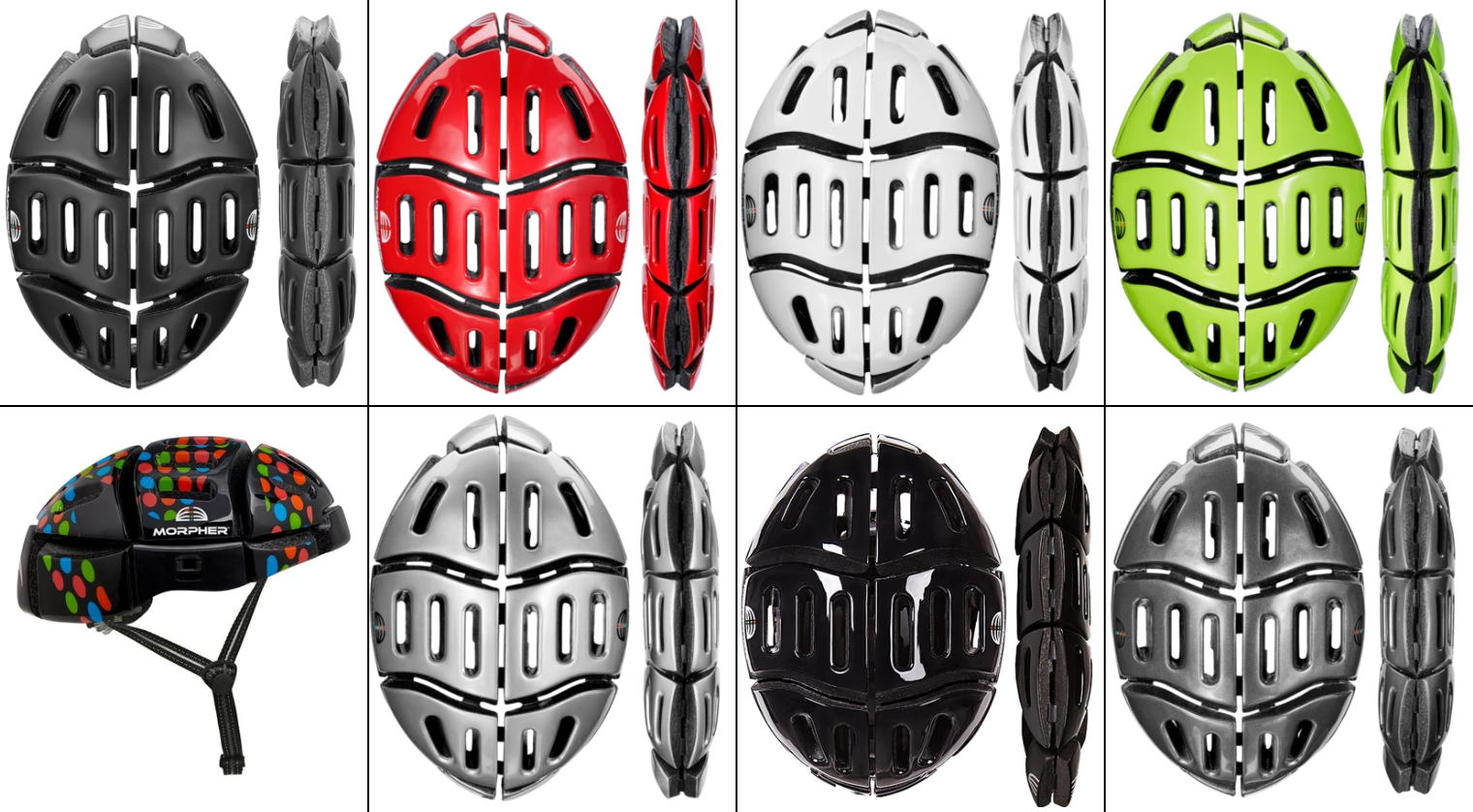 The Morpher Foldable Helmet is currently available in 8 different models: Matte Black, Regal Red, Frosty White, Shiny Black, Stunning Silver, Spotty Dot, Gunmetal Grey, and Sunshine Yellow.
If you're interested in getting your very own Morpher Foldable Helmet, each helmet is currently going for $100 (the company officially dropped its price since November 7 from the original cost of $150 to just $100). You can get yours from Morpher's official website, by accessing the corresponding shopping page.