Imagine having a pair of Bluetooth enabled sunglasses that would support quick-access and easy-to-use touch controls for daily hands-free calls, playing your music, and chatting with your voice assistant. Well, we've got some great news, because that's exactly what the Lucyd Loud XL Sunglasses do for you.
The Lucyd Loud XL Sunglasses are a pair of "smart" sunglasses that come equipped with built-in bone conduction speakers, and that's how you're able to take any phone calls, listen to music, and chat with your phone's assistant, all while keeping your ears uncovered.
Having your ears uncovered while listening to your favorite soundtracks via bone conduction technology allows you to easily pay attention to your surroundings, like the traffic for example. That's great for anyone that has a busy daily commute and doesn't want to constantly have the need to put on and take off their headphones, multiple times per day, every day.
Now, let's take a look at the Lucyd Loud XL Sunglasses, see how they work, and what they have to offer.
DESIGN AND SPECS
The Lucyd Loud XL Sunglasses' frame is made of high-quality materials, and is slightly heavier and larger than a pair of typical sunglasses. This means that these shouldn't be used by children, but that's ok, since our kids have more than enough time to discover the wonders of technology.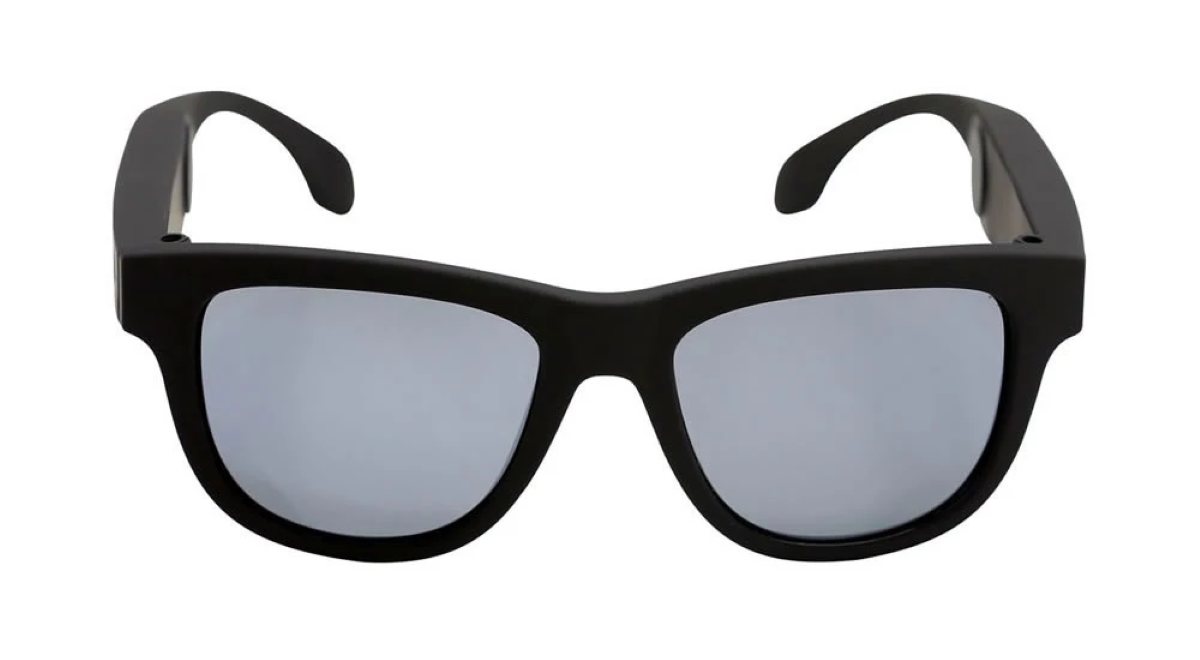 The Lucyd Loud XL's frame actually offers a smooth feel when you wear them, offering a comfortable fit. The lens measure 52 mm wide, the frame's bridge measures 17 mm, and the temple (sides) measures 143 mm long.
At the bottom part of each temple, around the middle, the sunglasses come equipped with open speakers that feature bone conduction technology. That's how you get your media to be played with a decent audio quality.
WHAT'S IN THE BOX?
Inside the box users will find: a pair of non-Rx Lucyd Loud XL Sunglasses with polarized lenses, the sunglasses case, an included Charging Cable, and a User Manual.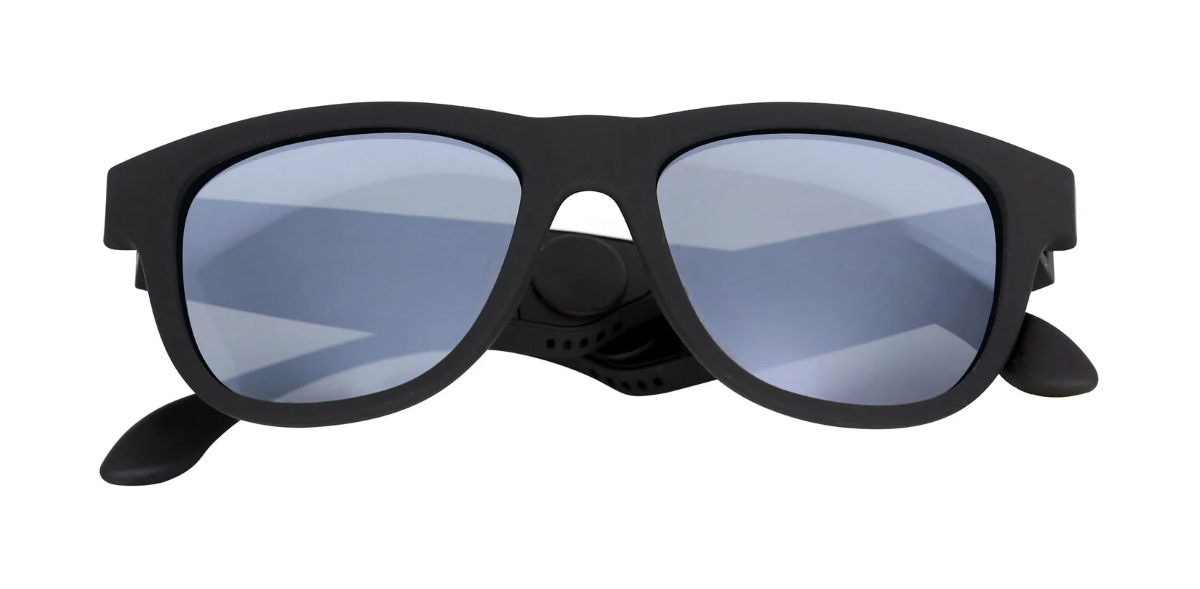 TOUCH CONTROLS & LED
Under the right side temple you can find the increase volume and reduce volume controls (+ and -), as well as a USB jack which is used to recharge the sunglasses. There's also a small LED on the inner side of the right temple that lights up when you recharge the sunglasses and lights off once they're fully charged (and the same for Bluetooth Pairing).
Turning the Lucyd Loud XL is extremely simple. You just have to press the (+) button for around 3 seconds, and they'll turn up, and play a "beep" sound, as well as produce a really faint vibration.
On the outer side of the left temple, users are offered a touch panel/track pad, where they can use quick-access touch controls to interact with their smartphone without pulling it out of their pocket. There's a total of four touch commands: short tap, long tap, swipe forward, and swipe backwards.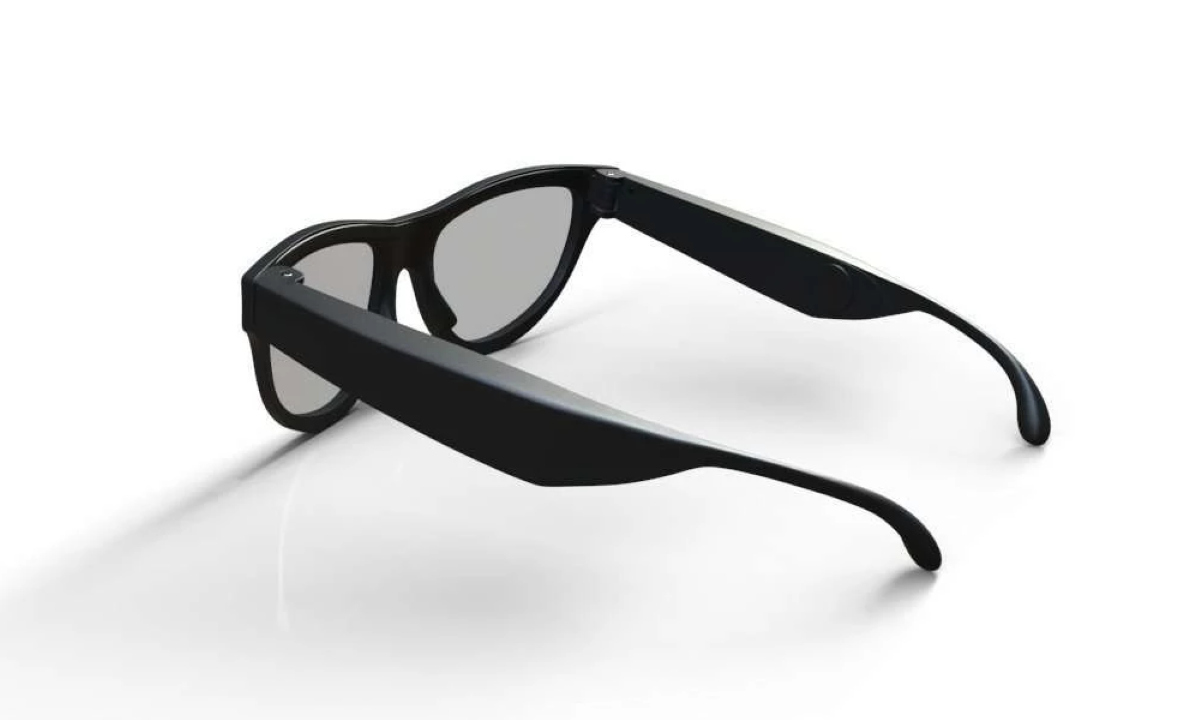 A long tap right in the middle of the track pad (pressing the temple for a few seconds) will activate your voice assistant, which will then be ready to listen to your voice commands.
A quick tap on the track pad will play or pause a song from your playlist. Swiping from the middle to back of the track pad goes to the next track, while swiping from the middle forward goes to the previous track or starts your current track back from the beginning.
Swiping back also allows you to answer any incoming phone calls, which you'll hear ringing if you have the sunglasses on. Swiping forward lets you hang up a call.
While the track pad is somewhat sensitive, after you get a hold of it the touch controls should work like a charm. The more you use them, the easier it gets.
BATTERY AND BATTERY LIFE
Fully recharging the Lucyd Loud XL Sunglasses takes you around 2 hours. Once fully charged these sunglasses offer you around 8 hours of battery life, but that obviously depends on how much you use the touch controls and how loud as well as how long you listen to your music, take phone calls and chat with your smartphone's voice assistant.
BLUETOOTH PAIRING & COMPATIBILITY
To pair them up with your smartphone via Bluetooth, start by enabling Bluetooth pairing on your smartphone. Then, hold the Lucyd Loud XL's (-) button for around 3 seconds, which will make the sunglasses enter Pairing Mode. You'll hear a short "beep" sound that lets you know Bluetooth is activated and the LED that's located on the inner side of the right temple will start flashing with Red and Blue colors.
Then all you have to do is go to your smartphone's Bluetooth menu again and select the sunglasses there.
Keep in mind that newer smartphones will offer a stronger Bluetooth connection, which directly affects the Audio Quality.
The Lucyd Loud XL Sunglasses are only recommended for iPhone 7 or any iPhone that was released after it. The same goes for the Samsung Galaxy S8 or any newer phone. However, the Lucyd Loud XL Sunglasses does works with most Bluetooth-enabled devices, but has said before, remember that audio quality might not be as amazing as on a more recently released phone like the iPhone 11 or the Samsung Galaxy Note 10.
You should also know that if your car supports Bluetooth connectivity with your smartphone, and you do have your smartphone connected to both your car and the sunglasses, then you can switch where your media is played back and forth between your car's stereo speakers and your sunglasses. That's another cool little trick that these Bluetooth enabled smart sunglasses can do.
Voice Assistant Support (Siri)
As stated before, these smart sunglasses also support your smartphone's voice assistant. Chatting with your voice assistant allows you to check WhatsApp, check your text messages, browse the web for information, call an Uber, and much, much more.
Basically, anything that Siri can handle you can pretty much do from the glasses without even pulling out your phone, and that's pretty cool.
FINAL THOUGHTS
The Lucyd Loud XL Sunglasses are a pair of Bluetooth enabled smart sunglasses that come equipped with built-in bone conduction speakers. The sunglasses are simply amazing, and allow you to take any phone calls, listen to music, and chat with your phone's assistant with just a few simple touch controls, all while keeping your ears uncovered.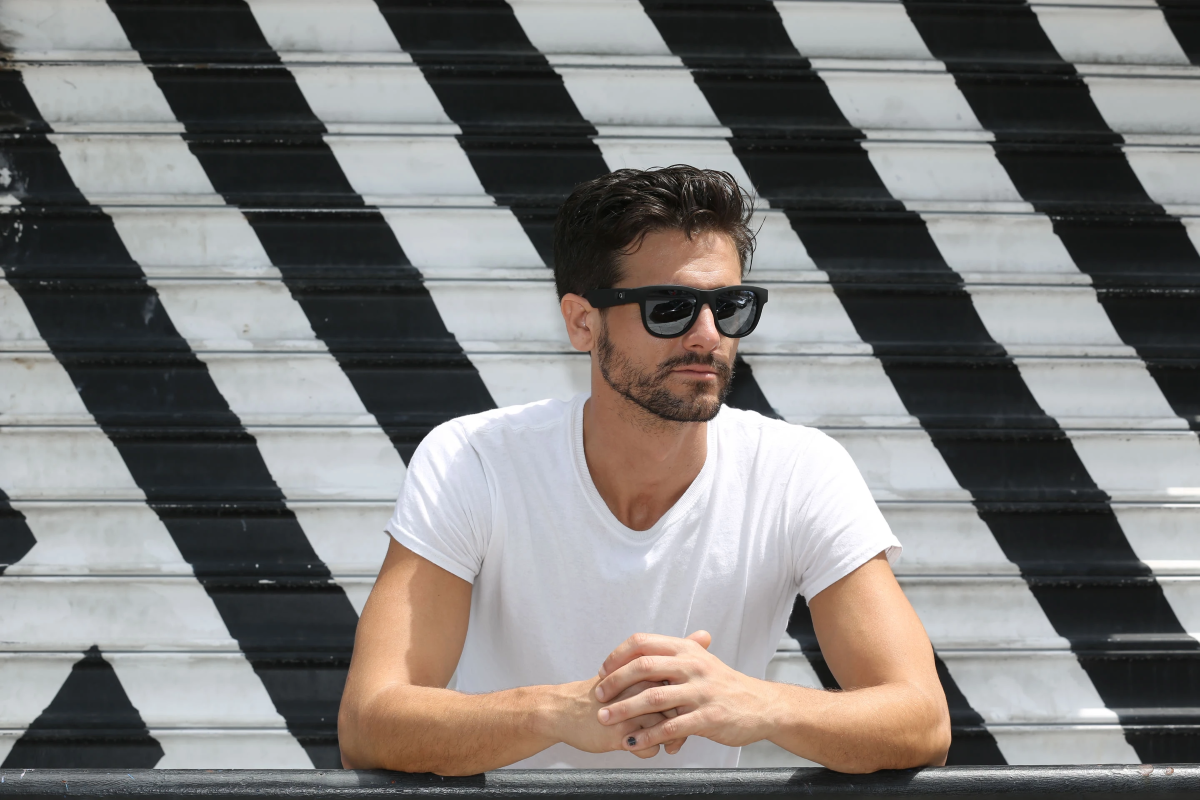 The Lucyd Loud XL Sunglasses are currently available in two different models: Darkside (full Black Body), and Mars (outter Red Body with Black Interior).

If you're interested in getting them, each pair of Lucyd Loud XL Sunglasses (no RX – no prescription) will cost you $99. For those looking to get them with prescription lenses, know that you do have the option, but it will obviously cost you more. You can get yours right now, directly from Lucyd's shopping page, which you can access by clicking here.