If you're looking for a stylish luxury bag that would easily make any woman look professional, then consider taking a look at the Clover Clever Luxury Bag.
The Clover Luxury Bag offers stylish elegance, optimum organization and true tech enlightenment for the 2020 superwoman.
This amazing clever bag is the world's first innovative bag that comes equipped with a motion-sensing light. The bag also features a removable inner compartment that can be interchanged between various other bags as well as other add-ons that make organization for all high-tech women on-the-go a much easier task.
The Germany (Munich) based company (Clover gmbh) is currently running a Kickstarter Campaign where you can already get one of these amazing high-tech woman business bags for a very accessible price.
Let's take a detailed look at the Clover Bag and see everything it has to offer.
DESIGN & SPECS
The Clover Bag presents a truly unique concept and will certainly be much appreciated by any business woman. Thanks to its innovative, modular design, the Clover Bag helps to simplify a woman's life, especially when searching for something in the dark or trying to turn a handbag into a backpack, like when going from her place of work to the gym.
The Clover Bag keeps everything in order and comes equipped with a detachable inner part that can be easily transferred to another bag.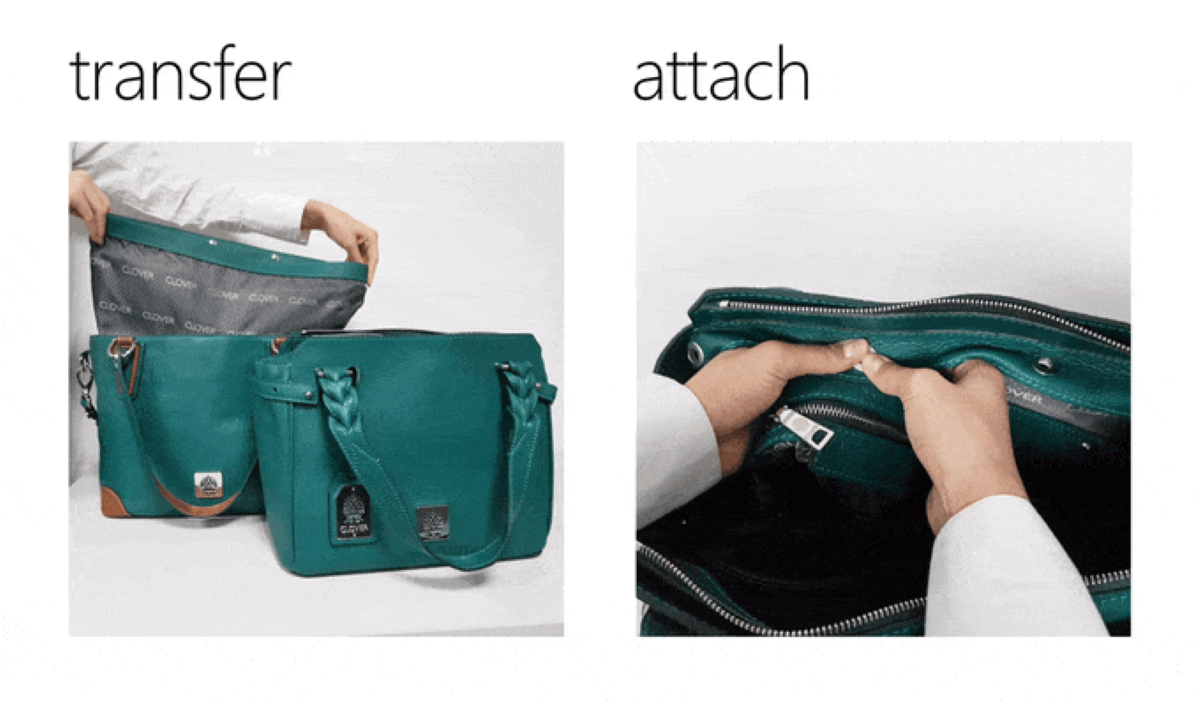 This removable inner part lets you transfer items from one bag to another in a couple of seconds. By just moving the inner compartment with all the contents from one bag to the other you can save a ton of time instead of having to transfer one item at a time.
It's important to note that the removable part is only available in four main models: Hyacinth Bag, Jasmin Bag, Freesia Bag (Flotar Leather Bags) and the Muscari Bag (Nappa Leather Bag).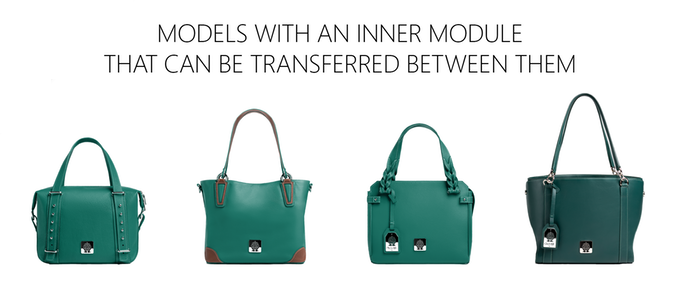 The bags are made in Europe and are made from high-quality and extremely durable Italian leather. Both design and production are handled with extreme care. Lastly, the bags come beautifully packed in Clover's branded boxes.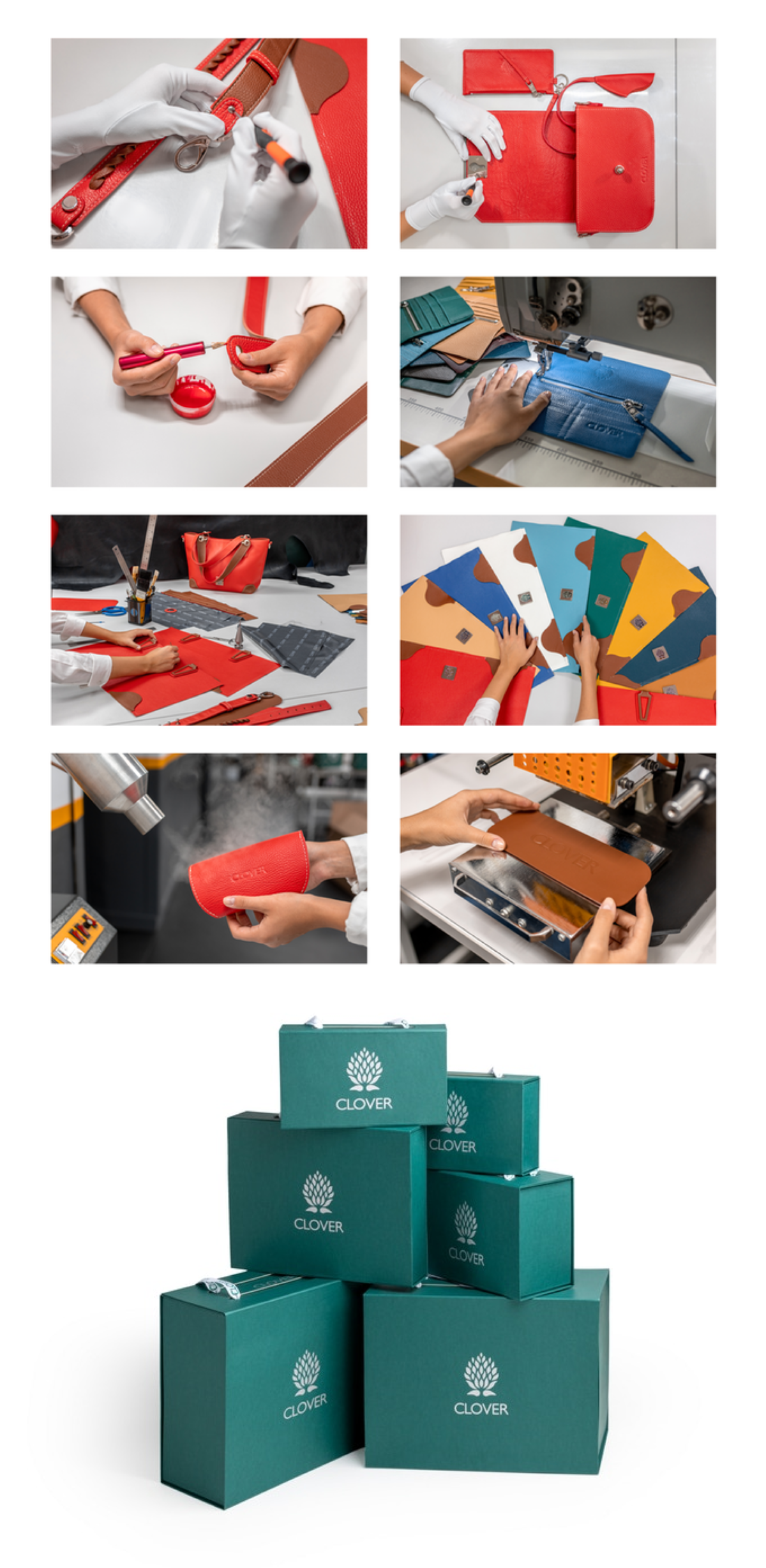 ALL ACCESSORIES A HIGH-TECH WOMAN NEEDS
The Clover Bag's removable inner part also includes a couple of accessories that were designed to help with organization, including: a smart motion-sensing wireless light, a wallet for coins, a key holder, a bottle holder, a headphone holder, a table bag holder and a branded steel pen.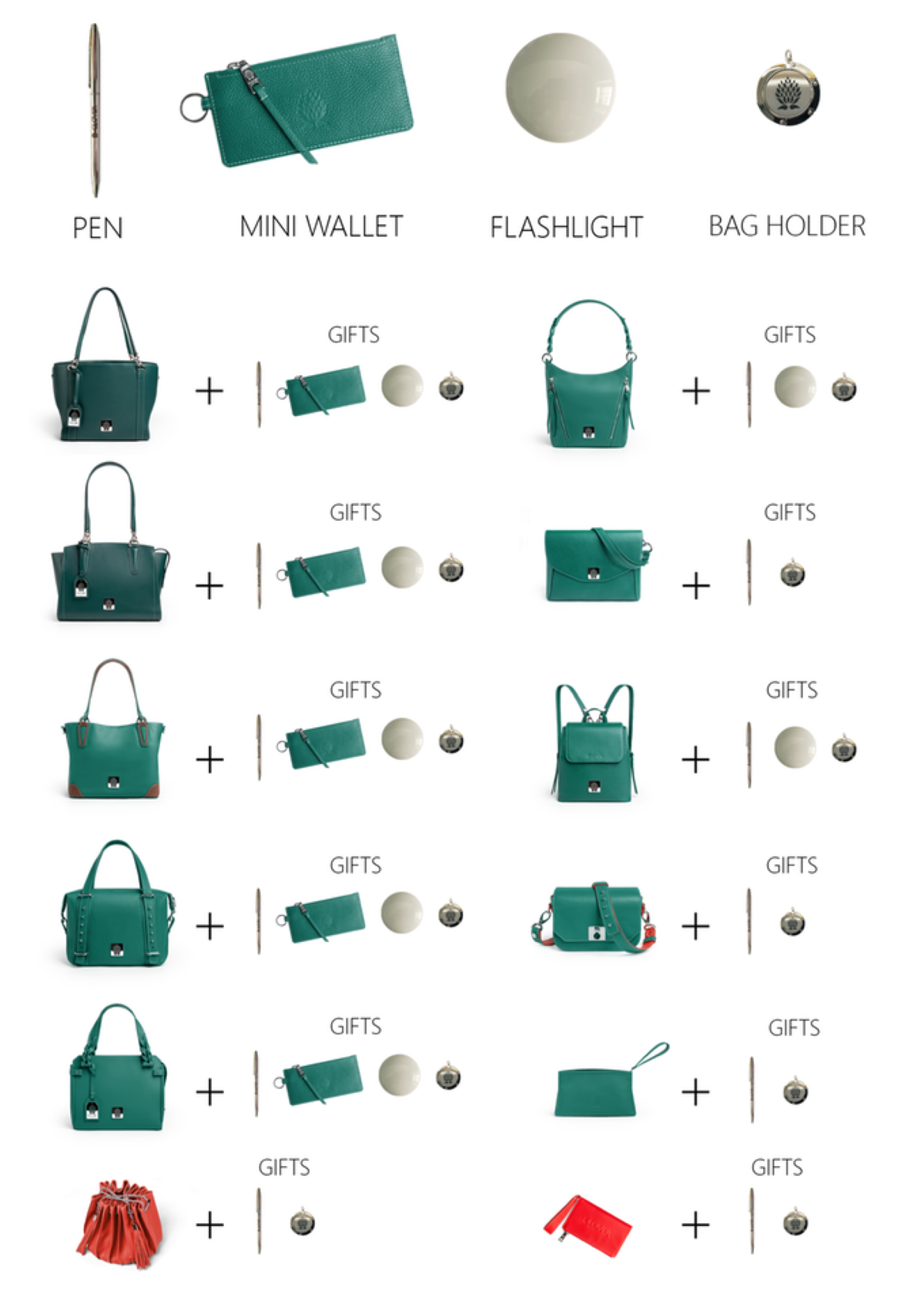 Smart Motion-Sensing Wireless Light
The Clover Bag can literally light everything up, which means that searching for any personal item will never be a hard task, ever again. The internal wireless light works together with a motion sensor. To turn it on, all you have to do is put your hand inside the bag. This helps you find your things at lighting speed, even when going out in the darkest night. (The light is available in most of the models).
Other Accessories
All other accessories like the bottle holder and headphone holder make the bag fully functional and extremely optimized for the best organization you've ever seen.
By combining a beautiful bag with a ton of functionality-focused accessories the Clover Bag keeps all of your items in specific places so you're able to find them quicker without ever looking, while also saving you a ton of time whenever you need a specific item. Just reach into a specific part of the bag and grab what you need.
TONS OF DIFFERENT MODELS & COLORS
All clover bags come in two types of high-quality leather that's far better than the traditional "genuine leather". These are Flotar Leather (granual leather) or Nappa Leather (soft and smooth leather). Both leather versions from the entire Clover Collection (available on Kickstarter) are also available in two different sizes (normal-size leather bags and smaller leather handbags).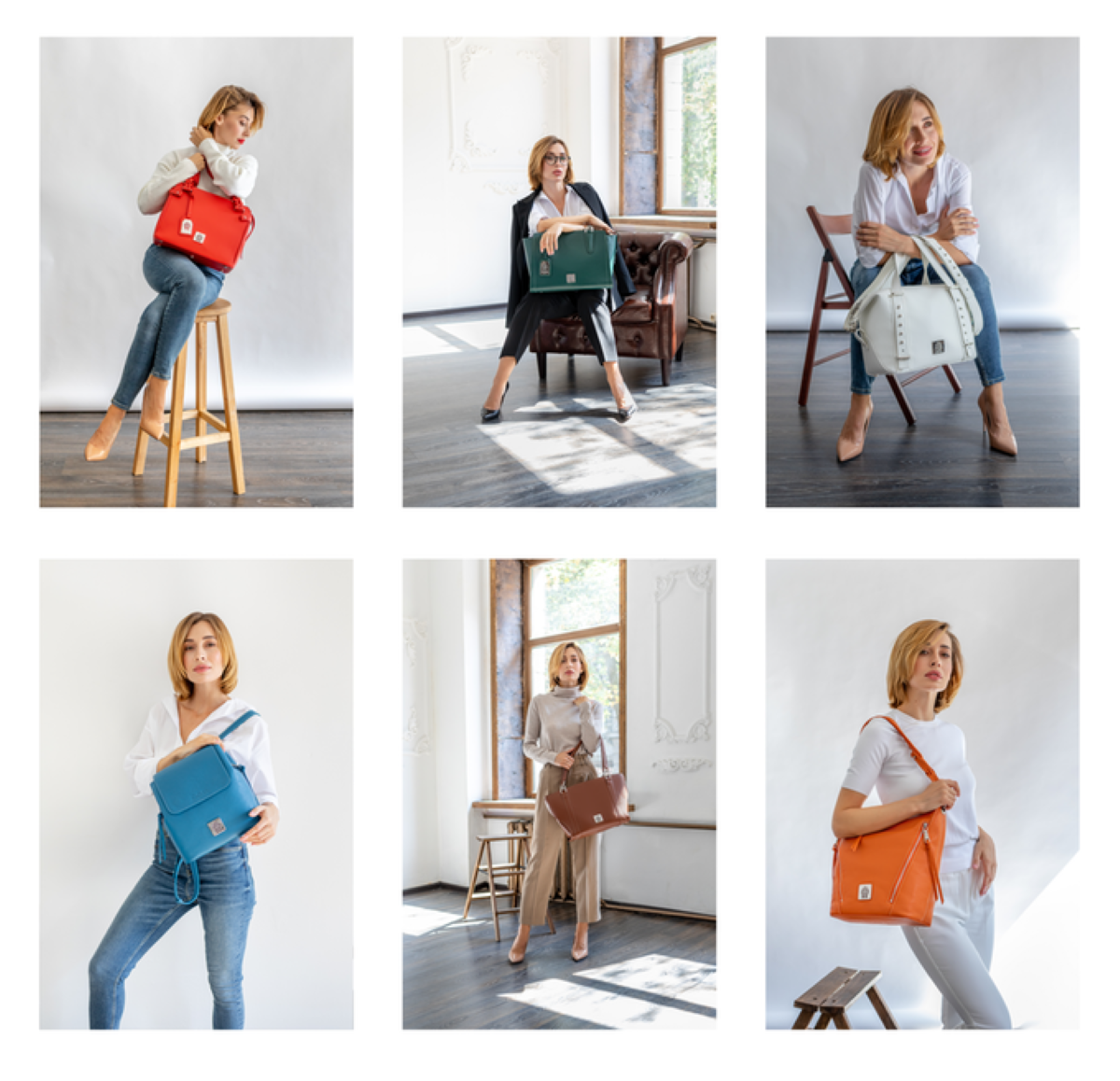 The bags are available in 14 different colors: ananas, avocado, bianko, black, champagne, cremisi, flake, flirt, fog, jeans, orange, oxygen, turchese and woody. This means that you can literally pick your favorite color to get the perfect look.
Flotar Leather Bags
The Iris is a spacious casual bag with two functional front pockets for day to day use.
The Hyacinth is a voluminous bag to fit everything you need for day-to-day routine. The Hyacinth Clover Bag comes with removable and adjustable handles and a shoulder strap, as well as a transferable inner bag inside.
The Iberis backpack is a "transformer" that can be changed between a backpack and a bag. This bag comes with adjustable handles.
The Jasmin bag combines minimalism and comfort. There's a removable and adjustable shoulder strap and a transferable inner bag inside.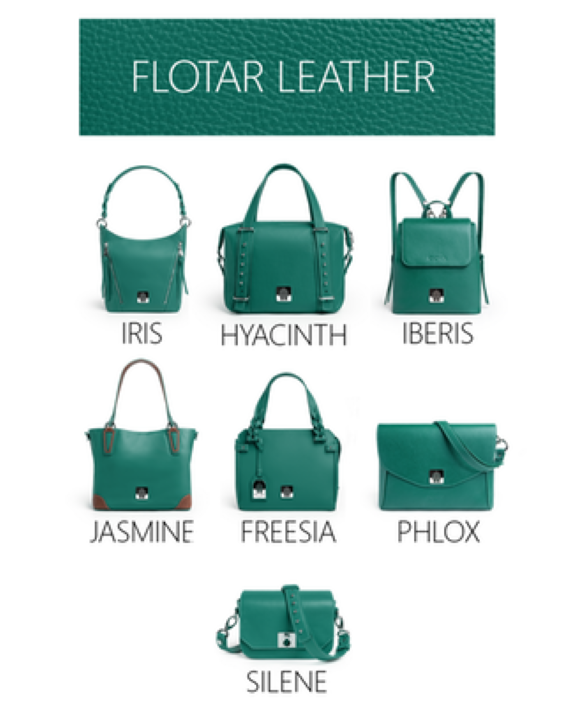 The Freesia is a firm and elegant, classy and modern, roomy yet iconic bag. A transferable inner bag inside completes the picture.
The Phlox is a perfect vessel for both casual and business looks, coming together with a removable and adjustable shoulder strap.
The Silene Mini is an elegant bag for any occasion. Despite its name, the Silene is quite capacious. It's also equipped with a removable and adjustable shoulder strap.
Nappa Leather Bags
The Muscari bag is an elegant model that follows a single concept – "Less is More" – making it the perfect bag choice for any occasion. From business meeting to a casual event, the Muscari is your go-to Clover Nappa Leather Bag. It also comes with a transferable inner bag inside it.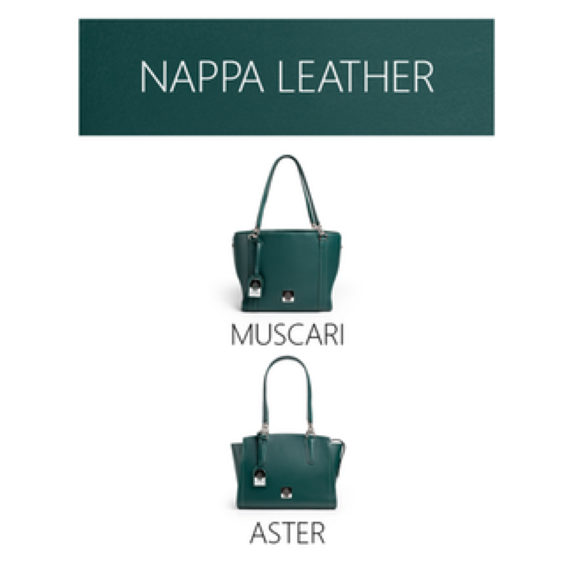 The Aster is a business-look bag with clear cut lines that's fit for a laptop and A4 or US Letter papers.
Smaller Leather Handbags
Lastly, Clover gmbh also has some smaller bag models, including: the Tulip model (Small Flotar Leather Bag), the Clutch model (available in both models Small Flotar Leather and Small Nappa Leather Bag) and the Wallet model (Small Flotar Leather Bag).

FINAL THOUGHTS
The Clover Clever Luxury Bag is the perfect business bag for any high-tech woman on-the-go. This stylish luxury bag offers optimum organization and true tech enlightenment for the 2020 superwoman.
For any man reading, this could be the perfect gift for the woman in your life, showing that you're a caring husband/ boyfriend, and could be a great Christmas, Birthday, or Valentine's Day gift.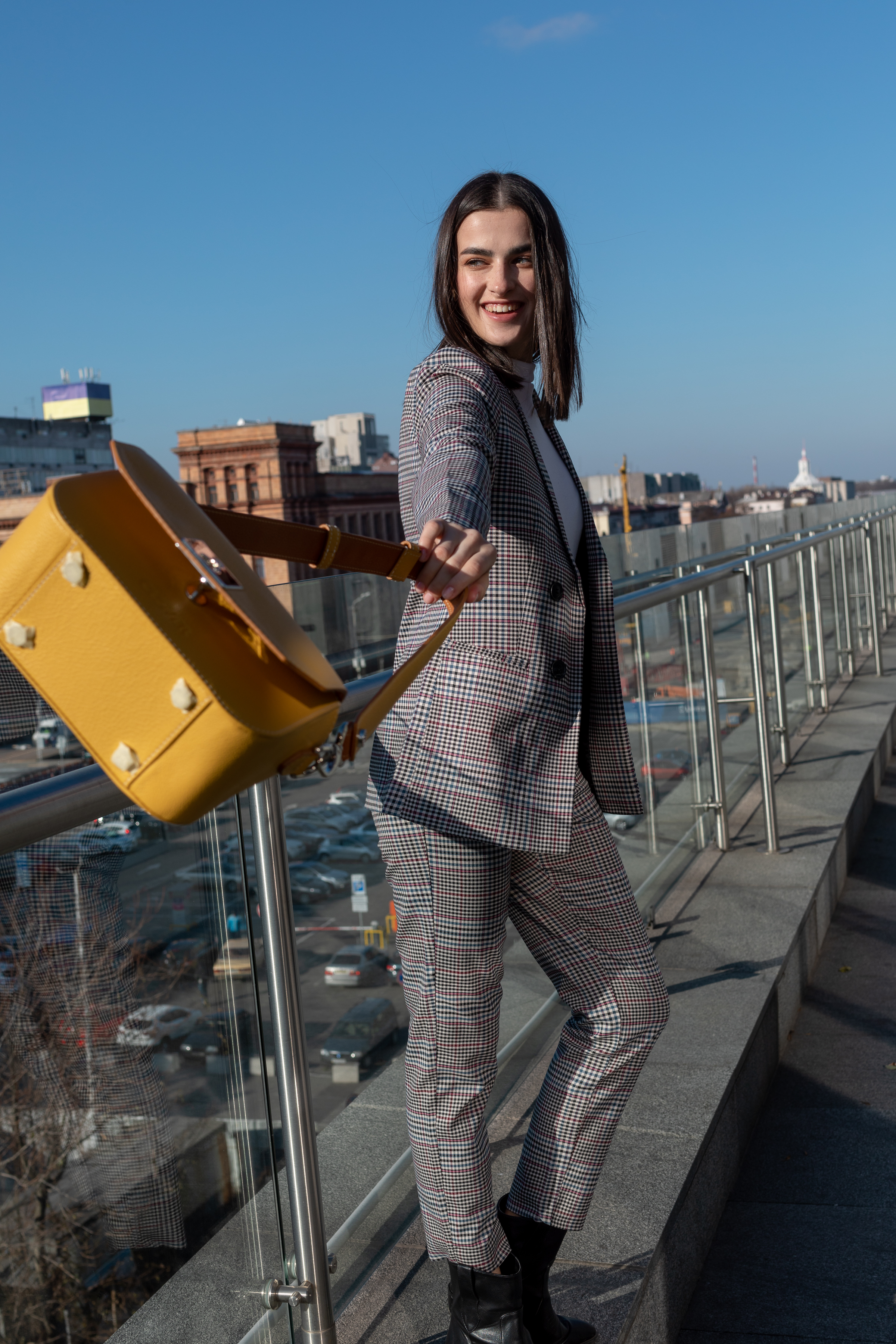 There is a total of ten models to choose from (Clover classic tote, hobo, mini-bag and clutch, to exclusive author's bags and more) and a total of 14 different colors available.
If you're looking to get a Clover Clever Luxury Bag, you can pre-order yours at a discounted price at Clover's Kickstarter Campaign for a limited time only.
Depending on what model you pick, the bag's price can go anywhere from around $160 to $670. Getting a set of two Clover bags saves you around $78, while ordering three Clover bags saves you $156. Buying four Clover bags saves you around $234. There is no extra delivery cost.