CES 2020 will begin tomorrow (Tue, Jan 7, 2020) and end just 3 days after (Fri, Jan 10, 2020). During these 4 days, tons of attending tech. companies will be showcasing their newest state-of-the-art products at the famous annual trade show (CES) organized by the Consumer Technology Association. One of those companies is CookingPal, who will be showcasing their ultra-modern CookingPal Julia Countertops MultiCooker.
CookingPal is a subsidiary company of Tecpal Limited and an IoT solution company dedicated to designing kitchens of the future. Combining cloud technologies with sophisticated appliances and lifestyle products, the company designs solutions that deliver insightful and uplifting user experiences. The company's first kitchen solution is Julia, which will be available this fall, in the third quarter (Q3) of 2020.
The main company, Tecpal Limited, is a leading technical engineering, software development and product design company that's specialized in Smart Appliances. The company is based in Hong Kong and serves over 30 countries, including the Americas, the United Kingdom, Europe, Australia and New Zealand.
Now, back to Julia. The CookingPal Julia Countertops MultiCooker is basically a do-it-all countertop chef. While plenty of European cooking products like the Thermomix line of all-in-one cookers aim to "do it all" in the kitchen, we haven't really seen many of these trend in the U.S.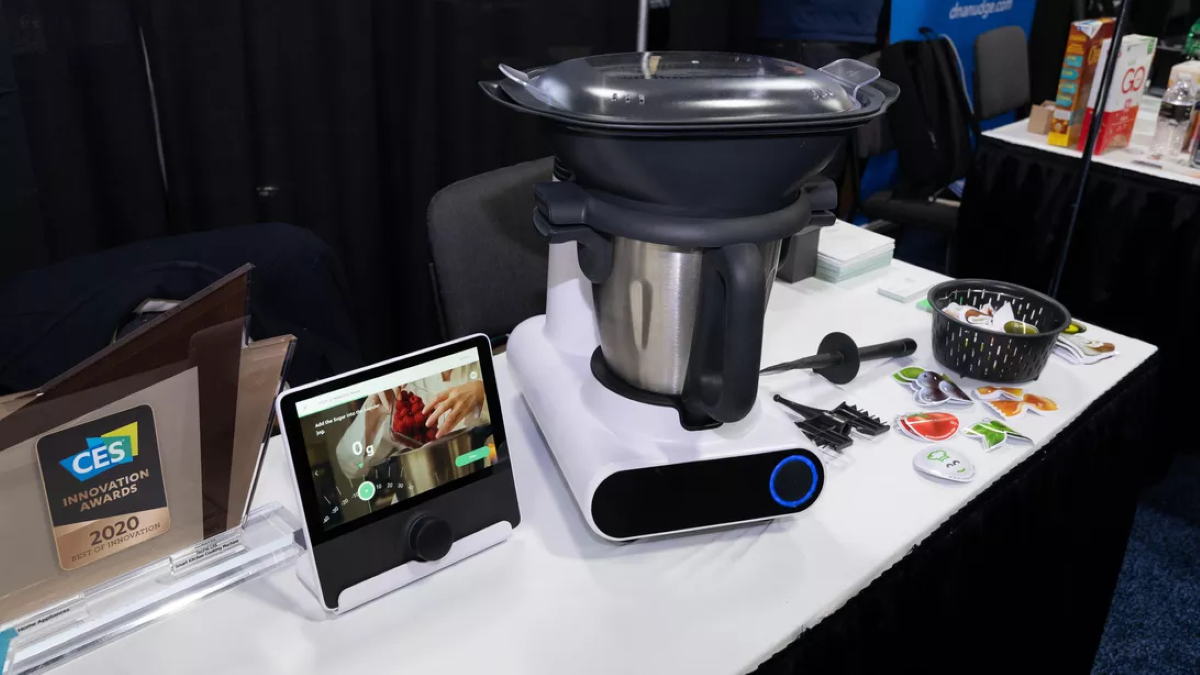 However, CookingPal's all-in-one multicooker Julia is about to change that. Starting tomorrow, this brand-new kitchen appliance will be showcasing its skills at CES 2020. This countertops multicooker offers a total of 12 different meal prep. modes, doing everything from weighing ingredients to kneading dough. The Julia Multicooker also comes with its own sidekick smart touchscreen display that features guided cooking videos with voice assistant support.
Let's take a detailed look at it and see what it's all about.
DESIGN & SPECS
The CookingPal Julia Countertops MultiCooker features a state-of-the-art design that brings smart technology and the concept of connected cooking together. With Julia, users can cook delicious meals in an easy and convenient way.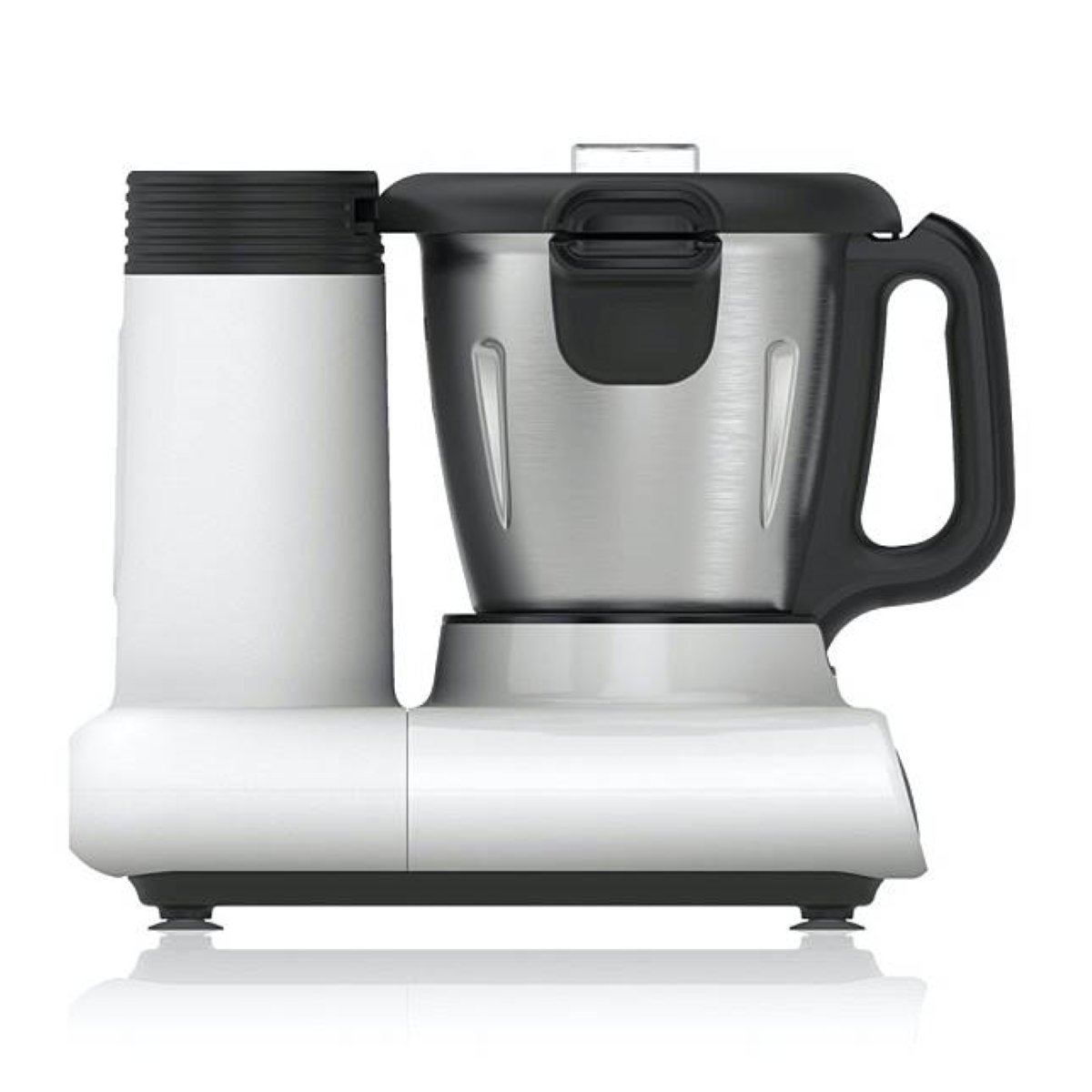 The multicooker measures 17.3 inches long by 12.2 inches wide by 14.6 inches tall (440x310x370 mm). This modern and easy-to-use device is composed by a stainless steel three-liter bowl that's equipped with an inner blade and is dishwasher-safe (incredibly easy to clean), an all-in-one base with a built-in scale that's accurate to 0.03 oz. (5 g) and built-in heating unit, an interactive LED light to let users know when the machine is operating or done with a specific meal prep. function and a measuring cup (located at the top of the device).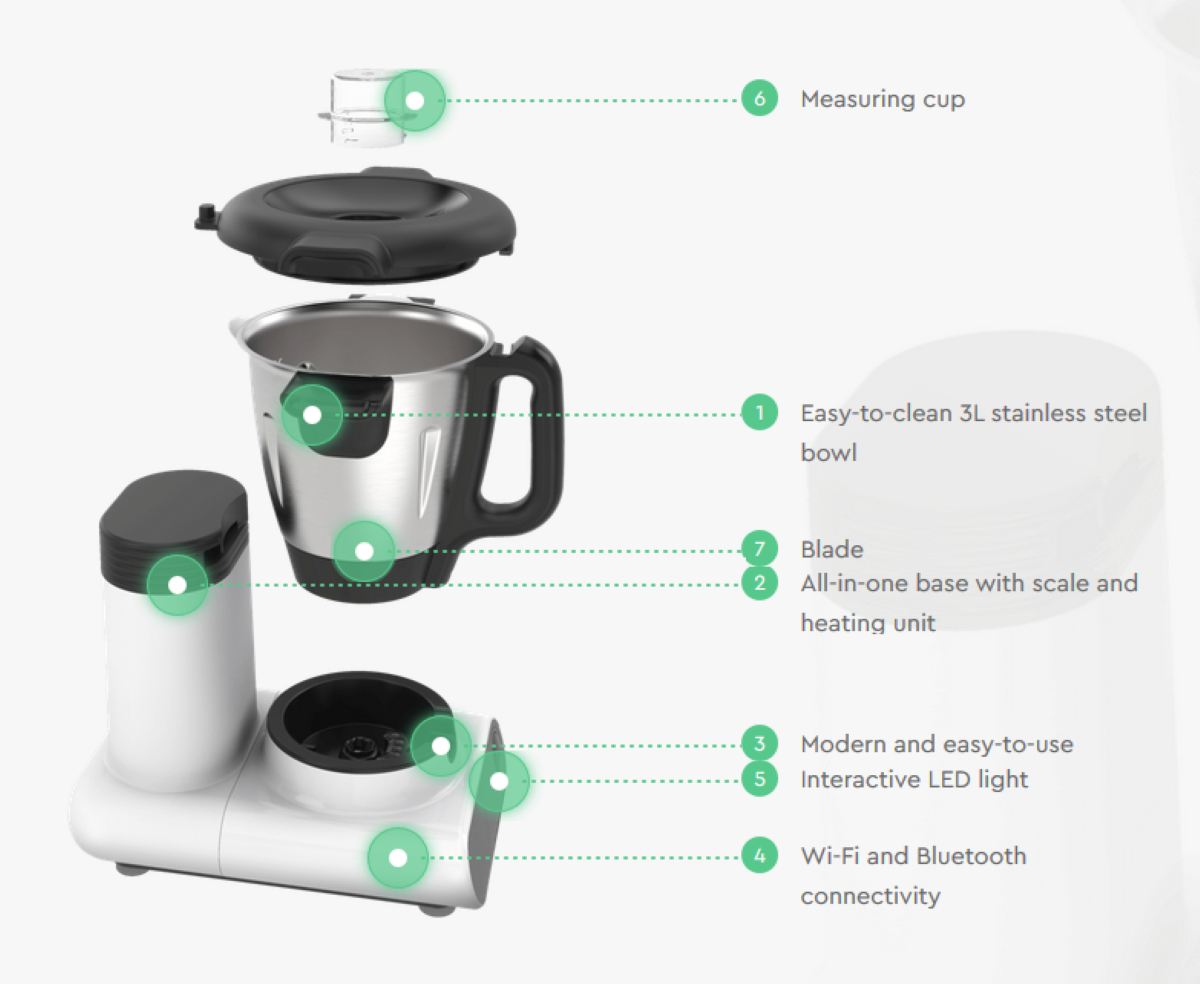 The Julia Multicooker also comes equipped with a 10-speed motor that operates with up to 5,200 RPM. Julia can cook any meals up to 265 degrees Fahrenheit.
SIDEKICK TABLET
As stated before, the CookingPal Julia Countertops MultiCooker also comes with a sidekick smart touchscreen display. Its 8.9-inch Smart Kitchen Hub Tablet (runs on Android) has been thoughtfully designed for the tough kitchen environment, offering touch-screen controls and coming equipped with a physical jog dial with interactive LED light for a familiar haptic feel and a compact and sturdy table stand.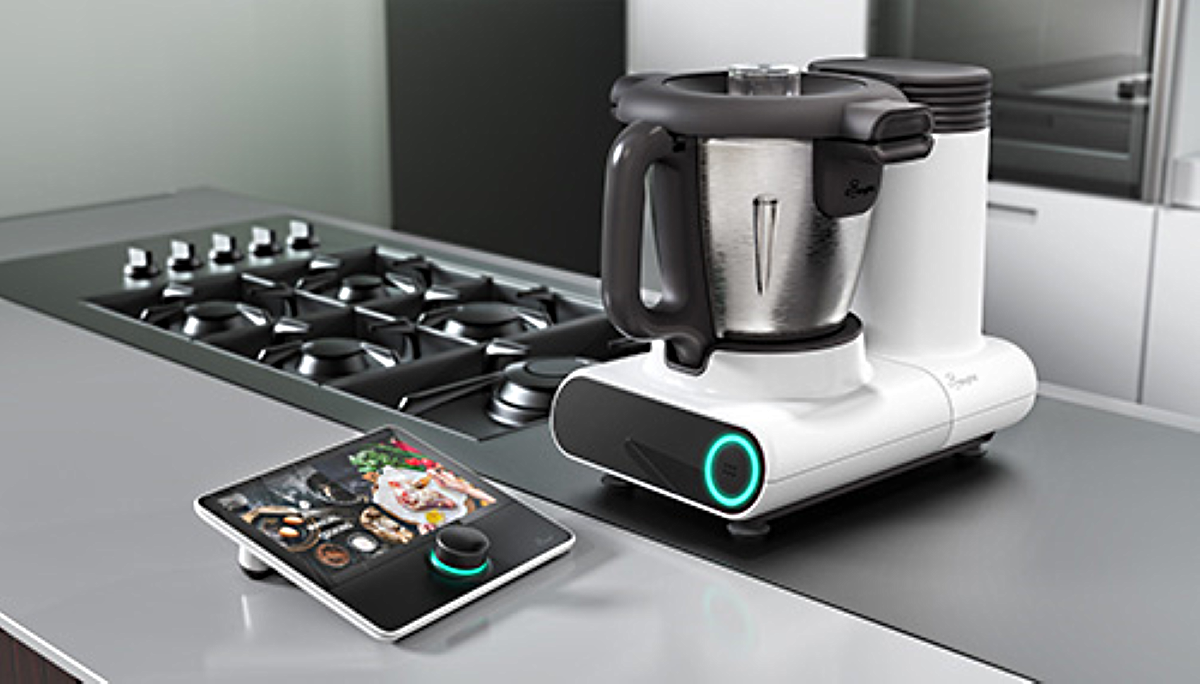 The tablet itself is splash- and dust-proof. The stand comes equipped with a built-in camera, two speakers and a microphone, allowing Julia's included tablet to easily assist users to purchase ingredients from one of the retail partners and help them make healthy food choices by tracking their nutritional values with its AI food recognition feature. The built-in camera can easily recognize the ingredients it sees through its lens and then suggest some healthy recipes with those same ingredients.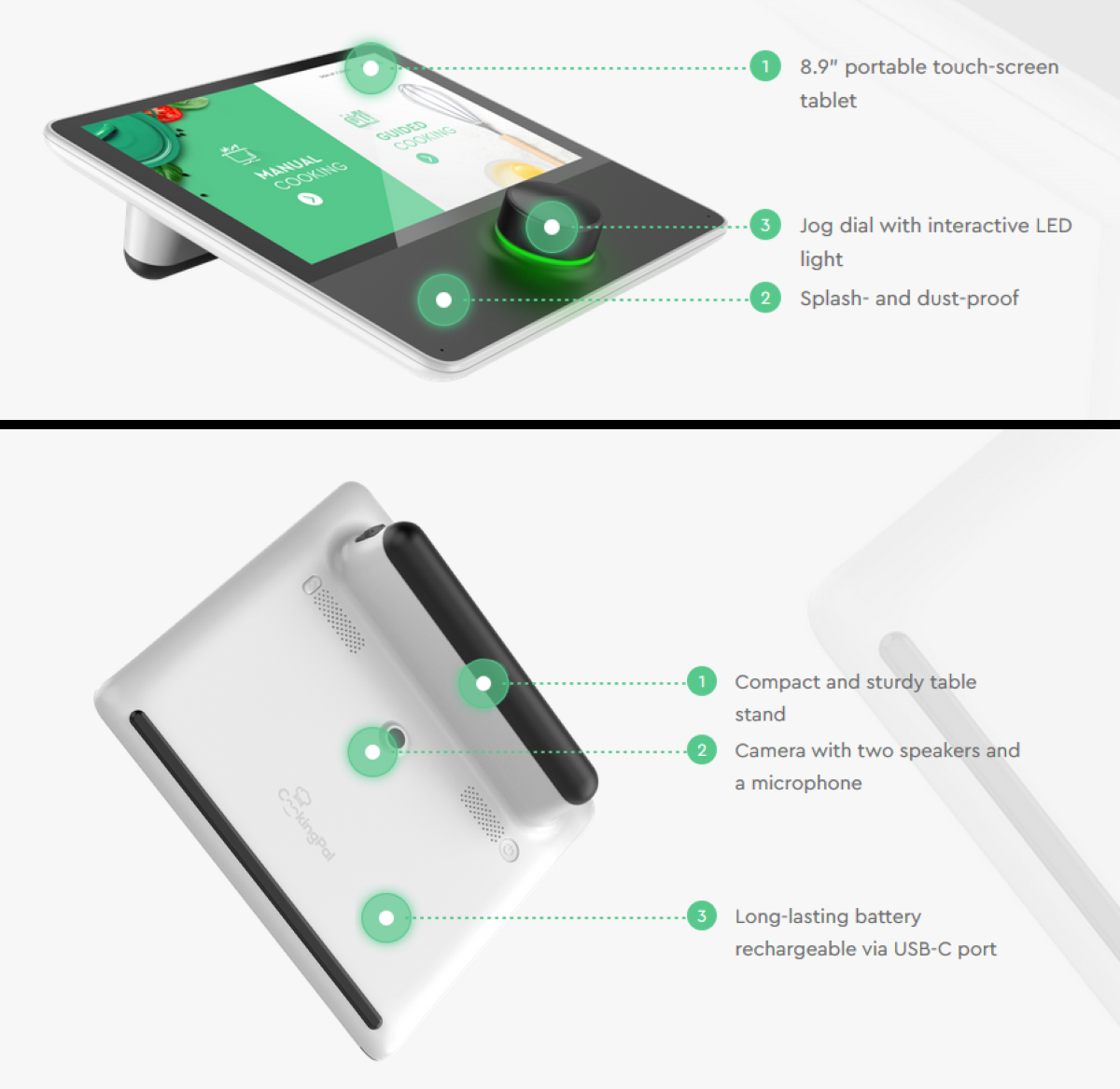 CONNECTIVITY AND CONTROL
The Julia Multicooker can be connected to its Smart Kitchen Hub via Bluetooth 4.2 and Wi-Fi. The device can then be controlled via its dedicated Smart Kitchen Hub Tablet, but also by the Smartphone App when connected to your phone.
ACCESSORIES
The Julia also comes with some cooking accessories, including a steamer tray, a simmering basket and a butterfly whisk and spatula, which work as mixing accessories.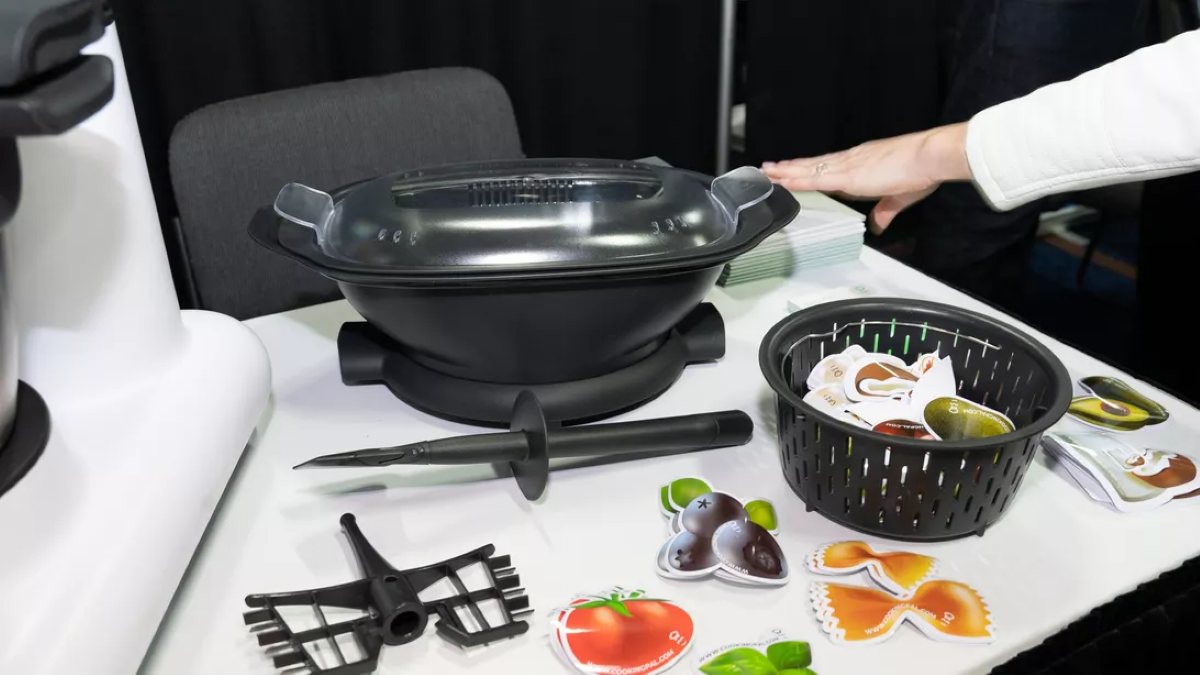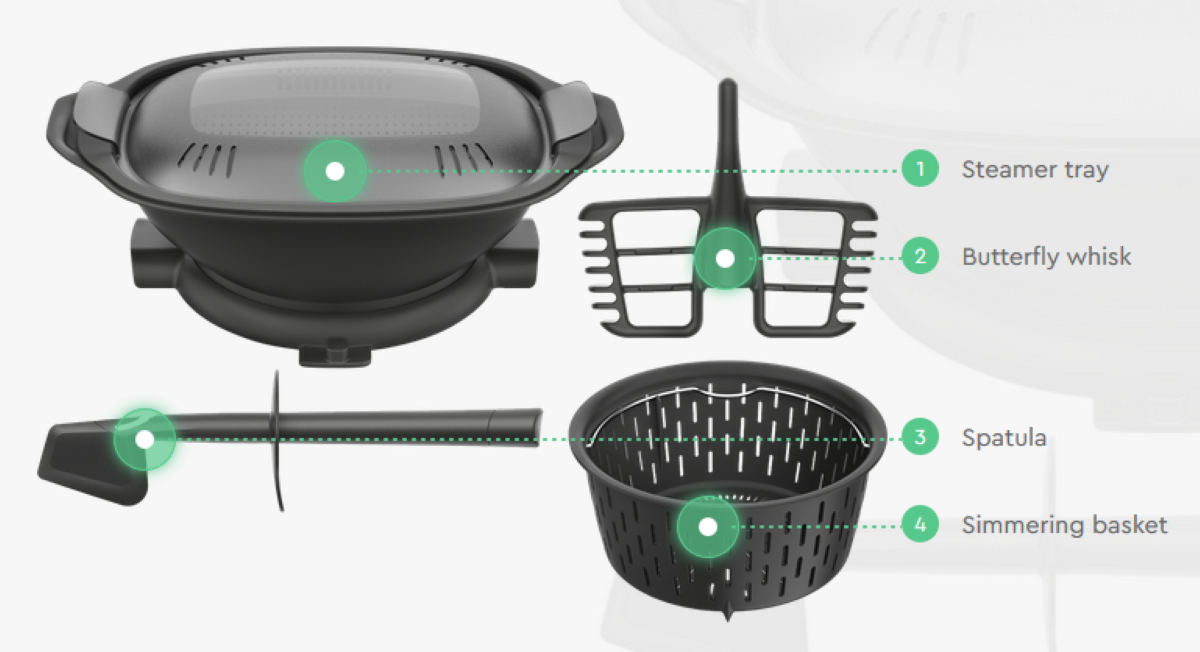 FEATURES
12 Different Meal Preparation Modes
The Julia appliance has a total of twelve different meal prep. modes. The device can do things like weigh ingredients with its scale (which is built into the base), regulate its own heat settings through the cooking process, self-time every step of the meal prep. so that you don't have to continually tap "next step", and much, much more.
Its twelve different meal prep. modes are: Chop, Mix, Blend, Knead, Weigh, Boil, Emulsify, Steam, Grind, Grate, Whisk and Cook.
Self-Cleaning Function
The Julia MultiCooker also features a Self-Clean mode that basically just needs a bit of dish soap and water. After that, users just need to select the "Mixing Mode" and the device will automatically start cleaning/washing itself.
Customizable Meals
Julia's recipes are completely customizable, but there's also a manual mode for creating your own dishes. As stated before, the tablet stand's built-in camera can recognize any ingredients and then suggest healthy recipes that use those same ingredients.
Julia's smart tablet will then offer you step-by-step video guides of easy-to-follow recipes, instructing you to simply put the ingredients in the bowl. After you've selected the recipe and added the ingredients, Julia prepares them as required for the dish you've selected.
Julia also includes a digital recipe book that works as a growing database of over 500 recipes which were created specifically for CookingPal and tested by over 20 chefs from different nationalities.
Wide Kitchen Smart System – Full Compatibility
The Julia Multicooker was designed with expandability in mind, making it just one of CookingPal's three currently developed (or in development) smart kitchen appliances. Julia's included Smart Kitchen Hub Tablet will also control all other devices in CookingPal's Smart Kitchen range, allowing at-home cooks to prepare multiple dishes with convenience and ease.
CookingPal revealed that they'll also be bringing their own "Marco" Smart Oven and "Sophie" Pressure Cooker, and maybe even more kitchen appliances in the upcoming future, which can all be controlled by Julia's included Smart Tablet.
Voice Assistant Support
The Julia Multicooker also features a voice control functionality with built-in voice assistant support, offering compatibility with Amazon Alexa or with Google Assistant (after pairing).
Julia's step-by-step video guides of easy-to-follow recipes easily become instructional videos in the company of Alexa or Google Assistant, which will offer step-by-step voice support to guide users and help them discover and learn new recipes.
Users can also use voice commands supported by these Voice Assistants to move through the cooking process.
SMARTPHONE APP
With the CookingPal App users can remotely monitor and control Julia's cooking, allowing them to check each stage of a selected recipe.
FINAL THOUGHTS
The CookingPal Julia Countertops MultiCooker is a do-it-all kitchen appliance that comes with its own smart tablet. The device features 12 different meal prep. modes and offers guided cooking videos with voice assistant support.
If you're attending to CES 2020, know that you can find the Julia at The Venetian's Sands Expo., at booth 41367.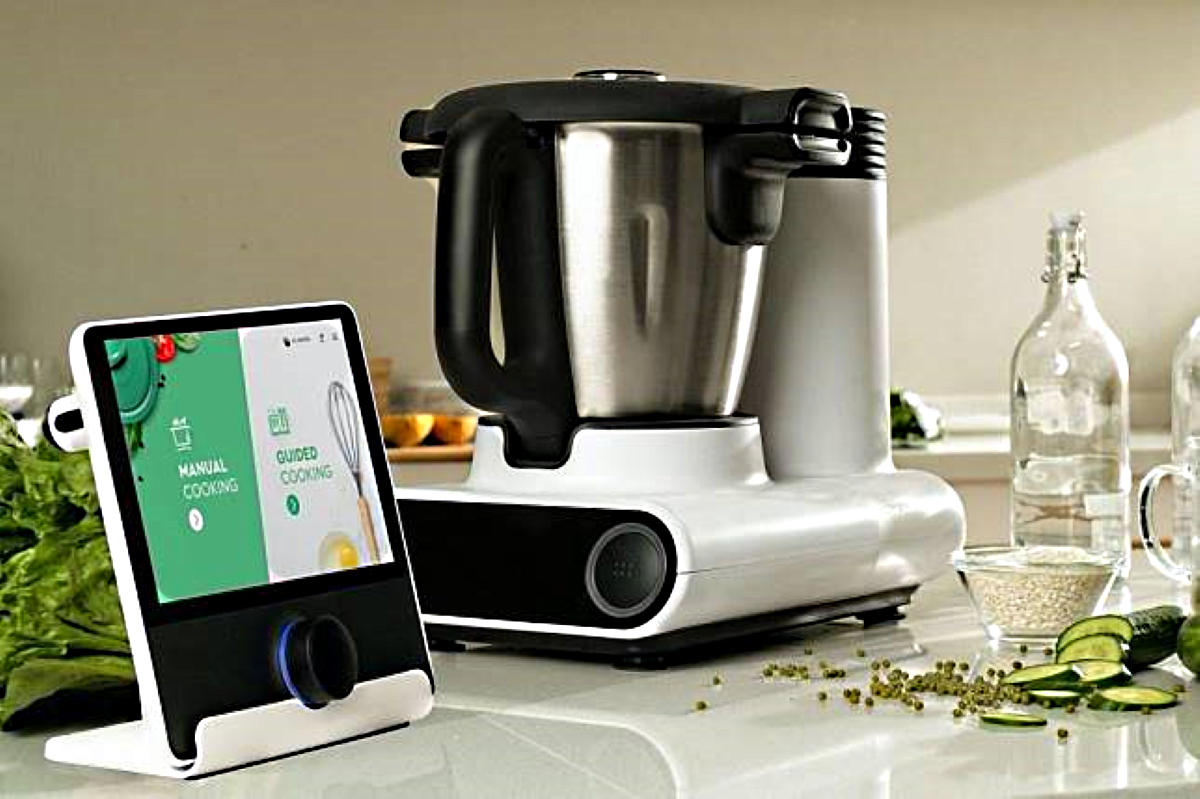 If you're interested in buying the CookingPal Julia Countertop MultiCooker it's important to note that this smart kitchen appliance is only scheduled to go on sale in late 2020, launching officially this fall. Julia's official launch price isn't confirmed yet, but it's expected that its overall price will go around $1.000.
As stated before, the company is also planning to release other smart kitchen products in the nearby future, including their own "Marco" Smart Oven and "Sophie" Pressure Cooker, which will both be compatible with the CookingPal App.