American Fortnite streamer, YouTuber, former Professional Halo 3 Player and Internet personality Richard Tyler Blevins – widely known by his online alias Ninja – just had his dream come true. Ninja himself announced via a Tweet that his brand-new Ninja Fortnite Character Skin will now be available in the Epic Store.
I've dreamt of having a skin in Fortnite since I started playing the game. Today, my dream becomes reality. Get the Ninja Fortnite Skin in the Epic store Thursday 6 p.m. CST-Sunday 7 p.m. Don't forget to use code NINJA! #NinjaSkin #EpicPartner pic.twitter.com/xTn9UlbkGI

— Ninja (@Ninja) January 15, 2020
Ninja is without a doubt the most famous video game streamer in the world. Ninja recently announced (August 1, 2019) on Twitter that he was moving from his old streaming platform, Twitch, to stream exclusively on Microsoft's streaming platform, Mixer.
The next chapter,https://t.co/lvn9KBjEYq pic.twitter.com/tljVgyM3bG

— Ninja (@Ninja) August 1, 2019
According to some reports, Tyler "Ninja" Blevins made $50 million when he signed his exclusive Mixer deal with Microsoft. A few months later (October 24, 2019), Microsoft had former professional gamer Shroud – real name Michael Grzesiek – to sign a deal as well and join his streaming colleague Ninja on Mixer. Just like Ninja, Shroud also announced his new Mixer millionaire contract via a Tweet.
Same shroud. New home.https://t.co/eZV2GBBSsY pic.twitter.com/AHaajkjees

— Michael Grzesiek (@shroud) October 24, 2019
While many people doubted that Tyler would be successful with his Mixer contract decision, he still managed to grow a huge following on the smaller platform. Furthermore, that's not Tyler's only successful business move.
Ninja is so famous that back in 2018 (October 13, 2018) he got invited to participate on the Ellen Show. A bit after that, in the beginning of 2019 (Mar 27, 2019), Ninja signed a partnership with famous Austrian energy drink company Red Bull GmbH, where he got his own signature "Ninja Red Bull Can".
How else would we surprise @ninja with the Ninja Red Bull Can? * drone incoming* Available in the U.S. beginning April 1. pic.twitter.com/JjerUW6aNs

— Red Bull (@redbull) March 27, 2019
Just more recently (on December 10, 2019), Ninja also got invited to Kevin Hart's new interview series called "Cold as Balls" for Laugh Out Loud, the digital comedy network he formed with Lionsgate. It's a format Hart and his producers compare to James Corden's immensely popular "Carpool Karaoke" segment.
"Cold as Balls" has Kevin Hart and his guest(s) literally "chilling" together in a personal interview/conversation while sitting inside an ice-cold bathtub filled with a ton of ice cubes and chilling water.
Just a bit after that, on December 18th, 2019, ninja announced a new partnership with Adidas to bring his very own Ninja "TIME IN" Nite Jogger (Sneakers) to life.
So excited to share what I've been working on for my first drop with @adidasOriginals! The #adidasbyNinja "TIME IN" Night Jogger. Coming at you 12/31. #createdwithadidas pic.twitter.com/O6WdqHnuz6

— Ninja (@Ninja) December 18, 2019
Ninja's Adidas Shoes completely sold out in under an hour, preparing Tyler for a successful beginning of 2020 after a historic 2019.
Back to the Ninja Fortnite Character Skin. Beginning on January 16 at 7 p.m. ET, players will be able to get a Ninja Skin from the Fortnite item shop.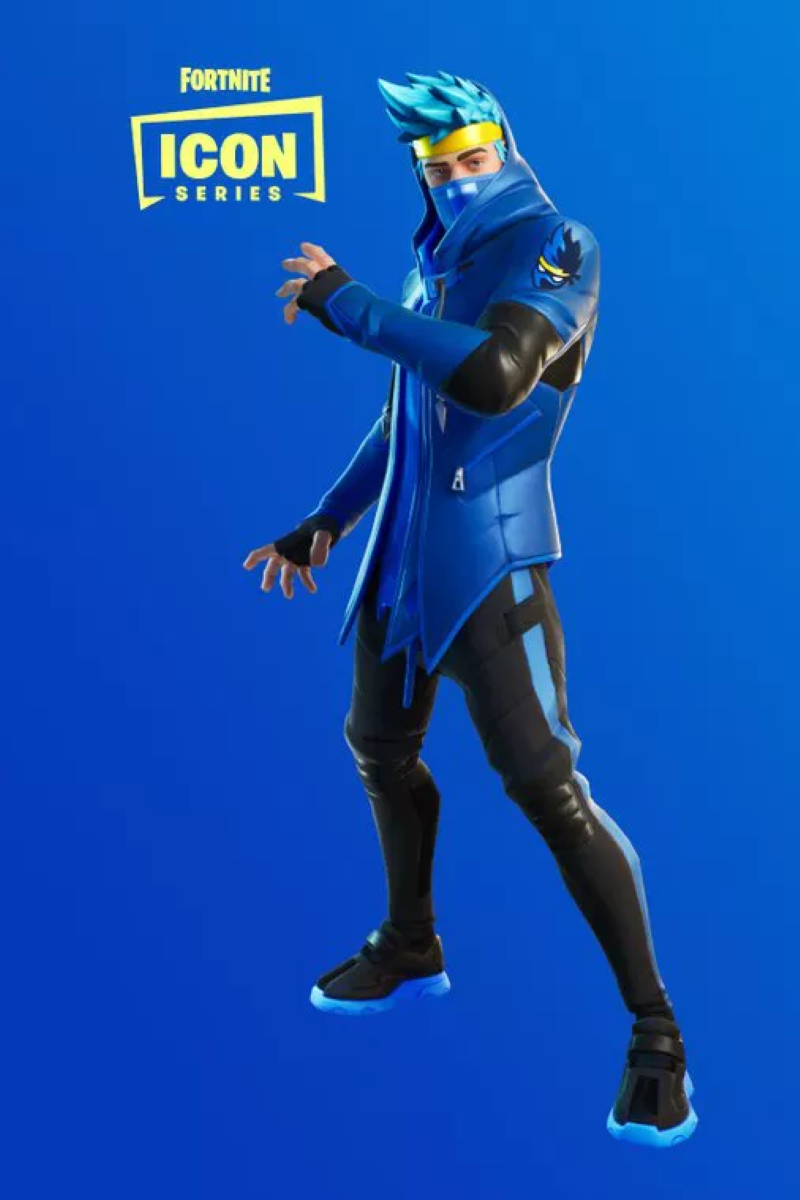 The skin looks exactly like Ninja, featuring his bright teal hair and yellow headband. Together with the outfit, the item shop will also be offering a custom emote called "Back Bling" and Ninja's Logo's famous Dual Katanas Pickaxe. If you're ever wanted to look exactly like Ninja, now you can with the help of his brand-new exclusive Fortnite Character Skin.
While the thought of having the real Ninja chasing you down in a Battle Royale match is terrifying, having less-skilled players looking exactly like him while engaging on a fight with you won't have the same impact. Just remember that it's not the real Ninja and you should be having a balanced fight.
Ninja's collaboration with Fortnite is the first in what Epic Games is calling its "Icon Series," which will feature other Epic Partners such as Loserfruit and TheGrefg.
We're bringing the artistic vision, personality and attitude of our top creators to Fortnite with the Icon series, starting with @Ninja!

This is just the beginning of gaming, music, film, and fashion colliding in Fortnite.

Read more here: https://t.co/iIV9SHq3zM

— Fortnite (@FortniteGame) January 15, 2020
Some more creators will come from the entertainment industry in the nearby future, and the Icon Series is also making plans for what was previously done with Marshmello and the trio Major Lazer.
While the brand-new Ninja Fortnite Character Skin might be under the spotlight, Fortnite also announced a new "Weapon Sidegrading" feature with Fortnite's latest update. The new feature introduced a new special workbench that's spawned on the map which lets players upgrade their Assault Rifle weapon into a Heavy Assault Rifle.
Furthermore, the update also brings new compatibility features to iOS controllers, allowing those to support clickable analog sticks from now on, which brings the experience somewhat closer in line with the one players get with traditional consoles.
The update was released on all platforms, which include PC, Mac, Android, iOS, Xbox One, PS4 and the Nintendo Switch.