If you're a passionate chef but can't afford (or don't want to spend a huge amount of money) to fully equip your home kitchen with a ton of high-quality and expensive kitchenware like a state-of-the-art oven and/or one of the latest Ceramic Cooktops (A.K.A. Glass Cooktops or "Smoothtops"), then having something like the Instant Pot Duo Nova can really help you go a long way.
The Instant Pot Duo Nova is a 7-in-1 One-Touch Multi-Cooker that provides home chefs with the ultimate versatile cooking solution, bringing them a great multi-tasking, space-saving, and time-saving cooking gadget that can pressure cook quickly, sauté, steam, slow cook, warm, and even make delicious meats, eggs, rice, soup, yogurt and more — all of that in one single healthy, dishwasher safe, stainless steel pot.
Let's take a fully detailed look at this 7-in-1 One-Touch Multi-Cooker, check its design and features, and learn about everything it has to offer.
DESIGN & SPECS
As mentioned before, the Instant Pot Duo Nova is a 7-in-1 One-Touch Multi-Cooker that provides home chefs with the ultimate versatile cooking solution.
This awesome multi-tasking, space-saving, and time-saving Multi-Cooker integrates a high-quality and extremely durable Stainless-Steel Pot that's healthy to use (free of any harmful chemicals), as well as dishwasher-safe.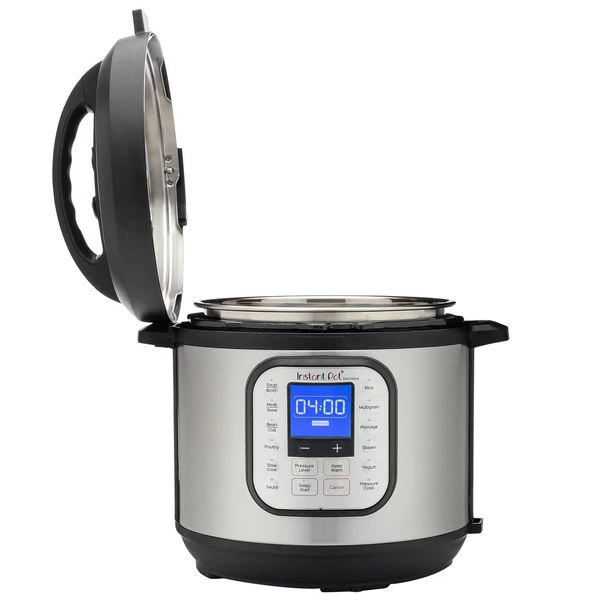 The Instant Pot Duo Nova works as a 6-quart large capacity Multi-Cooker, and as such, allows at home chefs to cook any delicious meals for up to 6 people, making it perfect for families, as well as great for meal prepping and batch cooking for singles, or even smaller households.
Furthermore, this Multi-Cooker also comes equipped with a new and easy-seal lid that automatically seals itself, thus keeping flavors, nutrients and aromas sealed inside its stainless-steel pot.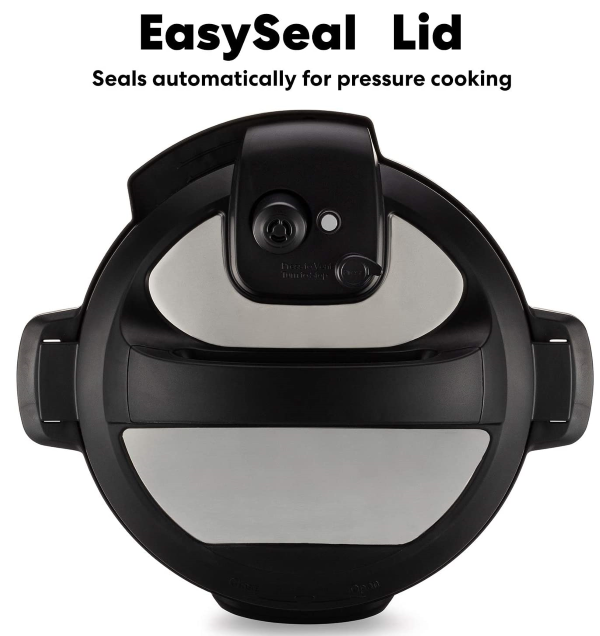 INTERFACE
The Instant Pot Duo Nova also features a super easy-to-use and easy-to read interface that's very intuitive for any home chef to use, and that even includes passionate chefs that aren't that "tech-savvy".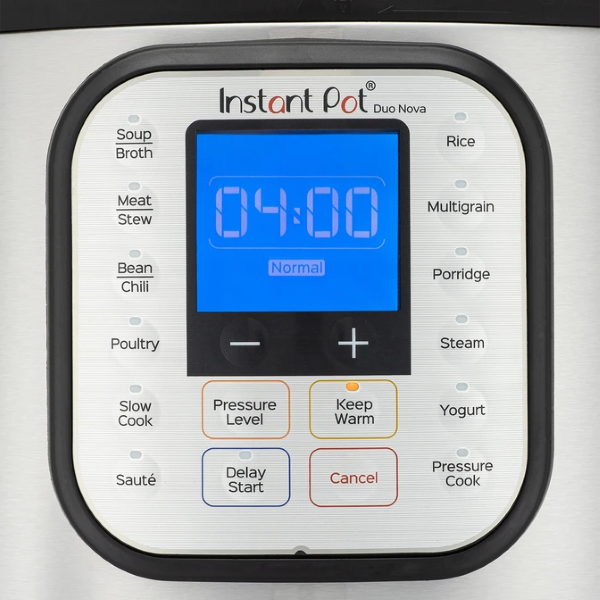 Its interface features easy-to-use quick-touch controls and easy-to-read icons that indicate your meals' cooking progress. Thanks to these quick-access and easy-to-use buttons, selecting Smart Programs and making simple adjustments is both quick and easy, even during cooking.
Additionally, there's also an easy-to-read progress indicator on the interface's display screen, which allows users to know whenever their Instant Pot is coming to pressure, as well as whenever a selected cooking cycle begins.
WHAT'S IN THE BOX?
The Instant Pot Duo Nova comes neatly and carefully packed inside a simple, yet well protected cardboard box (protected inside).
Inside each package users will find: their Instant Pot Duo Nova and its Stainless-Steel Pot (inside the main device), as well as a couple of accessories, including two (x2) Sealing Rings and a Stainless-Steel Steam Rack.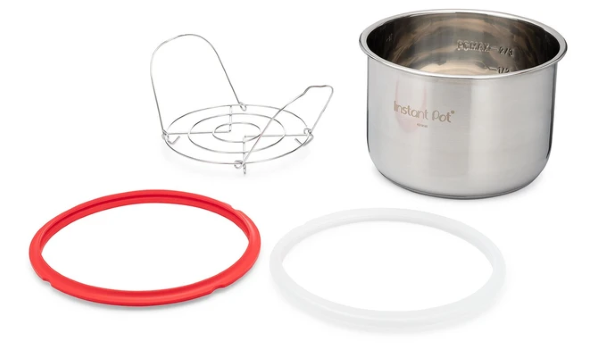 FEATURES
7 Different Appliances in One
As mentioned before, this 2019 multi-cooker edition combines a total of 7 different cooking appliances in one, thus providing passionate chefs with a pressure cooker, slow cooker, rice cooker, steamer, sauté pan, yogurt maker and warmer, all in one single cooking device.
14 One-Touch Smart Programs
Furthermore, this high-quality 7-in-1 multi-cooker also features a total of 14 one-touch Smart Programs for fast, delicious meals, including ribs, soups, beans, rice, poultry, yogurt, desserts and much, much more.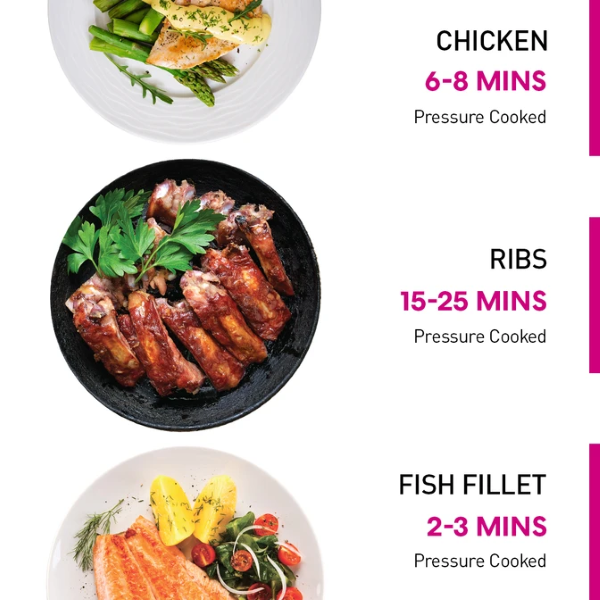 These 14 Smart Programs allow chefs to put their selected Cooking Mode on autopilot, which are always guaranteed to bring users delicious results.
Dual-Pressure Settings
Additionally, the Duo Nova also features Dual-Pressure Settings, giving usres the option to cook at either Low or High Pressure.
By cooking with the High-Pressure settings selected, chefs can ultimately reduce their meals' cooking time by 2 to 6 times, allowing them to cook their favorite meals up to 70% faster than when using traditional cookware.
Contrarily to that, the Low-Pressure setting prevents delicate foods from overcooking.
Another really cool thing about both the Low- and High-Pressure settings is that both of them work with either Automatic or Manual Keep Warm features, which ensure that dishes are kept at ready-to-eat temperatures.
Three Customizable Temperature Settings
Furthermore, the Duo Nova also brings chefs a total of three Customizable Temperature Settings across each Smart Program, which are Low, Medium and High Heat.
These special temperature settings ultimately let you program your Duo Nova to your preferences, thus allowing the device to remember the way you prefer to cook your meals.
For example, by using the Sauté function, users can set their 7-in-1 Multi-Cooker to simmer, sear or thicken for up to 30 minutes, and then pressure cook their dish to completion — all in one easy-to-clean pot.
Additionally, by using the Slow Cook function with any of those three temperature settings, you'll no longer have the need to spend extra money just to have a slow cooker on your kitchen.
10+ Built-In Safety Features
Lastly, the Duo Nova also integrates over 10 different built-in safety features, including Overheat Protection, a Safety Lock and more, all of which ensure that at home chefs always get a safe way of pressure cooking their favorite meals.
THE SMARTPHONE COMPANION APP – INSTANT POT RECIPE APP
The Instant Pot Recipe App (available for free for both iOS and Android devices), makes it easy for users to search from hundreds of easy-to-cook and tasty recipes, while also allowing them to save favorites, make notes, and even create multiple grocery lists so that they can get to fun part quickly and cook their own tasty meals in no-time!​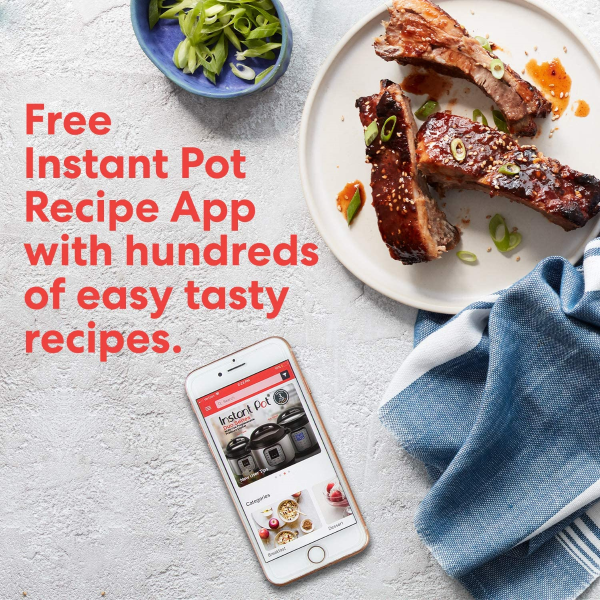 FINAL THOUGHTS
The Instant Pot Duo Nova is a 7-in-1 One-Touch versatile 6-quart capacity Multi-Cooker that features 14 Smart Programs, Dual-Pressure Settings, three Customizable Temperature Settings, and 10+ Built-In Safety Features.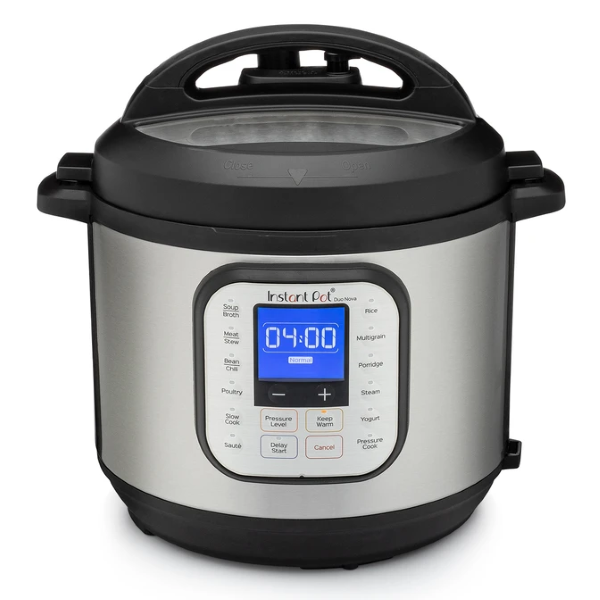 It's a great Multi-Cooker for any at home chef that has less time in their day to cook all the recipes they'd love to follow, while also giving them the ability to cook a wide variety of healthy, delicious and homemade one-pot dishes and desserts for both themselves and their family.
If you're interested in buying it, each unit is currently going for $100. You can order yours online right now, directly from Instant Brands' official shopping page, which you can access via this link.