Keeping your personal items or any dangerous tools you have stored your tool-shed safe can sometimes be difficult. Traditional/standard locks don't offer you the ultimate safety that you'd hope to get. Even worst, at any time they can be cracked and unlocked, damaged from thieves trying to open them and end up broken, etc. However, instead of using a traditional lock that obviously doesn't give you the option of knowing what's going on with your lock you could always use a Bluetooth-enabled smart padock, which brings users convenient Smartphone push-notifications whenever something is going wrong with their smart lock. This brings us to the igloohome Smart Padlock.
The igloohome Smart Padlock is a versatile Bluetooth lock that offers its users convenient access control, ultimately delivering the perfect balance between maintaining security and convenience. This smart lock was designed for a wide range of use-cases, making it suitable for both consumers and business alike.
Users can unlock the padlock either via its easy-to-use built-in keypad or by using the igloohome Smartphone App via Bluetooth connectivity. Furthermore, thanks to its unique PIN code technology, this smart lock also lets you grant various access levels to different users (like your family, friends, and any other house guests) via the igloohome App, which gives you the ability to manage access to your property at anytime and anywhere.
The igloohome Smart Padlock is a breeze to configure and even features an emergency access option that is automatically activated if the lock's long-lasting battery ever ends up getting completely depleted.
Let's take a more detailed look at this Bluetooth-enabled smart padlock and check everything it has to offer.
DESIGN & SPECS
The igloohome Smart Padlock is a somewhat small Bluetooth-enabled lock, measuring just 2.16 inches long by 1.25 inches wide by 2.7 inches tall (55 x 32 x 70 mm), but it is also quite bulky, weighing 15.87 oz (450 g).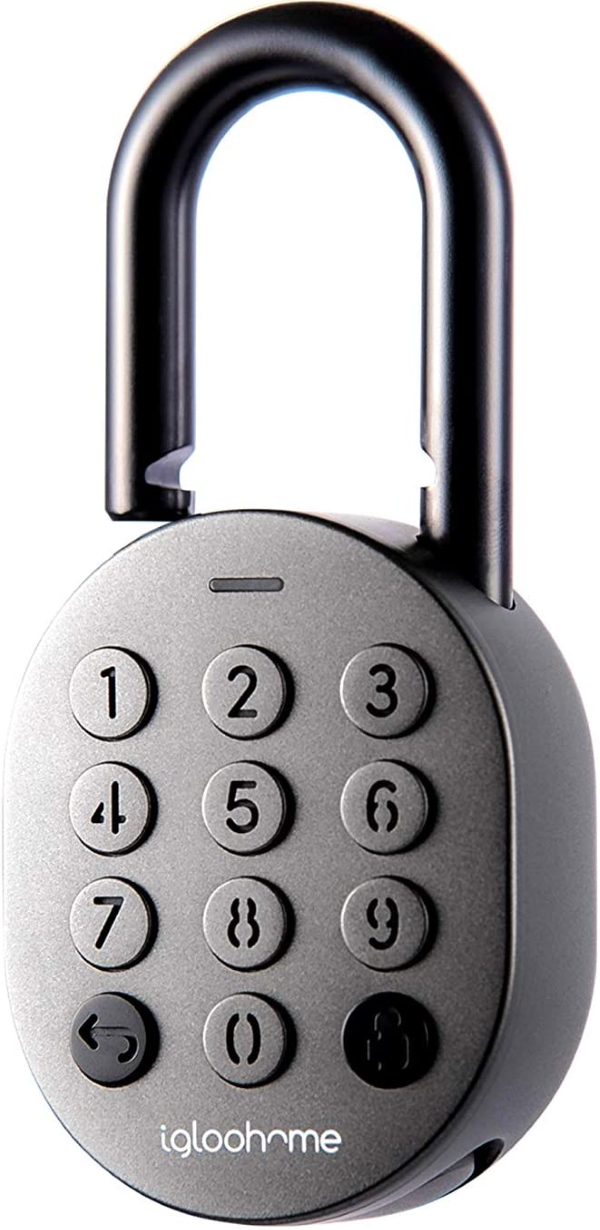 The padlock's shackle measures 1.02″ x 0.94″ (26 x 24 mm) and 0.35″ (9 mm) in diameter.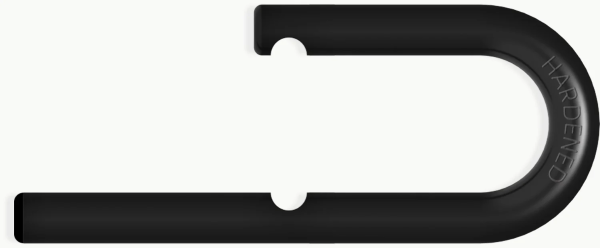 This shackle was designed with users' convenience in mind, and as such, it features a "Convertible Shackle Configuration", which basically means that you can use it either in a retained configuration or in a removable shackle configuration, which ultimately brings you more versatility.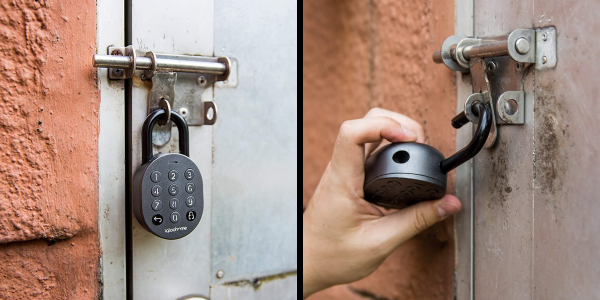 This smart padlock also features a very sturdy build, and its ultra-durable body is mainly made of Zinc Alloy, Stainless Steel, and Synthetic Rubber, while the padlock's shackle is purely made of Hardened Steel. All these high-quality and super durable materials allow the padlock to withstand any weather conditions (both wet and dry) with ease, and the same goes for a long usage time.
The igloohome Padlock features a IP66 "waterproof and dustproof" IP Rating, meaning it is IP rated as "dust tight" and protected against heavy seas or powerful jets of water.
This way, not only can you use the igloohome Smart Padlock both indoors and outdoors without ever having to worry about it getting damaged by any weather conditions, but you're also assured that its lifespan will last a very long time.
This smart padlock is also super secure to use, as it features a CE Certification (conformity with health, safety, and environmental protection standards), a FCC Certification (certification mark for electronic products that certifies that a device's electromagnetic interference is under limits approved by the Federal Communications Commission) and a Giteki (Japanese certification required for certain radio devices within the Japanese market).
All these certification make the padlock one of the best around, listing is as safe for health and the environment, as a electromagnetic interference device, and as a safe-to-use radio frequencies transmission device (again, safe for health).
However, it's still important to note that this smart padlock is not suitable to use for fire sensitive environments (like a Fire Department exercise drill for example, as the device would most likely last just a couple of minute, if that many.)
Either way, its still a great padlock, as you can conveniently use it to lock warehouses, a personal workshop, your gym locker to keep your personal belongings extra safe, a tool-shed, a storage vault, or even your very own delivery box.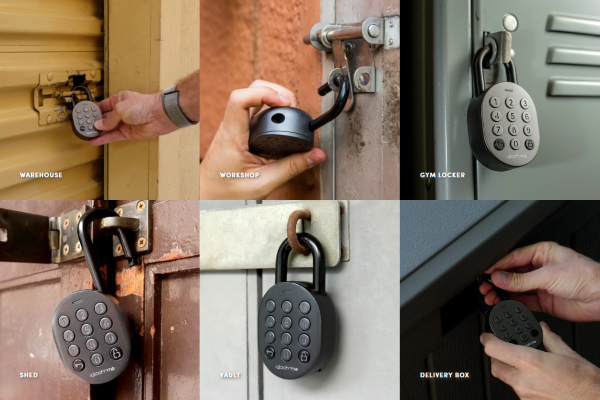 This smart padlock features an Operation temperature that goes between -4ºF to 122ºF (-20°C to 50°C) and a Storage temperature (the min and max temperatures that you can keep it stored at) that goes between -22ºF to 140ºF (-30°C to 60°C).
CONNECTIVITY
As mentioned before, this smart padlock is also Bluetooth-enabled, and as such, it also features Bluetooth Connectivity via Bluetooth 4.1.
COMPATABILITY
Just like all other igloohome smart locks, the igloohome Smart Padlock is fully compatible with any Android device that's currently running on Android 6.0 or above, as well as any iOS device that's running on iOS 11 or above.
BATTERY & BATTERY LIFE
This smart padlock comes equipped with a CR2 Lithium Battery that works as its main power source, as well as an secondary 9V Alkaline Battery that works as its emergency power source (in case the first battery runs out of "juice" or malfunctions by any unexpected reason).
Together, both of the smart padlock's batteries offer up to 1 year of battery life.
FEATURES
Works with AlgoCode Technology
This smart padlock also features igloohome's unique AlgoCode Technology, which works with AES-encrypted security, thus making it possible for you to grant access to your own padlock remotely, whenever you choose to do so.
Keypad Security Lockout
The Padlock features a Keypad Security Lockout feature that forces an automatic disabling of the padlock's keypad after several incorrect PIN Code attemps.
This helps to ensure that your assets are always secure, especially for cases when strangers try to guess your codes with multiple attempts.
Auto Relock
The Padlock's Auto Relock safety feature gives you the ultimate peace of mind, so, even if you ever forget to lock the Padlock after unlocking it with a Bluetooth Key or Pin Code, this smart lock will simply just lock itself (assuming its shackle is already within it, that is).
This is mainly used for times where you first unlock the Padlock via a Bluetooth Key or a Pin Code and then you don't really need to open it anymore but then end up forgetting to "smart" lock the padlock.
Low Battery Warning
The Padlock also provides owners with Low Battery Warning, a great security feature that sends push notifications to your Smartphone so you always know when you have to change the Padlock's batteries before they run out of "juice".
Masking Security Code
For anytime that you're unlocking the Padlock's keypad by using PIN Codes, one more security feature called Masking Security Code will always kick in.
This ultimately allows users to throw off any onlookers by entering decoy digits before your actual pass code.
(Example: Random-Digit , Random-Digit , Random-Digit – X – X – X – X – X -X)
This security feature ensures that your PIN code will always be confidential.
Double Access Mode (Physical PIN Code / Generated Bluetooth Key)
The igloohome Smart Padlock features two different aways of getting and/or generating/granting access to its users (including the owner/main user).
Those are via a physical PIN code that can be introduced in the padlock's numbered-keypad or via a Bluetooth key
Four Types of PIN Codes & Bluetooth Key
Users can choose between any of the smart padlock's four types of PIN codes, including Permanent, Duration, One-Time, and Recurring.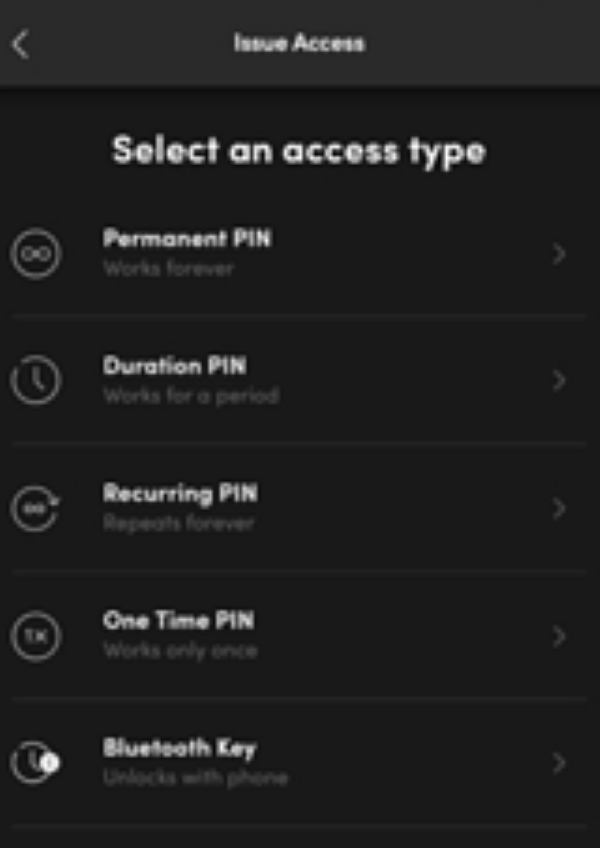 A Permanent PIN Code will last forever, obviously, while a One-Time PIN will only be able to get used once.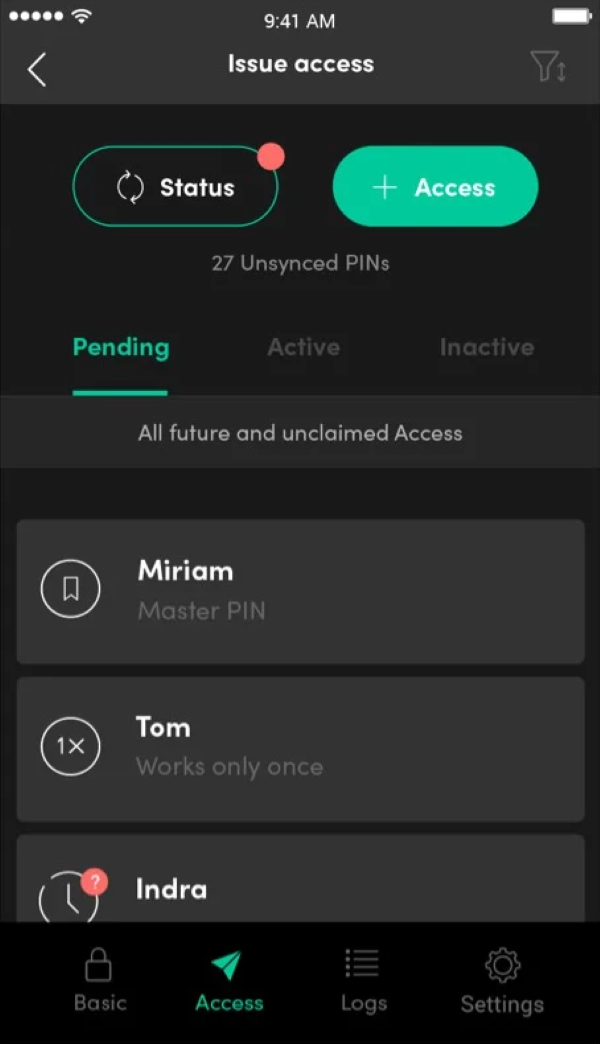 A Duration PIN Code will last for a scheduled period of time, while a Recurring PIN Code will get activated within every X days and/or weeks to be used by people that need regular access to your house, like a hired cleaner for example.
These four different types of PIN access codes ensure that your assets are always kept safe when using the Padlock.
Lastly, as this is also a Bluetooth-enabled smart padlock, there's obviously also the Bluetooth Keys, which can be generated within your Smartphone by using the padlock's Smartphone Companion App (igloohome App) and then used to easily unlock the padlock at your convenience.
Simple & Easy-to-Use One-Time PIN Codes for Family/Friends
Thanks to the One-Time PIN Codes, there's no need for guest users to download the App and register with an account to receive their temporary access codes.
Unlike other Bluetooth padlocks, the igloohome Smart Padlock does not require guest users to download the App just to unlock it.
Instead, thanks to the padlock's featured AlgoCode PIN Technology, any owner of the Padlock can simply send these One-Time temporary PIN codes to their family and friends for them to use with ease. These codes can be easily sent by SMS, Facebook's Messenger, etc.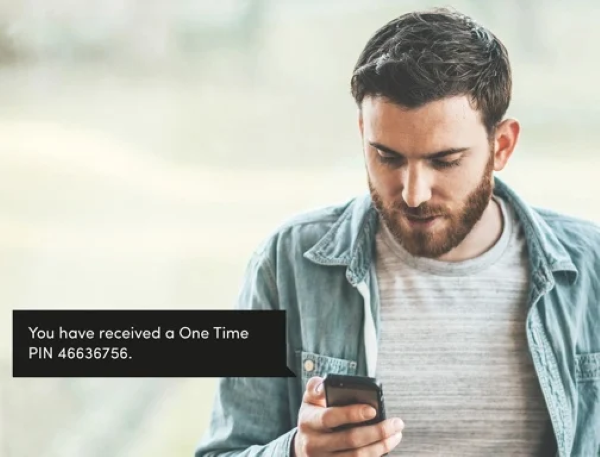 The best part is that you won't even need to be near the Padlock to sync these One-Time PIN codes for them to actually work.
Customizable Pins
Each of the four types of PIN Codes can be edited and fully customized with creative names that remind you what those codes are for.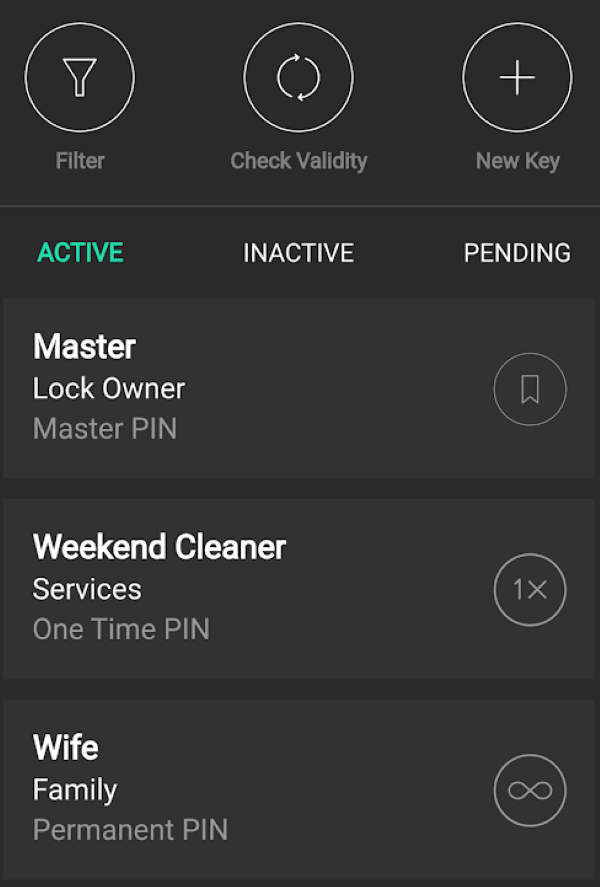 Furthermore, as soon as you don't need them anymore, you can easily delete those PIN Codes, but you can also create new ones at any given moment.
Activity Logs
By using the mobile app, users can also track dates and times of when someone unlocked the Padlock. These Activity logs provide greater visibility for a greater peace of mind.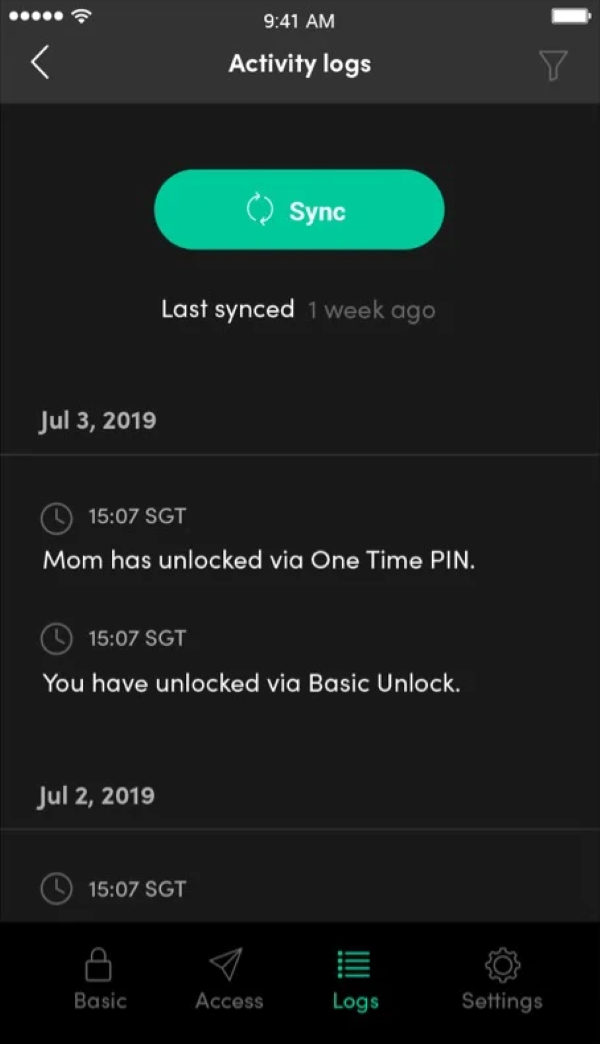 The Padlock's Bluetooth Logs are updated in real-time while PIN code logs are updated whenever you unlock the device via Bluetooth.
Easily Syncs with Airbnb
If you're an Airbnb host, you can also synchronise your listing calendar with your igloohome account for PIN codes to be automatically created for your guests.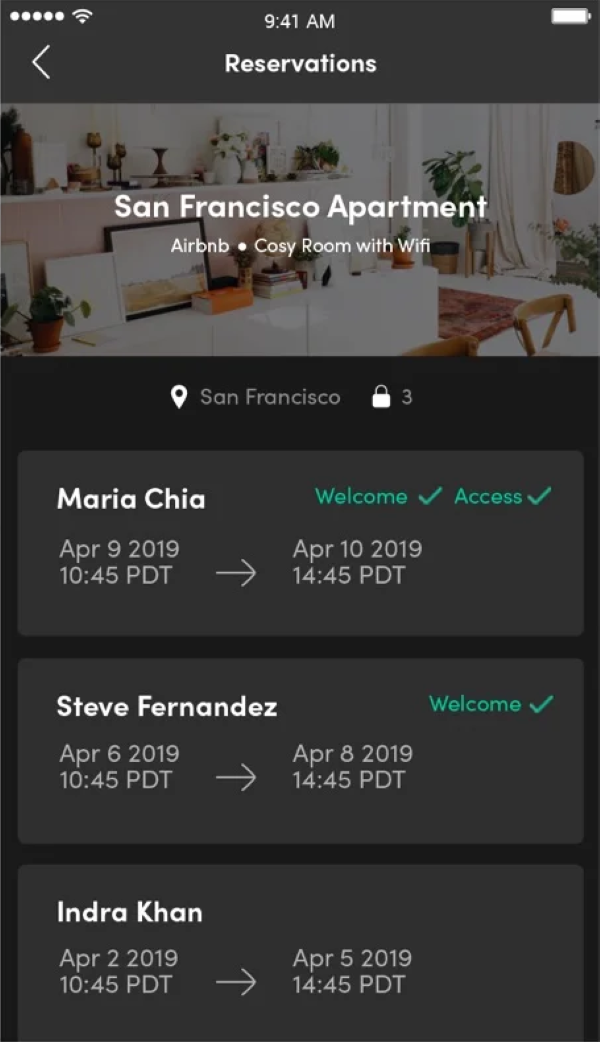 THE SMARTPHONE COMPANION APP – igloohome APP
The Padlock is also mobile app-enabled, and as such, it comes with its very own Smartphone Companion App, which is simply called the igloohome App (free to download for both Android and iOS devices).
Thanks to the App you can get a super convenient way of gaining and/or granting access to your Padlock on your own terms so that you can ultimately get a fuss-free security solution.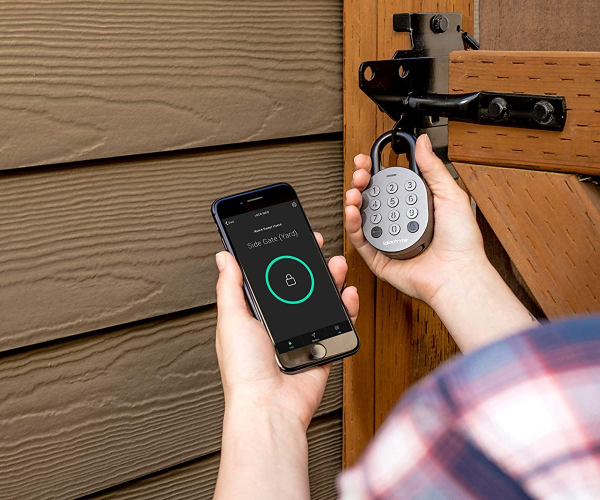 This means that you won't ever again have to fiddle with small digits or fussy dials on conventional padlocks, and the same goes for the need of keeping tracks of keys or codes to unlock a smart padlock.
The App totally empowers each main user (the admin/owner of the padlock), allowing them to create and send PIN codes and use Bluetooth keys from wherever they are, as well as manage access to their properties.
This ultimately gives owners and their family/friends a convenient way to use the Padlock, and thanks to that, owners can easily grant access to their Padlock at anytime, and anywhere.
As mentioned before, the App also conveniently lists both the time/date details for each and every time that the Padlock was opened, allowing you to accurately track whenever visitors entered your home.
FINAL THOUGHTS
The igloohome Smart Padlock is a Bluetooth- and App-enabled smart padlock that can be unlocked by owners and family members/friends with PIN Codes and Bluetooth Keys.
Whether you use it to secure a bicycle, to keep a toolbox with dangerous tools safely locked from children, or even to secure your personal locket in the gym, igloohome's Padlock has you covered.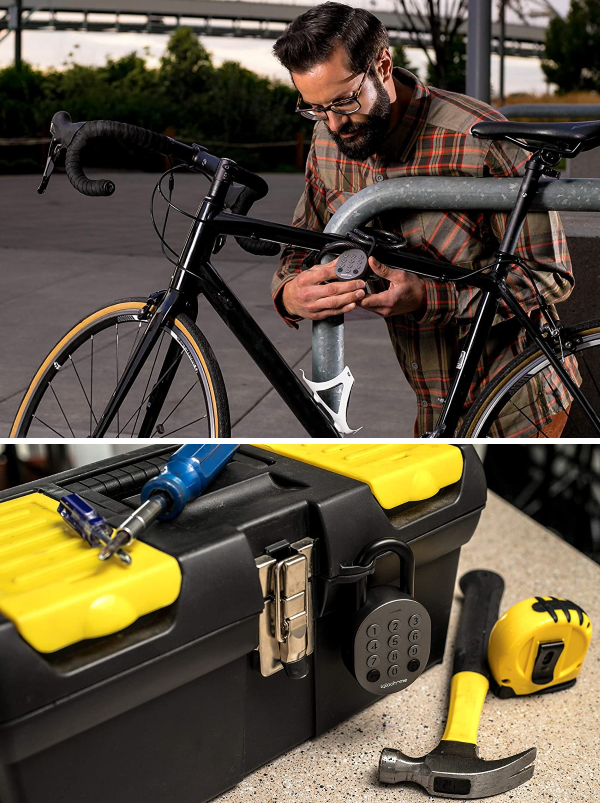 Furthermore, as the lock is also super weather resistant, it's also a great way of locking up yard gates and self-storage facilities, and thanks to the Padlock's many different functionalities, access will always be a breeze to manage.

If you're interested in buying the igloohome Smart Padlock, each unit is currently going for $129. You can order yours online right now, directly from igloohome's official shopping page, which you can access by clicking this link.