Many times, our foot health can be cleverly followed as a clue of our overall health. For example, joint stiffness could potentially mean arthritis, while tingling or numbness could be seen and understood as a sign of diabetes. Lastly, swelling could also indicate a kidney disease, heart disease, or even high blood pressure. As such, good foot care and regular foot checks are an important part of our health care. This brings us to traditional foot bathes, but these sadly require a heavy bucket of messy water and almost half an hour of warm-up time to enjoy the health benefits that these are bound to provide. However, thanks to the wonders of technology, we now have smart foot spas that can give us exactly the same foot health care benefits of traditional foot bathes in a much more convenient way. Enter the Naipo oFlexiSpa.
The Naipo oFlexiSpa is the world's very first smart steam foot spa massager that can brings its users the wonders and comforts of a foot spa directly to their home. The way it works is by combining the mechanisms of a rolling foot massager with the soothing effects of steam. By combining a foot massage with the relaxing effects of steam, the oFlexiSpa can ultimately offer its users a great way of releasing stress, relieving joint pain and relaxing muscles, and ultimately ensure that you get a better time sleeping/resting.
Furthermore, all that this amazing health gadget really requires to work and do its foot health wonders is just under a cup of water and a mere 30 seconds to heat up that amount of water and that's all. After that you just use its very intuitive interface to configure/customize your next foot therapy, press the Start Button, and it will be up and running.
If you're interested in improving both your foot health care and your overall health care, this amazing smart steam foot spa massager might be exactly what you need to unwind from the grind of everyday life and have a nice and relaxing foot therapy session at home that's guaranteed to sooth your soul and that ultimately ensures you feel as healthy as never before.
Let's take a more detailed look at the Naipo oFlexiSpa and check its design and specs, as well as how it works, how to use it, and what its main health benefits are.
DESIGN & SPECS
First of all, the Naipo oFlexiSpa features a very minimalist and elegant design that's both stylish and discrete, which ultimately allows the unit to seamlessly blend in with any modern home decor.
Furthermore, this innovative smart foot massager also features a very compact and durable build, as the unit measures just 15 inches long by 15 inches wide by 11 inches tall, and only weighs 8.82 lbs (4 kg).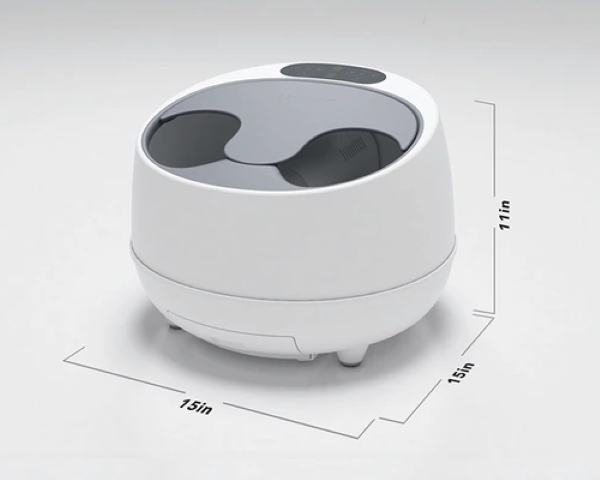 The Naipo oFlexiSpa comes equipped with high-quality 3D electric massage rollers that offer a kneading massage to tired and aching feet, and these work great by targeting acupressure points, which in turn provides its users with a full-body relaxation.
These 3D electric rollers were specially designed  to automatically adjust themselves to any foot size, and so, they will rotate as needed to create a deep massage that alleviates pain and helps you unwind after a long day.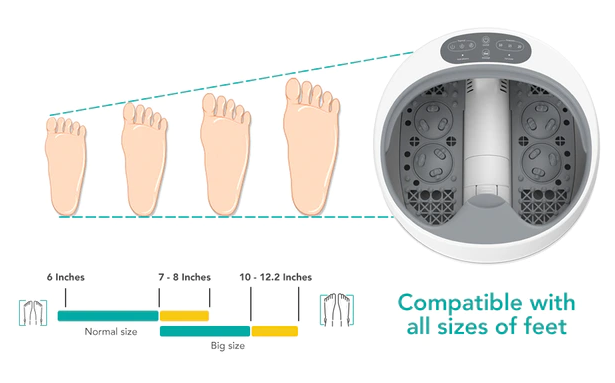 Furthermore, these same electric massage rollers are also removable and washable, and they're also guaranteed to deliver a pleasant foot massage that ultimately offers stress relief, relief of joint pain and soreness for the ultimate muscle relaxation, and a great way of eliminating foot soreness after a long day of standing up, whether that goes for work situations, time spent walking around within your daily commute or even long hours running or playing sports.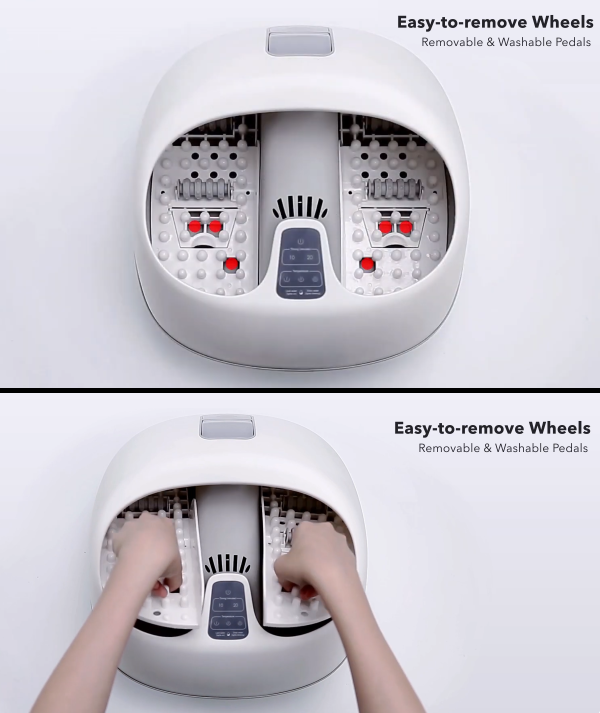 Lastly, these high-quality electric massage rollers can also help to boost its users' metabolism and ultimately help to keep their immune system strong and healthy.
The unit is powered by its included power cord and features a Power Input of 120 VAC / 60 Hz.
INTERFACE
The oFlexiSpa Smart Steam Foot Massager also comes equipped with a One-Touch LED Control Panel that features a very intuitive and super easy to use interface.
At the left side of the unit's one-touch control panel we can find a total of three (x3) Thermal Buttons that allow users to configure the Temperature Levels, as well as a small LED under those that informs users about the unit's "Water Deficiency".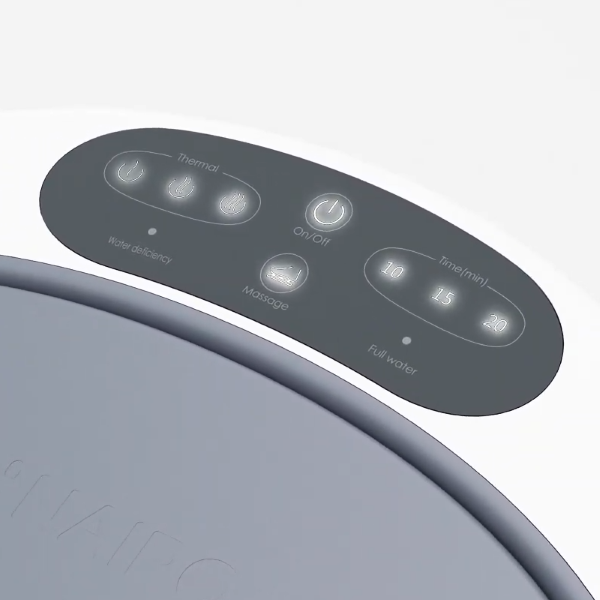 Then, at the center of the unit we can find a simple and easy-to-use On/Off button and a Massage Button (which basically works like a Start Button).
Lastly, at the right side of the unit users can find three (x3) Timer Settings Buttons that let users program a massage of either 10 minutes, 15 minutes, or ultimately 20 minutes. Under these buttons we can also find another small LED that warns users about the unit having a "Full Water" status (meaning when you pour that half cup of water into it to use it for your steam foot massage).
There's one more extra button that's super convenient to have, and so, it is also worth to mention. At the center of the unit's front side users can find a Water Drainage Button that provides you with an easier way of cleaning the unit, thus helping to eliminate an otherwise time-consuming cleanup process.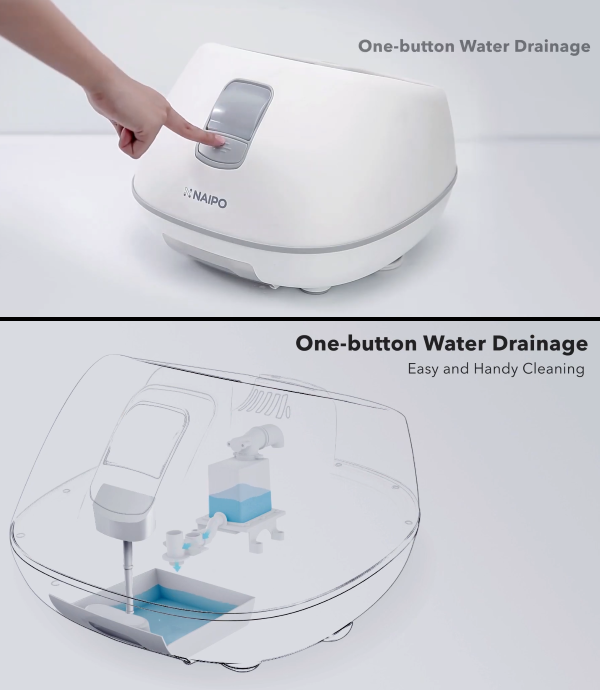 After pressing this button, all the water used for your steam foot massage will conveniently and easily get dumped/poured into a small removable container that allows for an easy disposable of your used water.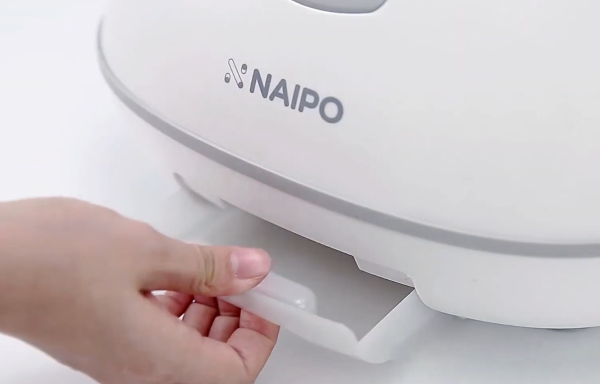 As such, unlike a traditional foot bath, the oFlexiSpa won't have a filthy pool of water to dump out when you are finished using it for a nice steam foot massage.
HOW DOES IT WORK?
Thanks to the oFlexiSpa's full coverage design, this smart steam foot massager can ensure that your feet are completely surrounded by steam, and as such, it creates a more immersive and effective steam spa experience.
Since the oFlexiSpa was designed to be both environmentally friendly and water-conserving, unlike a traditional foot bath (which uses around half a gallon of water, mind you), the unit's foot bath runs on less than a single cup of water – around 6 o.z. (0.18 L) of water only.
As such, anyone that's used to getting traditional foot baths in order to achieve a better overall health care routine could easily conserve gallons and gallons of water a month by end up switching to the oFlexiSpa.
Additionally, the unit was cleverly designed with maximum utility in mind, and as such, it features a safety protection design that ensures that no water ever flows back or splashes around your precious floors and furniture, and that ultimately means that the oFlexiSpa can be used on any floor surface.
HOW TO USE?
Using the Naipo oFlexiSpa is as easy as it sounds. All you have to do is fill up its small water unit/tank with a cup of water (around 6 o.z. / 0.18 L of water) and put it back into the unit.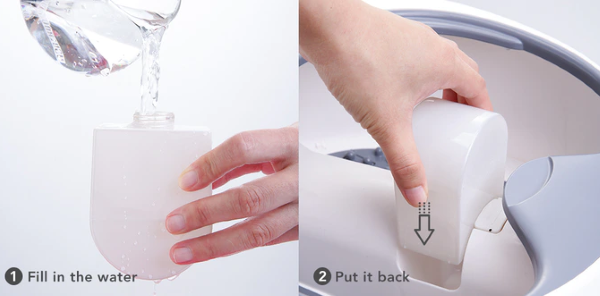 After that, use the device's simple and intuitive interface to configure your steam foot massage with the settings that most please you.
Then, since the oFlexiSpa is also equipped with a modern, super-efficient steam system, the unit can ultimately start generating steam in just 30 seconds, which basically means that you can start your spa steam foot massage in little to no time.
After adding the water to the unit's water tank and re-installing it into its compartment and configuring your massage's timer and temperature settings, all that's left to do as soon as the unit has heated is to play your feet inside and enjoy your personal foot spa.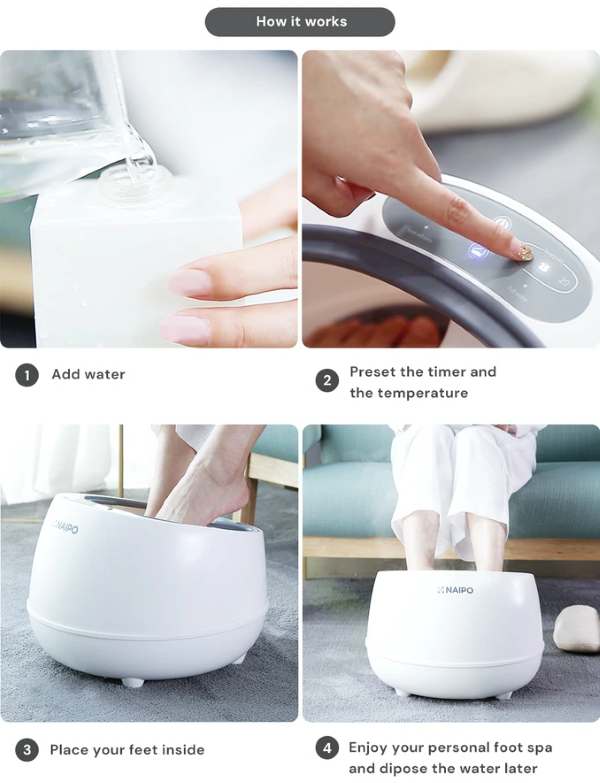 As mentioned before, thanks to the unit's One-Click Water Drainage Button you can easily dispose of the water later.
Not only that, but the machine conveniently stays warm and comforting for up to 20 minutes in a row, and this basically means that if you need a brief pause, you can also do just that without having to worry about restarting the device's heating system.
Lastly, since this smart stema foot massager generates warm steam instead of warm water, that means that you won't need to wipe your feet off after using the oFlexiSpa.
MAIN HEALTH BENEFITS?
The Naipo oFlexiSpa was also designed with both Health and Therapy in mind, and as such, it's guaranteed to deliver the same soothing effects of other types of steam massages, and that's because various different studies (discussed ahead) have been proven to help to improve blood circulation, eliminate fatigue and ultimately make you feel more energized.
For example, a 2012 study helped to prove that moist heat, such as that provided by a steam room, can improve circulation by dilating the small blood vessels or capillaries. Blood can then flow more easily and transport oxygen around the body.
These same types of health studies have also proven that a good foot spa treatment can offer you relief and healing from foot pain, but more importantly, it also has a dynamic effect on your entire body.
As such, you can create a more pleasant sleeping environment with by using the Naipo oFlexiSpa. For example, you could also use this device as an aromatherapy diffuser to help you combat problems such as insomnia and headaches.
If you decide to that, here's one great hint from the company themselves: "By using natural plant extracts such as lavender and rose you can add one more layer of relaxation to your steam foot massage experience."
FEATURES
3 Timer Settings, 3 Temperature Levels & 2 Intensity Levels
As mentioned before, the oFlexiSpa's easy-to-use quick-touch control panel offers its users three (x3) intuitive Timer Settings that allow you to set between 10-, 15- and 20-minutes steam foot massage sessions.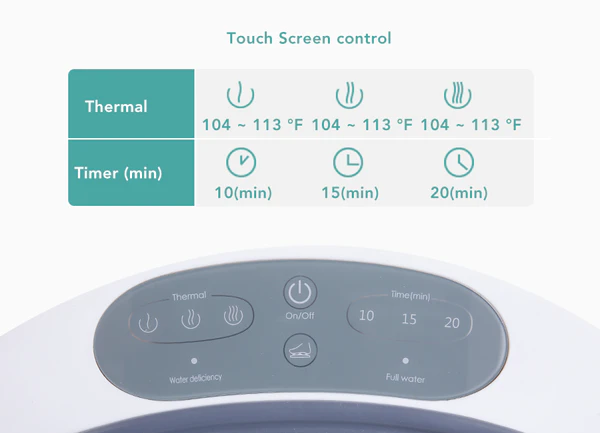 There are also three (x3) easy-to-use Temperature Levels controls that allow you to configure the unit to work between 95~104ºF (35~40ºC), 104~113ºF (40~45ºC), or 113~122ºF (45~50ºC).
Lastly, users can vary between 2 Intensity Levels for the unit's electric massage rollers.
FINAL THOUGHTS
The Naipo oFlexiSpa is a smart steam foot spa massager that features a full coverage design, 3 Timer Settings, 3 Temperature Levels and 2 Intensity Levels, and it is guaranteed to offer plenty of health care benefits for your overall health.
If you're interested in buying it, all you have to do is pledge to Naipo's Kickstarter Crowdfunding Campaign for its Naipo oFlexiSpa with the minimum amount of $119 to be eligible to get your own smart steam foot spa massager.