For anyone that spends a lot of their time at home, there's a slight chance that you might have some unwanted particles in the air you breathe. Not knowing what's in that air can potentially have an impact on your allergies, asthma, skin eczemas, the quality of your sleep, and much more. That's ultimately because your indoor air can be up to five times more polluted than the air outdoors. However, there's a very handy smart gadget out there that can help you track toxins and chemicals in the air you breathe, and that's none other than the Awair Element.
The Awair Element is basically an Air Quality Monitor for indoors use that not only thoroughly monitors your indoors air with it's many built-in sensors so that you always know what particles are in the air you breathe, but that also gives you personalized recommendations that help you to keep the air in your home and/or workplace clean and safe.
As such, the Awair Element Monitor works based on its innovative and cutting-edge air quality technology, bringing all of that packed in a small, simple and affordable unit.
Furthermore, the Awair Element is Awair's latest indoor air-quality monitor released. The company, Awair, is a dedicated business that always looks to bring some of the best products to the market when it comes to air-quality monitors.
As the company's most recently released air-quality monitor, the Awair Element literally allows any concerned homeowner to "track the invisible" in their air, as the device can accurately track five air quality factors that can impact your health, comfort, and productivity, and that includes your air's temperature, humidity, as well as the amount of CO2 in the air, the amount of toxic chemicals (VOCs) in the air, and the amount of Combustion Particles (PM2.5) in the air.
Now, let's have a more detailed look at this air-quality monitor and check everything it has to offer.
DESIGN & SPECS
Starting with its really small size, the Awair Element Indoor Air-Quality Monitor packs all of its air-quality monitoring tech. in a really small unit, which measures just 6.06 inches long by 1.80 inches wide by 3.33 inches tall (154 x 45 x 84.7 mm), making it just the perfect size to be placed on your home office's desk, kitchen countertop, or even a bookshelf or side table in your living room and/or bedroom.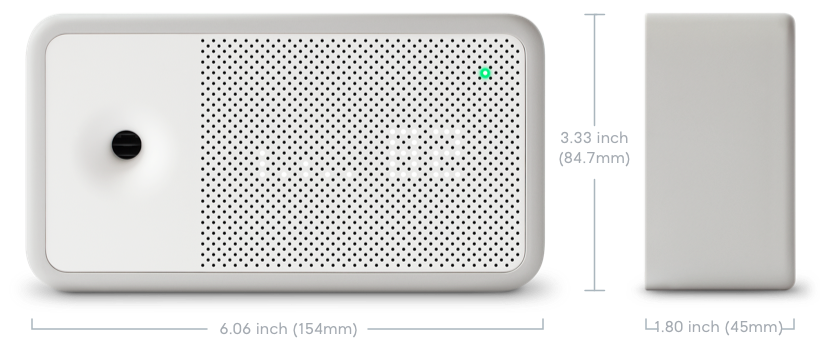 This air-quality monitor also features a very simple design that allows the unit to easily blend in with the rest of your home's furniture.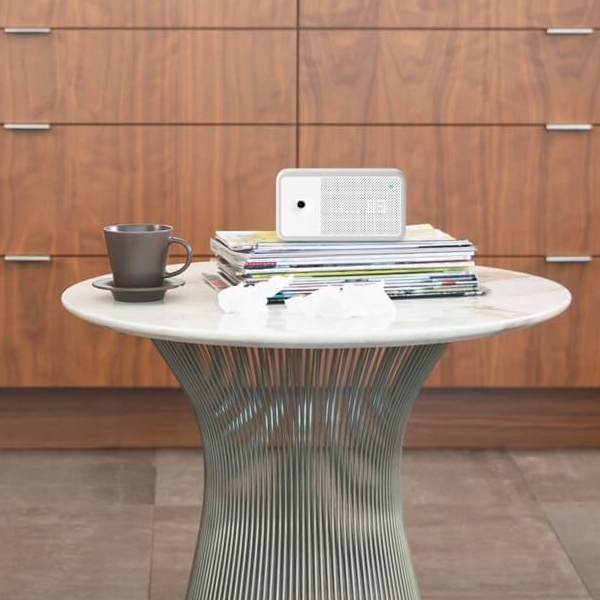 This unit's body consists of a high-quality light-gray plastic enclosure with rounded corners. Inside the unit's durable frame, there are a total of five built-in sensors integrated within it, and these are what will allow the unit to accurately measure the air's temperature and humidity, as well as accurately detect the amount of CO2, toxic chemicals (VOCs), and Combustion Particles (PM2.5) in the air.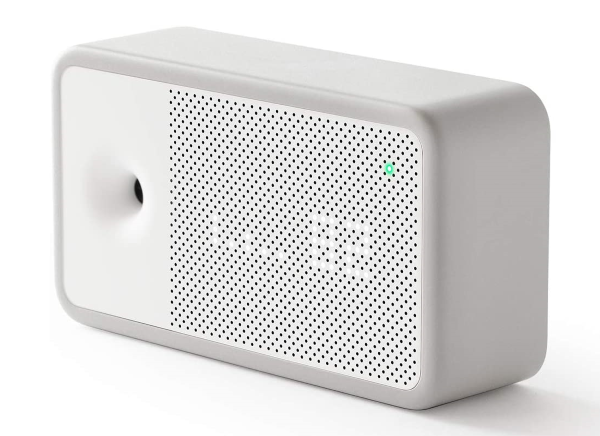 These five built-in sensors include a Temperature Sensor that can accurately measure between 40 to 257°F (-40 to 125°C), a Humidity Sensor  that can can measure your air's humidity between 0 to 100% (with ±2% RH variations), a CO2 Sensor that can measure between 400-5,000ppm (with as little as ±75ppm variations), a Toxic Chemicals (VOCs) Sensor that measures between 0-60,000 ppb (with around ±10% variations), and a Fine Dust (PM2.5 particles) Sensor that can accurately measure between the values of 0-1,000 µg/m³  (with exactly ±15 µg/m³ variations, meaning ±15% variations).
Lastly, the Awair Element features a reasonably low power consumption, with a Power Input of 100/240V at 50/60Hz and a Power Output of 5V/2.0A (with an external power adapter).
INTERFACE
Moving on to the air-quality monitor's interface, which is also quite simple. The Awair Element's Interface simply features a set of LEDs that will shine through the unit's grid of holes to form the bar graphs and numbers indicating various air-quality levels, and this will include all of the previously mentioned five factors that influence the quality of their air inside your home: temperature, humidity, carbon dioxide (CO2), volatile organic chemicals (VOCs), and PM2.5 (atmospheric particulate matter that's smaller than 2.5 microns).
The Awair Element's detected air-quality levels will then be displayed on a scale of 1 to 5 dots. While one (1) single dot basically indicates that a specific monitored factor is at healthy levels, five (5) dots will contrarily indicate that those levels are unhealthy.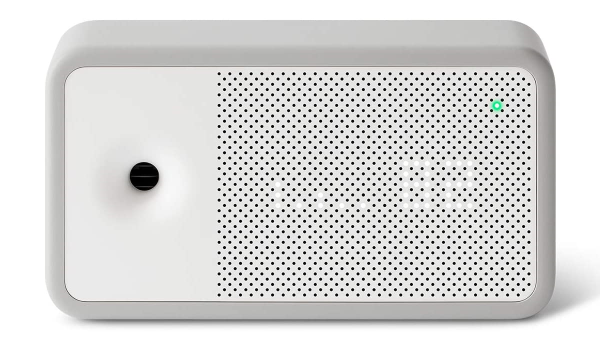 The unit's set of LEDs will also inform you about the overall air quality score, which will also be displayed within the unit's grid of holes, as a numerical value that goes from 0 to 100 (located on the far right of the grid).
These scores will fall into three tiers: a score of 0 to 59 is seen as a "poor air-quality", 60 to 79 is considered "reasonable" and 80 to 100 is "good-perfect".
Additionally, there's also a color LED indicator (located in the unit's upper right corner of its front panel) that will inform users about the air-quality around them. As most would expect, this LED operates in one of three different colors, going between red, orange and green color codes, which will obviously correspond to the poor, reasonable, and good air-quality values of the unit's five tracked air-quality factors.
CONNECTIVITY & COMPATIBILITY
As the Awair Element Indoor Air-Quality Monitor is basically a Smart Home gadget, the unit features Bluetooth 4.1 connectivity, (Bluetooth Low Energy), as well as Wi-Fi connectivity, supporting the most common Wireless Standards (802.11 b/g/n), operating at a frequency band of 2.4 GHz (IEEE 802.11b: 1 – 11Mbps; IEEE 802.11g: 6 – 53Mbps; and IEEE 802.11n: 7.2 – 150Mbps).
The unit also features a very decent wireless receiver sensitivity, operating at 124 dBm (–110 dBm at 50 kbps), and it's Output Power can actually be programmed if needed, as it can be potentially changed up to +26 dBm.
Lastly, since the unit features Bluetooth connectivity, it can be controlled via your Smartphone or Tablet by using its proprietary Companion App (the Awair Home App – discussed right ahead), and as such, the Awair Element Monitor is compatible with any Smartphone or tablet that's runs on iOS 9 or later, or Android 4.4 or later.
Connecting the Awair Element Monitor to your Wi-Fi network can be easily done via the Companion App.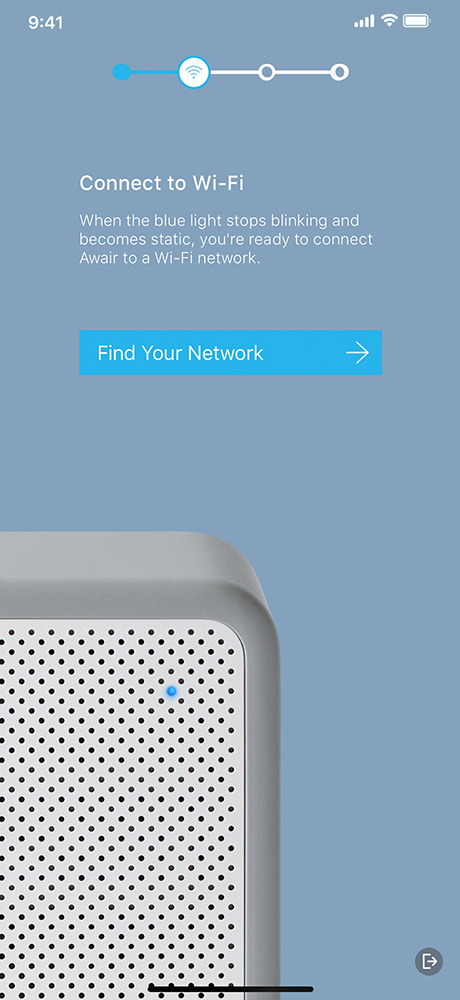 THE SMARTPHONE COMPANION APP – Awair Home App
The Awair Home App, which is available to download for free for both iOS and Android devices, is what will make it easy for users to understand how their indoor activities are impacting their home's air quality, which can ultimately influence the way users feel.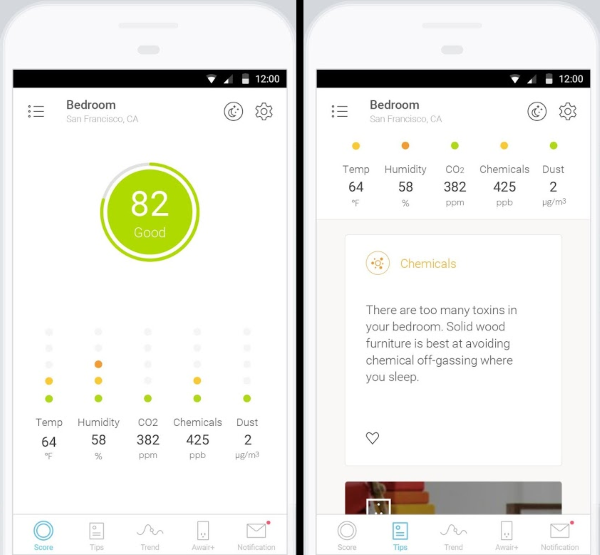 It's exactly within the Awair Home App that users will be able to accurately track the five different air quality factors that can impact their health, comfort, and productivity, and as mentioned before, those are temperature and humidity, and the amount of CO2, toxic chemicals (VOCs), and Combustion Particles (PM2.5) in the air.
The Awair Home App will show all of these five tracked stats as well as an informative graphic with your average daily air-quality.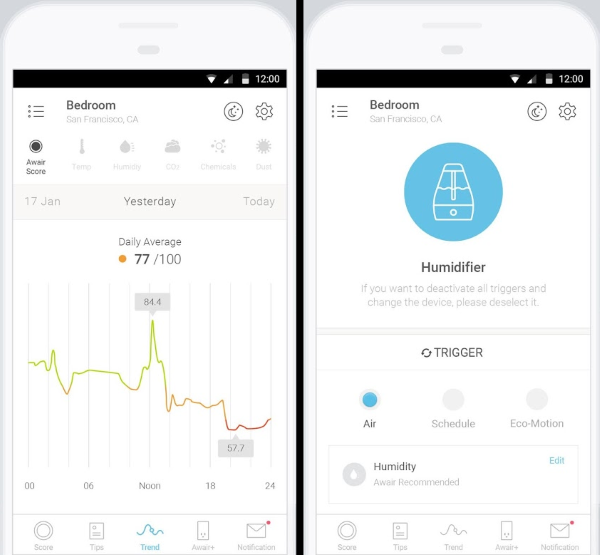 SMARTPHONE APP FEATURES
Examine the air's Temperature
As mentioned before, your home's air temperature can affect more than just your comfort. This can include influencing your overall work and/or college performance, as well as sleep quality, and even how well your immune system functions to fight off pathogens.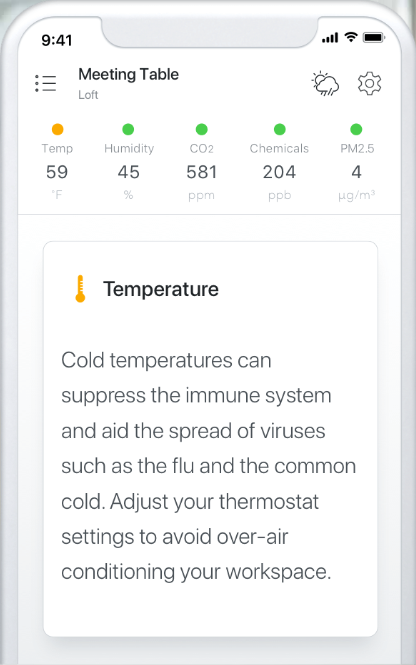 As such, the Awair Home App informs you about the exact temperature values so that you can adjust your thermostat's settings so that you can avoid over-air conditioning your living space and/or workspace.
Examine the air's Humidity
Whenever there's too much or too little moisture (humidity) in your air, it can affect how healthy you feel on a daily basis. Not only that, but this can also ultimately aggravate any preexisting health conditions that you already have to deal with, and those can include health conditions like asthma, or even a skin eczema.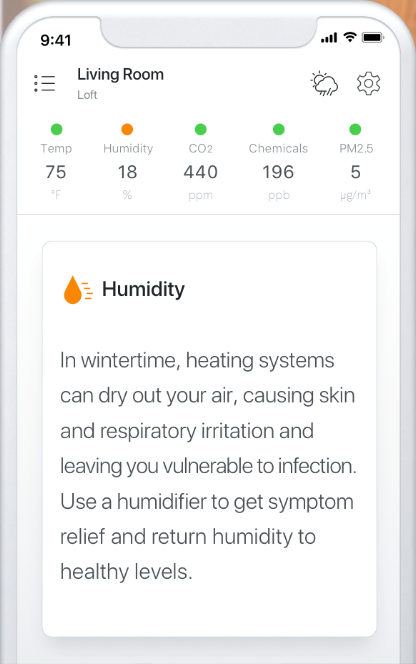 However, thanks to the Awair Home App's accurate information of the Humidity levels in your air, you can stay away from unhealthy air-quality levels when it comes to humidity.
Examine the amount of CO2 in the air
If your home or office lacks good ventilation, carbon dioxide can potentially rise to unhealthy levels and not only cause headaches, but also fatigue, give you problems concentrating in focus-based tasks, and even impair your decision-making.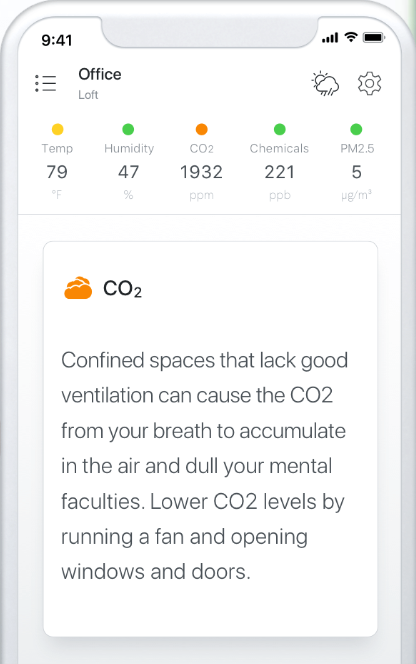 As such, the Awair Home App not only lets you examine your room's air-quality when it comes to your air's CO2 levels, but also gives you smart tips on how to fix your problems, informing you that you could potentially run a fan and/or open your windows and doors to let the fresh air into your room and thus lower the levels of CO2 within the air.
Examine the amount of Toxic Chemicals (VOCs) in the air
For the Awair Element Monitor's tracked Volatile Organic Compounds (VOCs), which are actually detected at a very accurate rate, these are usually emitted by many common building materials, as well as most of your house furniture, and even some basic cleaning products that are used to regularly clean your household.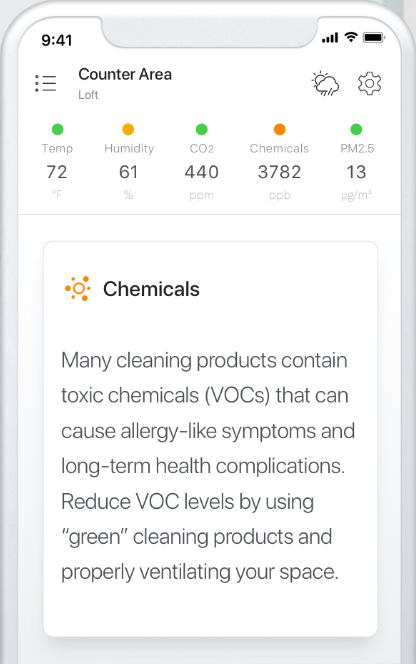 As those same Volatile Organic Compounds (VOCs) can potentially cause both short- and long-term health effects, it's important that users keep an eye on this specific stat's level, but the App will also help users with some additional information on what measures they can take/follow to avoid these "VOCs" in the air, like using "green" cleaning products and properly ventilating any spaces that you spend a lot of time on (living room, bedroom, etc.).
Examine the amount of Combustion Particles (PM2.5) in the air
Lastly, the Awair Element Monitor can also accurately track Combustion Particulates (PM2.5), which are basically microscopic particle matter that's generated from cooking, as well as any potential wildfire smokes around your house, by vehicle traffic (especially for those living in bigger cities), and even other sources.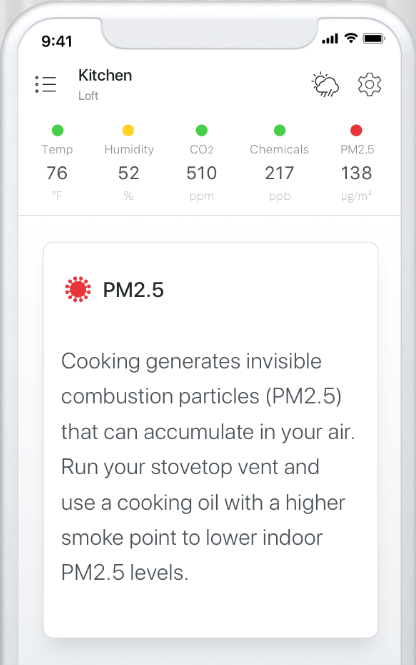 Since these microscopic particles can end up traveling deep into your lungs and increase your vulnerability to both infection and disease, the App also helps users stay aware of the air-quality level that's directly related with PM2.5 Combustion Particles in the air.
Support to Multiple Units
Users can also have multiple Awair Element Monitors throughout their house and configure each and every one by setting them with an associated House Area.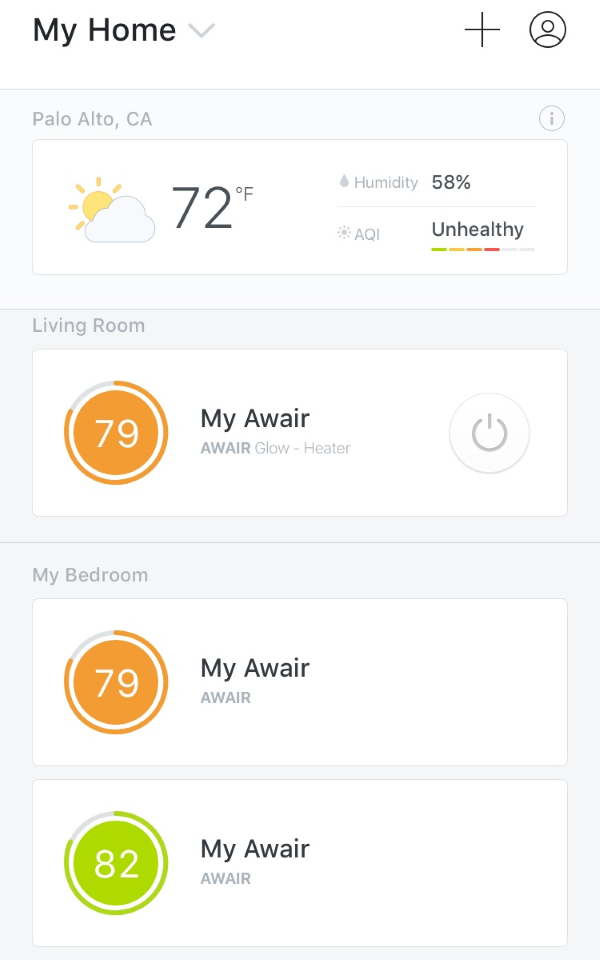 FINAL THOUGHTS
The Awair Element Indoor Air-Quality Monitor can accurately monitor your home's air-quality by accurately tracking your air's temperature and humidity, as well as the amount of CO2, toxic chemicals (VOCs) and Combustion Particles (PM2.5) in the air.
The unit was designed to focus on tracking these five specific air quality factors as those are the ones that can mostly impact your health and sleep quality, as well as your overall comfort, and ultimately, those can even end up affecting your  productivity.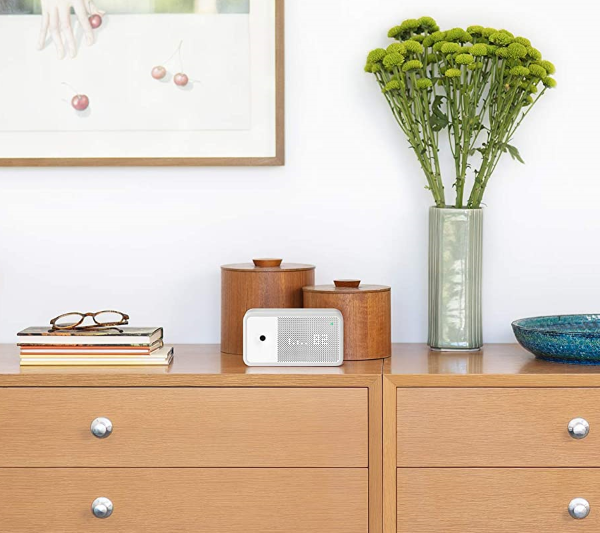 All this makes the Awair Element one of the best indoor air-quality monitors that are currently available on the market. With its accurate readings, contextual data, and very informative feedback, it is a worthwhile choice for anyone who's looking to keep their home environment as healthy as possible.
Lastly, it's also great for offices and business meetings, as it helps business teams keep any meeting rooms at perfectly healthy levels when it comes to air quality.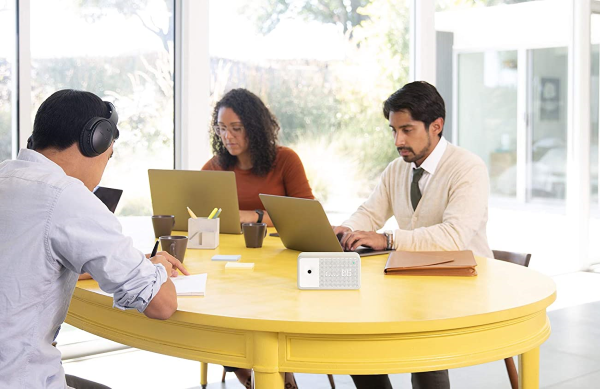 If you're interested in buying the Awair Element Indoor Air-Quality Monitor, each unit is currently discounted of its normal price of $159, now going for just $149 each, and also comes with a 1-Year Warranty.
You can order yours online right now, directly from the company's official shopping page, which you can access by clicking here.