For anyone that suffers from any medical hearing conditions like Single Sided Deafness, Tinnitus (inner ear damage or impairment), or even Hyperacusis (condition that affects how you perceive sounds – loud sounds can feel uncomfortable or even painful), as well as for anyone that has been struggling with Hearing Loss, it can be very hard for people that are going through any of these situations to suddenly stop listening to the beautiful sounds that this world has to offer. For example, people that initially have to deal with Hearing Loss can experience more or less the same stages as anyone that's diagnosed with a serious or even terminal illness, as well as go through the same feelings that anyone facing any type of disability would experience. These can include denial, then anger, feeling like you depend on someone else (loved one, a qualified audiologist, etc.), as well as even depression, and only then, finally comes acceptance. However, ifyou or any of your family members are looking to bring the sounds of the world we all love back to life, you might want to consider trying the Eargo Neo HiFi.
The Eargo Neo HiFi are high-quality state-of-the-art hearing aids that are super comfortable to wear as well as near invisible to anyone else that the user is starting a conversation with.
Not only that, but these awesome and ultra-reliable hearing aids also bring users a very much needed feature, which is none other than Surround Sound technology, and that will ultimately bring any user a very personalized hearing experience with literally everything they'll need to once again listen to life's most beautiful sounds. Things like listening to the sounds of birds singing or even the voice of someone you love can once again come back to an almost normal hearing level.
Lastly, since everything can be easily configured within the Neo HiFi's proprietary mobile App, users literally have a quality of life improvement that can be controlled at anytime, right from their own hands with no concerns whatsoever, as the App's intuitive UI (User Interface) makes it super easy to navigate, configure and understand.
Now, let's take a more detailed look at the Eargo Neo HiFi Hearing Aids and check everything they have to offer.
DESIGN
Starting with the Eargo Neo HiFi Hearing Aids themselves, these hearing aids are actually quite small, which is one of the few things that allows them to become nearly invisible to whoever their users are talking to. As such, each of the two hearing aids measures exactly just 0.75 inches long by 0.47 inches wide by 0.26 inches tall (19.3 x 12 x 6.8 mm), making them super small and just the perfect size for wearing them at a daily basis without having to worry about other people noticing them.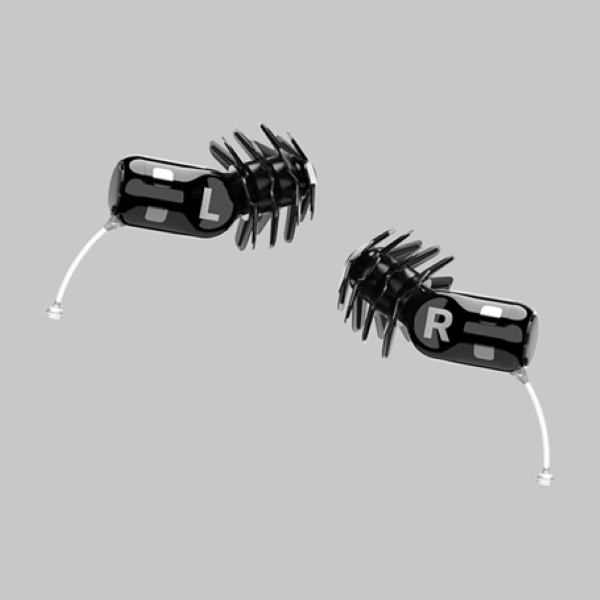 Furthermore, these hearing aids are also super lightweight, as the hearing aids weigh just a measly 0.04 oz. (1.2 g), which basically means that after putting them on, users won't even feel they're wearing them, thus bringing every user some comfort during wear.
Additionally, while traditional plastic hearing aids are basically stuck in the Stone Age, as most plastic models are made of hard plastic devices, which not only completely ends up plugging your ears but also makes those same hearing aids quite uncomfortable to wear after a few hours of use, the Eargo Neo HiFi Hearing Aids were designed exactly in an opposite fashion.
As such, the Eargo Neo HiFi are super comfortable hearing aids that are completely made of silicone, which gives them a very breathable design that ultimately allows air to flow into your ear canal during wear, making them both super soft and very refreshing to use.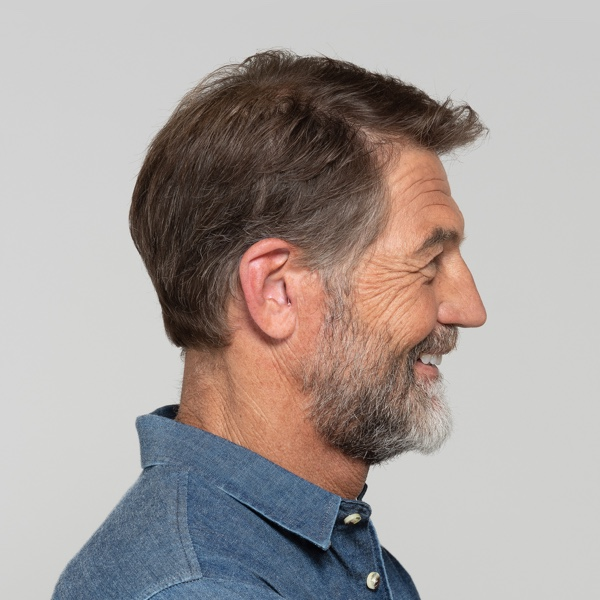 Not only that, but each set also comes with two (x2) included Flexi TetraPalm attachments (one Regular set and one Large set of Flexi Tetrapalms), and each of these attachment sets basically works as a fourth layer of ultra-soft material, which ends up providing users with an even better fit for a better listening experience, all while comfortably floating inside a user's ears.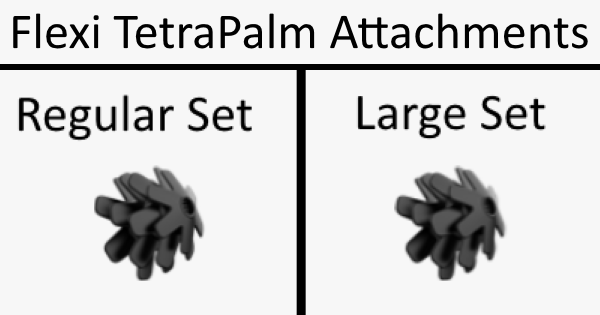 There's also one included set of even larger attachments, which the company simply calls "Flexi Fibers". Just like the other two included Flexi TetraPalm attachments, these can also be used to replace the hearing aids' original ear attachments so that you can ultimately keep your Eargos looking and feeling fresh and clean.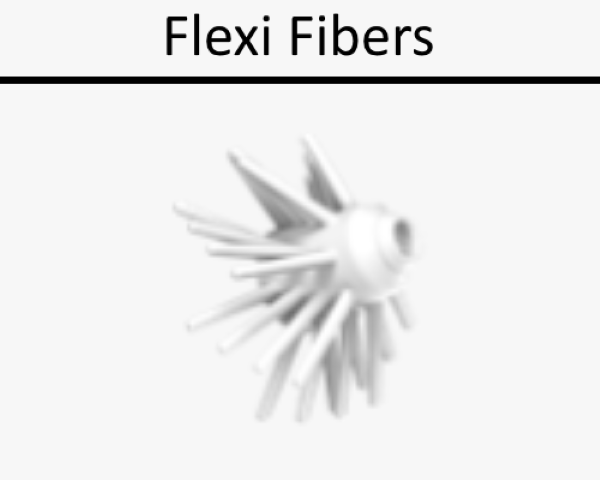 It's recommend that users replace their hearing aids' Flexis attachments around every three months, and each package contains a total of three additional pairs of Flexis for your Eargo hearing aids, which means these attachments will last you for a total of 1 year (3-months for the original pair, plus 9-months total for using each of the three included ears attachments for 3-months each).
AUDIO SPECS
Moving on to the hearing aids' Sound Specs, the Eargo Neo HiFi can ultimately amplify both mid and high sound frequencies.
While Mother Nature itself provides the bass (low sounds), the hearing aids' Flexi TetraPalms ear attachments will easily allow for all natural low sound frequencies to pass into your eardrum.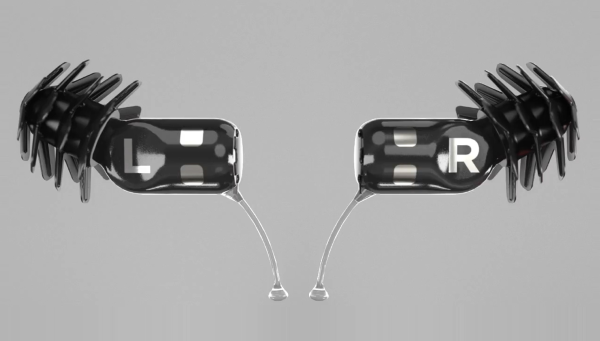 This is exactly what will let your Eargo Neo HiFi hearing aids concentrate on amplifying both mid and high frequencies, which will ultimately give your ears a rich mix of ambient and amplified sounds.
The Eargo Neo HiFi Hearing Aids can offer its users a Maximum Output Sound Gain of 111dB SPL, while also featuring a Noise Reduction that can be set up to 17dB gain reduction and a Wind Noise Reduction that can be set up to 13dB gain reduction.
All of these settings can be easily configured via the hearing aid's Smartphone Companion App (the Eargo App – discussed at the end of the article).
Since these state-of-the-art hearing aids can easily amplify speech while reducing background noise, wearing these makes it both easier and more comfortable for anyone dealing with a medical hearing condition or hearing loss to hear in noisy settings.
Even better, at the exact same time, the Eargo Neo HiFi's sophisticated wind noise reduction will also provide a crisper and clearer speech of anyone that the hearing aid's users are talking with while staying outdoors.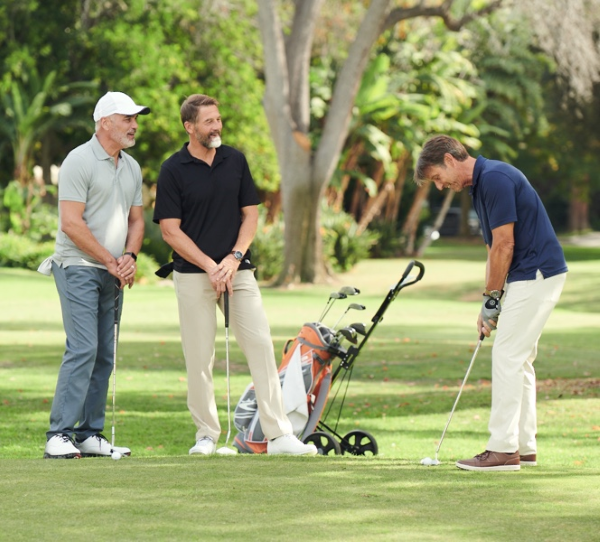 As such, these hearing aids are also great for any outdoors activity such as going for a golf match with friends, a picnic with your beloved family, etc.
BATTERY & BATTERY LIFE
Each hearing aid features a comes equipped with a small built-in 20mAh rechargeable battery, which provides the two hearing aids with around 16 hours of battery life on a single charge.
This basically means that you should have no problems at all getting through the whole day.
Not only that, but these hearing aids also come with their own Carrying & Charging Case included, which comes equipped with a built-in 655mAh rechargeable battery that can provide quite a few more hours of extra battery life to your Eargo Neo HiFis.
Just like the hearing aids set, the hearing aids' Carrying & Charging Case is also quite lightweight, weighing just 2.15 oz (61 g), while also featuring a USB-C charging port that makes charging both the Charging Case and the hearing aids very easy.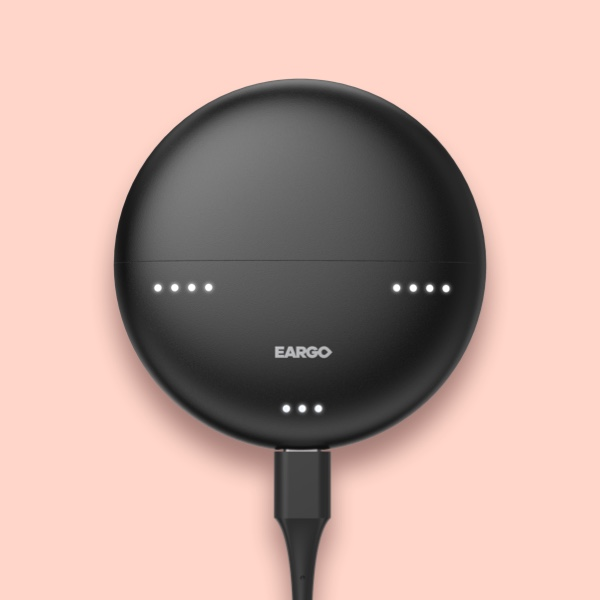 All you have to do is connect the included 4.92 ft. (1.5 m) USB-C Charging Cable to both the included USB Plug-Adapter and the Charging Case, place both of the hearing aids inside of it, and wait for everything to recharge back to a full charge. Charging both the Charging Case and the Neo HiFi hearing aids only takes you about six hours.
WHAT'S IN THE BOX?
Inside each package users will find: their one pair of Eargo Neo HiFi Hearing Aids, the included hearing aid attachments (one set of Regular Flexi Fibers, one set of Regular Flexi Tetrapalms, and one set of Large Flexi Tetrapalms), an included 4.92 ft. (1.5 m) USB-C Charging Cable and the USB Plug-Adapter (which is used to recharge the hearing aids' charger and the hearing aids themselves), an included Wax Guard, and even a Cleaning Brush (which is very nice to keep the hearing aids clean and sparkling for future wears).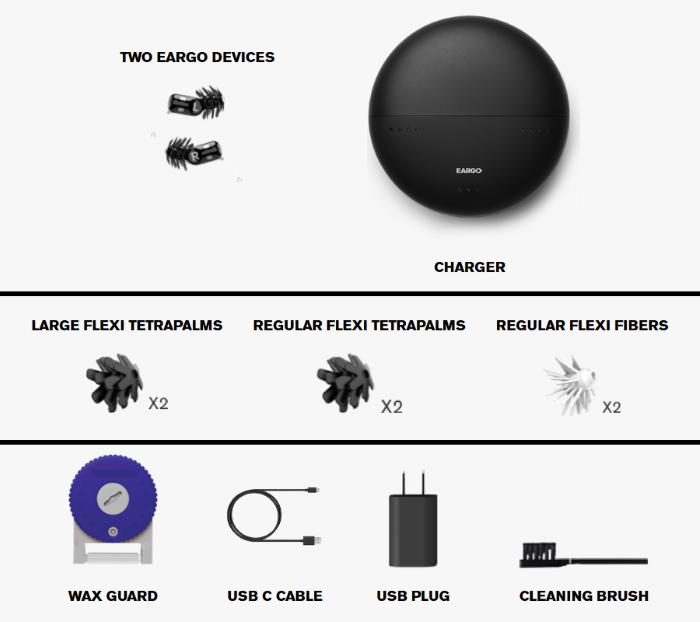 THE SMARTPHONE APP – Eargo App
Lastly, the Eargo App, which is available to download for free for both iOS and Android devices is what will allow users to easily connect the Eargo Neo HiFi hearing aids to their Smartphone via Bluetooth connectivity, as well as customize different personal Sound Profile configurations.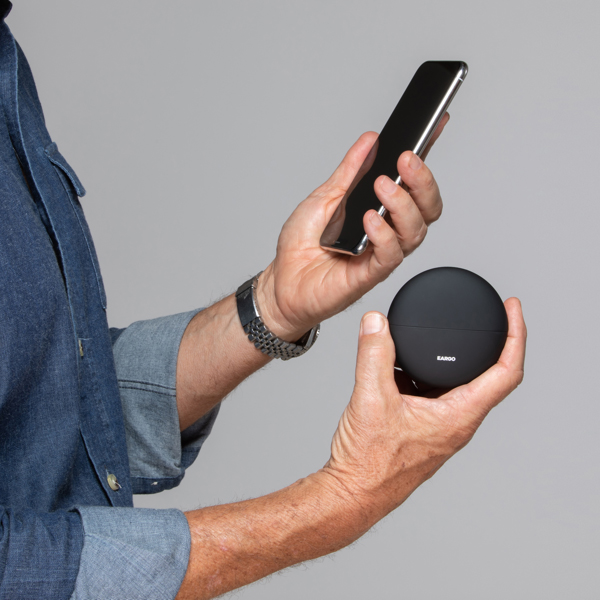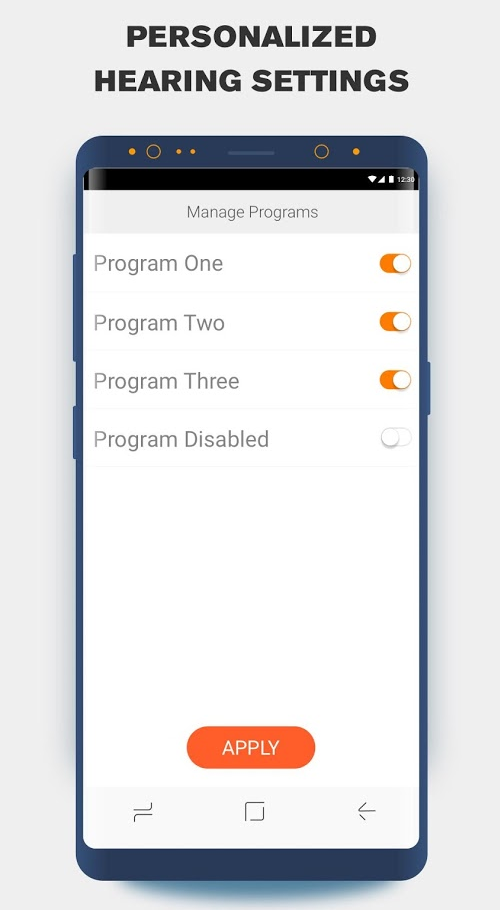 The Eargo App makes it very easy for users to quickly set up and connect their Eargo Neo HiFi hearing aids to their Smartphone, as well as pair the hearing aids set with their proprietary Charging Case. Furthermore, users can also check the hearing aids' battery status at any given moment.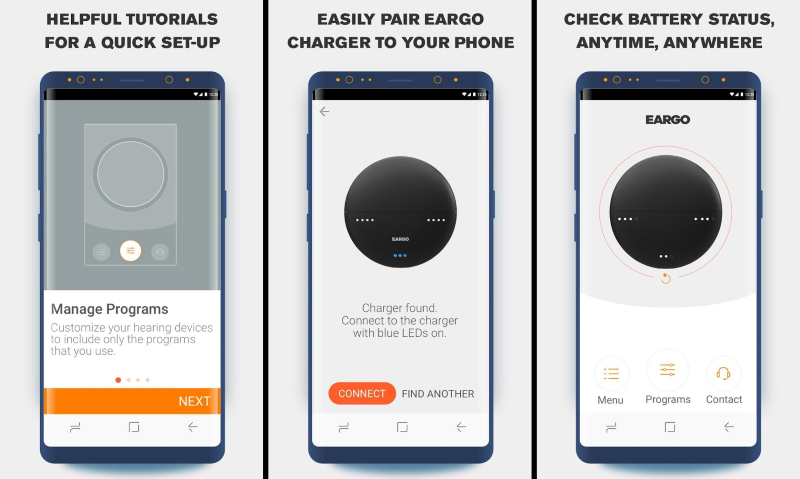 FINAL THOUGHTS
The Eargo Neo HiFi Hearing Aids are a set of premium hearing aid devices with Bluetooth connectivity that are comfortable to wear and easy to use, and that feature Surround Sound settings that can be configured via their Smartphone App.
These state-of-the-art hearing aids offer an amazing sound quality, as well as a great Maximum Output Sound, and even feature both Noise Reduction and Wind Noise Reduction.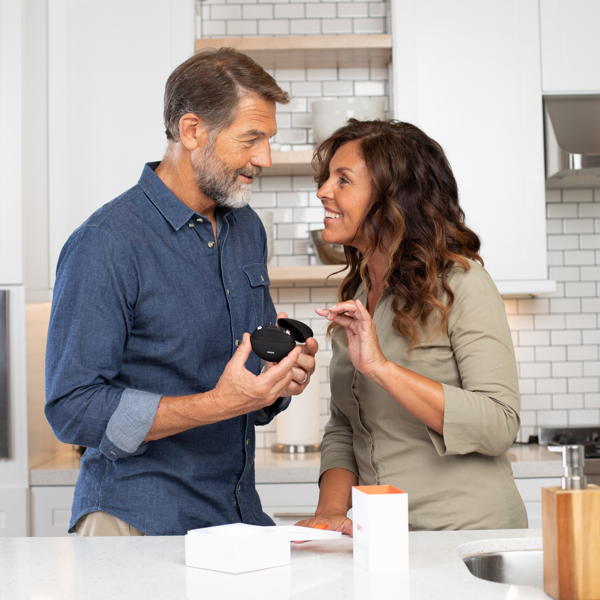 If you're interested in buying them, each set of Eargo Neo HiFi is currently discounted from their normal price of $2,950, now going for just $2,650 per set (which you can also pay on smaller amounts of just $123 per month), and also come with a 2-Year Warranty.
You can order yours online right now, directly from Eargo's official shopping page, which you can access by clicking this link.