While everyone has their bodies biologically configured to work more or less in the same way, there are still lots of people that have a hard time trying to fall asleep during the night. Starting with insomnias, these are the most commonly reported sleep-related problem during the last few years. Furthermore, even if you don't struggle with insomnias at a regular basis, many other people also have a hard time falling asleep, and as such, they'll sometimes find themselves tossing and turning and trying in vain to get a good night's rest. That's because, sometimes, our body is simply too excited to do that, and so, we're not able to reach the necessary relaxation state to be able to fall asleep in a peaceful manner. Nevertheless, we've got some very good news for anyone that identifies themselves with any of these problems, as the iHome Zenergy Dream Mini iZBT7 might very well be the solution for all of your sleeping problems.
The iHome Zenergy Dream Mini iZBT7 is a simple, affordable, and very reliable Bluetooth Bedside Sleep Therapy Machine that integrates all the essential technologies you need built into one single small device.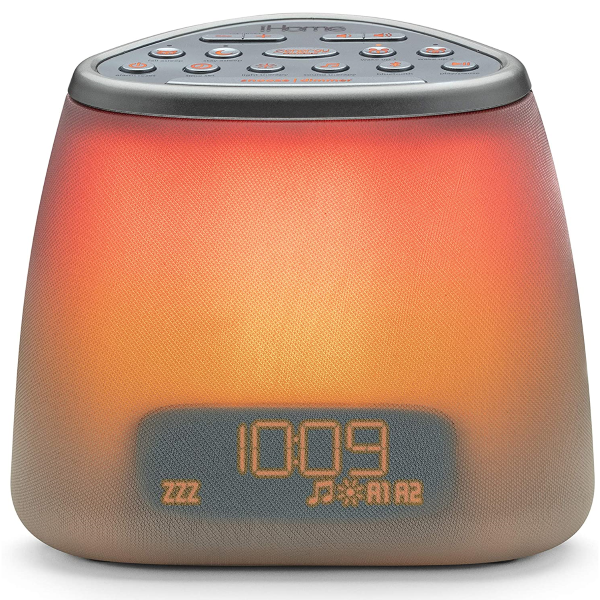 While insomnias translate to having difficulty falling asleep or staying asleep, as well as waking up too early, or ultimately having a more serious disturbance in sleep quality that makes your sleep seem inadequate or unrefreshing, the iHome Zenergy Dream Mini iZBT7 can help you with that.
That's because this state-of-the-art Sleep Therapy Machine features many different sleeping aid technologies such as Sound Therapy and Light Therapy.
BRIEF INTRO TO CIRCADIAN RHYTHMS – WHAT'S A CIRCADIAN RHYTHM?
It's important to mention that our bodies are biologically configured to work in a Circadian Rhythm, and as such, they follow a 24-hour internal clock that's running in perfect tune with your brain, all while cycling between two main states at regular intervals, and those states are a Sleep State (usually when we feel tired at night), and an Alert State (more commonly after we wake up every morning).
These same Circadian Rhythms, which work as "our internal clocks", are linked to changing wavelengths of light throughout the day, but many different sleeping problems and/or sleeping disorders can end up messing them up.
Fortunately, our Circadian Rhythms can still be regulated to a certain extent with the help of Color Light Therapy, which is scientifically proven to simulate those same wavelengths of light. As such, exposure to Color Light Therapy at the appropriate times (i.e. at the start of each sleeping cycle) can trigger subtle biological responses within our body, like increased melatonin production as well as a more relaxed heart rate at night, thus helping to improve a user's sleep, energy, and even their mood during the day.
THE REASONING BEHIND A SLEEPING AID DEVICE LIKE THE iZBT7
That's exactly why iHome, a technology leading manufacturer of award-winning speakers, portable devices and bedside solutions, decided to create the iHome Mini iZBT7 Sleep Therapy Machine.
The company's highly reliable iZBT7 is one of the best sleeping aid devices available on the market, which not only offers people with sleeping problems a relaxing Sound Therapy and a calming Light Therapy, but also a Dual Alarm that integrates both a gradual wake functionality and customizable sound and light therapy settings that you can widely customize to fully fit your sleeping needs.
Now, let's have a more detailed look at the iHome Zenergy Dream Mini iZBT7 and check its design, interface, featured sleeping therapy programs, and pretty much everything else that this this cool sleeping aid gizmo has to offer.
DESIGN
Starting with its size, the iZBT7 is actually quite small, as it measures just 5.48 inches long by 3.82 inches wide by 4.81 inches tall, weighing just a measly 2.16 lbs.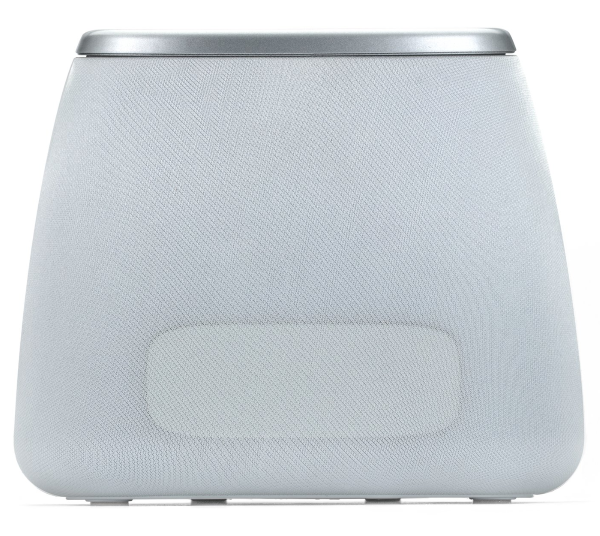 The device is built in a very simple manner, packs a small speaker unit at its back side (which is what will produce its already mentioned Sound Therapy, and even features a super elegant design that's bound to seamlessly blend in with the rest of your bedroom furniture.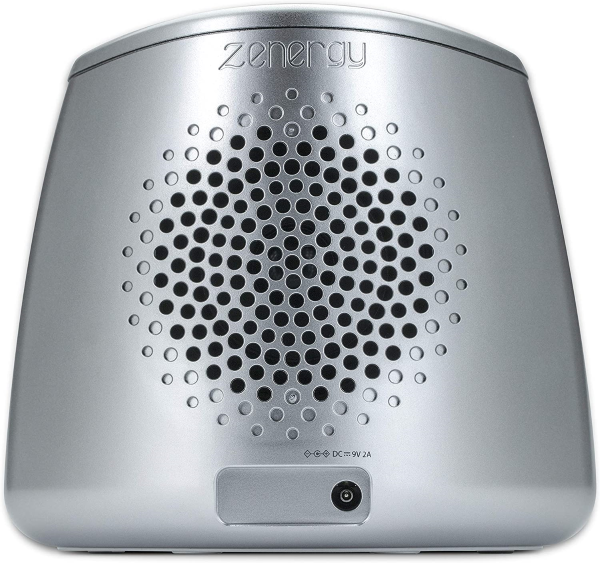 INTERFACE
The iZBT7's interface is located at the very top of the unit, and it's both simple and extremely intuitive to use, regardless of the fact that it might seem a bit overwhelming at first with its vast amount of quick-touch buttons.
Still, all of the buttons are perfectly identified with one or two simple words that correspond to their functionality.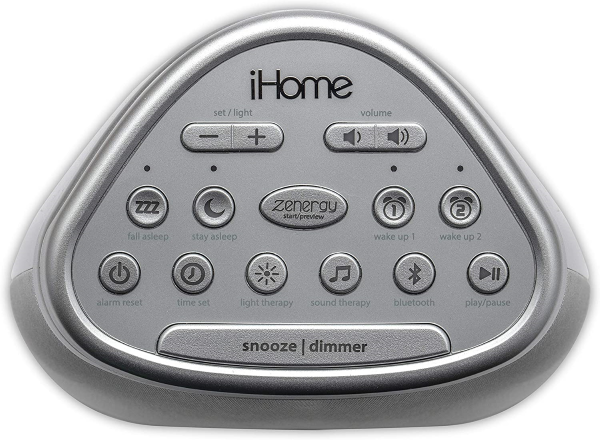 Starting from the top we have the Light Increase and Light Decrease buttons at the top left and the Volume Increase and Volume Decrease buttons at the top right of the interface.
Then, at the middle of the device's top side we have a full horizontal line of smaller buttons, which are Fall Asleep, Stay Asleep, the device's On/Off button, the Wake Up 1 (First Alarm) button, and the Wake Up 2 (Second Alarm) button.
Under this group of buttons there's a second set of quick-touch buttons, also displayed horizontally, and those are Alarm Reset, Time Set, Light Therapy, Sound Therapy, Bluetooth button (to have the iZBT7 streaming digital audio wirelessly from your Bluetooth-enabled audio device), and a Play/Pause button.
Lastly, at the very bottom of the interface there's a Snooze/Dimmer button.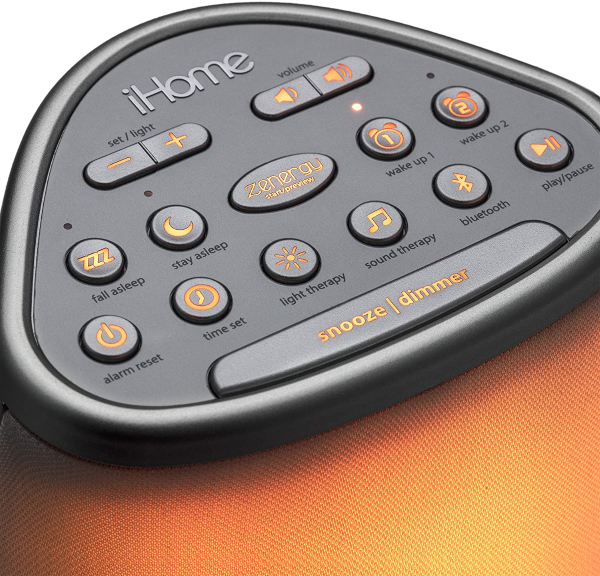 As you can see, the entire interface is super easy to use, despite the fact of having quite a few buttons spread around it.
AUDIO QUALITY
After testing it out, I must say that the iZBT7's back speaker unit was definitely more powerful than I was originally expecting. The sound on this small Bluetooth-enabled bedside Sleep Therapy Machine machine is nearly as good as the company's larger model (the iHome iZBT10). As such, the only thing you'll be really missing is the equalizer on the bigger version.
The sounds from any of the device's Sound Therapy programs are produced by the unit's built-in speaker (located at the back, as mentioned before) with a reasonable quality that certainly won't let you down and won't ever make you regret purchasing the iZBT7.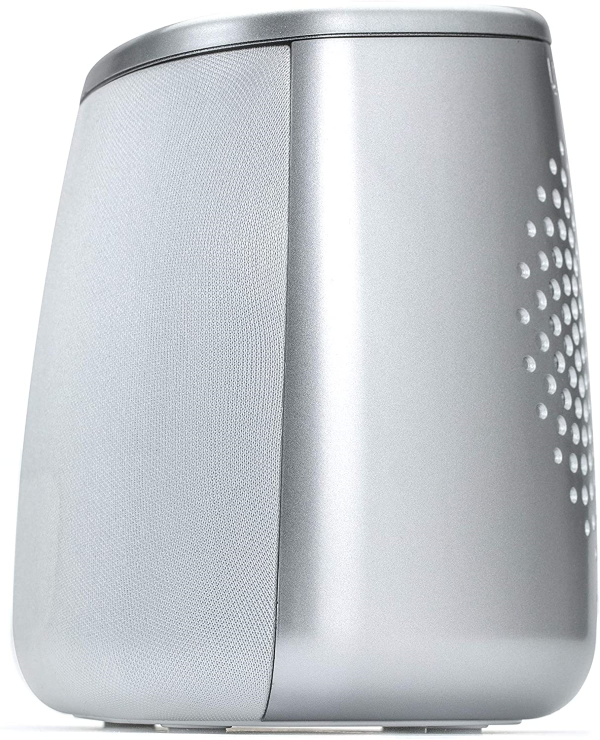 For the slight difference of just a few extra dB's of sound when using the iZBT10, I'd personally prefer always going with the iZBT7, and that's mainly because of its smaller size, which makes it the perfect portable Sleeping Aid Solution for anyone that spends a lot of time on-the-go and has some trouble falling asleep.
CONNECTIVITY
As mentioned before, the iHome Zenergy Dream Mini iZBT7 comes equipped with a Bluetooth button within its interface, and as such, that makes the unit a Bluetooth-enabled device.
As mentioned before, its Bluetooth button is what allows users to have this bedside Sleep Therapy Machine streaming digital audio wirelessly from any of their Bluetooth-enabled audio devices, thus allowing them to also enjoy their favorite albums and artists whenever their not using the iZBT7 for its main purpose, which is to aid them in falling asleep via Sleep and Light Therapy.
OTHER NOTABLE FEATURES
16 Different Sound Therapy Sounds
Within its Sound Therapy, the iZBT7 can be cycled between many modes to offer a total of 16 different Soothing Sounds that include both Nature Sound Recordings and White Noise Recordings, and both can ultimately help you to have a more relaxed mind and body.
These 16 unique sound programs include 4-7-8 Breathing Meditation, Breath, Zen, Dream, Peace, Trance, Nature, Ocean, River, Storm, Chimes, Air, Drive, Focus, Quite, and Heart.
In case you're wondering how you can use the 4-7-8 Breathing Meditation program to deal with anxiety, just know that the 4-7-8 breathing technique (which is also known as "relaxing breath") simply involves having you breathing in for 4 seconds, then holding your breath for 7 seconds, and finally exhaling for a total of 8 seconds.
This breathing pattern ultimately aims to reduce anxiety, but it can also help a lot of people that struggle with sleeping problems and disorders to have an easier time falling asleep. Some people even claim that the method helps them to quickly fall asleep in just 1 minute, and while there's still a somewhat limited number of scientific researches that can support this statement, there's more and more evidence that suggests that this type of deep, rhythmic breathing is ceraintly relaxing, and that's most likely what it can help ease people into sleep.
Light Therapy
Other than the iHome Mini iZBT7's Sound Therapy with 16 different soothing sounds and white noises, this bedside Sleep Therapy Machine also features a calming Light Therapy that can be cycled between 14 different Special Light Therapy Programs, and these can ultimately promote a better relaxation method for people with sleeping problems, thus offering users a better and more relaxing way to fall asleep at night.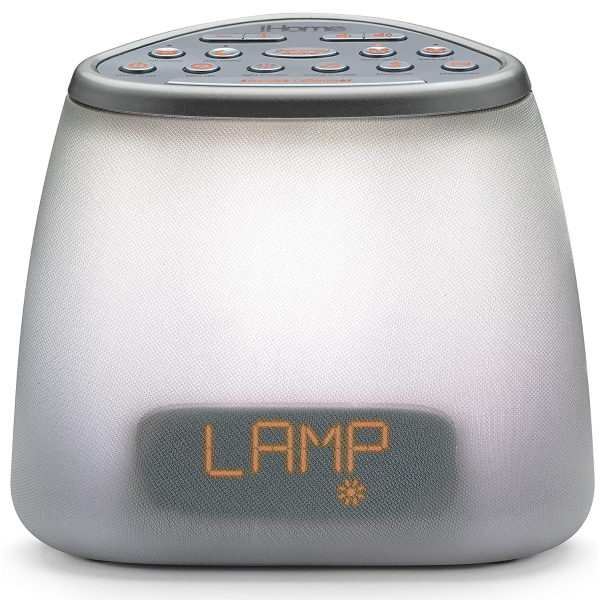 LED Color Blending Spectrum
Additionally, the iHome Mini iZBT7's Light Therapy works in a full spectrum of color changing modes, and this feature is quite helpful when it comes to enhancing a user's mood.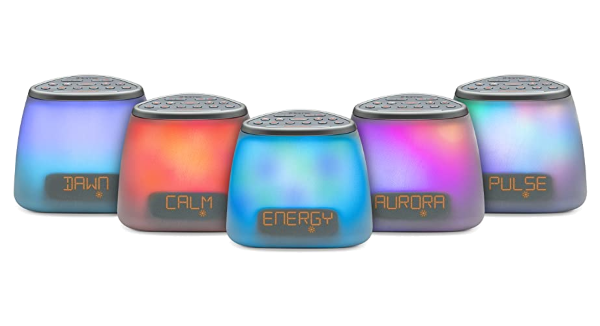 Dual Alarm and Dual Sleep Timer
As mentioned at the beginning of the article, this Sleep Therapy Device also features a Dual Alarm that integrates both a gradual wake functionality and customizable sound and light therapy settings that you can widely customize to fully fit your sleeping needs.
Furthermore, there's also a Dual Sleep Timer feature that allows users to configure two separate sleep timers for each time their using both of the device's Sound and Light Therapy to have an easier time falling asleep.
Sunrise Wake Up
There's also a very convenient "Light" feature that allows users to wake up in a more natural way, and that's by having the device simulating a sunrise that gradually increases from dim to a bright yellow color.
Backup Battery
Lastly, its Sure Alarm functionality also integrates a Battery Backup that will operate the alarm during any unexpected power outages that will prevent power from traveling from the unit's included Universal Adaptor 100-240V to the device itself.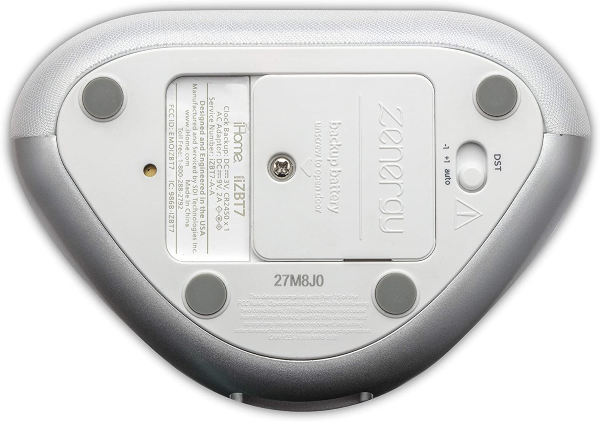 This "backup" battery comes integrated into the unit's ultra-durable body, and users can get easy access to it via the bottom of the unit.
FINAL THOUGHTS
The iHome Zenergy Dream Mini iZBT7 is a Bluetooth-enabled bedside Sleep Therapy device that helps users relax and fall asleep in an easier way via 16 different Sound Therapy programs and 14 different Light Therapy programs.
Furthermore, while its programs can be used in a wide variety of color changing modes, its built-in "backup" battery ensures that its Dual Alarm functionalities always work, even during unexpected power outages.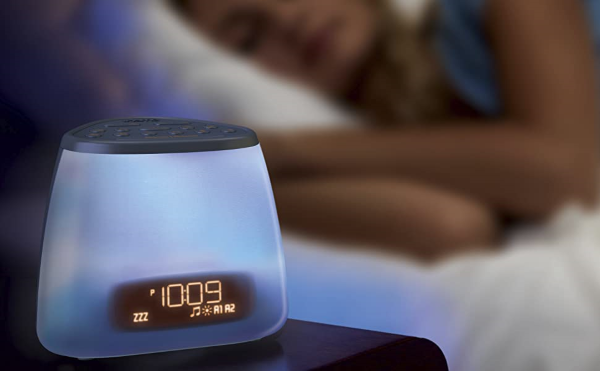 This is, without a doubt, a 100% recommended purchase for literally anyone that struggles with sleeping problems and/or sleeping disorders at some point in their life.
If you're interested in buying the iHome Zenergy Dream Mini iZBT7, each unit is currently going for around $70~$75. You can either get it from the official site, or either from iHome's dedicated Amazon shopping page or Walmart's online shopping page. Clicking each link will take you to the corresponding shopping pages.