Intelligent temperature control solutions that allow homeowners that are looking to turn their home into a fully controllable Smart Home are becoming increasingly popular. Most of these were designed after Google's Nest Learning Thermostat (3rd Gen) was a huge success. As such, these Smart Temperature Control devices allow homeowners to turn their old "dumb" air conditioners to Smartphone-enabled Smart AC units. This brings us to the Sensibo Sky (2nd Gen).
The Sensibo Sky (2nd Gen) is a unique App-controlled device that can easily make just about any remote-controlled air conditioner smart.
With it, proud Smart Home homeowners can still keep their old and "dumb" AC units around instead having to spend huge amounts of cash to replace their air controllers for new "smarter" models that pack Smart Home features. As such, the Sensibo Sky not only improves your quality of life when it comes to controlling your AC in a much more easier way (via your Smartphone), but can also potentially save you a ton of money on Smart Home upgrades.
Let's have a more detailed look at this intelligent temperature control solution and check everything that it has to offer.
DESIGN & SPECS
Starting with its size and design, the Sensibo Sky (2nd Gen) is a very small unit that features a very simple design. The device's body basically consists of a part white (2/3 bottom) and part black (1/3 top) plastic rectangle that's quite small, as the entire unit measures just 2.2 inches long by 0.8 inches wide by 3.2 inches tall, weighing just around 1.4 ounces.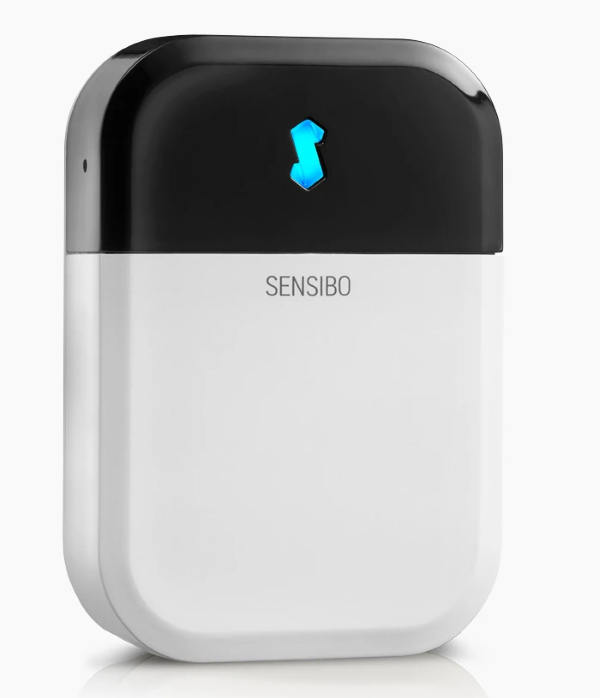 The unit's internal components include two microprocessors as well as many different sensors that allow the Sensibo Sky to gauge humidity, temperature, lighting, and whether a room is occupied or not.
All of these stats (humidity, temperature, etc.) can be seen within the Smartphone App.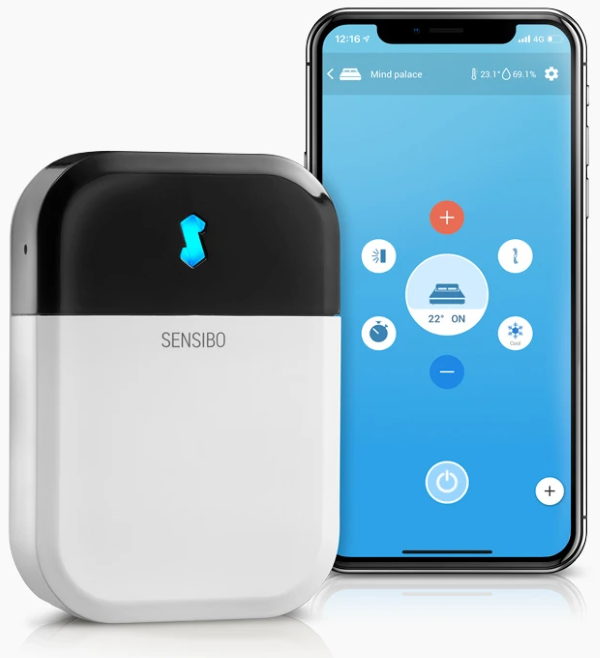 Additionally, the unit also comes equipped with a very small built-in infrared sensor, which is located at the top. This is the main component that'll allow the unit to work with your old, "dumb", and previously remote-controlled AC unit.
COMPATIBILITY & INSTALLATION
The Sensibo Sky is fully compatible with all AC units around, meaning that it supports any air conditioner or heat pump that works with a remote control. This ultimately includes Split A/Cs, Mobile A/, Window A/Cs, and Cassettes and central A/Cs that have a remote control.
Furthermore, the Sensibo Sky will also work with any voltage and power outlet, but the best of all is that installing this smart control unit for your AC only takes you less than a minute.
Literally all you have to do is install it / attach it to your house wall (close to your AC), connect it to its proprietary Smartphone App (the Sensibo App, which lets you configure it and use it – discussed at the end), and you're all done.
To mount it, you just have to peel off its sticky adhesive protection (at the back) and carefully press it into the wall. After mounting the unit, the Smartphone App should walk you through the Wi-Fi pairing process (discussed right ahead).
Lastly, and saving the best news for last, this intelligent temperature control solution also works in every country, so even if you leave on the opposite side of the world when compared to its manufacturer (Sensibo), who's headquartered in Redwood, Virginia, United States, there's still nothing to worry about.
CONNECTIVITY
The Sensibo Sky features 2.4 GHz Wi-Fi connectivity, but sadly, it does not support 5GHz.
As mentioned before, after downloading the Sensibo App and creating an account, all you have to do is plug the device itself into a power source.
Within the App, you'll be asked to point your AC remote at the Sky's built-in infrared sensor (located at the top), and this is why the Sensibo Sky is compatible with ACs that are originally controlled by using a remote. Lastly, just verify your location, and enter your home Wi-Fi password, and you're all set to enjoy controlling your AC unit(s) via the Smartphone App.
It's also worth to mention that the unit's S-shaped indicator light (located at the front side, centered horizontally close to the top of the unit) will light up with a bright blue color as soon as its Wi-Fi pairing is successfully finished.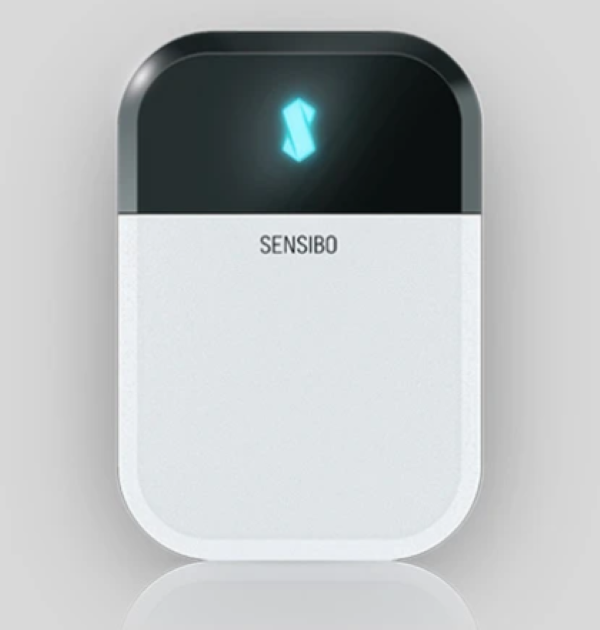 WHAT'S IN THE BOX?
Inside each package users will find: their Sensibo Sky unit, one included Power Plug (country AC-plug compatibility will go according to your shopping address), and one included Micro-USB cable (to connect the unit to its Power Adapter).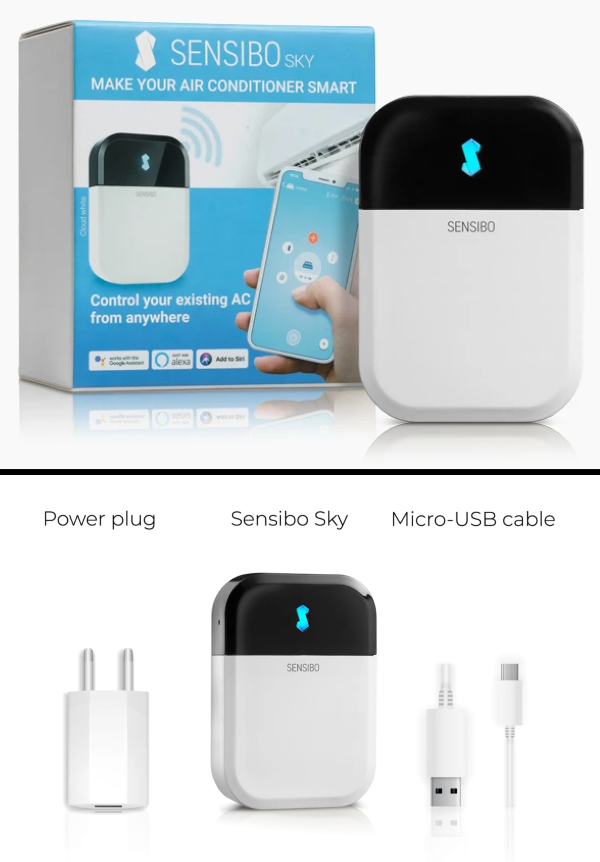 NOTABLE FEATURES
Auto Start & Auto Shutdown
One of the Sensibo Sky's best smart features is that the unit can turn itself On automatically right before you arrive, as well as turn intself Off automatically whenever the last member of your family/household leaves the house.
This feature is accomplished by using your Smartphone's Geo-Location.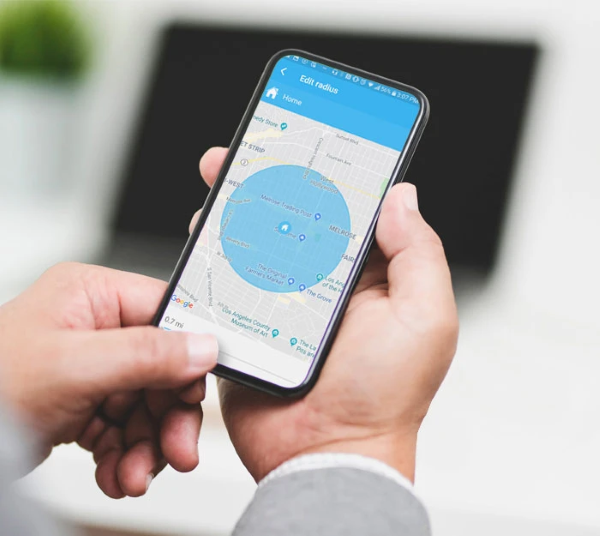 However, it doesn't stop there, as the Sensibo Sky can also be configured to turn on the heat before you wake up during the cold winter days. The same goes for automatically cooling your house down before you arrive home during those boiling hot summer days.
Lastly, thanks to its easy installation and smart automatic On and Off features, you can use both while you're staying at home or for whenever you're on-the-go (for AC units on hotel rooms, etc.), as it always make sure that your house/room temperature is the right one for you.
All of this can be configured withing the Sensibo Mobile App (discussed ahead, at the end of the article).
Climate React
Thanks to the Sensibo Sky's multiple internal sensors (humidity, temperature, lighting, and presence/movement sensors), users can also set each Sensibo Sky unit to have its Climate React smart feature turned On.
This smart feature ultimately allows you to not only be in control of your comfort, but also of the unit's energy usage.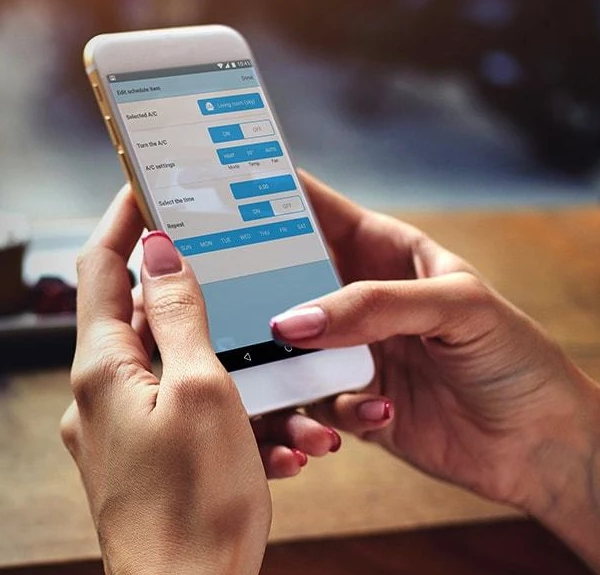 Via the Sensibo App you'll be able to configure different triggers that'll force the unit to change the climate in your room based on temperature, humidity and comfort parameters you set up.
Furthermore, using the Sensibo Sky's Climate React feature will also allow you to protect your home and air conditioner system from extreme temperatures and humidity levels that can be damaging to your walls, floors, etc.
Energy Saving
Furthermore, by using a 7-day scheduling (configured within the Sensibo App), geo-fencing and filter cleaning alerts, Sensibo saves energy and pays for itself
Open API & Works with IFTTT
As the Sensibo Sky was designed to work as an intelligent temperature control solution, this is basically a Smart Home gadget that allows you to unleash the full potential of your "dumb" AC unit, and as such, it would be a shame if it wouldn't work with IFTTT (If This Then That). As a matter of fact, that's exactly what it does.
Since the Sensibo also works with IFTTT, it's super easy for both techology and engineering enthusiasts to create new programs, solutions and new automation features for their Sensibo Sky units, right from the comfort of their home, home offices, and geeky workstations.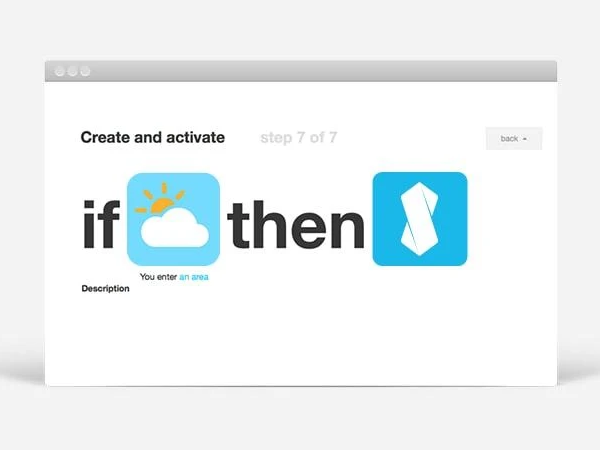 Furthermore, the Sensibo Sky also has an extensive Open API, which, mind you, features many extensions and integrations that were already created by the community, and that goes for SmartThings, OpenHab, Homebridge (for HomeKit) and more.
Voice Assistant Support
The Sensibo Sky also features Voice Assistant Support to all of your favorite voice assistants, including Amazon Alexa, the Google Assistant, and even Siri.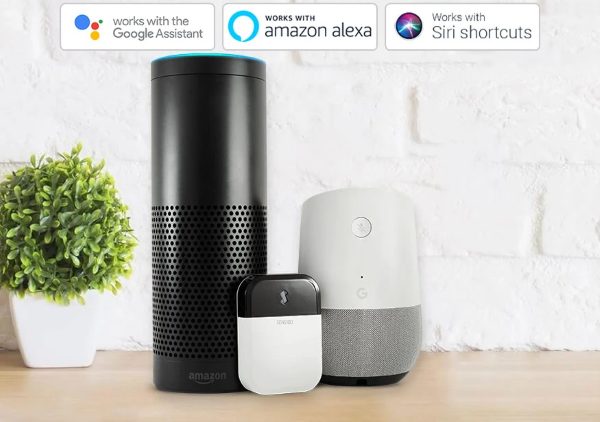 As such, the unit is fully compatible with many Amazon Alexa devices (like the Amazon Echo), some Google-Assistant-enabled devices (like Google Home) and even Siri-enabled devices.
With one single click, users can easily link each Sensibo unit to their Smart Home devices with Voice Assistant features, and after that, they'll be ready to start controlling their Sensibo Sky(s) with simple Voice Commands.
You'll be able to use simple commands like "Alexa, turn on living room" and "Ok Google, turn off the bedroom".
This will allow you to control your AC's temperature with nothing but your voice, which basically means that you won't ever again have the need to take your Smartphone out of your pocket. I mean… you can always do that if you prefer controlling the unit via its Smartphone App, but what Smart Home its truly "smart" without the magic of Voice Controls, right…?
THE SMARTPHONE COMPANION APP – Sensibo App
Lastly, the Sensibo Sky's proprietary Smartphone Companion App, which is simply called "Sensibo App", is available to download for free for both iOS and Android devices.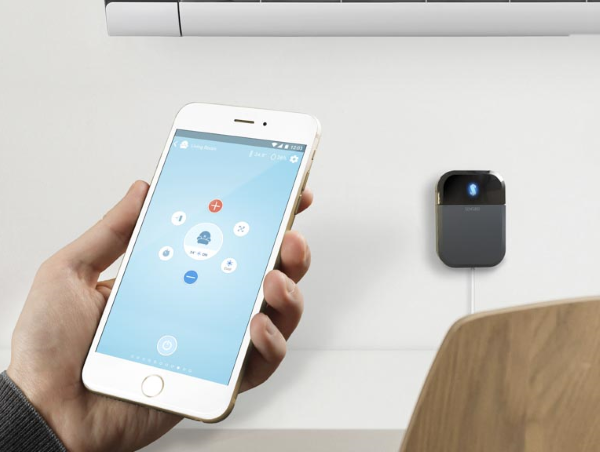 The Sensibo App not only offers pre-installed commands, but also features multiple operating modes, as well as alarm clock synchronization, and even other Smart Home functionalities.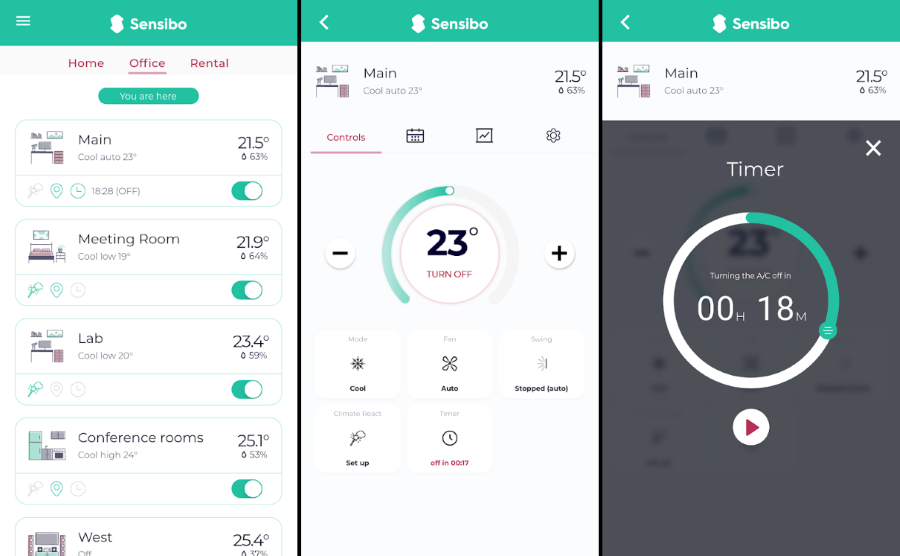 FINAL THOUGHTS
The Sensibo Sky (2nd Gen) is an intelligent temperature control solution that lets Smart Home homeowners turn their remote-controlled AC unit into a smart, voice- and App-controlled AC.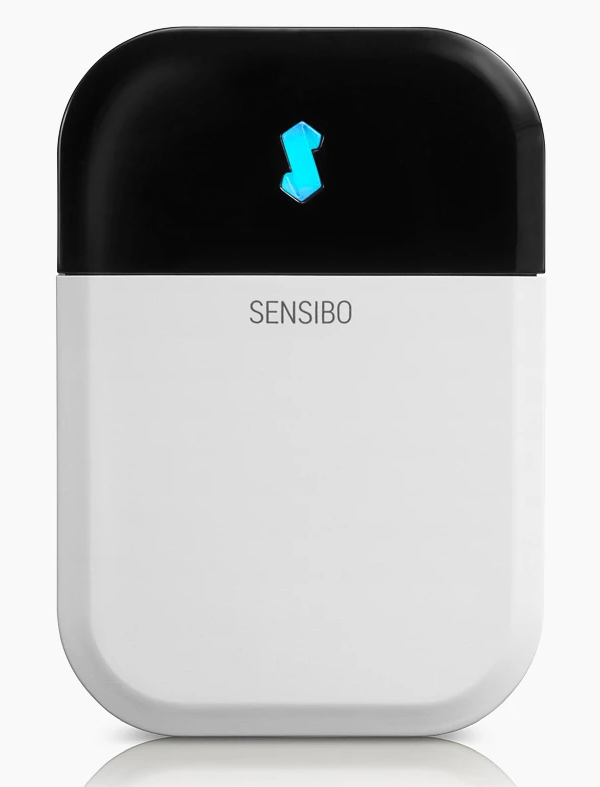 Its Auto Start and Auto Shutdown are super convenient to have and bring a big boost in terms of quality of life, while its Climate React "eco-sensing algorithms" can estimate an accurate power consumption and protect your home and AC system from extreme temperatures and humidity levels.
Lastly, it's Open API, IFTTT compatibility and Voice Assistant Support make it a must have for any Smart Home enthusiast.
If you're interested in buying it, the Single Kit package (includes 1 unit) is currently discounted from its normal price of $149, now going for just $119 (saves you $30).
There are also additional packages of 2 units, 3 units, and 4+ units that are also discounted from their normal prices, and the bigger the package, the more you save.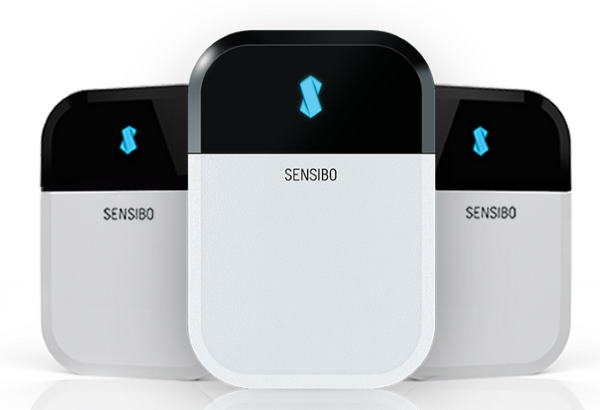 You can order your package of choice online, directly from Sensibo's official shopping page, which you can access by clicking here.