Qi (which is simply pronounced "chee", mind you) is a recently developed wireless charging standard that has been increasingly getting adopted by most major Smartphone manufacturers (Samsung, Apple, Huawei, Xiaomi, etc.), thus making it available for almost every recently released Smartphone from most major phone maker. As such, most Smartphones now offer its users the option to have their phones recharged via Qi Wireless Charging, which is obviously a very convenient feature to have, as you never have to deal with tangled cables, plugging and unplugging the device, etc. Literally all you have to do is grab your Smartphone, place it on top of your charging pad of choice, and that's it. Just relax, or do a couple of chores while you wait a few hours, and you're phone is back to full power. This brings us to one of the most luxurious wireless charging pad for Smartphones that you'll ever see, and that's none other than the Eggtronic Wireless Charging Stones.
The Eggtronic Wireless Charging Stones is a gorgeous Qi wireless charging pad for Smartphones that's partially made out of Stone. With it, you can very conveniently charge your phone without the use of any cables, all while its jaw-dropping and elegant "stony" look highlights and reinforces your choice of home décor.
However, don't let its stylish "stony" look fool you. While stone might trick you to think that this is a very basic Smartphone charging pad model, then think again. The Eggtronic Wireless Charging Stones can offer up to 10W of wireless charging power transfer for many compatible devices (discussed ahead).
---
ADDITIONAL INFORMATION ABOUT QI WIRELESS CHARGING
While Qi Wireless Charging is obviously not the only wireless charging method available, it's the first wireless charging option that was supported by two of the largest, most renowned, and most-influential Smartphone manufacturers, and those are Samsung and Apple.
Qi wireless charging technology is basically an open interface standard that was developed by the Wireless Power Consortium, and this wireless charging standard defines that wireless power transfer can be easily achieved by using inductive charging over distances of up to 1.57 inches (4 cm).
To put it in a more simple manner, this wireless charging standard (Qi) is based on using a charging pad and a compatible device (a Qi-enabled Smartphone) that's then placed on top of that same charging pad. After that, the charging pad will then charge the Smartphone via resonant inductive coupling.
---
Now, back to the Eggtronic Wireless Charging Stones. Let's have a more detailed look at this wireless charging pad for Smartphones that very cleverly combines both elegance and power into a single everyday gadget.
DESIGN
As mentioned before, the Eggtronic Wireless Charging Stones is an elegant charging pad for Smartphones that features a gorgeous smooth Stone body (just partly made of Stone, as it obviously needs to pack some tech. components inside to work).
It's charging pad Stone stand (or platform) features an attractive and breathtaking design that's made from real stone (variations include Marble Black, Marble White, Travertine Stone, Lava Stone, or Sandstone), and that's what gives this luxurious-looking charging pad its 2020 stylish look.
The entire unit features a very compact and durable design and its stone body obviously makes it quite sturdy. Just be sure not to accidentally drop it to not get its "stony" surface chipped out or broken. Still, in general, the entire unit comes perfectly built, as it seems that no internal components are loose at any point (meaning that those don't dance around inside the unit like you sometimes see in poorly made tech. devices – cables shaking inside with loose space, etc.).
Additionally, the Wireless Charging Stones charging pad was also designed with durability in mind, as it also comes with an integrated cable that's built into the unit itself so that users are also offered maximum resistance during use. This way, the cable is ensured to never get disconnected (in a contrary fashion of having to connect both sides of the unit's power cable – one side to a power plug and the other side to the unit itself).
POWER SPECS & COMPATIBILITY
The Eggtronic Wireless Charging Stones is a wireless phone charger that features a maximum wireless power transfer of 10W, working at standard speed with all Qi-enabled devices.
This powerful wireless charging pad for Smartphones was mainly designed to be used with the iPhone 11, iPhone 11 Pro, iPhone XS, XS Max and XR, as well as the iPhone 8 and iPhone 8 Plus, but it also works great with many other Qi-enabled devices, including the Samsung Galaxy S10, Galaxy S9 and S9 Plus, Galaxy S8 and S8 Plus, Samsung Note 9, the Note 8, the Samsung S7 and S7 Edge, as well as the Samsung S6 and S6 Edge, and even the Samsung Note 5.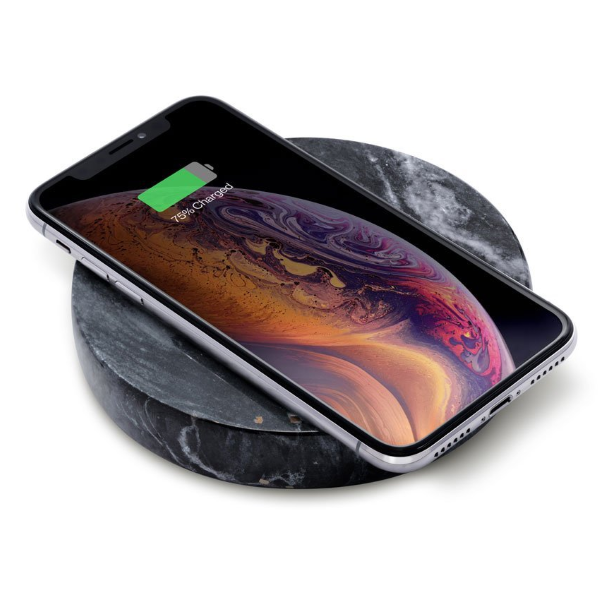 The Eggtronic Wireless Charging Stones can perfectly provide any of these Smartphone models with fast wireless charging up to 10W.
Additionally, other compatible Qi-enabled Smartphones are the Google Pixel 3, Pixel 3XL, Nexus 4, Nexus 5, Nexus 6, and the Nexus 7 (2°gen), as well as the LG G3, G4, G6, G7, Optimus G PRO, V30 and V30+ models, the LG V35, and the LG V40.
Lastly, this charging pad is also fully compatible with the Nokia Lumia 735, 830, Icon, 930,1020, and 1520 models, the Sony Xperia XZ2, XZ2 Premium, and the Sony XZ3, the HTC Droid DNA and HTC 8X, with Motorola's Droid Maxx, Droid Mini, and Droid Turbo Smartphones, and even with the ZTE Axon 9 Smartphone model.
HOW TO USE?
Obviously, as this is a Qi Wireless Charging charging pad for Smartphones, all you have to do to have your Smartphone recharged with this charging pad is simply place your phone laying flat right on top of the charging pad's Stone surface, and your phone will start charging straight up.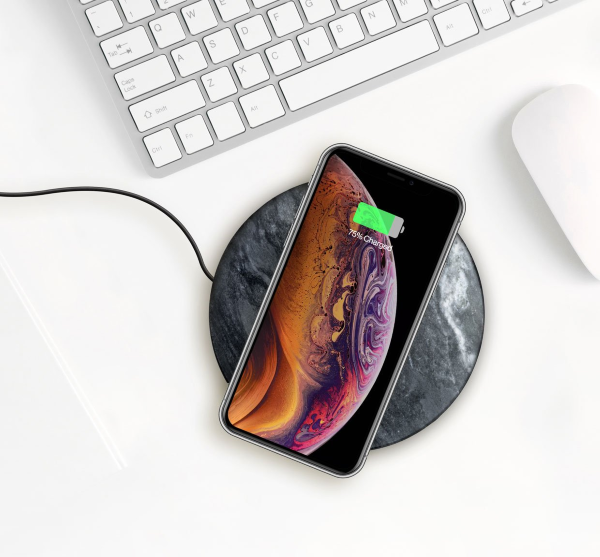 FINAL THOUGHTS
The Eggtronic Wireless Charging Stones is a 10W wireless charging pad for Smartphones that features a durable design made of different elegant Stone variations which offers full wireless charging compatibility with tons of Qi-enabled Smartphones.
As mentioned before, you can get your Wireless Charging Stones wireless charging pad in 5 different stone variations: Marble Black, Marble White, Travertine Stone, Lava Stone, or Sandstone.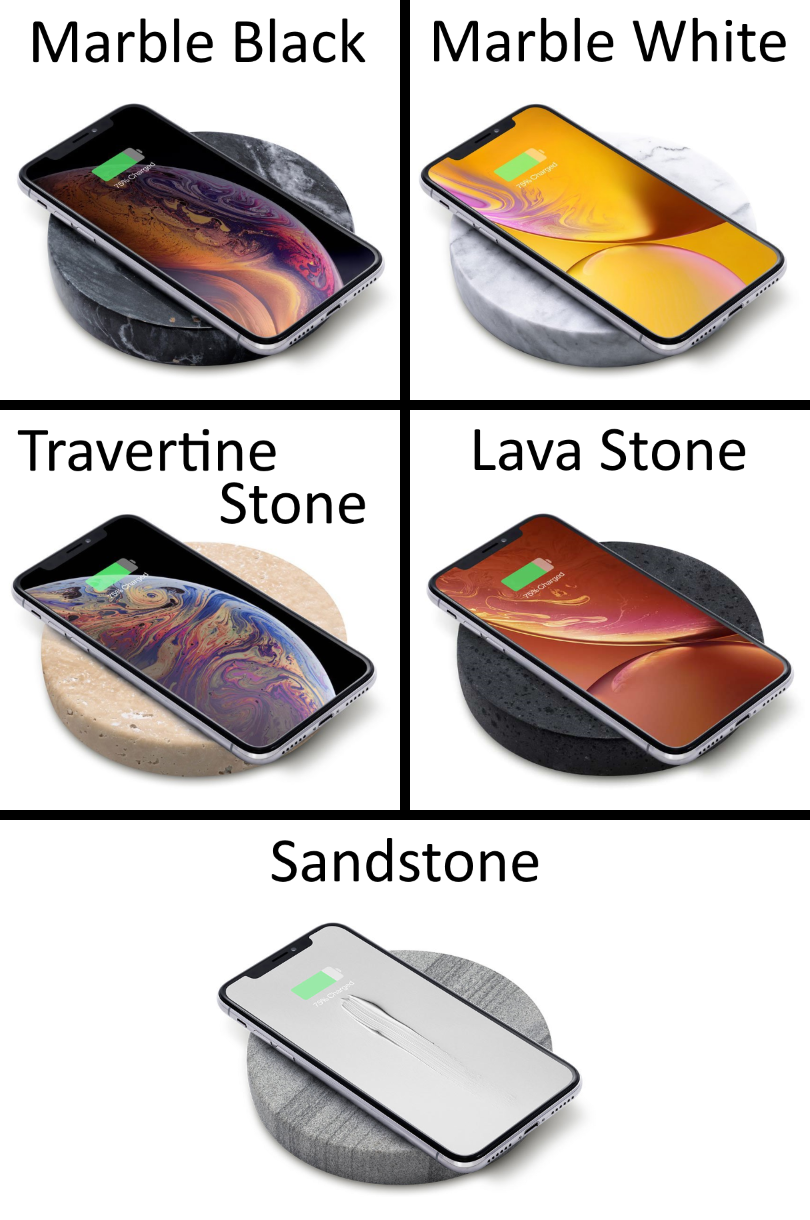 If you're interested in buying this luxurious Smartphone wireless charging pad, each unit is currently going for $70. You can order yours online, directly from the company's official shopping page, which you can access by clicking here.