Nowadays, finding the perfect laptop for work can be hard, especially with so many laptop manufacturers releasing new models every single month. Some laptops simply do not feature the right design to justify using those as your everyday main work tool. Some laptops are just to thin, which means that they are somewhat fragile and can easily have one or both of their screen's hinges breaking up at any moment. Contrarily to that, other laptops are just huge, and simply too bulky to carry around with you on a daily basis. This brings us to the Durabook S15AB Laptop.
To put it simply, the Durabook S15AB Laptop is one of the most durable laptops (if not the sturdiest ever) that'll you'll currently find available on the market.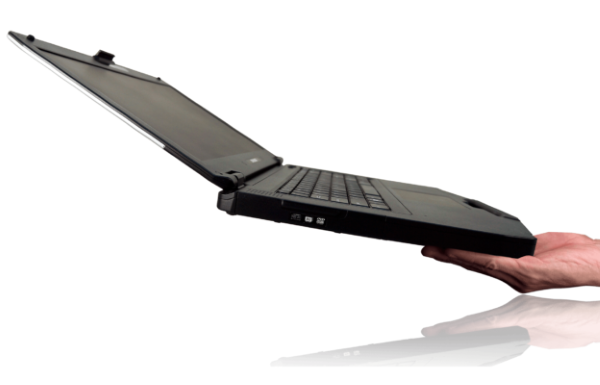 When the company, Durabook, who's a known leading manufacturer of rugged computing solutions envisioned this laptop, it came up with an ingenious design that wouldn't need to extremely bulky to keep the unit protect, thus ultimately allowing the company to develop a work laptop that's ultra-durable, yet super lightweight.
As such, the S15AB Laptop can ultimately offer literally anyone that's searching for the best laptop for work the best in class performance, mobility and durability when compared to any commercial and rugged laptop that's also available on the market. The Durabook S15AB Laptop simply stands out from the competition.
Basically, the Durabook S15AB is a modern work laptop that's not only durable and lightweight, but also comes with anything you'd want to see on a 2020 laptop model, and that includes a long-lasting battery life, which is around 13.5 hours, mind you. Not only that, but this laptop can come equipped with a powerful i7-8565U (8th Gen) 1.8GHz processor with Turbo Boost Technology and features a reliable Intel UHD Graphics 620 GPU to boost all of your graphics, allowing you to run pretty much any business App that you might need.
Furthermore, all of that comes together with its high-quality 15.6″ display screen (1080p), as well as its built-in high-quality microphone and 2.0 MP web-cam that can be used together for your personal business meetings.
With this laptop, you won't ever again have to worry about having its chassis chipped or its screen damaged after an unexpected drop or an unlucky bump against anything that you might have within your desk area when adjusting / setting up your Durabook S15AB laptop.
Now, let's take a more detailed look at the Durabook S15AB Laptop and check just about everything that this ultra-durable work laptop has to offer.
DESIGN & SPECS
Starting with its compact size, the Durabook S15AB Laptop measures just 14.76 inches long by 10.75 inches wide by 1.16 inches tall (when closed).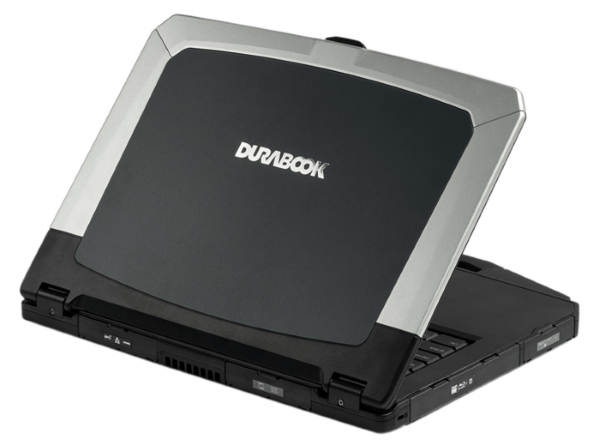 Furthermore, while the laptop's sturdy and ultra-durable aluminum-magnesium alloy chassis would make you think that this work laptop is somewhat heavy, the unit only weights a total of 5.73 lbs. Overall, this work laptop features a very durable build.

Additionally, the laptop's durable body also integrates an ergonomic hard handle that's located right under its touchpad, which ultimately allows users to have a much easier time carrying the laptop with them.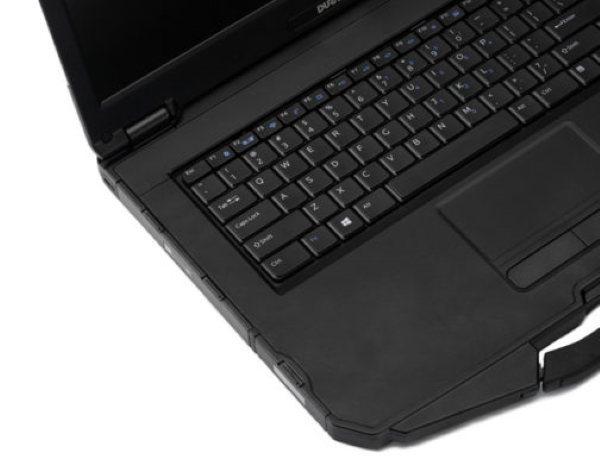 Speaking of the laptop's keyboard, this is a standard membrane keyboard, which can be used with an optional LED backlight. Moreover, the laptop's keyboard also integrates a ton of hotkeys, including easy-to-access volume and mute controls.
However, there's even more to the S15AB's ultra-durable body, as this work laptop is also MIL-STD-810G certified, which basically means that it features a military-grade protection, which ultimately makes it highly protected against most unexpected drops (up to 3 ft. drops), as well as almost all unanticipated shocks and/or vibrations.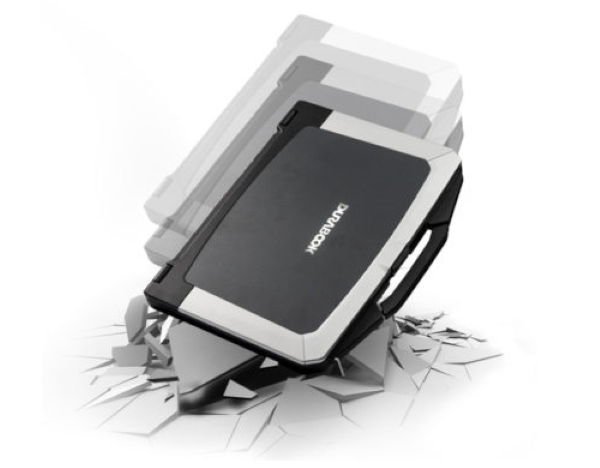 At the same time, the laptop's durable build is also IP 5X certified, which means that it can also keep the unit protected from dust, high and low temperature, and a relatively high-level of humidity. All of those protection features make the Durabook S15AB Laptop the ideal laptop for workers in both indoor and outdoor environments.
Moving on to the laptop's components. The S15AB Laptop features a high-quality 15.6″ FHD (Full High Definition) Display Screen that can be set up to 1920×1080 resolution, with the option to set up to 500 nits sunlight on its readable display.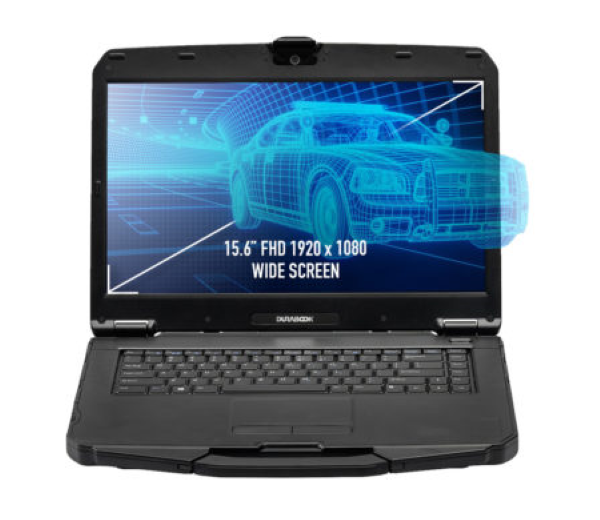 Now, taking a look at its processor unit, this work laptop is powered by either a Intel Core i7-8565U (8th Gen) 1.8GHz processor with Turbo Boost Technology (can be set up to 4.6GHz, featuring a 8MB cache) or by a Intel Core i5-8265U (8th Gen) 1.6GHz processor with Turbo Boost Technology (can be set up to 3.9GHz, featuring a 6MB cache). Buyers can choose either one or the other.
The laptop's GPU is a Intel UHD Graphics 620, which works great for any business Apps that you might need to work with.
Additionally, this work laptop also features two (x2) RAM memory slots that start as 8GB of memory (2400MHz DDR4), but that can be expanded up to 32GB.
Now, for its storage features, the laptop comes equipped with its standard 256GB SSD, but users have the option to expand the laptop's storage space up to 512GB or up to 1TB.
Additionally, you can also get your S15AB Laptop with one of three different Media Bay options (meaning one option only), and those are: an optional DVD super multi, a 2nd SSD, or both a 2nd and 3rd SSD3 storage units.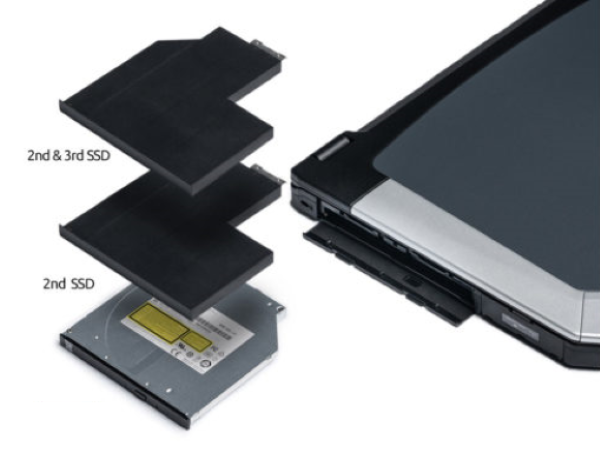 As mentioned before, this ultra-durable work laptop also features a built-in high-quality microphone and a standard 2.0 MP web-cam that can be used together for your personal business meetings, and the same goes for using it to chat with you family while you're on-the-go for work purposes, meaning while you're traveling from place to place in order to participate on face-to-face business meetings.
Lastly, it's worth to point out once again that the system runs on Windows 10 Pro (64-bit version).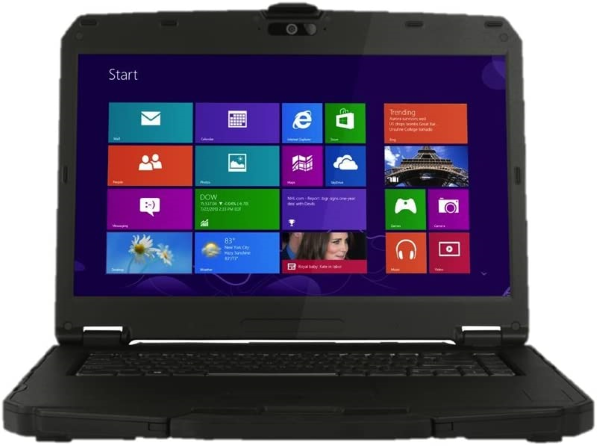 AUDIO SPECS & AUDIO QUALITY
The entire system also comes equipped by a set of twin speakers (an integrated dual-speaker) that work with Intel High Definition Audio technology.
These built-in twin speakers actually proved to be a pleasant surprise because of how loud their sound was, which, mind you, featured no sound distortion whatsoever, even when set to play media at the highest volume settings.
INTERFACE
The Durabook S15AB Laptop also comes with a ton of connectivity ports, and all of its port slots even feature durable and reliable port covers that allow you to keep all of the ports protected from dust, water spills, and any other unwanted substances/particles.
On the left side of the laptop's chassis users can find a large cover (at the far left) that represents the computer's already mentioned flexible storage bay (which there's no reason to open unless you decide to have it equipped with an extra optical drive), as well as a smaller port cover (at the far right) that's protecting both a small wireless On/Off switch and a SmartCard slot.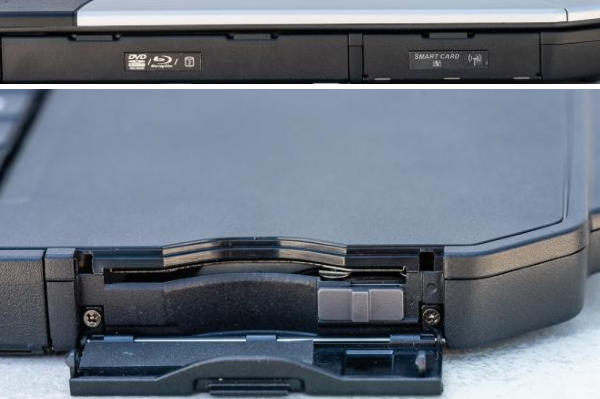 Sitting on the opposite side, the laptop's right side only features one single cover that, once opened, will reveal a full-size SD card reader, an audio In/Out combo jack, and two USB-A 3.1 (Gen1) ports. It's also worth to mention that since SD Cards can be inserted fully into the laptop's SD Card Reader, which basically means that the corresponding port cover can be closed afterwards.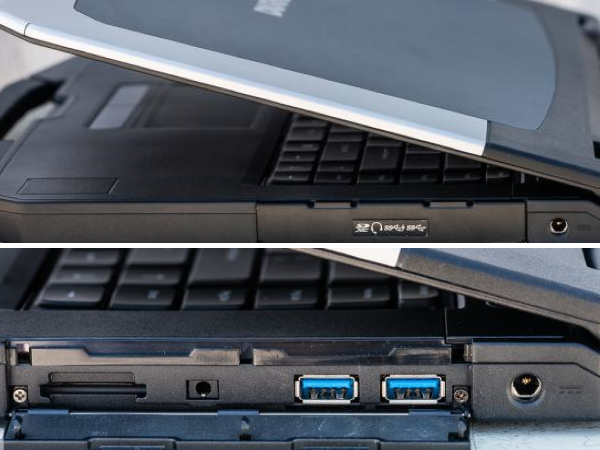 Additionally, on the back right corner of the laptop users also have a Kensington-style cable lock slot that provides them with some extra physical security.
Lastly, the laptop's back edge includes the rest of its ports, featuring a medium cover at the left and a medium cover at the right.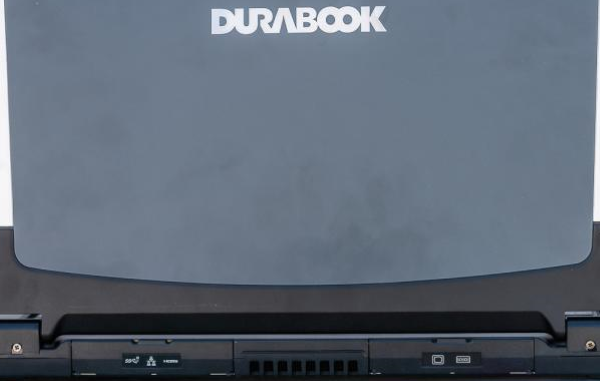 The mentioned left cover at the back of the laptop is protecting a USB-A 3.1 (Gen2) port (which can support a data transfer speed up to 10Gbps), a USB-C 3.1 port, a Gigabit Ethernet jack (10/100/1000 Ethernet RJ-45 port), and an HDMI Video Output port (type A).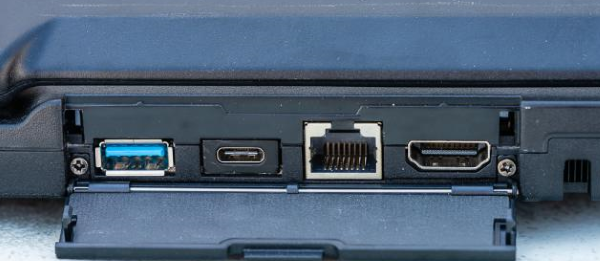 On the opposite side, the laptop's back right cover features a VGA Video Output port (D-sub,15-pin) and a serial port lurk (RS-232 : D-sub,9-pin).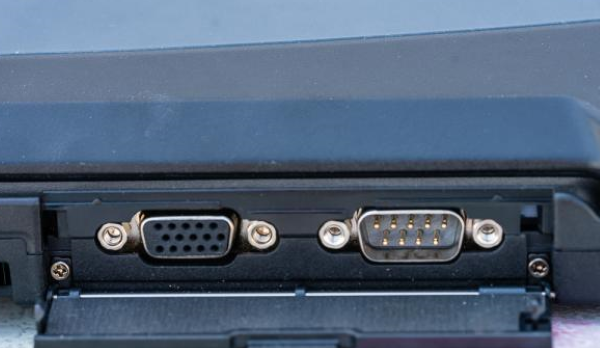 CONNECTIVITY
Other than its already mentioned integrated wired 10/100/1000 Ethernet port for wired internet connectivity, users have a few other connectivity options, which are all wireless, making all of the S15AB Laptop's connectivity options one of its biggest strengths.
Those wireless options start with the laptop's Intel Dual Band Wireless AC 9260 wireless card, which supports both Bluetooth 5.0 connectivity as well as the most common wireless standards (including 802.11a/b/g/n/ac) for a reliable Wi-Fi connection.
Then you can also have the laptop coming with an optional Sierra Wireless EM7455 WWAN card, which offers support to 4G LTE networks (this means you get Optional GPS as well as connectivity to 4G LTE multi-carrier mobile broadbands).
BATTERY & BATTERY LIFE
The laptop's battery is a fully-removable quick-release 7600mAh Li-Ion Battery (7.4V) that can offer up to 13.5 hours of battery life.
Keeping the laptop's internal battery charged up and/or recharging it is also extremely simple, as all you have to do is use its included 65W AC Adapter (works between 100-240V at 50Hz-60Hz).
WHAT'S IN THE BOX?
Other than the obvious laptop, its attached yet removable quick-release 7600mAh Li-Ion Battery and its 65W AC Adapter, your package also comes with three (x3) other included accessories, which are a Car Adapter (11-27V DC), a spare 65W AC Adapter with its proprietary power cord and one (x1) spare removable quick-release 7600mAh Li-Ion Battery for your S15AB laptop.
EXTRA NOTABLE FEATURES
Additional Security Features
Other than the laptop's already mentioned SmartCard slot and Kensington-style cable lock slot, the Durabook S15AB Laptop offers its users some other notable security features.
Starting with its TPM 2.0 technology (which stands for Trusted Platform Module); this is a small chip that works as a secure crypto-processor that ultimately helps users with actions such as generating, storing, and limiting the use of cryptographic keys.
Not only that, but for people that like to mess with their work laptop's BIOS a little bit, it's worth to mention that this laptop is also NIST BIOS compliant, which means that it follows all of the BIOS Integrity Measurement Guidelines, thus matching the current set of golden measurements for any BIOS in 2020.
Lastly, users also have the option to have the laptop coming with RFID protection, but be aware that RFID and Smart card reader are mutually exclusive, which means that you have to choose to go with either one or the other.
FINAL THOUGHTS
The Durabook S15AB Laptop is an ultra-durable work laptop that's powered by a powerful i7-8565U (8th Gen) 1.8GHz processor and features up to 13.5 hours of battery life.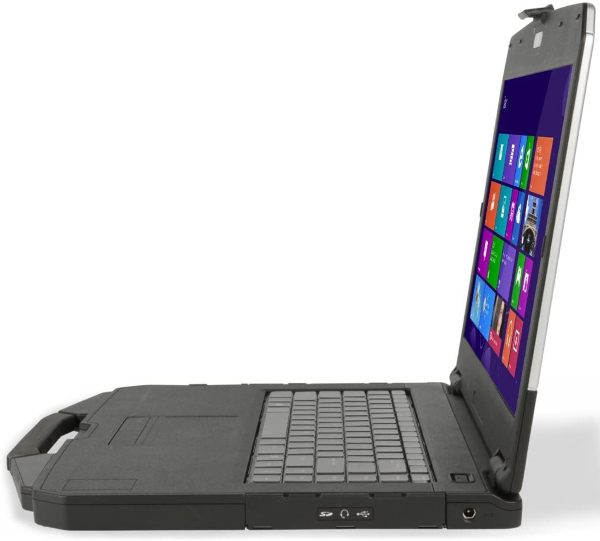 Since everything runs on Windows 10, you'll also have no problems when it comes to App-compatibility, specially for newly released Apps.
If you're interested in buying the Durabook S15AB Laptop, each unit with a Base Configuration (meaning without any of the optional additional features) is going for the standard price of $1,614.00, coming together with the company's 3-Year 2D-Protection Warranty.
You can place your quote and order yours online right now, directly from the Durabook's official shopping page, which you can access via this link.