Preventing ticks from attaching to your dog's fur coating and/or skin can be quite the task, as these little pesky ectoparasites (organisms that live on the outside of an animal) can attach to your dog when he or she goes with you on walks, hikes, or during any outdoor activities (and the same goes for pet cats that spend a major time outdoors). While ticks are somewhat likely to infest dogs that spend most of their time indoors, even dogs that only spend brief periods of time outside can just as equally end up having ticks. Ultimately, it can be very difficult to prevent your dog's exposure to ticks. With that being said, the best way to prevent ticks from attaching to your dog is obviously by regularly using reliable tick control products. This brings us to the Tick Twister.
The Tick Twister is a simple, reliable and easy-to-use tick removal tool that was designed by O'TOM. This set of two (x2) simple and reliable tick remover hooks (one small and one large hook) can be used to remove ticks from both pets and people in a completely painless process, and it can quickly be done in as little as just a few seconds.
MAIN CONCERNS RELATED TO TICKS?
Ticks can easily be seen as a health threat, especially for pets. However, as there are a number of different types of tick found in the USA – including the Wood tick, Dog tick, Relapsing fever tick, Pajaroello tick, Deer tick, Black-legged tick and the Lone star tick – the issues related to ticks can be quite different depending on the tick that gets attached to your skin and/or your pet's skin. As such, it's always important to remove the tick as early as possible, no matter its type.
For example, if you live, work or play in any area where ticks live, you could potentially be at risk for contracting diseases such as Lyme Disease. Moreover, cases of Lyme disease were reported by nearly every state in the United States, but the disease is majorly concentrated in the east coastal states, the north central states, and northern California.
That basically means that Connecticut, Rhode Island, New York, New Jersey, Delaware, Pennsylvania, Maryland, and Wisconsin account for about 90% of all cases.
Nevertheless, and as mentioned before, outdoor activities like hunting, fishing, camping, hiking, as well as playing outdoor sports or even gardening could bring you, your family and/or your pets in contact with ticks. Many species (and sub-species) of ticks can also produce a sticky and glue-like substance that ultimately helps them to remain attached to their host's skin (no matter if it's a human or pet).
Lastly, although rare, ticks can consume enough of your dog's blood to cause a deficiency called anemia. Certain types of female ticks can also cause a rare paralysis in dogs as a result of a toxin they produce while feeding on your dog's blood. It's important to note that when occurring, this deficiency can start just a few hours after the tick originally attaches itself to your dog by inserting its mouth parts into your dog's skin.
---
Now, back to to the Tick Twister. By using this reliable and easy-to-use Tick Removal Tool users can easily remove any type of tick that they would find latched onto themselves, their loved ones, and/or their pets.
Let's take a more detailed look at this simple and reliable tick removal tool and check how it works, as well as what it has to offer.
DESIGN & SPECS
The Tick Twister by O'TOM is one of the most efficient sets of tick removal tools for removing ticks that you can find currently available on the market. This makes it perfect for removing ticks from any location on either a person's or a pet's body, and for pets specifically, that can include almost any pet that you can think of, such as dogs, cats, horses, etc.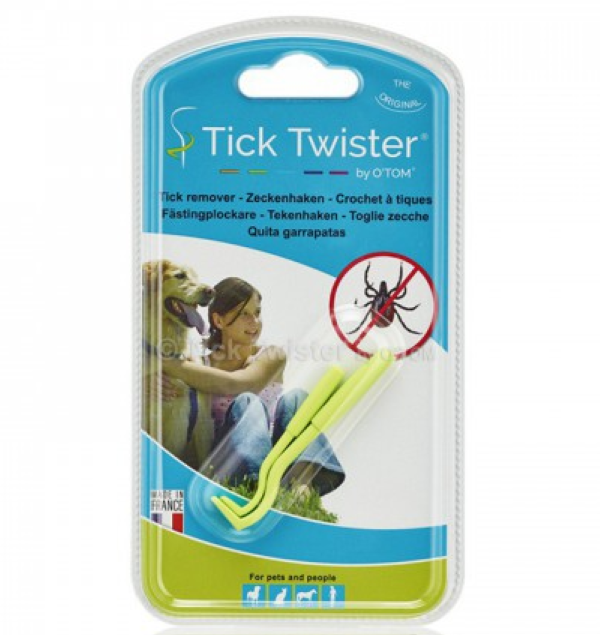 As mentioned earlier each Tick Twister package includes a set of two (x2) small Tick Removal Hooks that can easily be used for removing ticks.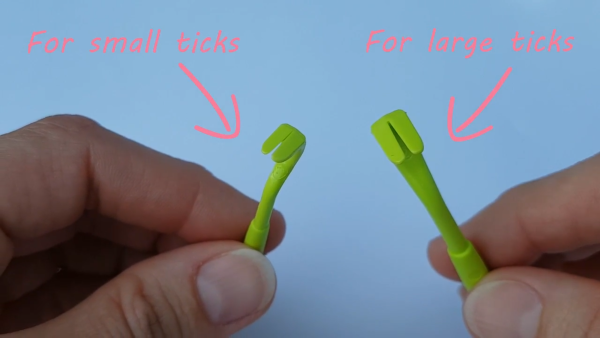 There's a slightly larger hook that's supposed to be used for removing medium and large ticks and a smaller hook that users can use to remove small and/or very small ticks that are attached to a person's or pet's skin.
Thanks to both of these hook's small and compact design, you can easily keep your set of Tick Twister Hooks stored pretty much anywhere you might need it, including somewhere within your house, your car, your backpack, tackle box, or even inside your emergency kit. Both hooks are so small that you could even carry one inside your pocket.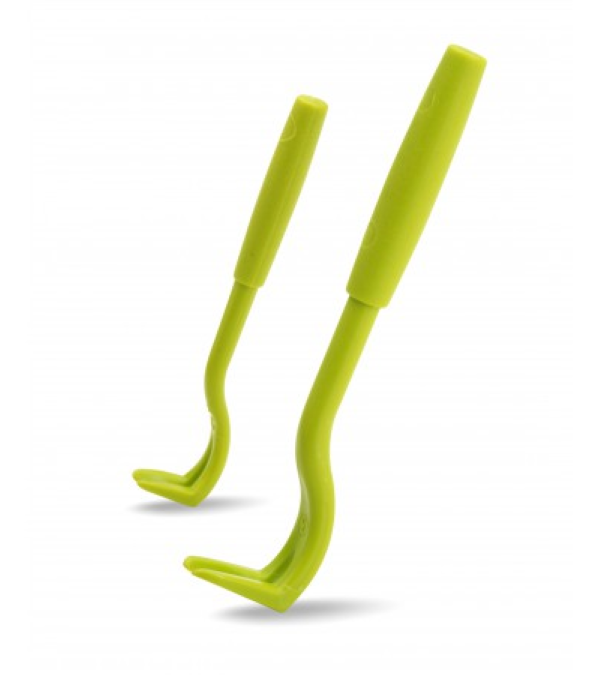 Each hook is made of a somewhat hard and durable plastic material, but these are not extremely rigid. They're just solid enough to make it easy to control and grip, but still somewhat "bendable" to make it easier for users to gently insert the hooks under a tick's full body and then simply rotate and spin the tick's annoying presence away from its host's skin.
Thanks to these easy-to-use Tick Removal Hooks, pretty much anyone can easily remove a tick from their own skin or someone else's skin (another person or a pet) without ever having to squeeze the entire tick and/or its abdomen, thus reducing the risk of infection.
Furthermore, by using the Tick Twister hooks you won't ever leave a tick's mouth parts broken and still attached (implanted) to its host's skin. Despite the tick not being able to transmit any disease without its body being attached to its mouth parts, using the Tick Twister allows you to easily remove the entire tick (including its mouth parts) from your skin, which can help to reduce the chance of ending up with skin irritation and small cuts/wounds, which consequently reduces the risk of infection within that small laceration.
HOW TO USE?
As mentioned at the beginning of the article, the Tick Twister Tick Removal Hooks are extremely easy to use.
With either of these hooks (either the large or the small tick removal hooks) users can easily remove ticks in just a few seconds without ever needing to use ether or other products as well as without ever causing any pain to the tick's host (either themselves, another person, or their beloved pet).
All you have to do to use either of the two included Tick Twister Tick Removal Hooks (the large hook or the small hook) is to choose the most suitable hook according to the tick's size, then simply engage the hook by sliding it down while approaching from the tick's side,, all the way until the tick is properly held.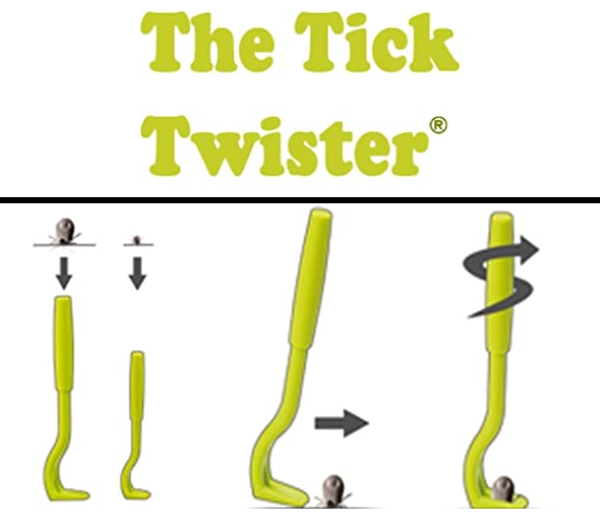 Then, simply lift the hook very lightly and turn it / twirl it several times. Lastly, just pull the hook with the already held tick away from its host's skin. Usually, the tick will detache by itself after giving your Tick Twister Tick Removal Hook 2 or 3 rotations.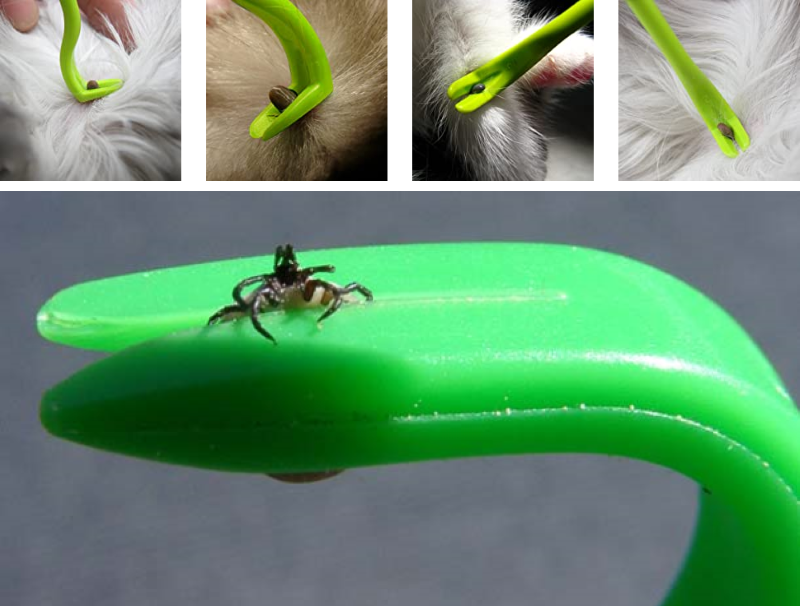 If you need a visual example, check the company's example video embedded below to see exactly how easy it is to use this tick removal tool.
A FEW TIPS TO TAKE INTO CONSIDERATION
It's important to remind users to never try and kill a tick before removing it.
Additionally, remember to never pull the tick during its removal. Simply keep twisting your Tick Removal Hook until the tick is fully detached from its host's skin.
Lastly, after removing a tick, remember to always disinfect the tick's bite area with an antiseptic (either a few drops of iodopovidone – if you're not allergic to iodine – or simply a few drops of Rubbing Alcohol (70% Isopropyl alcohol).
FINAL THOUGHTS
The Tick Twister is a simple, reliable and easy-to-use tick removal tool that can be used to remove ticks from both pets and people in a painless process in just a few seconds.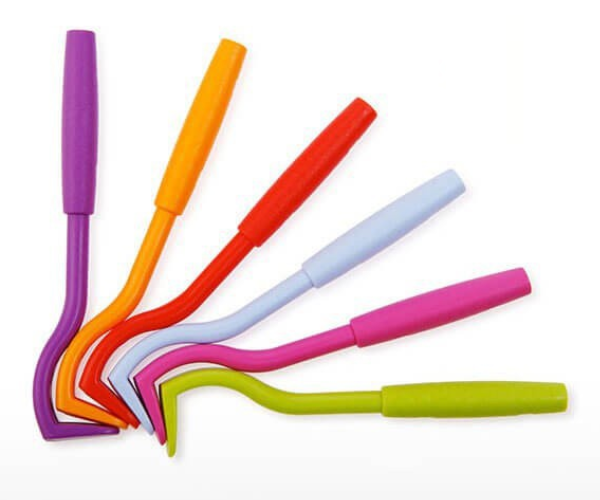 Each set of two hooks is currently available in five (x5) different colors – Green, Pink, Orange, Blue and Purple.
If you're interested in getting the Tick Twister, each set is currently available for a super affordable price, going for just $5. You can order yours online right now, directly from O'TOM's official shopping page, which you can access by clicking here.