Since the COVID-19 worldwide pandemic ultimately forced many people to stay at home and even work from home during most of the pandemic (almost since the very start), it's safe to say that both people with Small Offices as well as Home Offices are now more susceptible to be hacked. That's because, during the pandemic, hackers were also forced to stay at home, and obviously, with so many people having to follow a mandatory lock-down, hackers now have a ton of targets to choose from. Sadly, that includes all of the hard-working people that have been spending most of their time working online straight from their homes to try to keep their businesses running. This brings us to the Bitdefender Small Office Security.
This is Bitdefender's very own Next-Gen Digital Security Solution, which the renowned Romanian cybersecurity and anti-virus software company designed to be used for both small offices and home offices.
By using the Bitdefender Small Office Security, business owners can have a cybersecurity solution that provides them with complete protection for their small business, which ultimately allows them to not only prevent any potential data breaches from their company's data, while also ensuring that their clients' personal and financial data stay safe and secure at all times.
It's important to note that Bitdefender is considered to be a global leader by many tech. experts as well as several famous tech. companies when it comes to its cybersecurity solutions, which, mind you, can all be used to keep your personal devices protected against data breaches.
Now, let's have a more detailed look at the Bitdefender Small Office Security suite and check everything that the company's cybersecurity solution for Small and Home Offices can offer to business owners.
MAIN ADVANTAGES
Protect both Your Business & Your Clients
For anyone running a business from either a small office or right from their home office, it's important that keep all the private data from your business (including your clients' personal and financial data) safe and secure at all times.
The Bitdefender Small Office Security is designed for companies with up to 250 seats. That basically means that no matter if you just started your business or if you're already running a successful small business company, this cybersecurity suite is a great choice for any small business owners that are looking to ramp up their network security.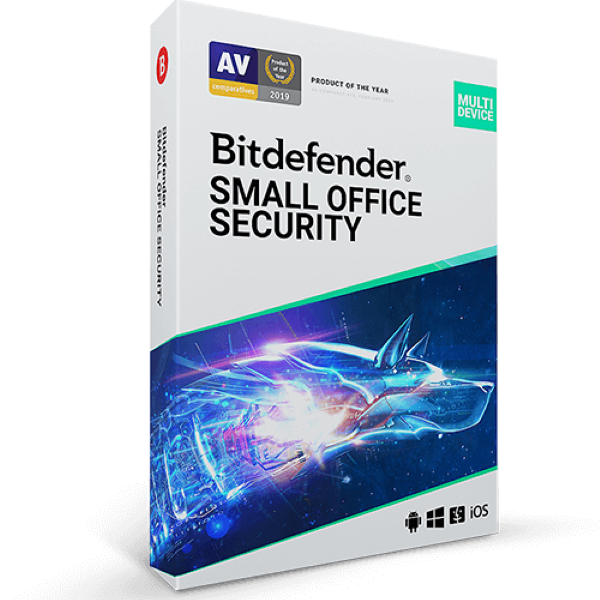 Naturally, keeping your company's information safe and sound is crucial, as that's one of the most important things that allows both potentially new clients as well as current clients to trust your business. Obviously, no one wants their data leaked after a security breach happens on your side of things.
The Ultimate Protection for Business Owners
This is where having the Bitdefender Small Office Security comes in handy. By using this reliable cybersecurity solution, business owners can keep their entire business safe against viruses, malware, ransomware and all new and existing cyber threats that hackers come up with, thus ultimately allowing them to stay away from any hacker's with malicious intents.
High Usability & Extreme Versatility
With this cybersecurity solution, business owners are provided with an innovative cybersecurity suite that lets them predict, prevent, detect and remediate even the latest cyber-threats.
Furthermore, this solution can also be used anywhere in the world, which means that for business people that spend a lot of their time on-the-go, having a subscription to this service will allow them to keep both their company's data as well as their clients' personal information protected at all times.
System Performance
It's also worth to mention that this cybersecurity suite also features an ultra-light performance, meaning that its actually quite light on using your system's resources. As such, there's no need to worry about your productivity, since that will never be affected while running the Bitdefender Small Office Security on the background while you focus on more important tasks related to your business. It's safe to say that you won't experience any system slowdowns whatsoever.
Safe Online Banking
Lastly, this cybersecurity suite also ensures that you always have secure online bank transactions by processing your payments in its very own dedicated browser, which ultimately allows the system to prevent fraud and financial data theft.
THE INTERFACE
As soon as you activate your subscription to the Bitdefender Small Office Security, you'll be able to login to a Web-based interface that's known as the "Control Center".
This is a super easy-to-use interface that allows you to keep your company's endpoints secure with almost no hassle at all. Really, there's barely any effort to it.
From this Control Center, users can easily and conveniently manage antimalware on all PCs within their established business network, and that includes both "roaming" laptop endpoints as well as remote office endpoints.
While the security suite is cloud-based, each protected system receives a local program called Endpoint Security, which can be downloaded manually to each computer or remotely deployed from within the Control Center itself.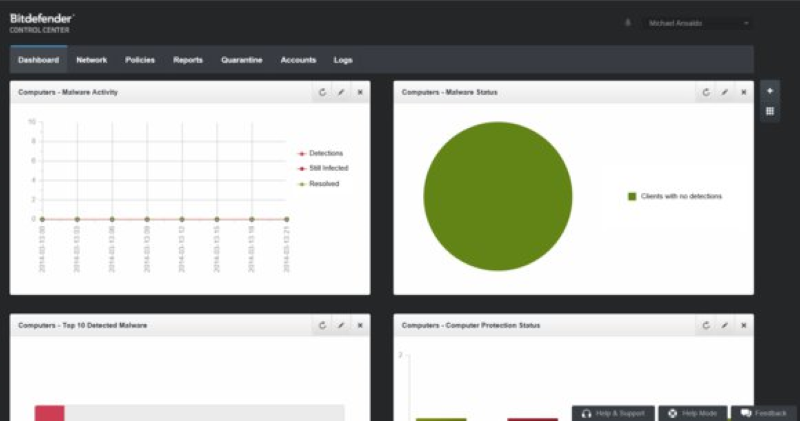 The main page of the Control Center features a dashboard that displays an easy-to-read status snapshot of all of your managed clients, and the dashboard itself comes divided in four different sections. There's the Malware Activity section, a Malware Status screen, a board with the Top 10 Detected Malware, and a section that displays the Computer Protection Status.
Each section will simply display a graph in different shades of red and green that indicate how well your network is doing in terms of its cybersecurity.
While the Malware Status section includes a pie chart that illustrates how many systems are infected, completely clean, or already fixed and free of virus and/or malware, the Top 10 Detected Malware section features a bar graph that can help you to determine if specific known viruses are hitting and hurting your business's servers.
Other than that, you have six other tabs that you can use to install protection and manage settings, run reports, remotely manage quarantined files, as well as set and apply different cybersecurity policies, or even check for different user activity logs.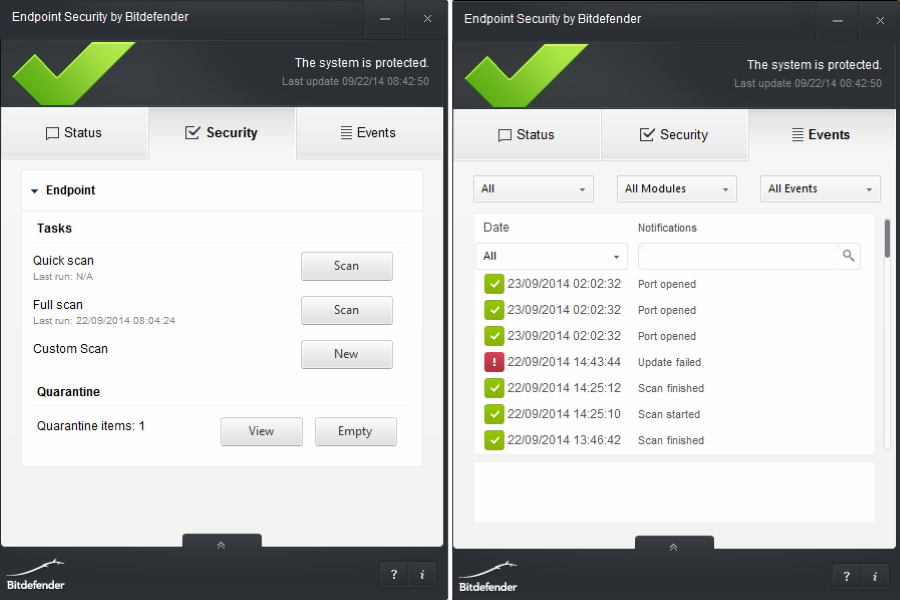 While any administrators that you've selected (any computers within your network that you establish as a"admins") will have full privileges to controlling the system, employees will only have access to network security and user management.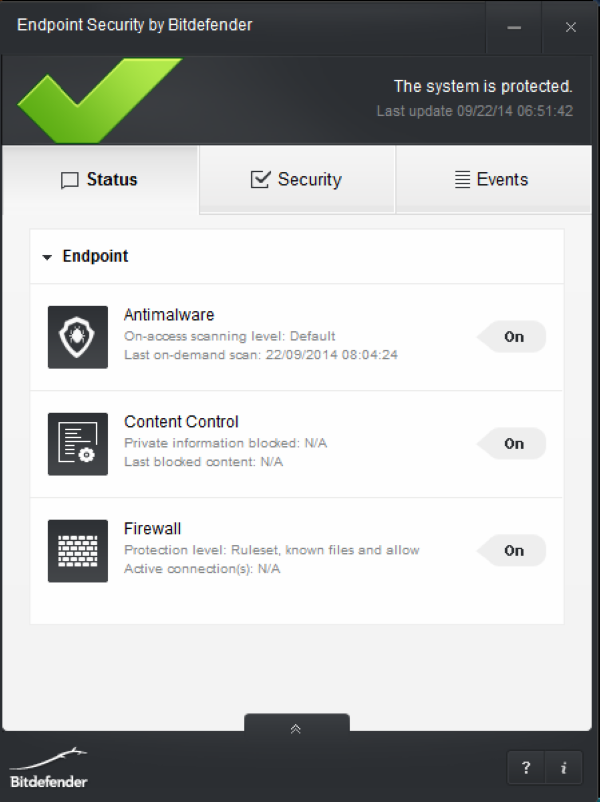 SETUP / INSTALLATION
Installing this cybersecurity solution is just as easy as using its interface. On average, you can have the Bitdefender Small Office Security suite installed and running in under 5 minutes.
This cybersecurity suite features a highly intuitive and user-friendly interface right out of the box, which not only makes it super easy for even non-tech-savvy users to install it, but also to configure and personalize it according to their own business needs.
Check out the video embedded below to see just how simple the installation is.
COMPATIBILITY
Moving on to the Bitdefender Small Office Security's compatibility, it's safe to say that this Next-Generation Digital Security Solution can offer complete protection for Windows, macOS, iOS and Android, meaning that you have no reasons to worry about compatibility issues.

Thanks to its wide compatibility with several different platforms, users can easily keep their businesses safe against viruses, malware, ransomware and all cyber threats across all major operating systems that are currently used.
The main thing that all those compatible platforms have in common is the company's very own BitDefender VPN, which allows users to maintain their privacy on the web, especially while using Wi-Fi on public networks.
Thanks to that, users can keep their businesses private while also protecting their own online presence by having this reliable VPN encrypting all Internet traffic.
HOW MUCH DATA DO I GET?
Since the Bitdefender Small Office Security Suite includes the BitDefender VPN, users get up to 200 MB of daily encrypted VPN traffic for a fast, anonymous and secure online activity, no matter if their using Windows, macOS, iOS or Android devices.
FINAL THOUGHTS
The Bitdefender Small Office Security is a cybersecurity solution for small offices and home offices that's designed to be used by companies with up to 250 seats.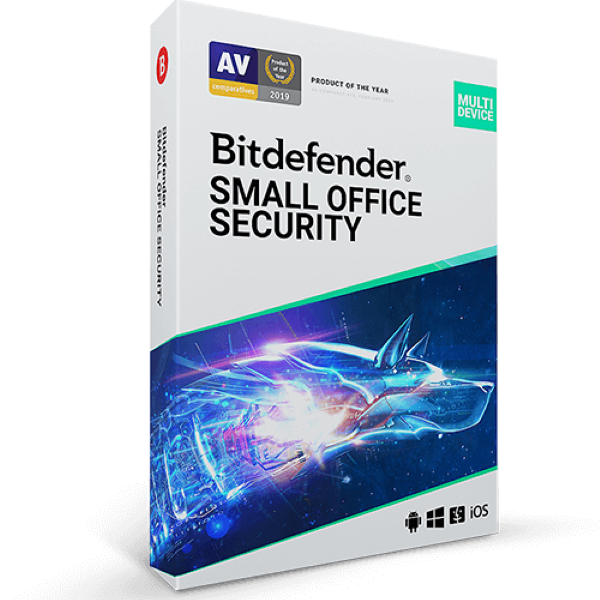 It's the perfect cybersecurity suite choice for any small business owners that want to further protect their business's network. It offers all users a great protection as well as great system performance, and everything can be easily managed in the system's dedicated and easy-to-use interface, which is guaranteed to keep all of your company's endpoints secure with a minimum of hassle.
If you're interested in buying it, each subscription can be chosen for 5, 10, or 20 devices, and you can opt to subscribe for 1 year, 2 years, or a total of 3 years.
It's important to note that the company (Bitdefender) is currently offering a "no-brainer" 50% discount for both its 1-year packages of 5 and 10 devices, which respectively go for $50 each (instead of $100) and $75 each (instead of $150).
On the other hand, getting the company's 1-year subscription package for 20 devices only comes at a 32% discount, which will have you pay a total of $170 (instead of its normal price of $250), but that's still a very nice slice off the base price.