Nowadays, having multiple reliable connectivity options is crucial to get your work done. Whether you're a business man traveling to meet a partner company, a content creator that spends most time on-the-go, or just a simple working enthusiast that's looking for better ways of having all of your devices connected, having a reliable USB-C Hub Adapter can help you go a long way. However, there are several cheap copies of USB-C Hub Adapters on the market that promise to deliver a ton of different functionalities but that ultimately end up proving to be faulty and simply a downright disappointment. This brings us to the Naztech USB-C Hub Adapter.
The Naztech USB-C Hub Adapter is an all-in-1 USB-C Adapter Hub that allows its users to get more out of their devices' dedicated USB-C ports, and that goes for both PCs / Laptops as well as tablets.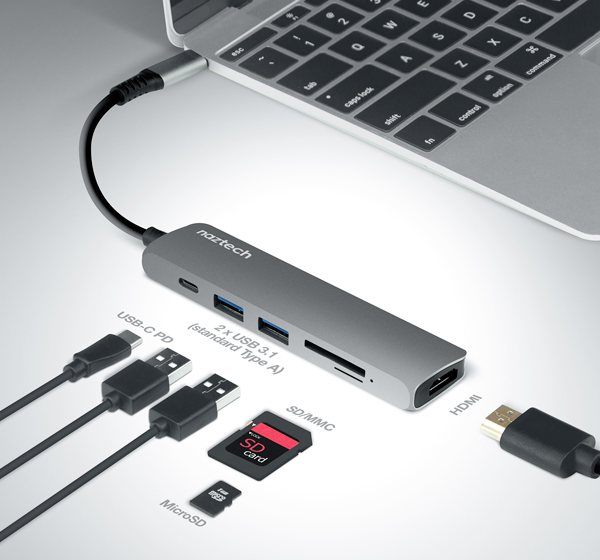 Working as a 6-in-1 USB-C connectivity solution, this portable and compact connectivity device ultimately empowers you with more connectivity options than ever. Ultimately, you get a set of Dual USB-A 3.1 Ports (x2 USB-A ports) and a USB-C PD (Power Delivery) Charging Port, as well as a 4K HDMI Video Output, and even a SD Card and a Micro SD Card Reading Ports.
Accounting for a total of six (x6) connectivity ports, the Naztech USB-C Hub Adapter allows users to get all of their work done in no time, with no need to carry extra connectivity devices with them, no matter where they're planning to go next.
Now, let's take a more detailed look at this All-in-1 USB-C Adapter Hub and check everything that it has to offer.
DESIGN
Starting with the USB-C Adapter's design, this device features a very sleek and compact design, which not only makes it small enough to fit in pretty much any bag (or ultimately your pockets), but also ultra-portable,, thus making it perfect for any tech enthusiast out there that spends a lot of their time on-the-go.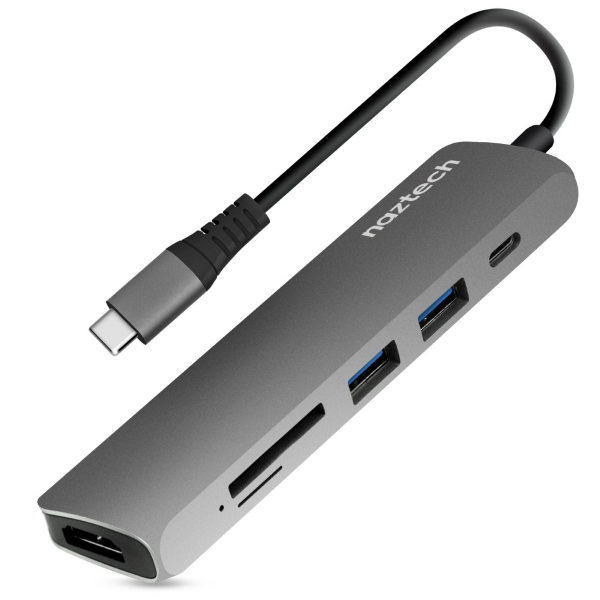 While the adapter itself is actually quite lightweight, don't let its portable design fool you, as the unit is powerful enough to be used as a full-time docking station for all of your devices. As such, you can simply leave it at your desk as
Moving on to the unit's construction. Overall, this USB-C Adapter features a really solid build. The adapter's body consists of a sleek aluminum chassis that comes integrated with a highly-durable USB-C cable, which, mind you, ensures that the device always stays securely connected to your host device (your PC / laptop).
INTERFACE
Now, let's take a look at the device's interface. As mentioned earlier, the Naztech USB-C Hub Adapter basically works as a 6-in-1 Connectivity Tool, and as such, it ultimately allows you to turn a single USB-C Port into a powerhouse workstation.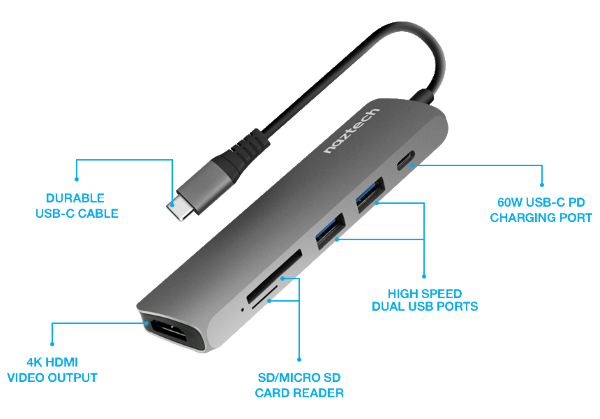 Dual USB-A 3.1 Ports (x2 USB-A ports)
Thanks to the adapter's dual USB-A 3.1 ports, you can spend less time syncing your PC with your connected devices and more time working on more important tasks.
Furthermore, its dual USB-A3.1 ports also feature High Data Transfer Speeds that can go up to 5 Gbps – and that's around 10 times faster than the transfer speeds offered by USB 2.0 ports. Thanks to that, users can quickly transfer a full length HD movie in a matter of seconds, or even a huge music folder in around 10 minutes.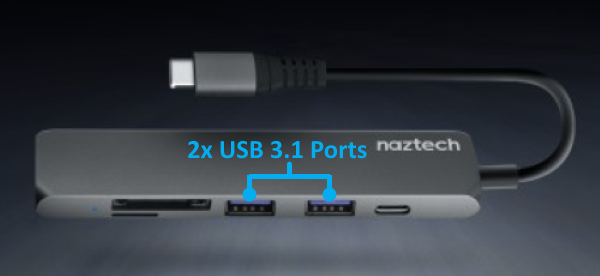 After testing this out in both a brand-new computer as well as in an older computer, even the older laptop was able to take advantage of the adapter's USB-A 3.1 ports' high transfer speeds.
As such, you can rest assured that even if you're using the Naztech USB-C Hub Adapter with an older computer, you're guaranteed to have decent data transfer speeds for your connected USB-A devices. Obviously, it might not be as fast as a more recent computer, but it will still be fast enough for you to be satisfied.
USB-C PD (Power Delivery) Charging Port
The adapter's dedicated USB-C PD (Power Delivery) Charging Port allows you to quickly recharge any of your device's low battery in a flash, and that basically means that while using this USB-C Adapter, you'll never have the need to sacrifice power for connectivity.

As such, you can do several things at once, meaning you can use all of the adapter's other connectivity ports while also using its USB-C PD (Power Delivery) Charging Port to recharge any of your battery powered devices.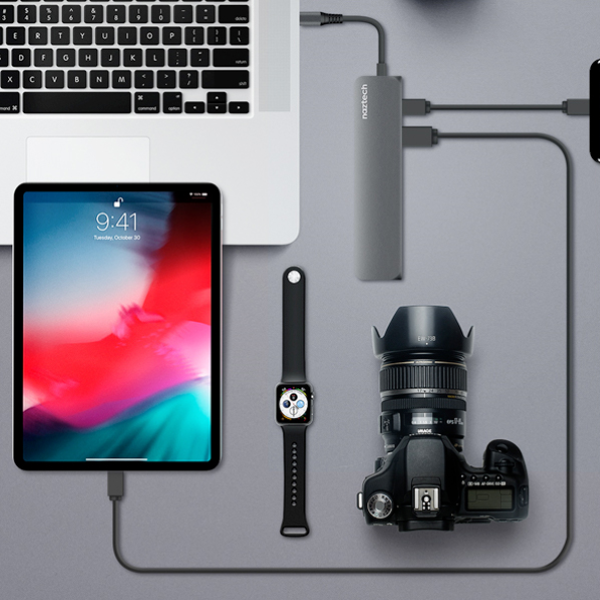 As the adapter is engineered to support up to 60 watts of USB-C PD charging power, you're ensured that you can always stay productive while also having your personal devices recharging.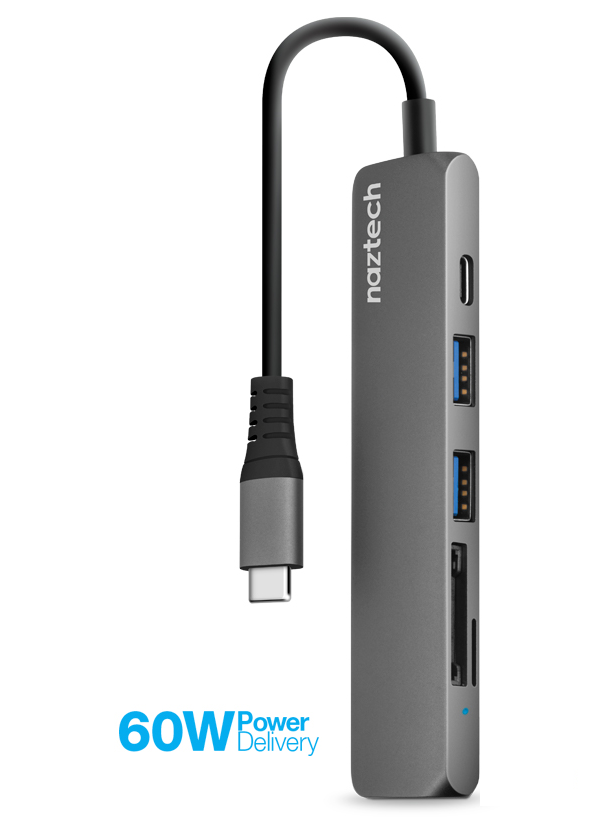 4K HDMI Video Output
By using the adapter's 4K HDMI Video Output, users can easily mirror or even extend one of their screen's to reliably stream 4K Ultra HD video content with digital surround sound directly from their USB-C laptop or smart device and push both High-Resolution Video and High-Quality Sound Data to any 4K TV or 4K monitor that's equipped with an HDMI input port.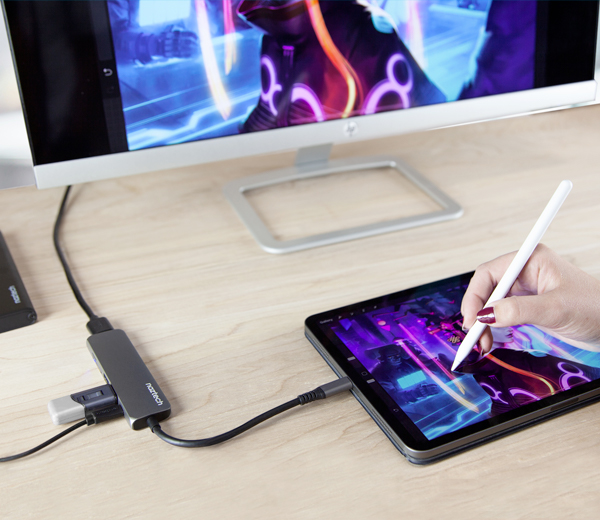 SD Card & Micro SD Card Reading Ports
Lastly, the adapter's High-Speed SD Card and Micro SD Card Slots allow users to simply drag-and-drop their cards to easily upload and download content directly to their PC or laptop.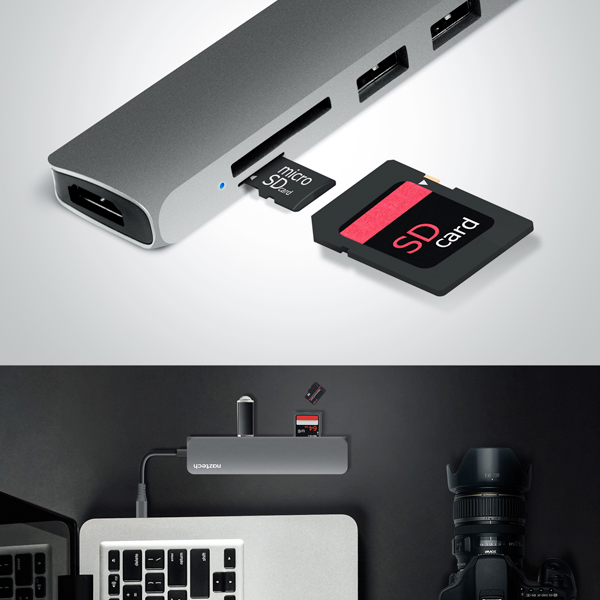 This ultimately makes the Naztech USB-C Hub Adapter an ideal portable connectivity solution for photographers, videographers, design studios and printing houses, as it allows users to not only store, but also to organize and even share photos, videos, music and more with co-workers, as well as with family and friends.
It's also worth to point out that just like the adapter's Dual USB-A 3.1 ports and its 4K HDMI Video Output port, users can also use its USB-C Power Delivery Charging Port while simultaneously using its SD Card and Micro SD Card Slots.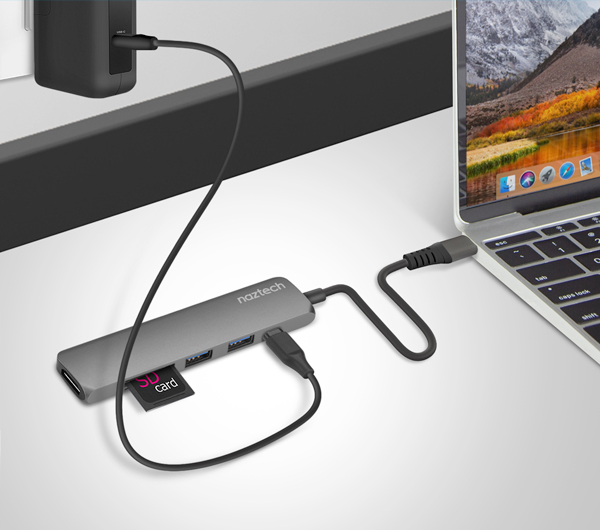 COMPATIBILITY
Now, taking a look at the adapter's compatibility. As this connectivity device was designed to be used with USB-C-enabled devices, the unit is basically compatible with any PC or laptop computer, as well as any tablet or Smartphone that features a USB Type-C port.
Some examples of compatible USB-C-enabled Smartphones are: the Samsung Galaxy S10 and 10+, the Samsung Galaxy S9/9+, the Note9 and Note8, as well as the Huawei P30, and even the Mate20.
Furthermore, when it comes to PCs and laptops, this USB-C Adapter is compatible with several Operating Systems, including the Windows 10, Windows 8 and 8.1, Windows 7, as well as the Windows Vista, and even the Windows XP. It also features compatibility with Mac OS X (10.6 or later) and Linux (2.6.14 or later).
As such, you can reliably and conveniently use this USB-C Hub Adapter with a MacBook, a MacBook Air, or even a MacBook Pro, as well as with a iMac/iMac Pro, an iPad Pro 2019, a Google Chromebook Pixel, a ChromeBook(solely for models that feature a DisplayPort over USB-C with Alt mode), a ASUS ZenBook, a Google Chromebook Pixel C, and many other Ultrabooks that are equipped with a USB-C port.
HOW TO USE?
Since the Naztech USB-C Hub Adapter was designed as a simple Plug & Play connectivity solution, literally all you have to do is to have it working is to plug the adapter into your computer's or smart device's USB-C port and the adapter will automatically be ready to go.
As such, there's simply no need for you to have an additional power source with you to make the device work, and the same goes for downloading proprietary driver versions. Nope, it's really that simply. Just conveniently connect it and easily use it for whatever you need it for.
It's important to note that you shouldn't use this hub with power-heavy devices such as some large capacity hard drives in order to ensure that you always have a safe and stable connection for all your connected devices.
That's because the high-power draw may disrupt the data connection and disrupt in-progress file transfers, which can ultimately end up corrupting your data.
FINAL THOUGHTS
The Naztech USB-C Hub Adapter is a reliable and portable 6-in-1 connectivity solution that features Dual USB-A 3.1 Ports, a USB-C Charging Port, a 4K HDMI Video Output and both a SD Card and Micro SD Card Reading Ports.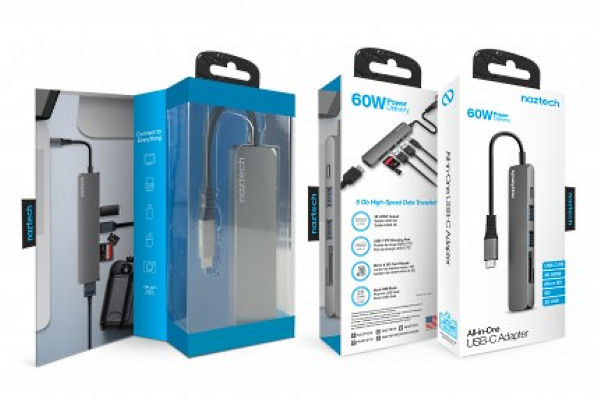 Whether it is extending your laptop's single USB port into two separate USB ports, empowering yourself with a reliable way of recharging the battery of your portable devices via the adapter's USB-C PD (Power Delivery) Charging Port, having a reliable 4K HDMI Video Output at any time, or even bringing with you two reliable SD and Micro SD Card Reading Ports that work as High Speed Memory Card Readers.
No matter what your plans are, the Naztech USB-C Hub Adapter has you covered.
If you're interested in buying it, each unit is currently going for just $60. You can order yours right now, directly from Naztech's official shopping page, which you can access via this link.