When it comes to Smart Homes, nowadays there are many different Smart Home gadgets that are designed for almost every single purpose. Whether that's Voice Assistant-enabled smart gadgets that let you control your thermostat, App-enabled devices that allow you to control and regulate your smart kitchen gadgets, or even smart pet gadgets like automatic pet feeders or smart cat litter boxes that automatically clean themselves, Smart Home gadgets are definitely what you should be looking for when it comes to upgrading your Smart Home. So, if you're a homeowner that's enthusiastic about Smart Home devices and you're looking for your next piece, then the Koble Zain Smart Side Table would be a great pick up, without a shadow of a doubt.
The Koble Zain Smart Side Table is a minimalist and ultra-modern smart table that features Wireless Charging while also coming equipped with built-in Bluetooth speakers and a 40W subwoofer.
By having this smart side table installed at your living room or bedroom, you'd have a place to set all of your everyday carry items (like car keys, home keys, and Smartphone) at the end of the day, while also having a place to conveniently recharge a Qi-enabled Smartphone via Fast Wireless Charging.
Additionally, since the Koble Zain Smart Side Table also comes equipped with Bluetooth speakers and a 40W subwoofer, you could also have the table double as your dedicated Bluetooth speaker unit to kickback and relax at your living room or bedroom while listening to your favorite tunes.
Lastly, this smart side table also integrates a set of USB charging points, which can be easily used to conveniently recharge any of your USB-enabled devices.
Still not convinced? Join us on this review and check out everything the Koble Zain Smart Side Table has to offer you.
DESIGN & SPECS
Starting with the side table's size, the unit measures exactly 41 inches long by 41 inches wide by 50.5 inches tall. The Koble Zain features a simple and minimalist, yet ultra-modern design, coming fully upholstered around its body.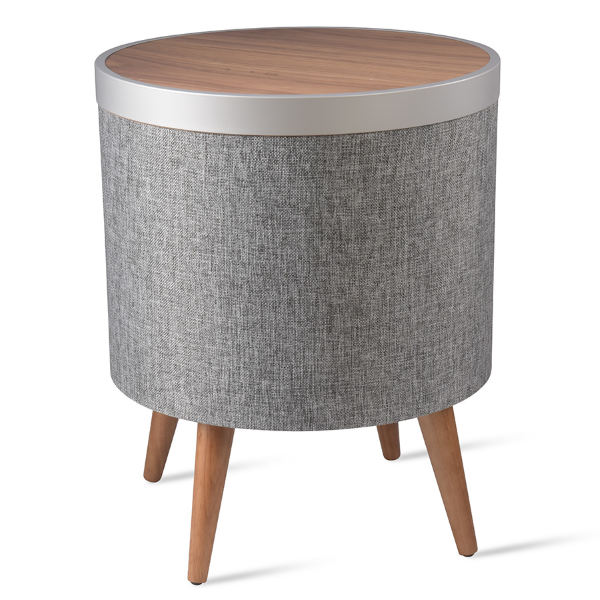 Right at the top of the unit, the table also integrates a sleek walnut veneered top, while at the bottom, it comes equipped with ultra-sturdy wood legs that make the unit very stable.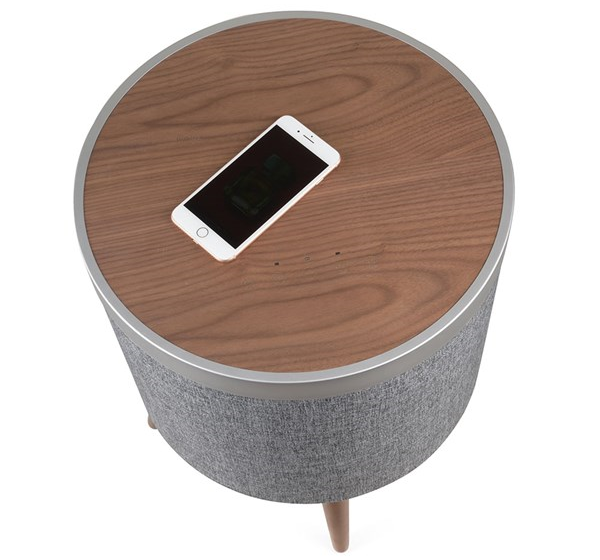 It's also worth to mention that the table's minimalist, yet gorgeous design can be easily combined with any choice of home décor that you currently have (or plan to have).
AUDIO SPECS & AUDIO QUALITY
Now, moving on to the smart table's single 360 degree Premium Bluetooth speaker with 40W Subwoofer setup, which comes installed right under the table's upholstery.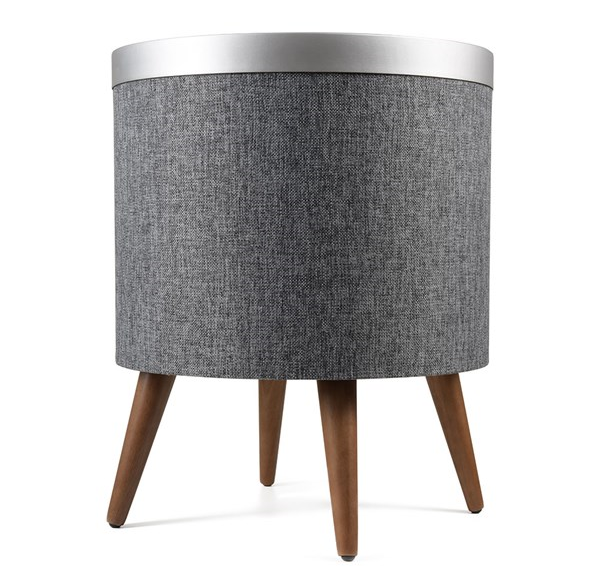 While this might look like a simple setup, this is in fact a really decent quality speaker and subwoofer setup, as the Zain table actually has an unbelievable sound output that's superior to several other products in the Koble range, as well as superior to almost any other cheaper brand of Bluetooth Speaker units that you might find currently available on the market.
When it comes to its sound quality, after playing around with the table's speaker unit for a bit listening to my own music, the treble (higher range/ higher pitch sounds) was always present and with decent quality, and the same goes for the mids (mid range sounds) and bass (low end frequencies), which, for the latter, was accurately reproduced by the table's high-quality 40W subwoofer.
In general, I was very pleased with how nicely the table's speaker and subwoofer setup sounded.
CONNECTIVITY PANEL
Moving on to the table's connectivity panel. At the back side of the unit users can find the table's simple and easy-to-use connectivity panel.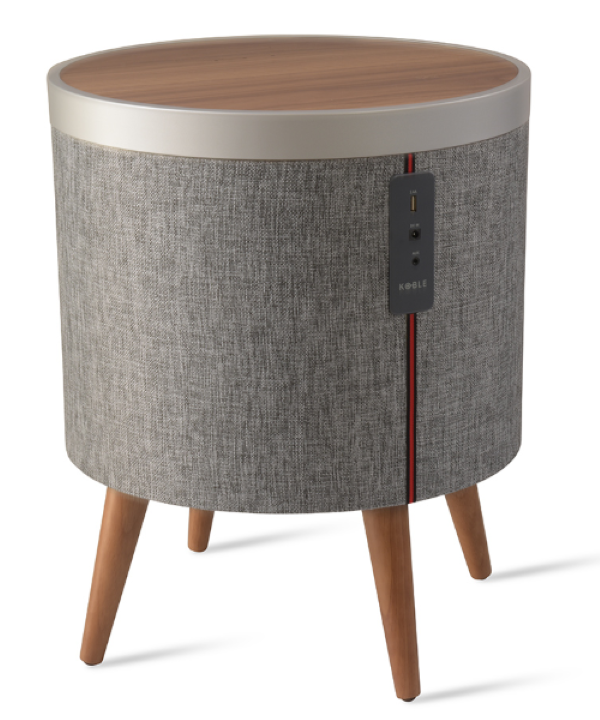 Going from top to bottom, there's a USB Charging port (for your USB-enabled devices), followed by the table's DC Input port (used to connect the unit to power), followed by a Aux Input Port (which can be used to connect any of your own audio devices to the table).
TOUCH-PANEL INTERFACE
The Zain Smart Table also features a touch-panel interface at its top, which integrates simple and easy-to-use touch sensitive controls that can be used to adjust the audio settings of its built-in powerful Bluetooth speakers and 40W subwoofer to easily and conveniently configure them to your audio needs.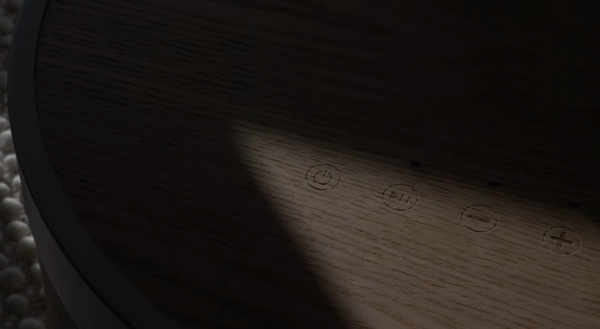 OTHER NOTABLE FEATURES
Fast Wireless Charging
As mentioned earlier, this smart side table also comes integrated with Fast Wireless Charging technology, which makes it the perfect addition for any Smart Home, as it can be conveniently used to easily recharge the battery of any of your devices that support Qi-Wireless Charging.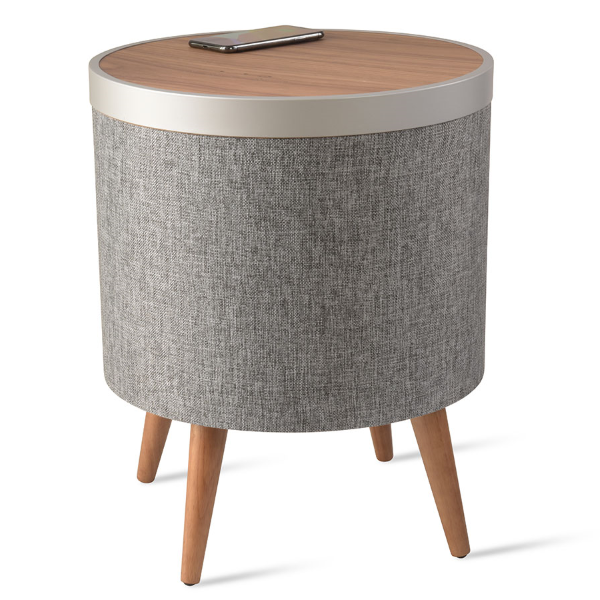 FINAL THOUGHTS
The Koble Zain Smart Side Table is a minimalist and ultra-modern smart table that features Wireless Charging while also coming equipped with built-in Bluetooth speakers and a 40W subwoofer.
Overall, the table's speaker's sound output is of very decent quality, while its Fast Wireless Charging (via Qi-Wireless Charging) makes it very convenient for you to recharge your Smartphone's battery when you find it depleted or running low.
If you're interested in buying this 2-in-1 high-tech smart side table with built-in Bluetooth Speakers and Qi-Wireless Charging, each unit is currently going for around $399. You can order yours online right now, at Home Depot.