Mobile gaming has never been better than what it is right now. The quality of games has improved exponentially since the turn of the millennium, with old feature phone games like Snake looking incredibly primitive compared to what we see today.
Even since the release of the iPhone in the late 2000s, mobile games have come a long way, adding 3D graphics, improved lighting, more features, and larger games.
The convenience of smartphone gaming is another reason why it's so great. Most console games will take several minutes to load up, while you can unlock your phone and be playing a game within seconds, with the added benefit of being able to do it just about anywhere.
With this in mind, if you want to play more mobile games in 2021, you may be wondering what the best phone for the job is. Unfortunately, there is no one-size-fits-all answer, but you may be surprised as to how good of an experience you can get from even budget devices.
Gaming on the Phone You Have
Unless the Smartphone you have already is more than five years old or is faulty, you may be able to just use the one you have. This is because smartphone games are different from PC games in that they often don't need powerful hardware.
This means that you can almost certainly enjoy the traditional version of roulette or an augmented reality version of Minecraft from the Smartphone you have in your pocket.
The benefits to using your existing Smartphone over buying a new one are that you can start right away, since you don't have to wait for anything to be delivered, and you won't have to spend any money.
Gaming on a Budget Phone
For the same reason that you can play most games on older smartphones, you can also enjoy them on a budget handset. In fact, mid-range and budget devices that you can buy today will have more powerful hardware than you'd find in a flagship phone from several years ago, so you may actually get a better experience.
For example, the iPhone SE 2nd generation contains most of the same hardware as the iPhone 11. Apart from having less memory and a few other minor differences, they're equally as powerful. This is despite SE being around half the price of the most recent flagship handset from Apple.
Of course, there are compromises when buying budget smartphones. They're usually bulkier, have smaller screens, will require charging more frequently, and won't take photographs with the same quality as a flagship device. But since you can get one for just a couple of hundred bucks and still play most games, they're a great option if you don't want to spend too much.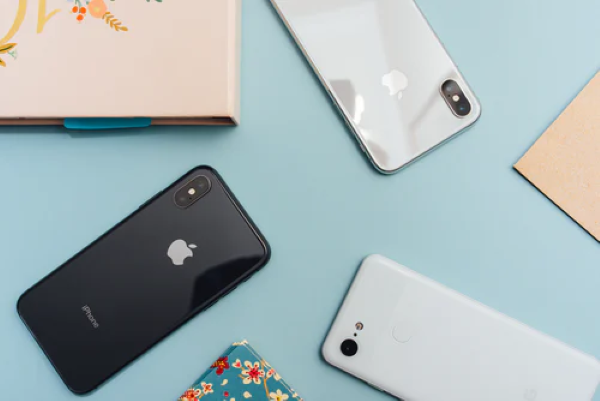 Gaming on a Flagship Phone
Flagship smartphones are the devices that you see making most of the headlines. They're the handsets with the best hardware, the most innovative features, and biggest marketing budgets.
They get their name from the naval term "flagship" which was given to the ship that carried the commander of a fleet, meaning that his ship was the most important.
Buying a flagship phone like the Samsung Galaxy S21 or the OnePlus 8T guarantees you the best hardware that that manufacturer has produced to date, with top-of-the-range cameras, more memory, a bigger screen with a higher resolution, a more powerful battery, and a sleeker design.
Gaming on a flagship phone usually means you'll be able to turn the graphics settings up to their highest and experience shorter loading times, which may be important to some gamers.
Gaming on a Dedicated Gaming Phone
For those that want to go one step further, a dedicated gaming phone may be the best solution. These handsets are designed specifically for gaming, meaning they're not necessarily the best option for day-to-day use.
The ASUS ROG Phone range is the leader in this category; however, you may be surprised that it doesn't have a chipset that is significantly more powerful than a flagship phone. The ROG Phone 4 will use a Snapdragon 888 CPU when it launches, which is the same CPU found in some Galaxy S21 models, as well as the one that we'll likely see in the OnePlus 9.
Where it differs is in the design of the handset and additional features. Its predecessor, the ROG Phone 3, came with a side-mounted charging socket and an ergonomic design to make gaming more comfortable. It featured shoulder buttons for quick access to certain actions while playing, and a detachable cooling device to keep the internals working at their optimum performance during long gaming sessions.
The games themselves are unlikely to run better on devices like this, but you may get a small advantage when playing fast-paced games like Call of Duty or Fortnite.