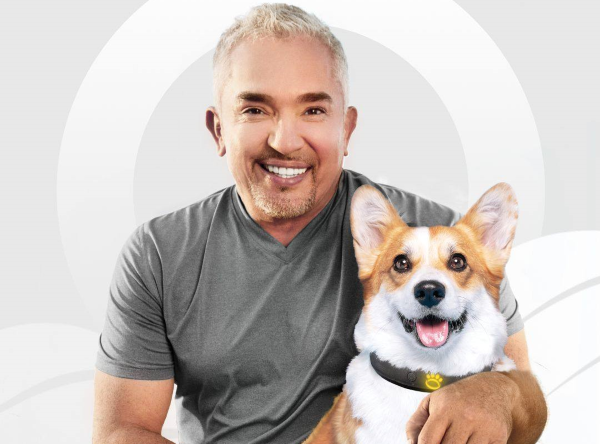 Teaching your dog to stay inside your property in order to keep them away from danger can sometimes be hard. That's mainly because of the fact that not all dogs are the same. Firstly, each dog is unique, which means that different dogs have different personalities. As such, it can sometimes be hard for dog owners to understand and predict their pup's personality until they actually spend a lot of time training them, bounding with them, and becoming their best friend (especially for younger pups). Not only that, but your dog's breed can also have a big influence on your pup's personality. While most dogs are more likely to be a textbook example for their own breeds, each individual dog might show some atypical behavior for its breed. So, while training your dog to stay within your home boundaries can be somewhat hard, there's a new smart dog containment system out there that promises to help dog owners having an easier time doing just that. Meet the Halo Collar.
The Halo Collar is an all-in-one smart dog collar and effective dog containment system that uses virtual fences created via Halo's GPS or with the Halo App.
With it, dog owners can easily keep their dog(s) safely inside their home boundaries by simply creating a few virtual wireless fences via GPS tracking or alternatively, right from their Smartphone while using the Halo App (the collar's proprietary Smartphone Companion App), all without requiring them to use a Wi-Fi connectivity or a cellular connection.
This amazing smart dog collar and smart dog containment system for boundary training was made possible thanks to a partnership between the company, the renowned dog trainer and experienced dog behaviorist Cesar Millan (who already has over 25 years of canine experience), and some of the world's best designers.
Now, without further ado, let's see exactly what the Halo Smart Dog Collar has to offer and understand exactly what makes this smart dog containment system the best one that's currently available on the market for dog owners.
DESIGN & SPECS
Starting with the Halo Smart Dog Collar's design, the Halo Collar comes in one universal size only. Still, this smart dog collar is quite flexible, extremely comfortable, and very durable. Featuring a flexible fit with its one-size-fits-most, the collar can fit any dogs with neck sizes of 11 inches (or slightly larger than that).
While the Halo Collar is flexible enough to be stretched and bent comfortably along your dog's neck, the collar also comes together with an Adjustable Collar Strap that can be cut to whatever measurement is necessary for providing your pup with the perfect fit. This collar strap can come in one of three different sizes, meaning S, M, or L.
Furthermore, you can always get new replaceable collar straps as your dog grows bigger. All that makes the Halo Collar a great fit for any dogs that weight at least 20 to 25 lbs. or anything above that weight.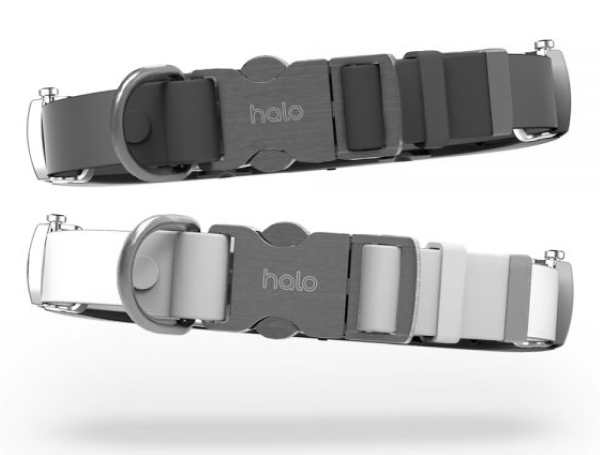 This included Adjustable Collar Strap features a few pre-cut strap holes and a custom heavy-duty plastic clasp that comes in a metallic color. This integrated heavy-duty clasp makes it fairly easy for dog owners to clip and unclip the Halo Collar On and Off from around their pup's neck. I'd also like to mention that the whole collar is very, very lightweight.
Now, the Halo Collar is slightly larger than most of the other smart dog collars that you've probably seen out there. While this smart dog collar comes with a typical adjustable strap and its main technology built into its Smart Band (meaning the main part of the device), the Adjustable Collar Strap part of the unit also has some slightly different things than what other smart dog collars usually have.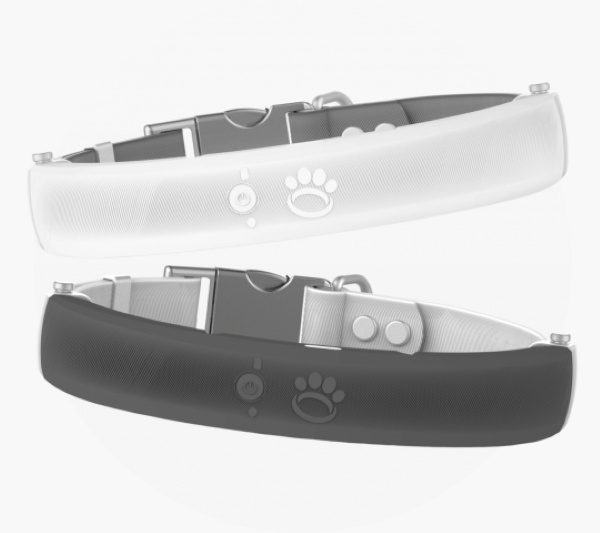 That said, the Adjustable Collar Strap comes with a pair of built-in Blank Contact Nodes that can be integrated with one of the two (x2) included pairs of Contact Tips, and those will basically allow the Halo Collar to deliver a weak static signal with some added vibration. This is basically what will help dog owners to train their dogs in a pro-active way (even when they're not around).
This is one of the key differentiators of this smart dog collar, as that's what allows the Halo Collar to have behavioral training built into the product itself. That's exactly what sets this smart dog collar apart from any other models available on the market, as well as from any other smart dog gadgets out there (to be fairly honest).
Lastly, this smart dog collar also comes equipped with one small built-in speaker, which dog owners can then configure to have their Halo Collar give their dogs a positive feedback for having them respecting the smart collar's containment system's virtual boundaries (the previously mentioned virtual fences) as a form of encouragement.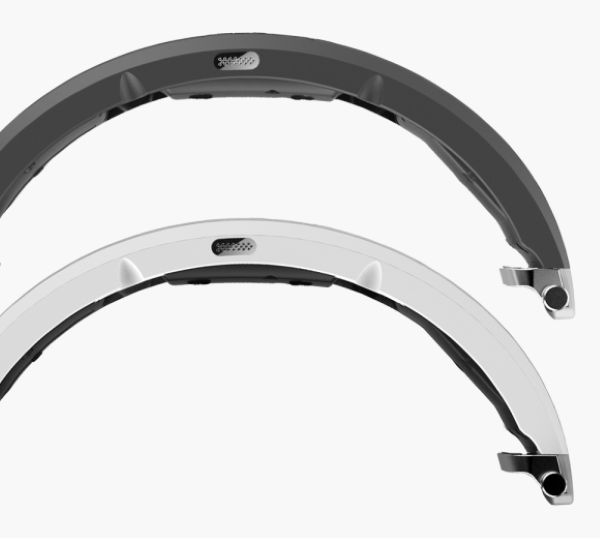 Contrarily to that, whenever your dog crosses those virtual fences the two Contact Tips will be triggered and start sending a small static signal that's combined with a soft vibration in order to let your dog know and understand that the area that was crossed by them is strictly forbidden (meaning of restricted access).
The whole device is made of ultra-durable plastic and rubberized materials that are make this smart all-in-one dog collar extremely rugged and ultra-durable, as well as very flexible.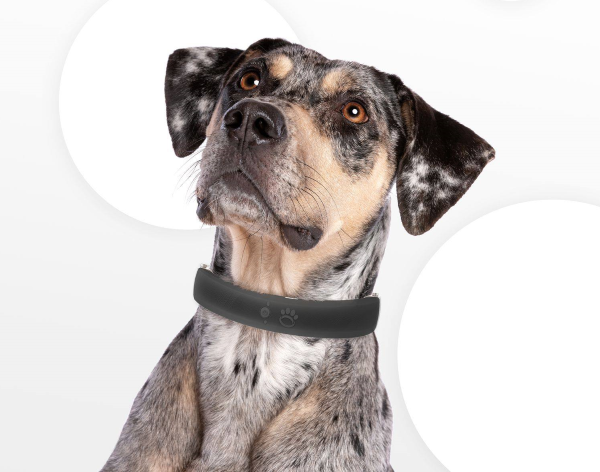 Additionally, this smart dog collar also features a IP-67 Water Resistance Rating, which not only makes it capable of withstanding any weather conditions, but also perfectly water-resistant, which should give you some extra peace of mind in case that you pup is one of those dogs that love to swim.
BATTERY & BATTERY LIFE
The Halo Collar also comes equipped with a small built-in rechargeable all-day battery that's responsible for powering up the whole unit, which, on average, can offer you around 24 hours of battery life (this is still depend on how many times your dog tries to cross the collar's virtually set limits – meaning its virtually set perimeter).
As such, the collar itself should be removed from your dog's neck at night to avoid any irritation. Additionally, since this is an all-day battery (meaning a 24-hours battery), the Halo Collar's battery should be recharged at night while the collar itself has been removed.
NOTABLE FEATURES
Activity Tracking
Starting with the Halo Collar's first main feature, this smart dog collar can offer dog owners an easy and convenient way of Activity Tracking for their dog's daily activity.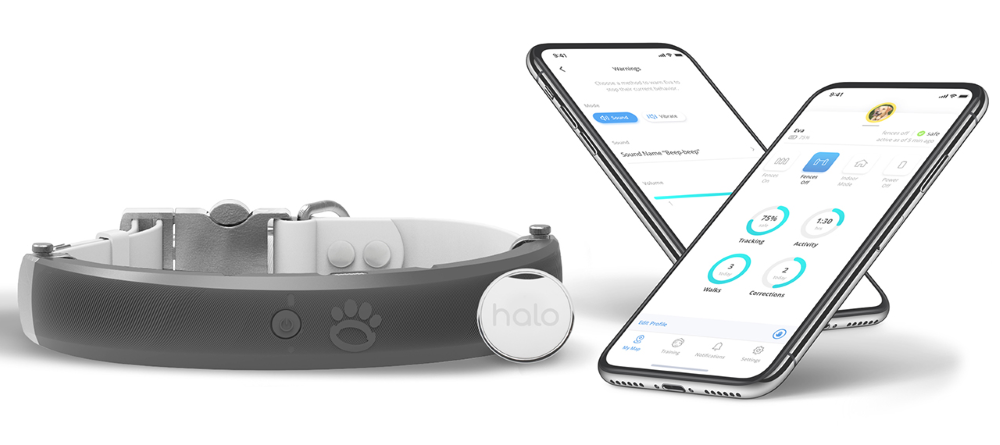 This is a feature that you'll most likely see on almost every single smart dog collar out there. Basically, by using this feature, this smart dog collar can tell you how active your dog really is during each and every single day. This will include how many steps they took, how much rest your dog has been having, and all other of those good things that a dog owner wants to keep track of in order to better understand their dog's current health.
GPS Tracking
The second most important (and very essential) feature that's offered to dog owners by the Halo Collar is its GPS Tracking functionality.
Now, what sets this smart dog collar apart from others in the sense of GPS Tracking is that this smart dog collar not only uses GPS (Global Positioning System) as its system for GPS Tracking, but that it also utilizes GNSS (Global Navigation Satellite System), which is basically the "parent-version" of GPS.
As most tech-savvy dog owners would most likely know, there are several other Global Positioning Systems out there that work as separate navigation systems which are based on satellites that are flying far in space. While GPS is only one of those systems, the Halo Collar is actually configured to use both GPS and other satellite networks.
That together gives this smart dog collar enhanced GPS capabilities, which ends up working as a much stronger GPS technology than what you can find on any other smart dog collars available on the market. In fact, the GPS Tracking Technology that comes built into the Halo Collar is even much more accurate than the GPS tech. in our Smartphones. That said, its GPS Tracking Technology is almost as good as what you'll see in nowadays autonomous vehicles.
Halo Smart Fences
Another major feature that this smart dog collar has to offer any dog owner is its Halo Smart Fences. This specific feature is a game changer, as this is what will allow dog owners to set up a custom perimeter and a custom boundary anywhere they want to and wherever they are, even at home.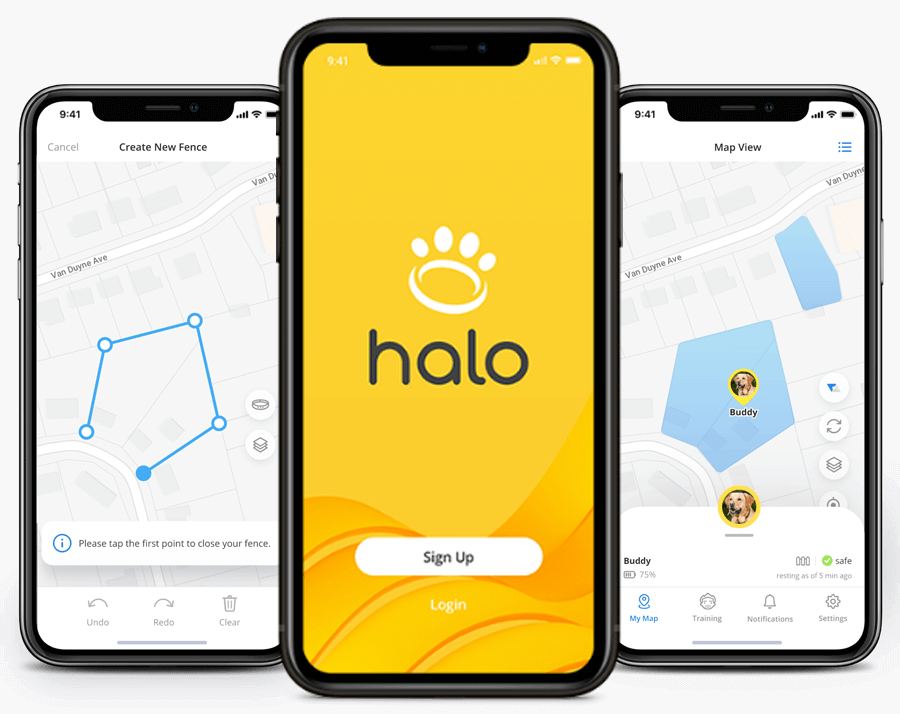 This is done by simply creating Virtual Wireless Fences, which can be done either by taking the Halo Collar with you and walking around your wanted "limited-perimeter" (which will trigger the smart dog collar to use its Halo Collar's GPS Tracking system), or simply, by using the collar's proprietary Smartphone Companion App (called the Halo App), which allows you to draw a virtual perimeter within the App's GPS map itself.
Thanks to this cool feature, dog owners can completely forget about having to set-up wire-based dog fence systems, and as such, they won't ever again have to deal with wires, with digging holes, or with damaging their precious backyard. With the collar's Halo Smart Fences functionality, both dog owners and their dogs have no terrain limits defying them.
As such, thanks to these virtual wireless fences, every configured limit is in range and dogs won't feel the need to challenge, run past, or even jump over them, unlike they would with the traditional physical dog fences.
THE SMARTPHONE COMPANION APP – The Halo App
As mentioned earlier, just like using Halo's GPS system, by using the Halo App, which is free to download for both iOS and Android devices, dog owners can also create and configure several perimeters for their Halo Collar to work as a smart and effective dog containment system, and these virtually-set perimeters are simply delimited by virtually created wireless fences (which can be easily done within the App's GPS-map).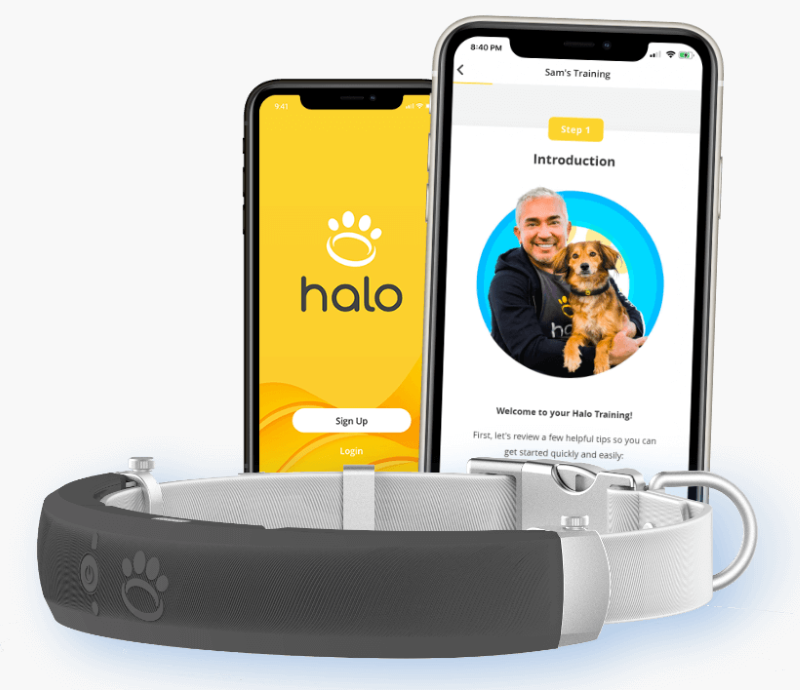 Since there are so many cool smart features loaded into the Halo Collar, dog owners can customize practically everything by using the Halo Companion App that comes with this smart dog collar.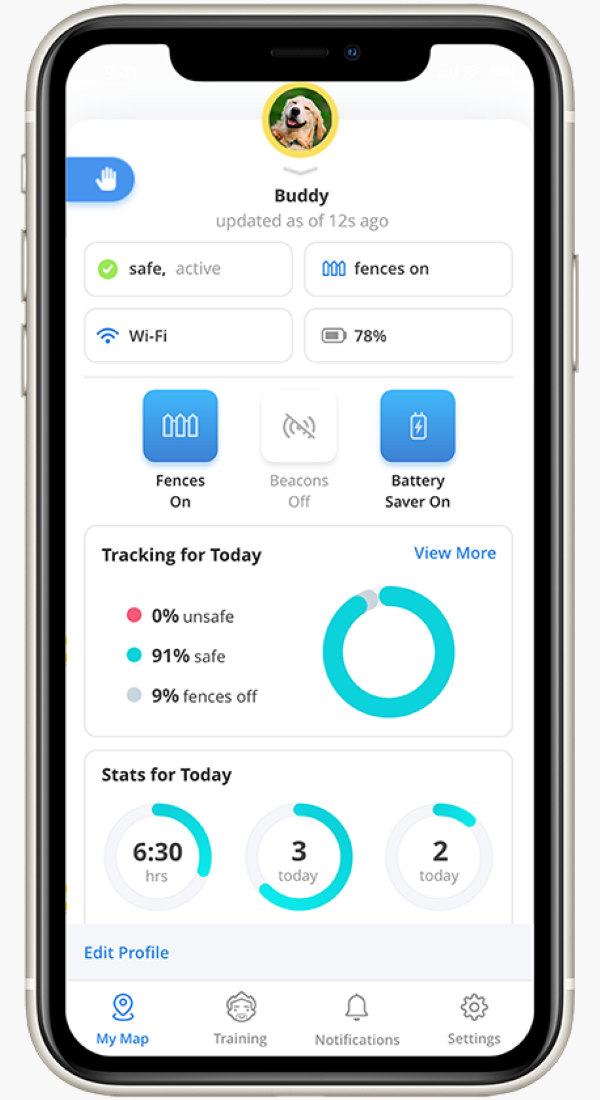 OPERATING MODES
The Halo Collar can operate in three (x3) different and fully customizable Operating Modes, and those are Warning Mode, Boundary Mode, and Emergency Mode.
By using these three different alert settings, the Halo Collar can help your dog to better learn, react, and stay safe from leaving / exiting your virtually created limited-perimeter, even before the collar ever enters its last safety setting, which would be its Emergency Mode for an instant emergency feedback. While this will most likely have a low chance of occurring, it's still great to have this last mode in case your pet actually exits your already-configured perimeter.
Warning Mode
Starting with the collar's first and lowest warning level setting, which is the Warning Mode, if your dog ever approaches your already virtually configured limited-perimeter (meaning the boundary you want your pup to stay inside of), the collar's Contact Tips will start to send a very weak static signal with a really soft level of added vibration (this static and vibration settings are very, very low).
This will have your pup to start feeling these small warning signs, and that will help your dog to understand that it's not ok to cross that specific virtually set boundary.
The collar's Warning Mode works on a customizable 10-15 feet Warning Area, which represents the area that's right before your dog reaches the boundary of your virtually configured perimeter. This will basically give your dog plenty of area to turn back to safety.
Boundary Mode
Now, what happens if your dog still keeps walking on forward and finally reaches your virtually configured border is that the Halo Collar will enter its Boundary Mode. This second warning mode will have the collar's integrated Contact Tips to have their static signal and their vibration level going slightly higher. At the same time, the collar's built-in speaker will bring a brand-new warning setting to your dog's boundary training.
Basically, if your dog keeps crossing that virtually set boundary, the collar's integrated speaker will give your dog a small warning sound to let him know that's not ok for your pup to cross that perimeter. As soon as your dog starts coming back inside the allowed perimeter, the collar's integrated speaker will play a positive feedback message for having them understanding and respecting the smart collar's containment system's virtual boundaries as a form of encouragement to keep doing just that (as mentioned earlier).
The Halo App offers dog owners several different Customizable Prompts, which include a total of 15 levels of volume and static signals, plus a wide variety of vibration types, sounds, and tones, thus covering every taste and every pet parenting style. Dog owners can also choose from 6 different types of Preventions and Encouragements for the most balanced training approach.
Emergency Mode
Now, let's say your dog is happily chasing something (it can be a car, another animal like a squirrel or a deer, or pretty much anything else) and your pup simply ignores those warning static signals, vibrations, and warning sounds and doesn't stop running for whatever reason.
If this ever happens the Halo Collar immediately goes into Emergency Mode, where it will alert you (the dog owner) via an instant Smartphone Notifications while also giving you real time data for your dog's accurate GPS location and Activity. As such, the Halo Collar will start working fully autonomously to prevent your dog from leaving further away, while also guiding your dog with those same static, vibration and sound signals to encourage them to come back home.
This is exactly when those positive feedback sounds will be mostly used, as every time your dog turns back to your home's direction, this smart dog collar will keep encouraging them to return, or oppositely, keep playing warning signs accompanied by some static signals and some vibration to help your dog understand that they need to come back.
So, for lost dogs, this Emergency Mode is actually great, as it is properly designed to help your dog(s) to return home, should they ever get out of your virtually created perimeter.
Lastly, by setting up the collar's GPS-based Halo Smart Fences, the Halo Collar will continue to protect your dog even if its Wi-Fi or cellular connection drops.
INCLUDED TRAINING PROGRAM
Obviously, there's a lot of behavioral training involved with using this smart dog collar, but that's exactly why I mentioned that the Halo Collar was developed in partnership with the one and only dog-whisperer, Cesar Millan himself.
As such, each purchase of the Halo Collar comes with a whole training program that was built by Cesar Millan. That said, the included Cesar Millan's expert 21-Day Training Program will teach dog owners literally everything that they need to know for the ultimate boundary training and bonding experience with their best friend(s).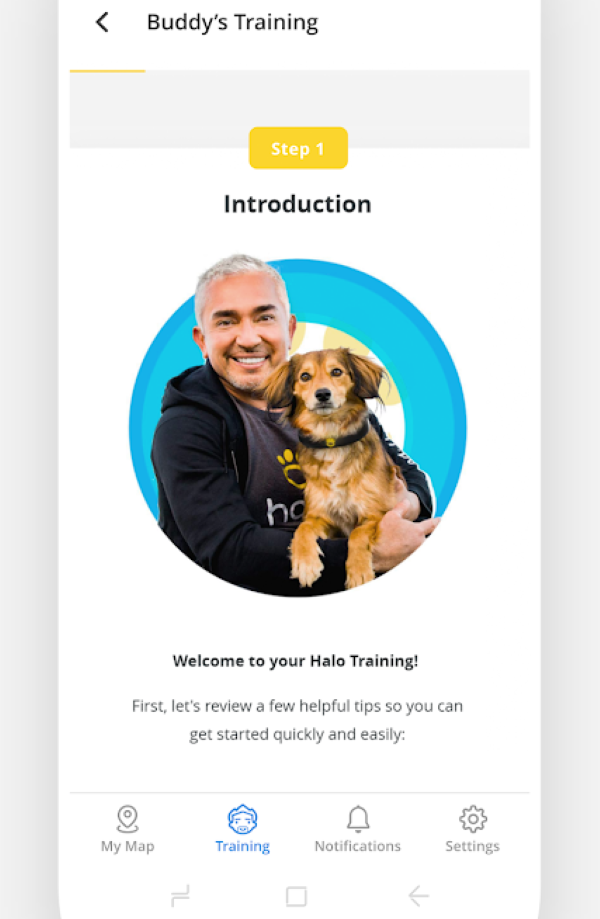 So that's part of the whole package, meaning you get both the Halo Collar and access to Cesar Millan's expert 21-Day Training Program, which for the latter, will walk you through training your dog with positive reinforcement so that you can better understand how to use the Halo Collar in the best way possible.
Since this all comes included in the Halo App itself, it's farily easy for every dog owner to follow and fully understand this 21-day dog training program.
WHAT'S IN THE BOX?
The Halo Collar comes neatly packed inside a sturdy cardboard box that has all of its components perfectly protected within it.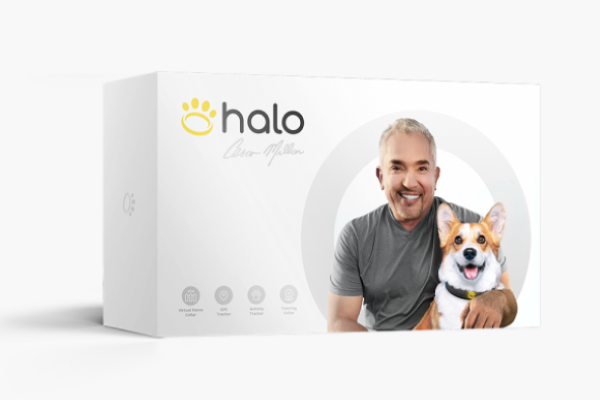 Inside each package, users will find: the Halo Collar, an included Collar Strap, the collar's Blank Contact Nodes as well as its two (x2) pairs of Contact Tips), an included Wall Charger and USB-C Charging Cable (used to recharge the collar's built-in battery), and one (x1) included Beacon (which can be used as a Local Boundary for users to set up one specific "Off-Limits" room within their house, and this will basically work like a restricted area within the perimeter itself).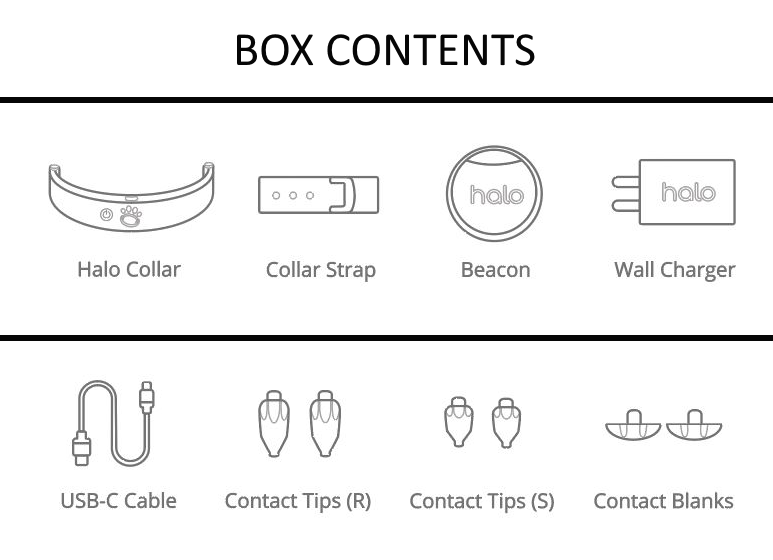 FINAL THOUGHTS
The Halo Collar is an all-in-one smart dog collar and effective dog containment system that uses virtual fences created via Halo's GPS or with the Halo App.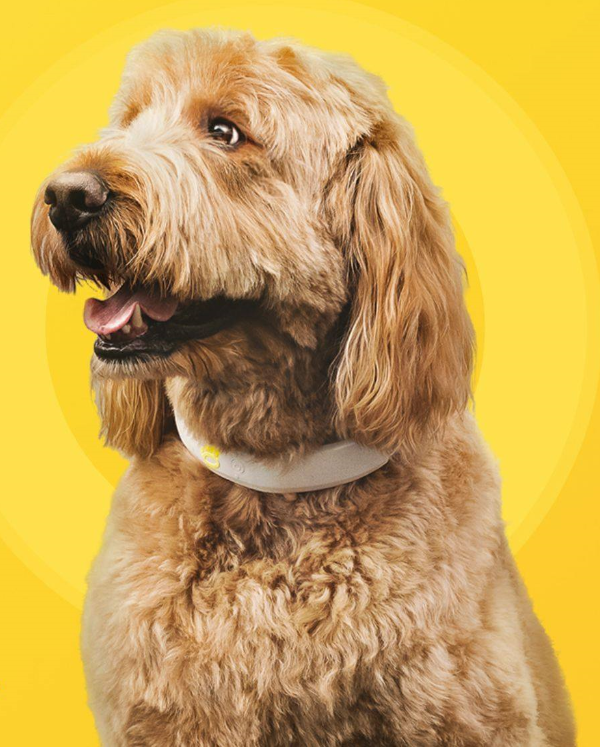 With it, dog owners can have an awesome smart dog collar that not only features great Activity Tracking functionalities, but that also doubles as the perfect dog boundary training system and dog containment solution for any dog.
If you're interested in buying it, each unit is currently discounted from its normal price of $999, now going for just $799 (remember to use the discount-code BESTFENCE, which will save you $200).
I should also mention that there's a very small and reasonably affordable monthly subscription fee that's necessary to use this smart dog collar with its advanced GPS and LTE Tracking functionalities.
You can opt to go with the Basic Plan ($2.70 a month), which will offer you the most basic features.
For a small upgrade, the Silver Plan (which goes for $9.99 a month) will bring you the addition of Weekly and Monthly Activity Reports about your dog and also gives you access to any Premium Features as well as future releases.
Ultimately, for those looking for the best and most premium experience, you could also go with the Gold Plan (at $29.99 per month), which brings you Training Support from certified experts, an Expanded Behavior Training from the standard 21-day Training Program, Special Monthly Training Updates to better train your dog's behavior and Exclusive Closed-Group Online Sessions for premium members of the App.
You can order your Halo Collar online right now, directly from the company's official shopping page, which you can access by clicking here.