Nowadays, most newly released 21st century laptops are actually quite powerful, allowing you to perform just about any digital task while you're on-the-go. However, while most latest-gen laptop models can provide users with both a powerful state-of-the-art work tool as well as their own entertainment center, some models are much bulkier than others. This brings us to the concept of Ultrabooks, which Intel originally defined as a unique type of laptop that needs to meet a specific number of criteria in order for it to be labelled as such. While laptops have become reasonably smaller and more portable over the last few years, Ultrabooks were designed to go even further, integrating the very latest technology inside incredibly thin (under 1-inch thick) and lightweight bodies. So, if you're looking for an Ultrabook that you can confidently invest in, then the Dell XPS 13 Laptop (9300 Series) is the one I'd recommend for you to go for.
The Dell XPS 13 Laptop is a compact, lightweight and powerful Ultrabook that's equipped with a 13.4-inch Full HD 4K Display, a 10th Gen i7 Processor and an Intel UHD Iris Plus GPU.
Coming equipped with some of the latest components released in 2020, the Dell XPS 9300 Laptop is masterfully designed to perform any task, offering its users an unrivaled performance. Other than its main components like its i7 processor and Intel UHD Iris Plus GPU, you also get 16 GB RAM accompanied by a user-replaceable 512 GB SSD for file storage (expandable via microSD), as well as Wi-Fi 6 connectivity.
Additionally, the laptop also comes equipped with a Full HD 720p micro-camera that works with Windows Hello. Furthermore, this powerful Ultrabook also features an incredibly long battery, offering you up to 18 hours and 49 minutes.
Lastly, everything runs ultra-smoothly on Windows 10 Home or Pro (user-choice). All of that makes this laptop a reliable Windows Ultrabook that can ultimately provide you with a powerful work tool as well as your own high-end entertainment center.
So, in case you're still not convinced that this is the perfect Ultrabook for you, join us on our detailed review of the Dell XPS 13 Laptop (9300 Series) where we check literally everything that this 2020 Ultrabook model has to offer you.
DESIGN & SPECS
Starting with the laptop's exact size, the Dell XPS 13 Laptop comes in a very compact form, measuring 11.6 inches long by 7.8 inches wide by a very thin 0.58 inches tall (296 x 199 x 14.8 mm), which not only makes this ultrabook very slim, but also incredibly lightweight, weighing just a measly 2.8 lbs. (1.27 kg) for its touchscreen version (while the non-touchscreen model weighs around 2.65 lbs. / 1.2 kg).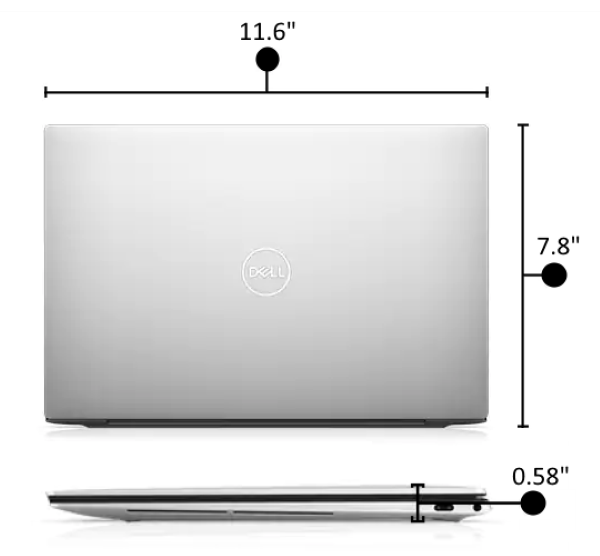 Now, when it comes to the laptop's design, Dell actually revamped its XPS 13 Laptop 2019 model completely, which gives the Dell XPS 13 Laptop 2020 model a brand-new and really sleek look. For its aesthetics, this ultrabook features a durable aluminum chassis that gives the laptop an elegant design that's combined with a high-quality build that's stronger and stiffer than both magnesium and plastic.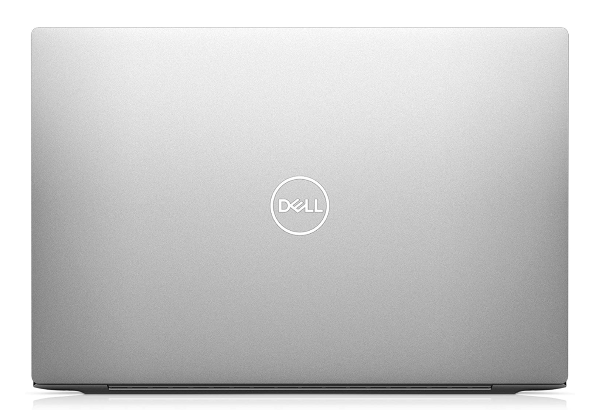 In fact, its whole body is sculpted by a CNC (computer numerical control) machining process (meaning that its completely machine made – so there are absolutely no flaws whatsoever). Additionally, the laptop's body also accounts for an anodizing coating that gives it a very durable scratch-resistant surface, and that also ensures that users can never damage the paint around its ports after an extended use of the laptop, even after plugging and unplugging their many peripherals several times after their original purchase.
This newer model also accounts for a new twin coil press fit hinge that's designed to maximize the screen to body ratio and enable its 4-sided InfinityEdge display.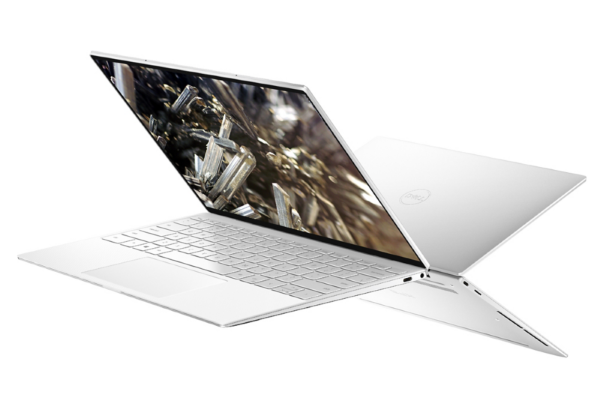 Ultimately, this brand-new hinge design makes it easier for users to open their Dell XPS 13 Laptop (2020 model), and that can even be done by using just one hand, all while keeping the laptop's touchscreen stable enough for convenient use, whether that's with a mouse or with touch controls. While I personally never found this feature for one-hand opening to be super-important or super-valuable, I can still see it being useful for certain scenarios, like if you're holding something on your other hand for example (a book, a Smartphone, etc.).
Now, when compared to its predecessor (meaning the 2019), your standard components like the laptop's display, keyboard keys and touchpad all come in a slightly larger size to give users an easier access and a better and more optimized user experience overall.  With that said, this new XPS 13 Model from 2020 features a slightly larger 16:10 display than its predecessor (6.8% bigger), a 17% larger touchpad and an edge-to-edge backlit keyboard with larger key caps.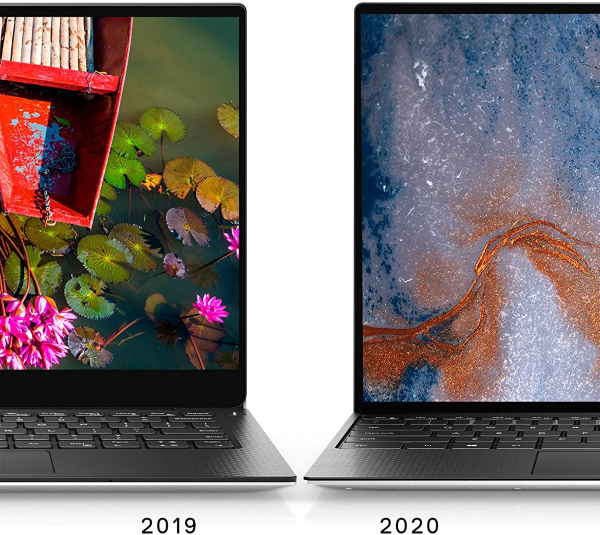 No matter if you go for the laptop's silvery White color-model or Black color-model, each corresponding version also integrates a arctic white woven glass fiber palm rest (for the White color-model) or a black carbon fiber palm rest (for the Black color-model).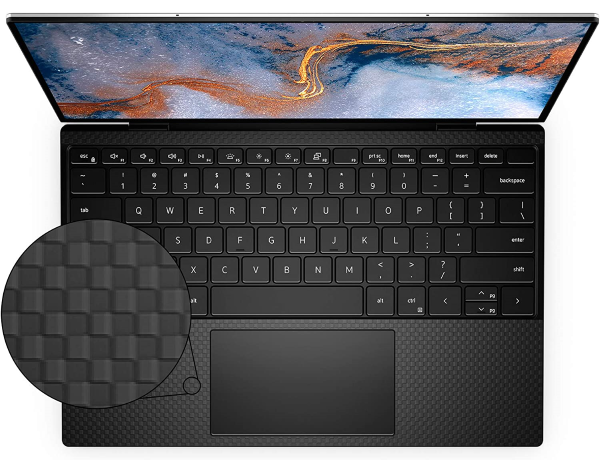 The laptop's resistant and high-quality palm rest surface gives the unit some added strength while still adding a minimal amount of weight to it. Additionally, this special and unique palm rest surface is also coated with a UV- and stain-resistant coating that helps to prevent yellowing and staining.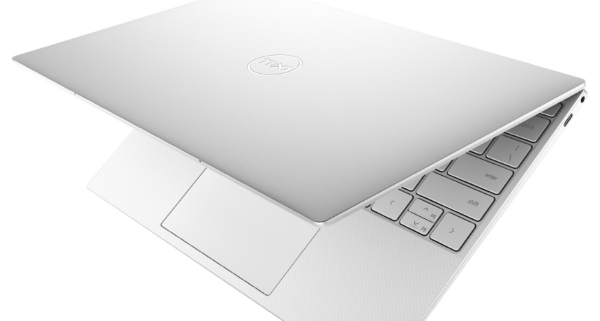 Now we'll talk a bit about the laptop's actual keyboard, which is in fact a completely redesigned keyboard. The XPS 13 comes equipped with a Backlit English Keyboard that even integrates a Fingerprint Reader right at its Power Button (discussed further ahead at the Features section).
I really enjoy this keyboard layout, which basically made the left and right arrow keys are now larger than what they used to be, which basically lost us the Page Up and Page Down function keys from the previous model (which were previously located above both side arrow keys) and now got those changed to a secondary function of the upwards and downwards arrow keys (by using the FN button).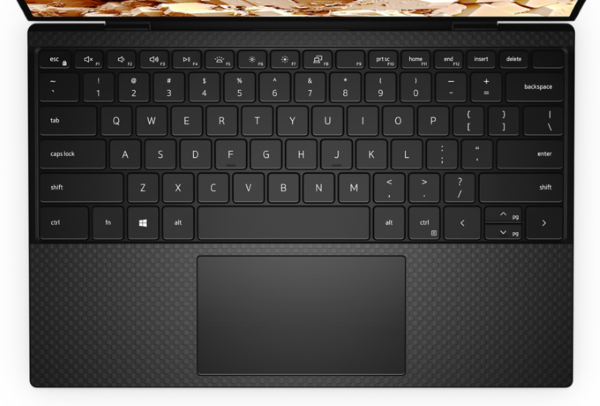 While I personally prefer this layout I can still see how some people won't, as if you're someone that uses the Page Up and Page Down keys frequently, and you're used to that old layout / key position, you now lose that. Still, a solid keyboard layout and really high-quality keys, which I think most people will definitely enjoy.
Moving on to the keys themselves, these simply feel awesome. These feel wonderful. They are bigger keys than the 2019 model, they're extremely responsive, the key-travel is quite nice, and as such, a lot of people will most likely enjoy this keyboard.
Lastly, the laptop's trackpad is also slightly bigger for this 2020 model than the one found on the 2019 model, and while it's not a huge trackpad, I think it's still appropriately sized for this 13-inch ultrabook. The trackpad's tracking functionality is quite good, as it features Windows Precision Drivers. The clicking itself is a bit different than the previous 2019 model, which had a sharper and slightly larger sound, but this newer 2020 model now features a somewhat thumpier and more quiet sound than what the older versions use to have, which in my opinion, is actually better.
TOUCHSCREEN DISPLAY
Now, moving on to the laptop's built-in touchscreen display. When compared to the previous 2019 model, the Dell XPS 13 Laptop brand-new 2020 model also had its built-in screen changed.
As such, this newer model of the XPS 13 Laptop now comes equipped with a 13.4-inch Full HD 4K Dolby Vision Touchscreen Display that features a larger 16:10 display ratio than the more traditional 16:9 ratio, and that also goes for when this newer model is compared to the previous 2019 model (this new display is exactly 6.8% bigger than its predecessor's screen).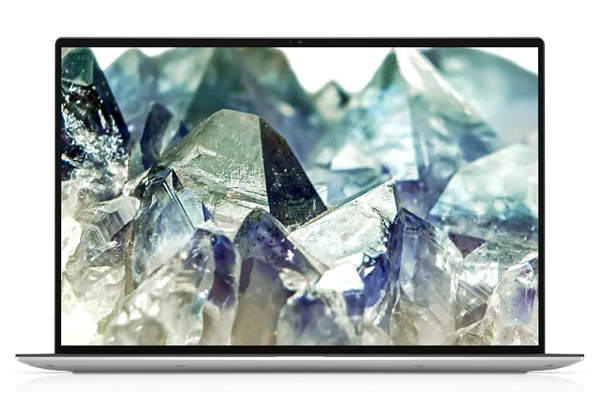 The laptop's screen comes perfectly protected behind the latest Corning Gorilla Glass 6, which is actually reasonly strong, offering the laptop's touchscren display both a decent level of impact- and scratch-resistance. Now, this brand-new 13.4-inch Full HD 4K Dolby Vision Touchscreen Display boasts a 1920 x 1200 resolution with a 480 nits of brightness and a really nice color accuracy.
Granted, having a 1920 x 1200 resolution is definitely different than when using a standard 1920 x 1080 resolution from any traditional FHD display, but I mean that in a good way. While this profound difference in vertical screen real estate brings users an 11% increase in vertical pixels, which can definitely take some getting used to for watching videos and such, this will basically add an additional four lines of text in a standard Google Doc. Ultimately, that will make tasks such as writing documents, coding or reading web pages a lot easier because you won't have the need to scroll as often as you would on a 1920 x 1080p screen.
I'd also like to note that there's also a 1920 x 1200 non-touch display version, as well as a 3840 x 2400 touch display version, if you want to go for any of those instead of the screen-model that we chose to review.
AUDIO SPECS & AUDIO QUALITY
Moving on the the laptop's sound specs. When it comes to its audio specs, this sleek ultrabook actually comes equipped with reasonably good built-in speakers.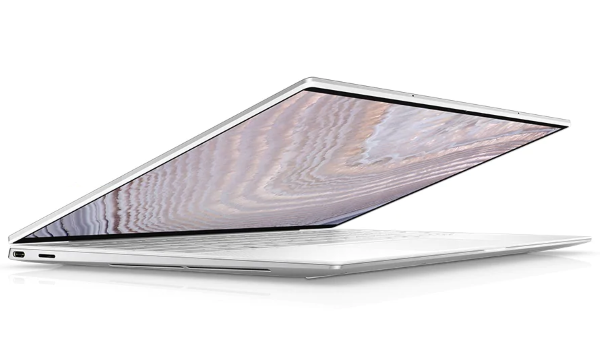 There's a set of 2W speakers on both sides of the laptop that guaranteed (take my word for it), will not disappoint you. Unlike the many 1.5W speakers that we usually find on low-end and mid-range laptops, this 2W speakers setup actually gives the laptop a fairly decent sound quality.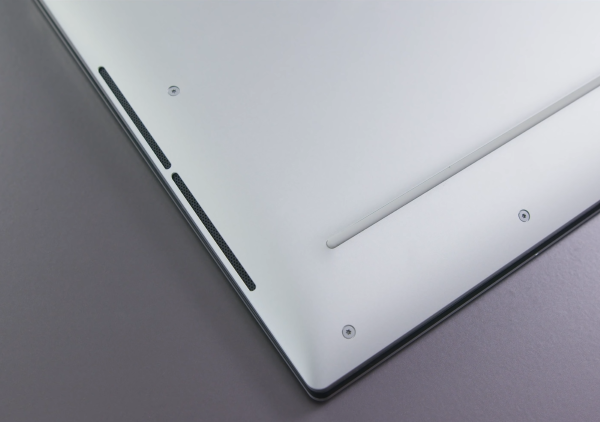 Sure enough, it's not your audiophile's typical choice, but for listening to relaxing musics like Jazz music or a similar slow-paced music genre, these 2W speakers definitely live up to the expectations.
Lastly, for listening to more "upbeat" and faster-paced types of music (like techno and rock) I'd recommned keeping the volume around medium levels for you to not experience any sound distortions, or ultimately, use a pair of headsets, and if possible, one with configurable software for the best music and overall sound experience.
BUILT-IN HD CAMERA
Now, this 2020 model of the XPS 13 Laptop also comes equipped with a Full HD 720p micro-camera at the top that works with Windows Hello. Thanks to that, users can easily and quickly login to their Windows Account by simply identifying themselves via their face's biometrics.
For the laptop's camera itself, the company chose to improve the ultrabook's camera location, which now comes housed right at the top of the laptop's famed InfinityEdge display, showing up perfectly at front and center.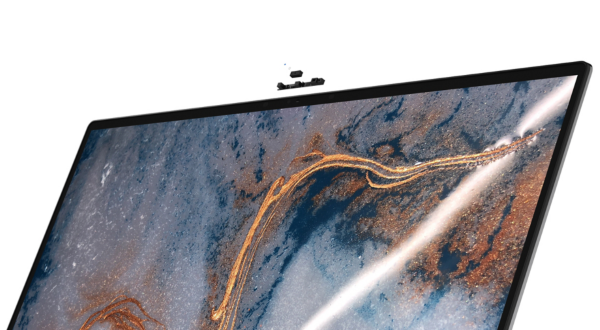 This Full HD 720p micro-camera features a revolutionary webcam construction, which, not only makes the webcam in this newer XPS 13 2020 Model reasonably smaller (only 2.25 mm) than the camera in its predecessor, but also better when it comes to its recording functionalities.
That said, this newer Full HD 720p micro-camera integrates a brand-new 4-element lens that utilizes more elements than a standard laptop webcam, allowing it to deliver a sharp video quality in all areas of the frame, while temporal noise reduction uses advanced noise reduction to significantly improve your video quality, especially when under dim lighting conditions (dark rooms, etc.).
INTERNAL COMPONENTS
As mentioned earlier, this powerful ultrabook is powered by a 10th Gen Intel Core i7-1065G7 Processor, while its touchscreen display's visual graphics are all generated by a high-end Intel UHD Iris Plus Graphics Card.
Other than that, you also get 16 GB RAM accompanied by a user-replaceable 512 GB SSD for file storage (which allows ytou to have the laptop's memory to be expanded via the use of a microSD card).
As stated before, everything runs extremely smoothly on Windows 10 Home or Pro verison, and that choice will basically be decided by your preferences, meaning that you can get the best combination of Windows features that you think you'll need for your work.
INTERFACE / PORTS
While Dell did revamp its XPS 13 Laptop 2019 model to give a fresh and brand-new look to its the Dell XPS 13 Laptop 2020 model, this latest-gen model actually integrates a few last ports on its iterface than its 2019 predecessor. While the previous 2019 model had 3 USB ports, this new 2020 model only accounts for two (x2) USB-C 3.1 ports.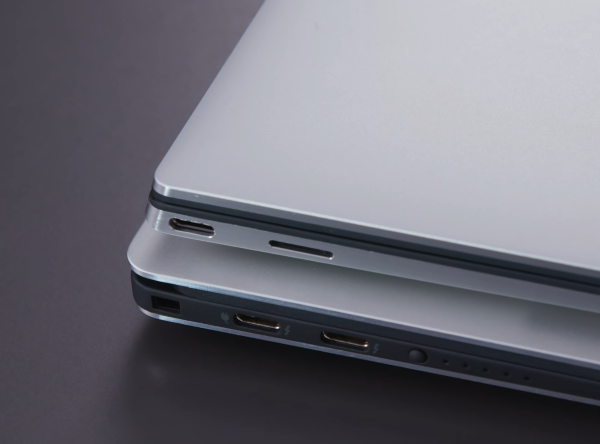 With that said, starting with the right side ports, going from left to right we have a USB-C 3.1 Thunderbolt 3 Display Port that can also be used for Power Delivery (4 lanes of PCI Express Gen 3) and a 3.5mm Headphone / Microphone Combo Jack Port.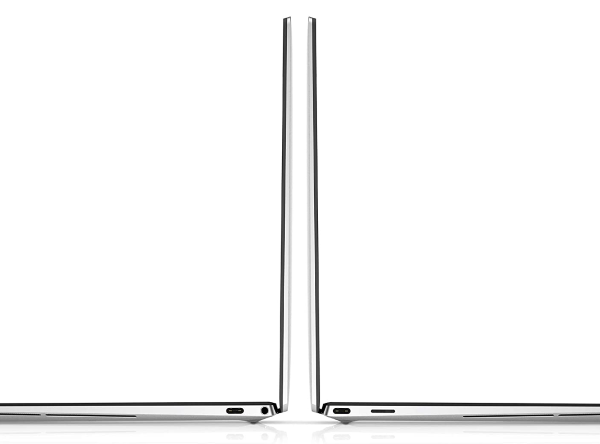 Moving on to the opposite side of the laptop – meaning it's right side – going from left to right we have yet another USB-C 3.1 Thunderbolt 3 Display Port that can also be used for Power Delivery (4 lanes of PCI Express Gen 3) and a MicroSD Card Reader Slot.
As for ports, that's about it. While this ultrabook only comes with 2 USB-C ports, I can still give it a fair pass when it comes to simple office work purposes, and that's mainly because there are some MacBook models out there that only come with one single USB port.
However, for users that like to connect a lot of devices (peripherals) to their laptop, you'll most likely have to use at least one USB-adapter (if not multiple).
Lastly, I'd also like to point out that while older models of this laptop used to have a Light-Indicator Button that could be pressed by users to light up a set of LEDS to inform them about the laptop's current battery-status, that same button and set of LED Battery Indicator Lights are both gone, so that's also missing.
Still, while this simple feature is something that used to exist on so many older XPS 13 devices – which kind of makes it somewhat weird to see it gone – I don't really think that people often relied on using this button, as most of the times you'll normally check your battery while you're actually working on the laptop while having it open, which is typical done by quickly checking the battery status on the laptop's desktop bar.
CONNECTIVITY
Since this version of Dell's XPS 13 Laptop is the company's 2020 high-end model, it already comes with Wi-Fi 6 connectivity, which for nowadays standards, is definitely a plus.
BATTERY & BATTERY LIFE
Lastly, we move on to the laptop's battery and battery life, which actually has the laptop offering you an unrivaled performance, especially when compared to any older models or any competing brands. As such, the 2020 model of the Dell XPS 13 Laptop features incredibly long battery life that can go up to 18 hours and 49 minutes.
OTHER NOTABLE FEATURES
Immediate Booting
Thanks to its twin coil press fit hing design, there's now a built-in lid sensor integrated to the laptop's actual lid that ultimately allows users to convenielty open the lid and have their Dell XPS 13 Laptop powering up (booting / starting up) in milliseconds, no matter what power-state you have selected.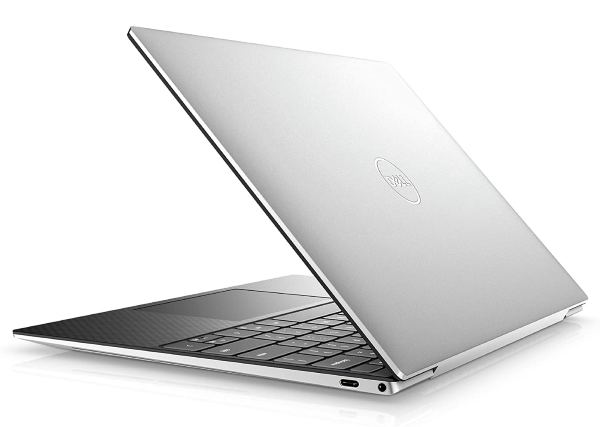 Two Secure Login Methods
With the Dell XPS 13 Laptop model from 2020, your body is your password, and I literally mean that. With that said, you can choose between two secure and personalized ways to log on. Firstly, you can opt to use the already-mention infrared camera sensor, which, as said before, will work with Windows Hello to quickly recognize your face and face biometrics, thus allowing you to unlock your XPS 13 Laptop with secure facial recognition technology.
However, if you prefer, you can alternatively opt to use the built-in fingerprint reader that's integrated right into the laptop's power button (located at the top-right of the keyboard), and this will let you log in to your personal Windows Account with a single touch of a button.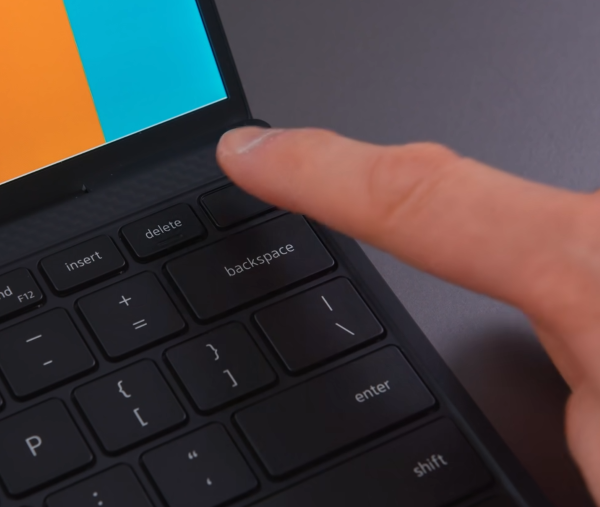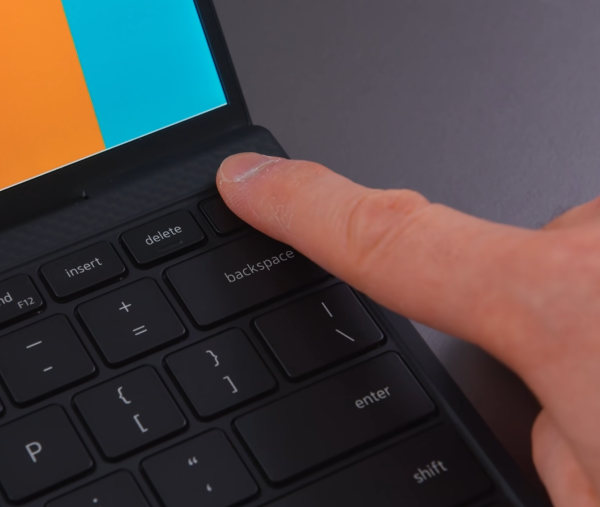 FINAL THOUGHTS
The Dell XPS 13 Laptop is a compact, lightweight and powerful Ultrabook that's equipped with a 13.4-inch Full HD 4K Display, a 10th Gen i7 Processor and an Intel UHD Iris Plus GPU.
Featuring fast-processing speeds with 16 GB RAM and a storage capacity of 512 GB with its user-replaceable SSD (expandable via microSD), a Full HD 720p micro-camera that works with Windows Hello and even Wi-Fi 6 connectivity, this powerful 13-inch ultrabook has literally everything you need to start 2021 the right way.
Additionally, with an incredibly long battery that can last you up to 18 hours and 49 minutes, you're ensured to have enough power for one full day of work, whether you're currently working at the office once again or still working from home.
Lastly, with everything running smoothly on Windows 10 (either Home or Pro versions), you're ensured to have the latest OS updates and features for both your work and entertainment needs.
The Dell XPS 13 Laptop (9300 Series) can come in one of two (x2) different styles: Frost with Arctic White woven glass fiber or Platinum Silver with Black Carbon fiber interior.
If you're interested in buying it, each unit will come at a starting price of $1,200. Keep in mind that this price will depend if you opt to go for a touch or non-touch display screen, as well as with what Windows version you decided to go with (Home or Pro). You can order yours right now, directly from Dell's official shopping page, which you can access by clicking here.