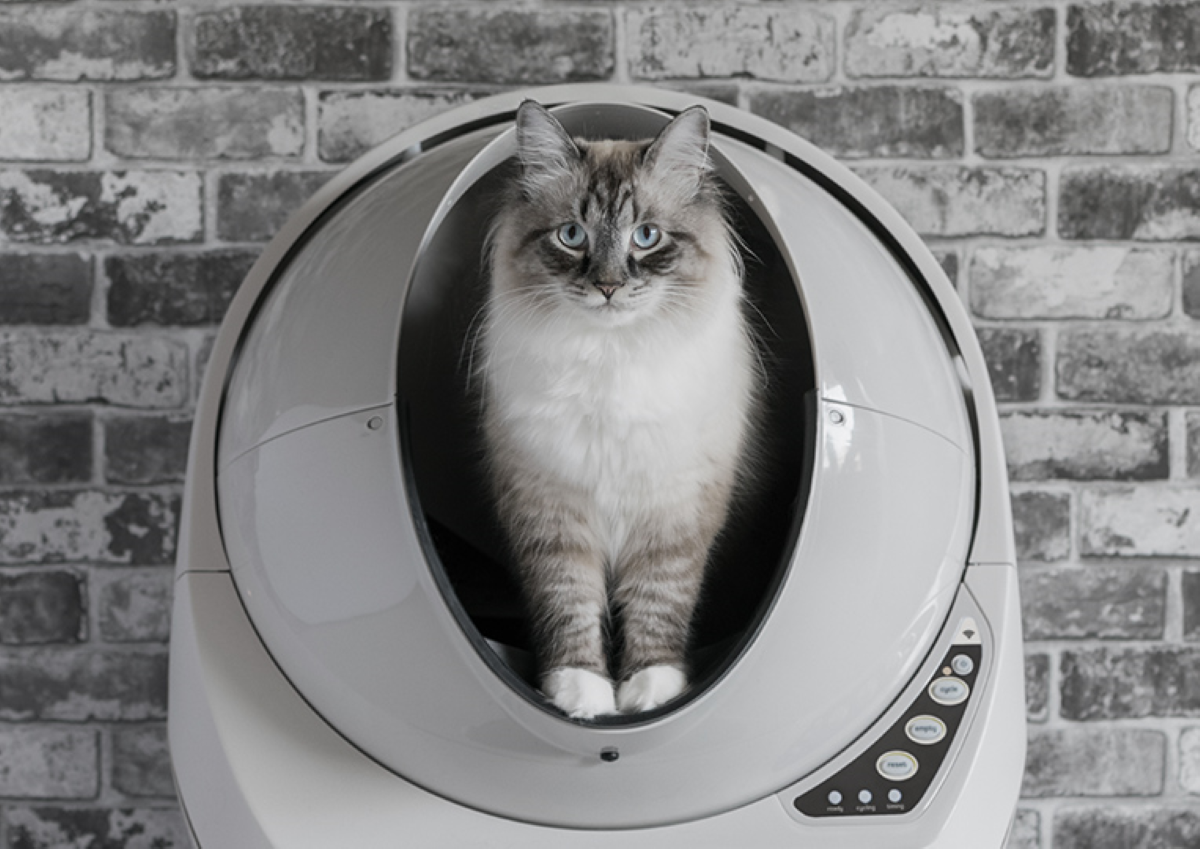 Smart pet gadgets have improved a lot over the last few years, featuring state-of-the-art technology that aims to improve overall quality of life for both pet owners and pets alike. One of those pet gadgets is none other than the Litter-Robot 3 Connect, a self-cleaning smart cat litter box.
This smart cat litter box is the highest-rated, WiFi-enabled, automatic, self-cleaning litter box for cats available on the market. With it, cat owners will never have to scoop cat litter again while giving their kitty a clean bed of litter for each use.
As stated before, this smart cat litter box features self-cleaning technology, which means that after the cat exits the litter box, the Litter-Robot's patented sifting process automatically separates the waste from the litter and deposits the clumps into a waste drawer for easy disposal.
Just two years ago, its designer Brad Baxter showcased his brilliant self-cleaning smart cat litter box at the world's largest annual consumer tech trade show (CES 2018).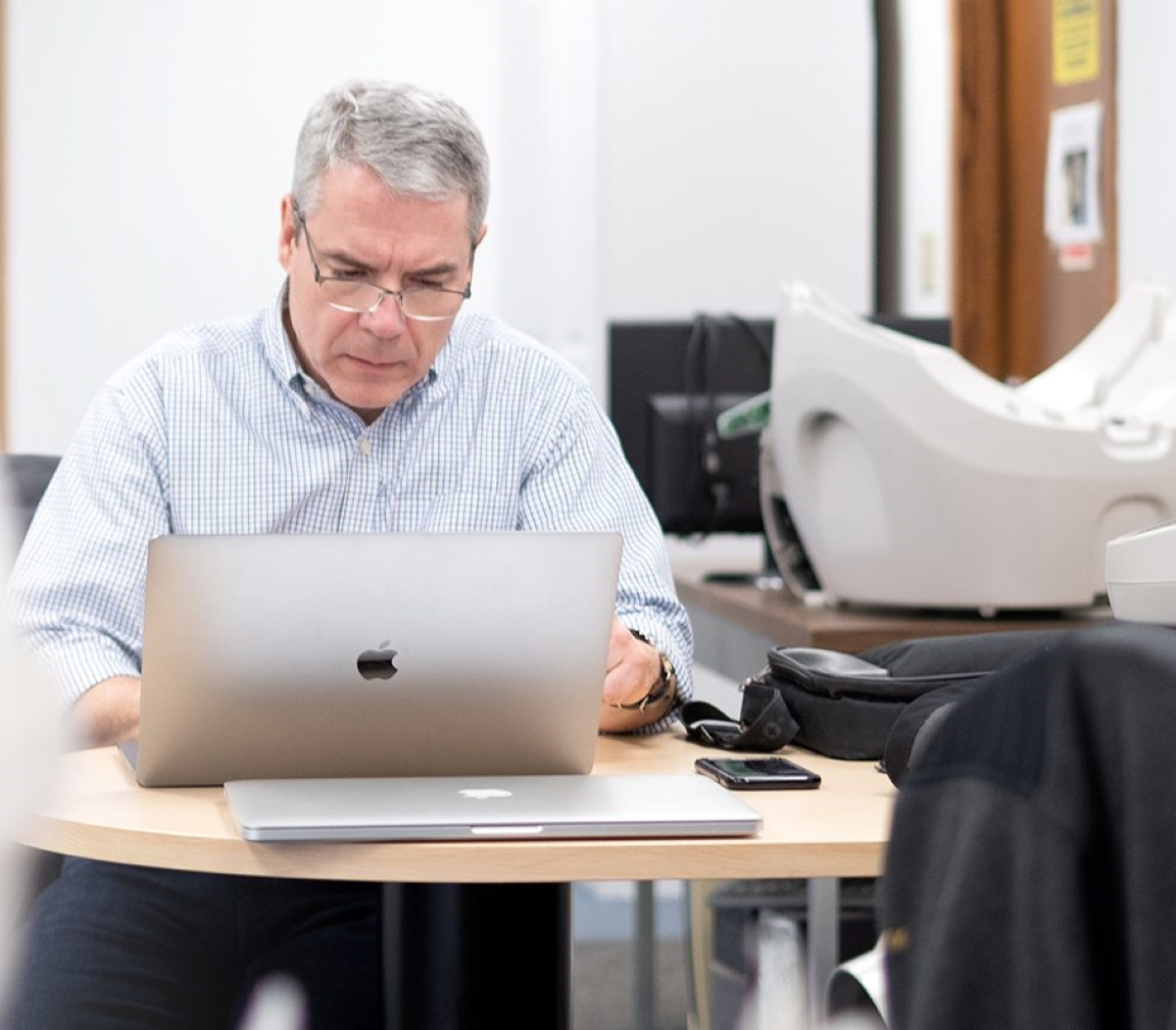 Now, during this year's tech event (CES 2020), Baxter returned with the latest version of his brilliantly designed self-cleaning smart cat litter box, a third iteration of the product called the Litter-Robot 3 Connect.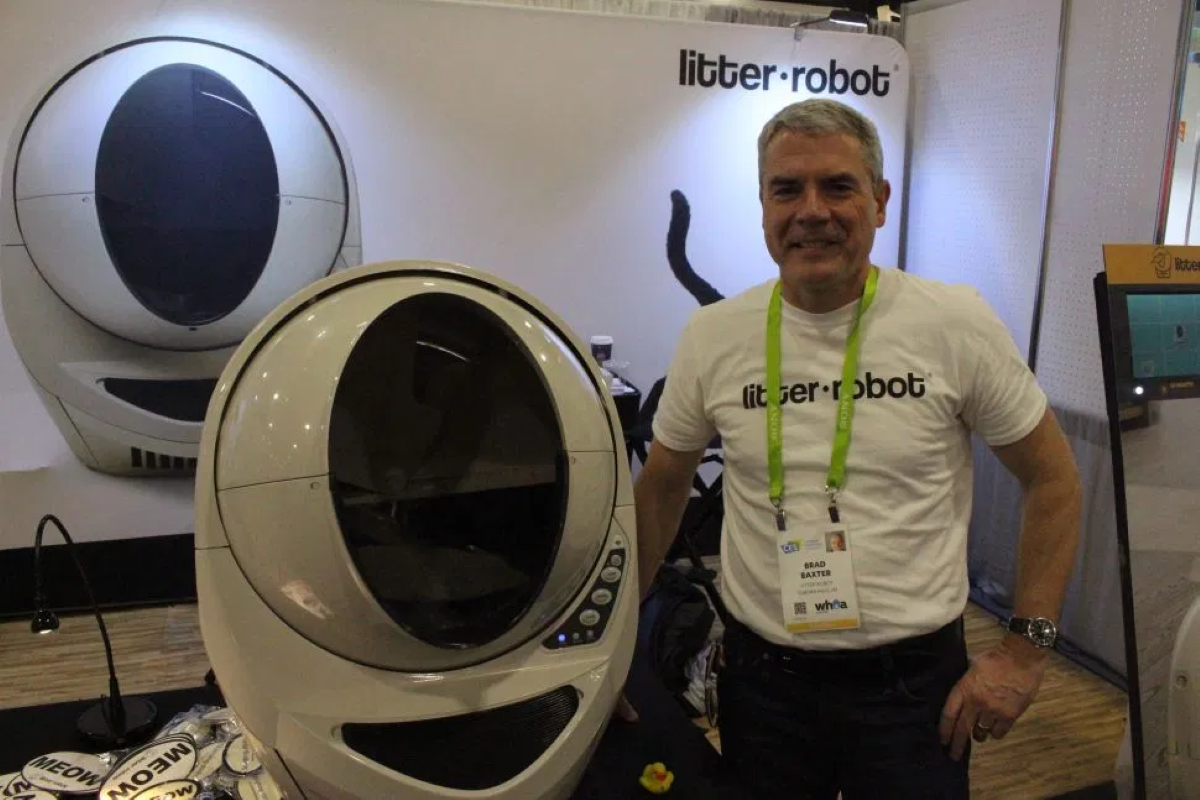 The constant improvement of the Litter-Robot shows exactly why CES is all about pushing the limit of incorporating cutting-edge technology into everyday life, including that of our four-legged friends.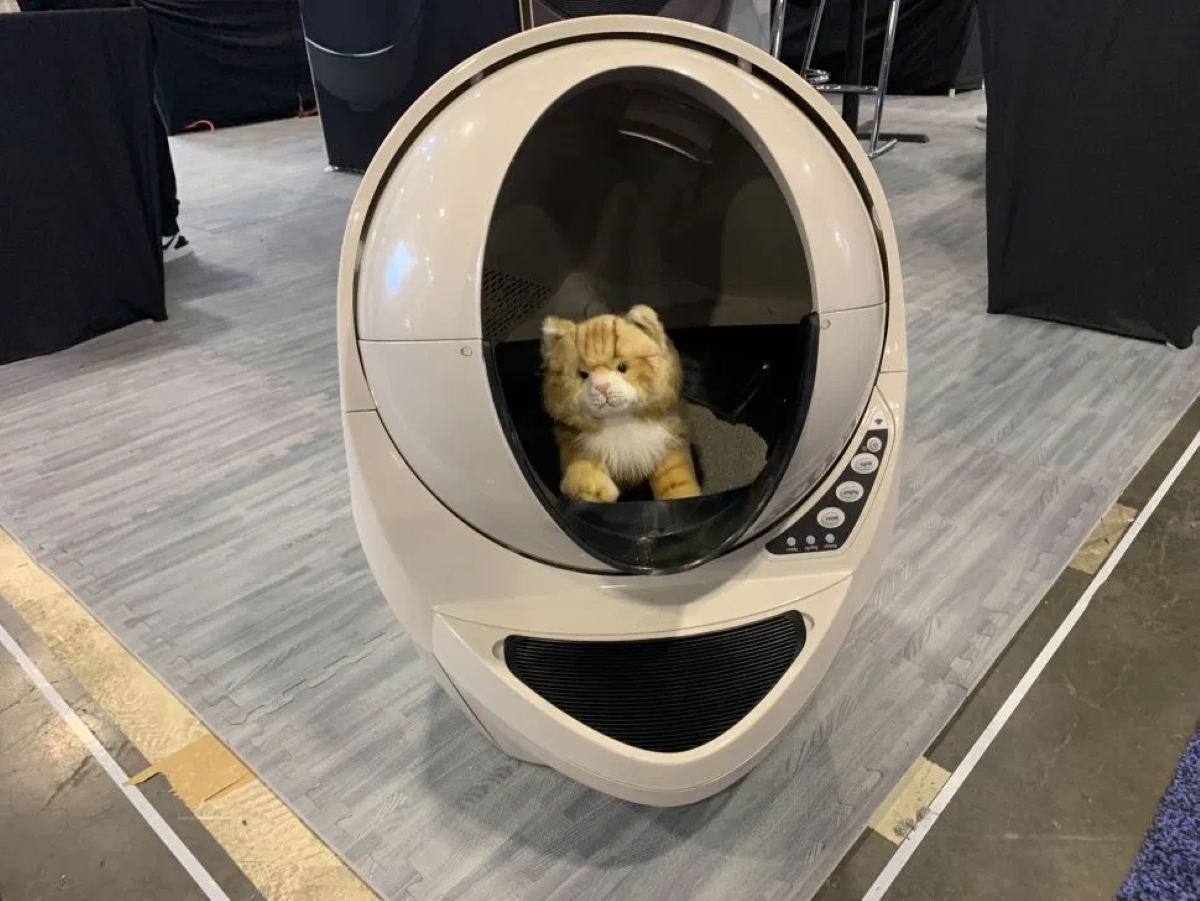 Back to the Litter-Robot 3 Connect. Let's take a detailed look at this amazing self-cleaning smart cat litter box and check everything it has to offer.
DESIGN & SPECS
The unit itself measures 24.25 inches long by 27 inches wide by 29.5 inches tall, weighing 24 lbs. when completely empty (without any kitty litter inside). Its kitty entryway measures 10.25 inches wide by 15.25 inches tall.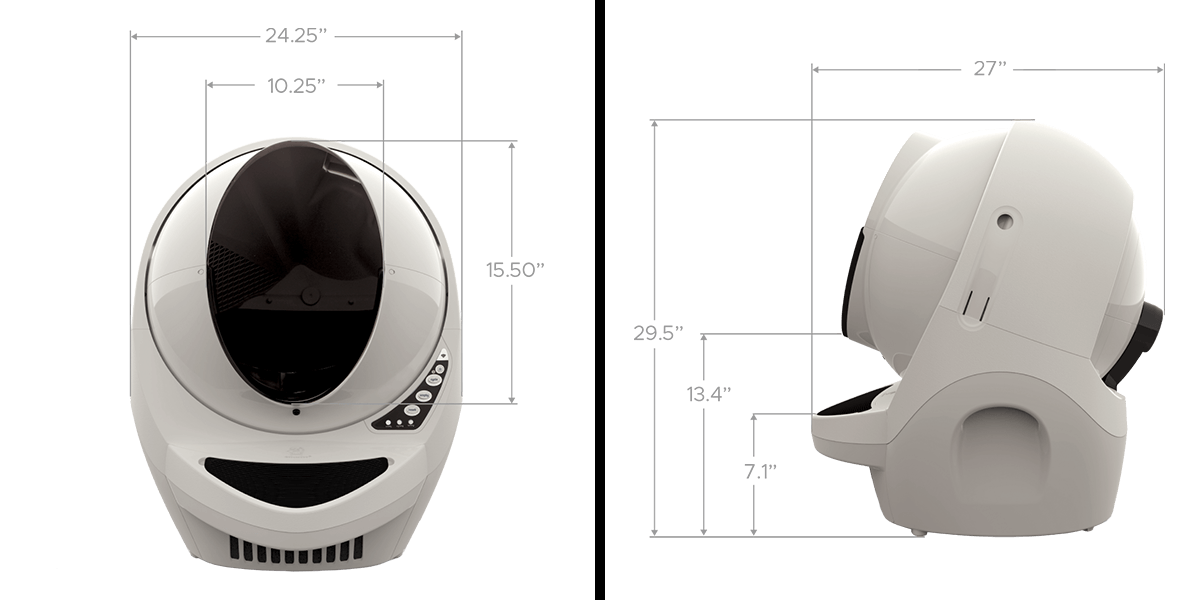 The device's power supply features a max voltage of 15 V.
At the front of the device, just by the right side of the unit, users can find the simple and easy-to-understand user interface. The interface consists (from top to bottom) of a Power Button, a Cycle Button, an Empty Button, a Reset Button, and three LEDs under its operation buttons, which warn cat parents when their machine is full or ready, stopped or cycling, and fault or timing.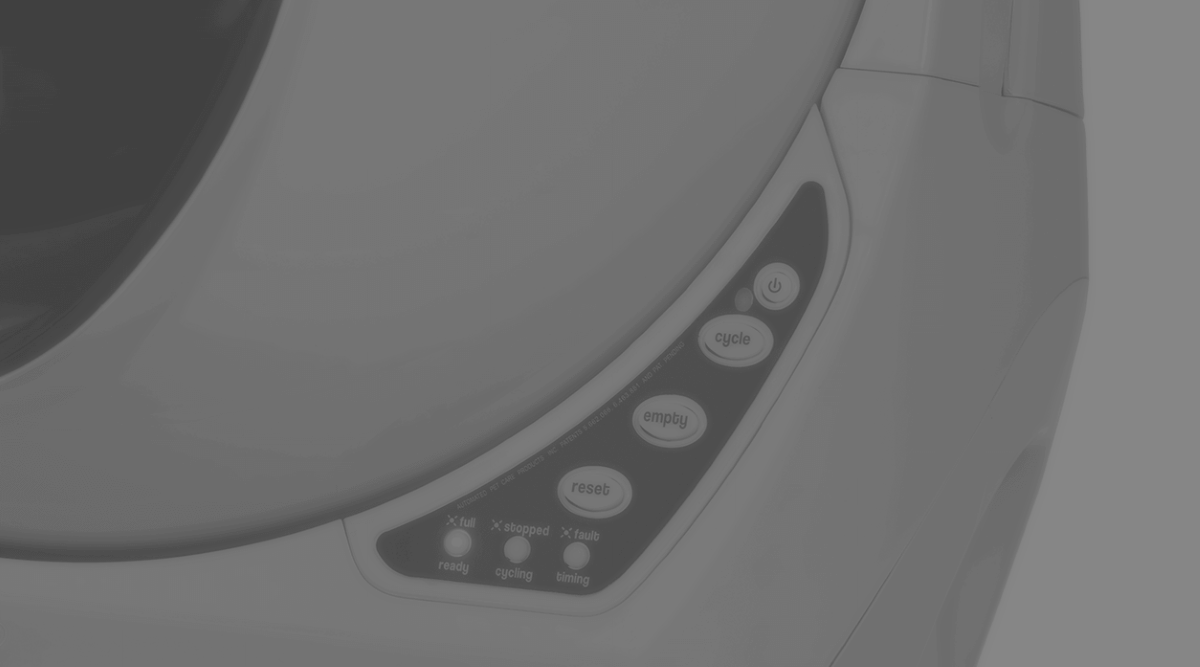 Getting one Litter-Robot 3 Connect for your family means that no special accessories will ever be needed to clean your cat's litter. With the Litter-Robot, cat parents just need to use any clumping litter; that's literally all there is to it.
While the Litter-Robot doesn't require any special consumables, keep in mind that if you're kitty's health needs some extra tracking, you can always use a health monitoring cat litter like the PrettyLitter Health Monitoring Cat Litter (only needed for health concerns). Still, the Litter-Robot also features a Smartphone Companion App that lets users check the litter box's use-history to better understand their cat's health.
The unit was also designed with safety in mind, coming equipped with special sensors that pack motion sensing technology, allowing the device to know when a cat is using the Litter-Robot. If the unit stops for any reason, cat parents will receive a push notification (via the App) to inform them about what's going on.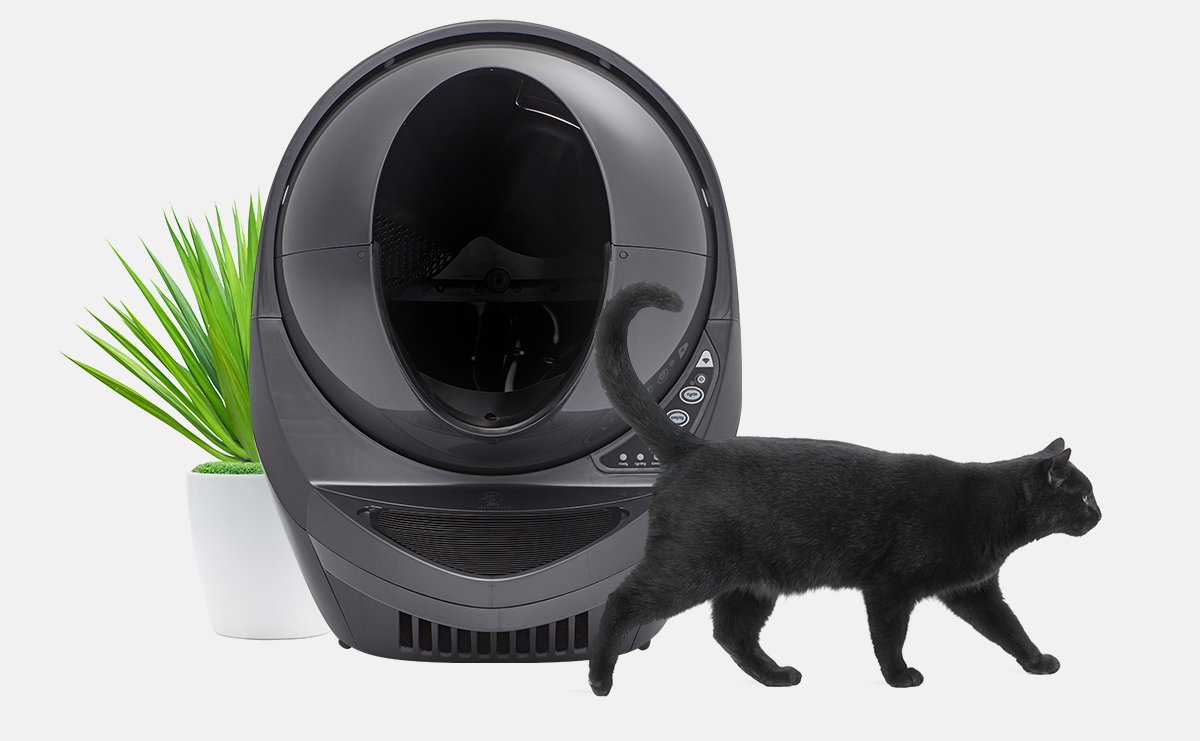 The Litter-Robot is also capable of managing the unpleasant odors released by your cat's litter. The Litter-Robot can easily sift waste within minutes to greatly reduce any unpleasant odors and leave your house fresh and clean. The device comes equipped with a carbon-filtered and fully enclosed waste drawer that features an easy-to-empty design (cat parents can use any bag).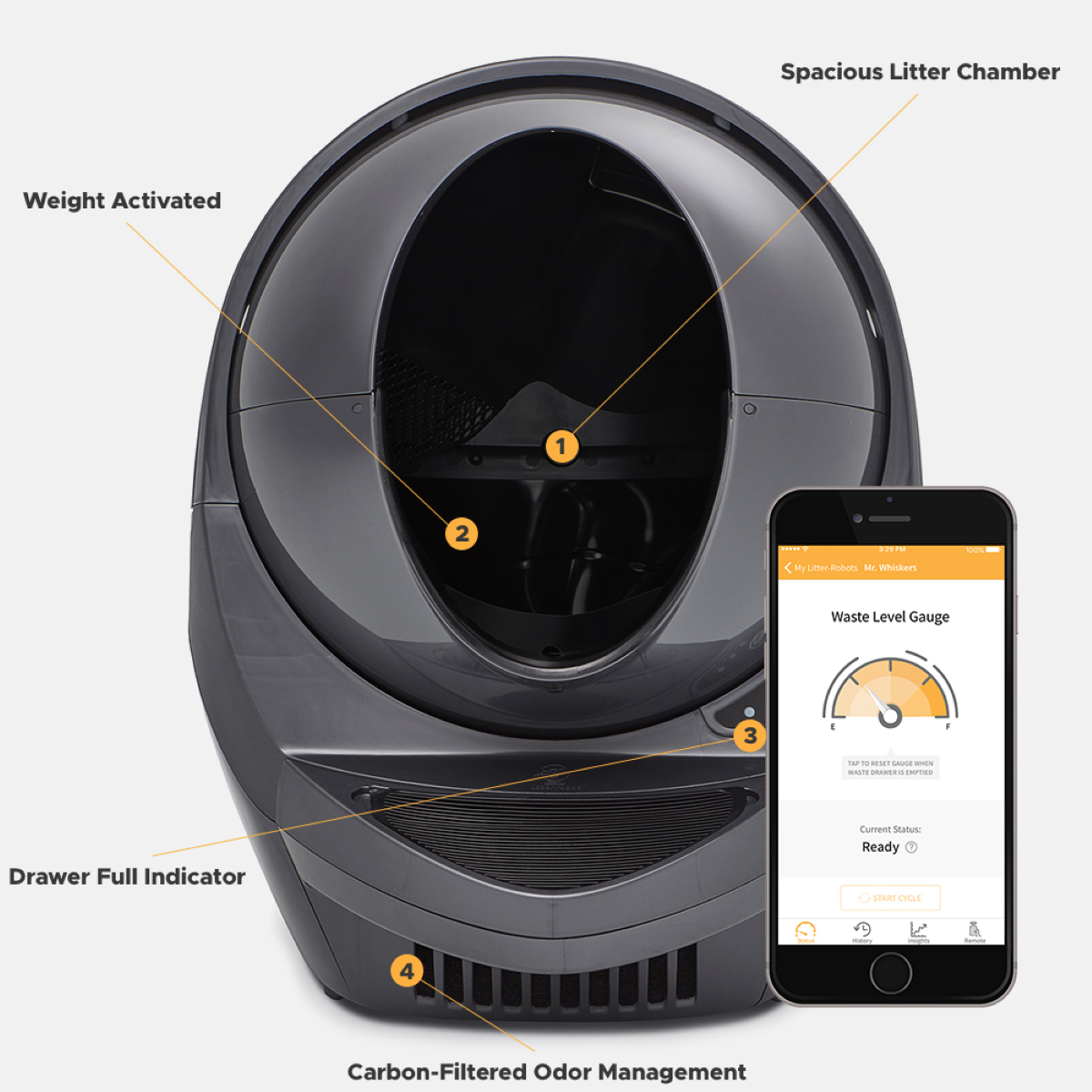 Lastly, the Litter-Robot is also time and cost efficient, meaning its patented sifting process only removes the clumps, ultimately preserving clean litter and saving cat owners some time and money. This way the unit can reduce litter usage by up to 50%, and the best part is that – as stated before – no special accessories required.
WHAT'S IN THE BOX?
The device comes neatly packed, coming together with a couple of accessories. Inside each package, together with a fully assembled Litter-Robot 3 Connect, cat parents will find: one (x1) included carbon filter, a total of three (x3) Drawer Liners, the Litter-Robot's power supply (15 V) and a Litter-Robot user manual.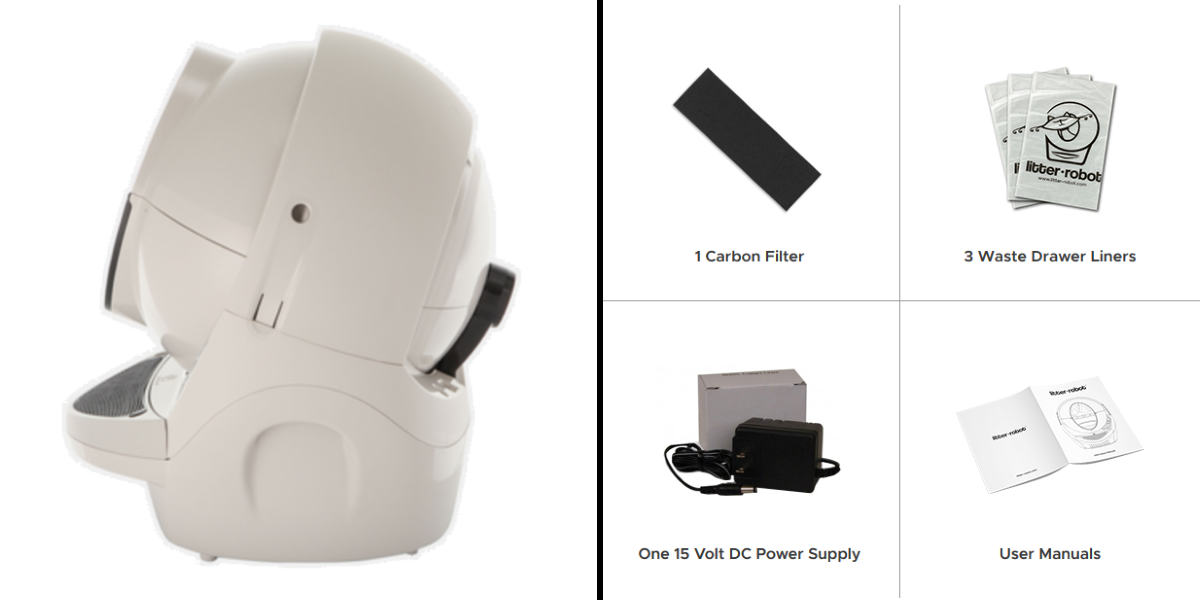 FEATURES
Customizable Push Notifications
With the Litter-Robot's push notifications, never scooping gets even easier. Cat parents can turn on push notifications to know when their Litter-Robot needs some attention.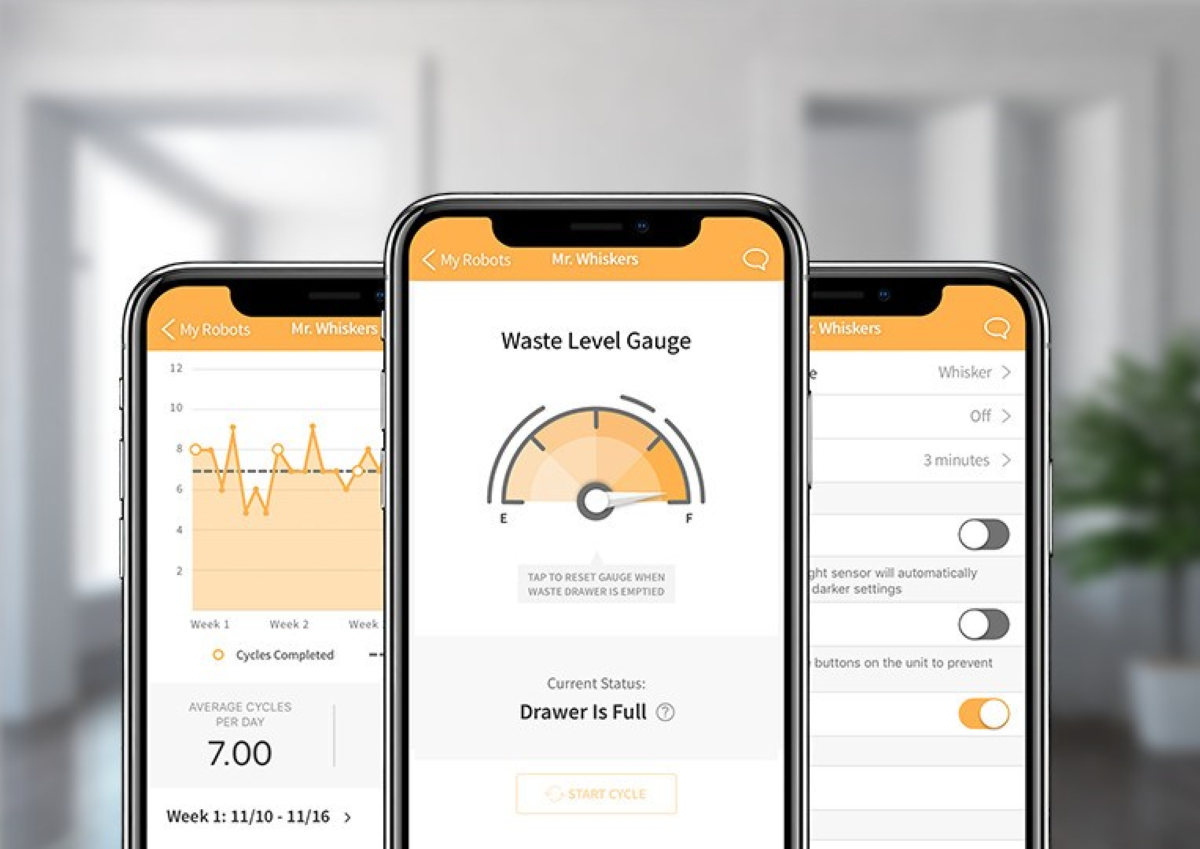 Users can customize alerts to find out when their unit is cycling, when its drawer is full, or when the unit is paused. Users can also connect multiple Litter-Robot units to the app, which ultimately makes life much easier.
Drawer Full Indication
Since the Litter-Robot 3 Connect is Wi-Fi enabled you can check its drawer at any time via its Smartphone Companion App, allowing you to keep the litter box out of sight but not out of mind.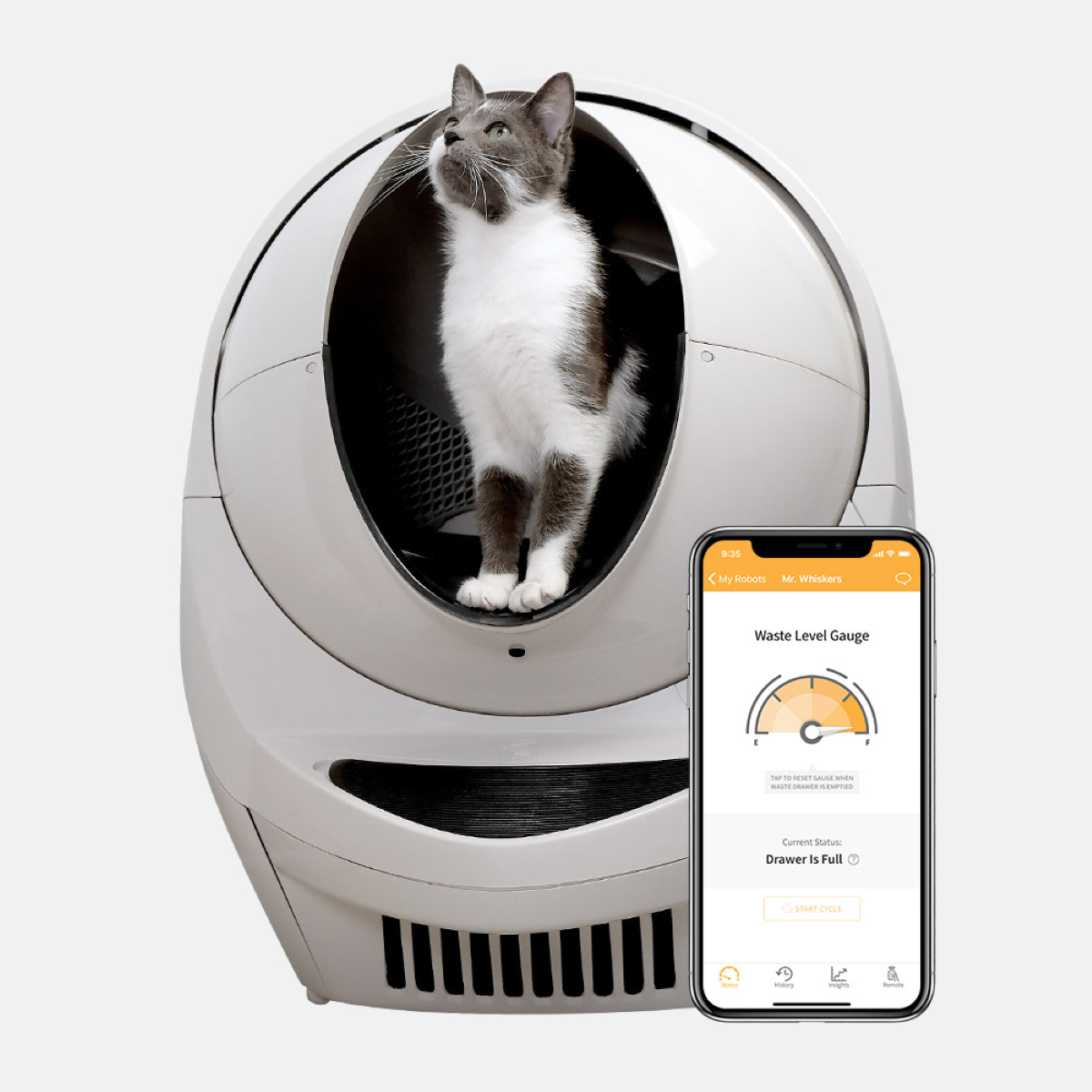 Cat owners can check the waste drawer level from wherever they are, letting them know that their cat always has a clean litter box. Whenever the waste drawer is full, the Litter-Robot will send you a push notification.
Sleep Mode
Activating the 8-hour sleep mode will stop the unit from cycling during the night.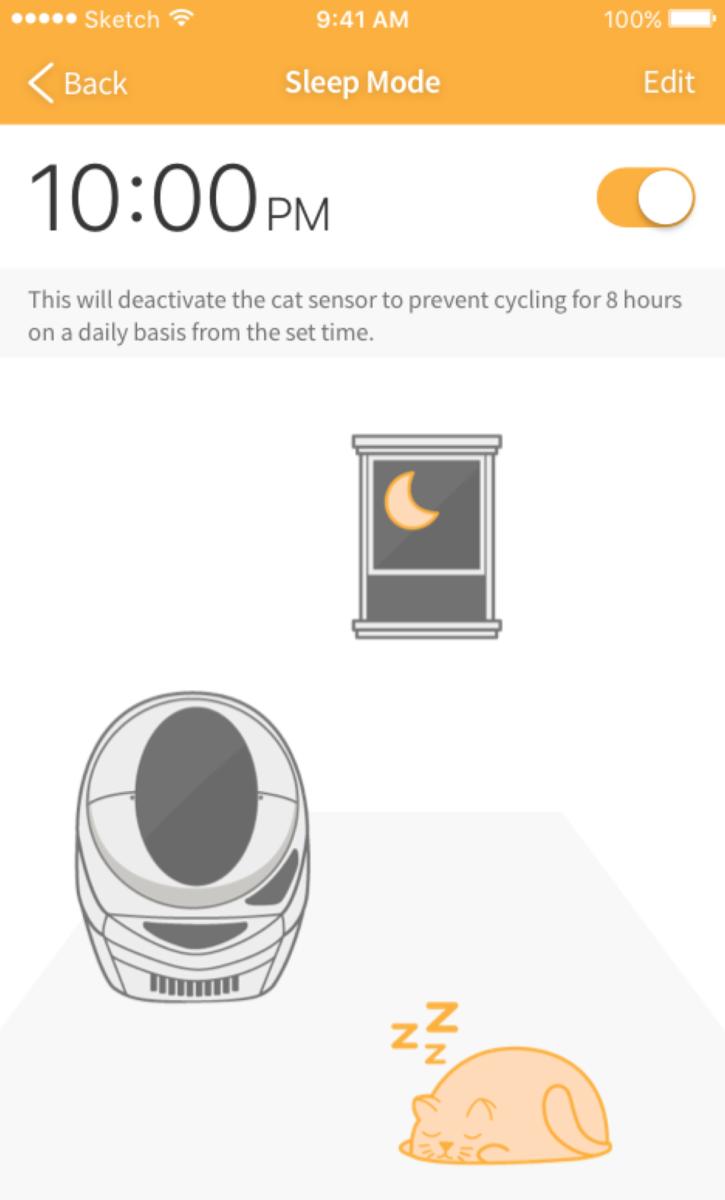 Automatic Night Light
The Litter-Robot also comes equipped with an Automatic Night Light that helps elderly cats during nighttime visits.
Adjustable Cycle Timer
With the Cycle Button cat owners can choose between a 3, 7, or 15-minute delay before the unit cycles.
Control Panel Lockout
We all know cats are some of the most curious animals ever and with so many buttons on the side of the machine, some kitties will undoubtedly get curious. However, as stated before, the unit was designed with safety in mind.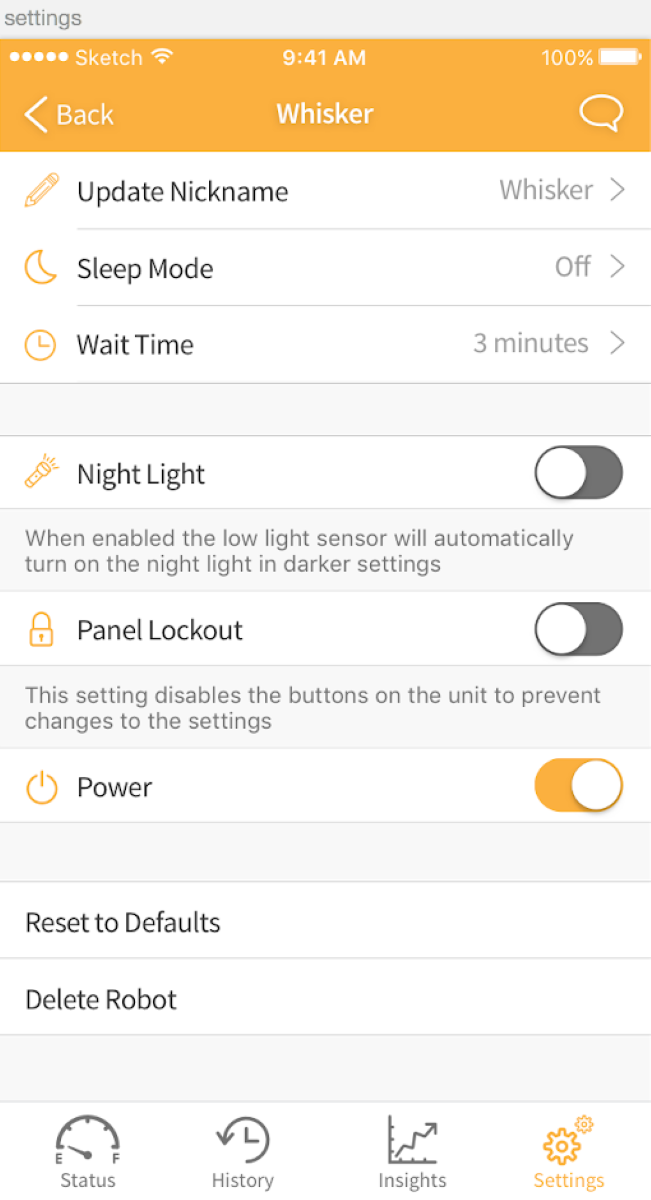 Cat owners can lock out all button functions on the control panel to protect their cats from getting hurt or scared, which in turn offers them some peace of mind whenever they cat (or cats) is (are) taking a walk around the machine.
Great for Multiple Cats
The Litter-Robot is great for multiple-cat households, which means that if you have more than one friendly feline living with you, you won't have any problems at all.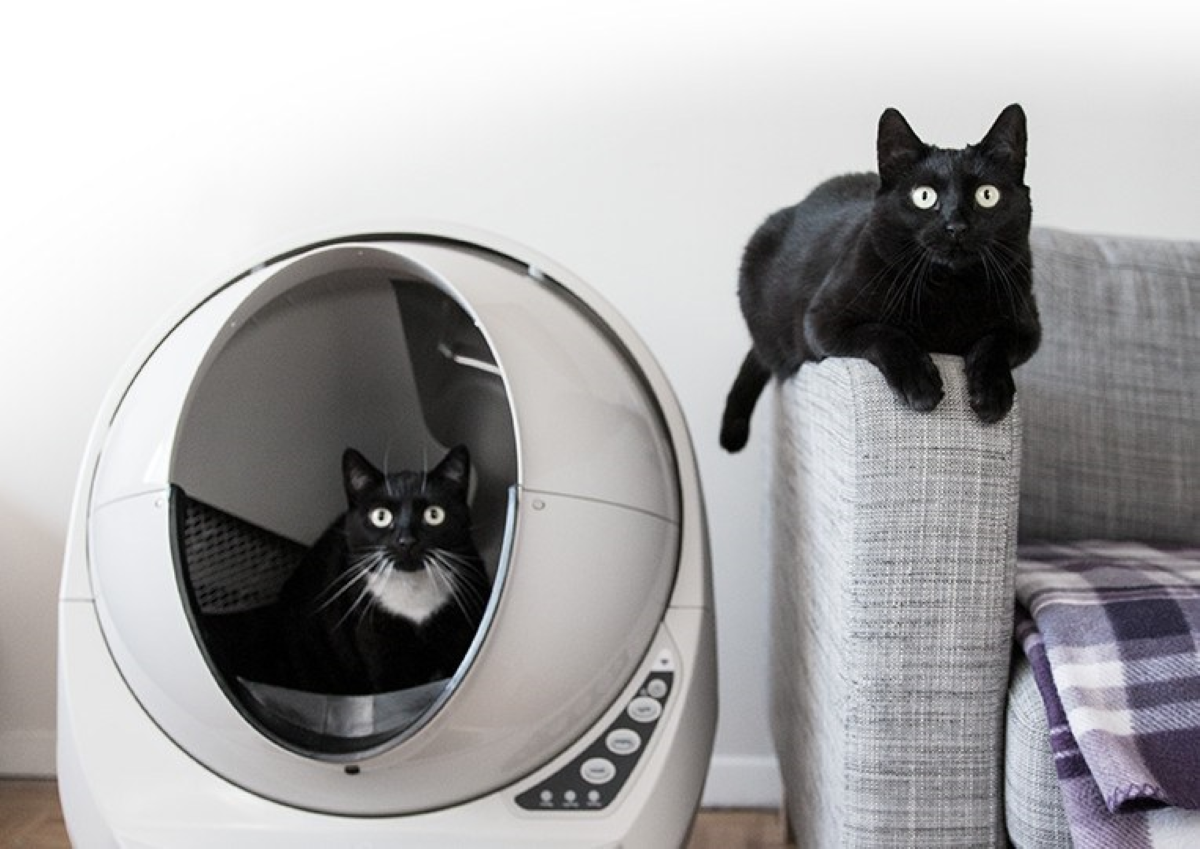 Together with its companion App (the Litter-Robot Connect App), you can view your cats' usage insights and see trends in their bathroom behaviors.
Litter-Robot Connect App
The Litter-Robot Connect App is available for both iOS and Android and is compatible with Apple mobile devices with iOS 9.0 or greater and Android mobile devices 6.0 or greater.
The Connect App gives you additional freedom from your litter box duties by allowing you to view the waste drawer level, get customized notifications, troubleshoot, and see recent usage history for insights into your cat's health.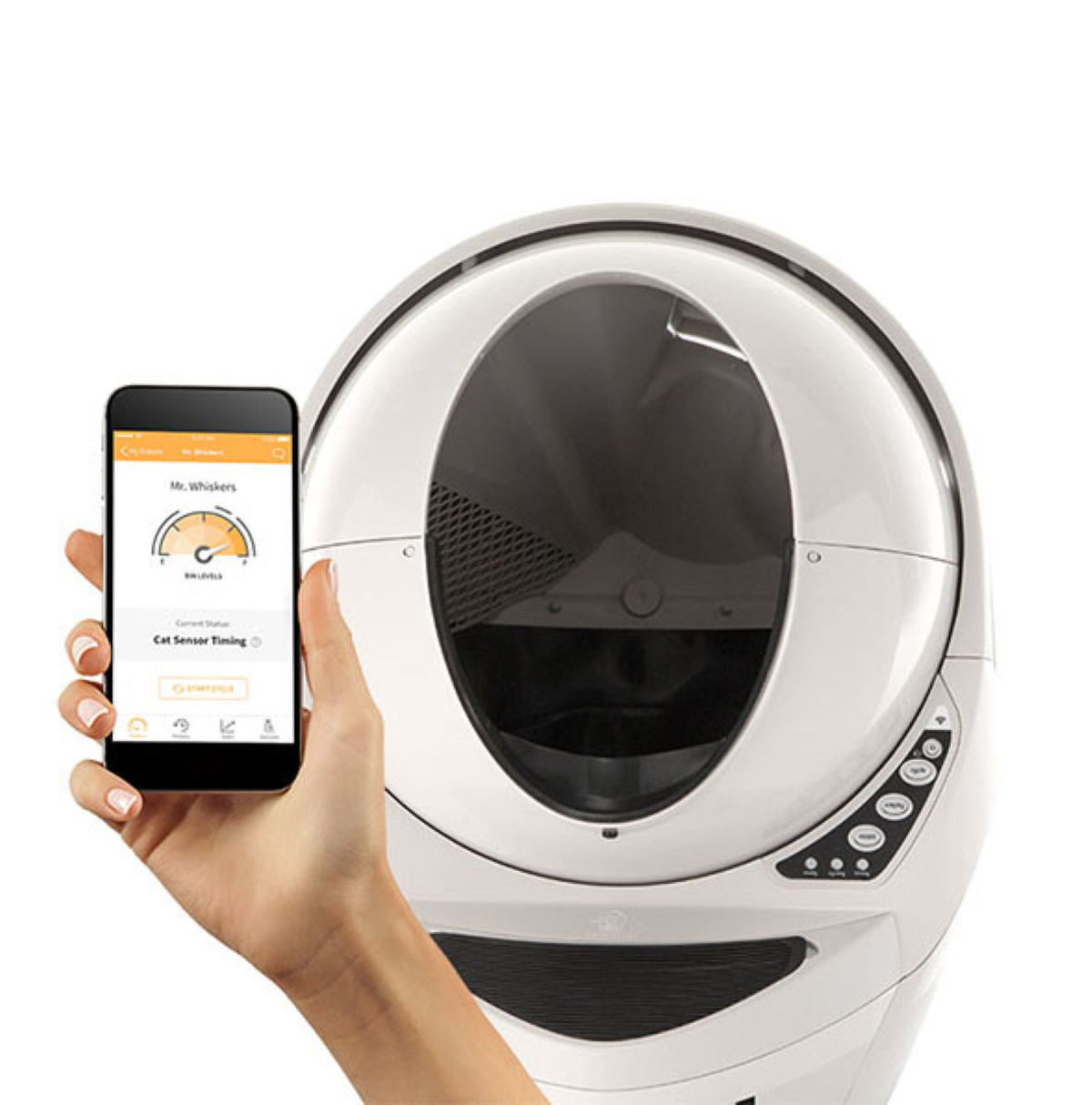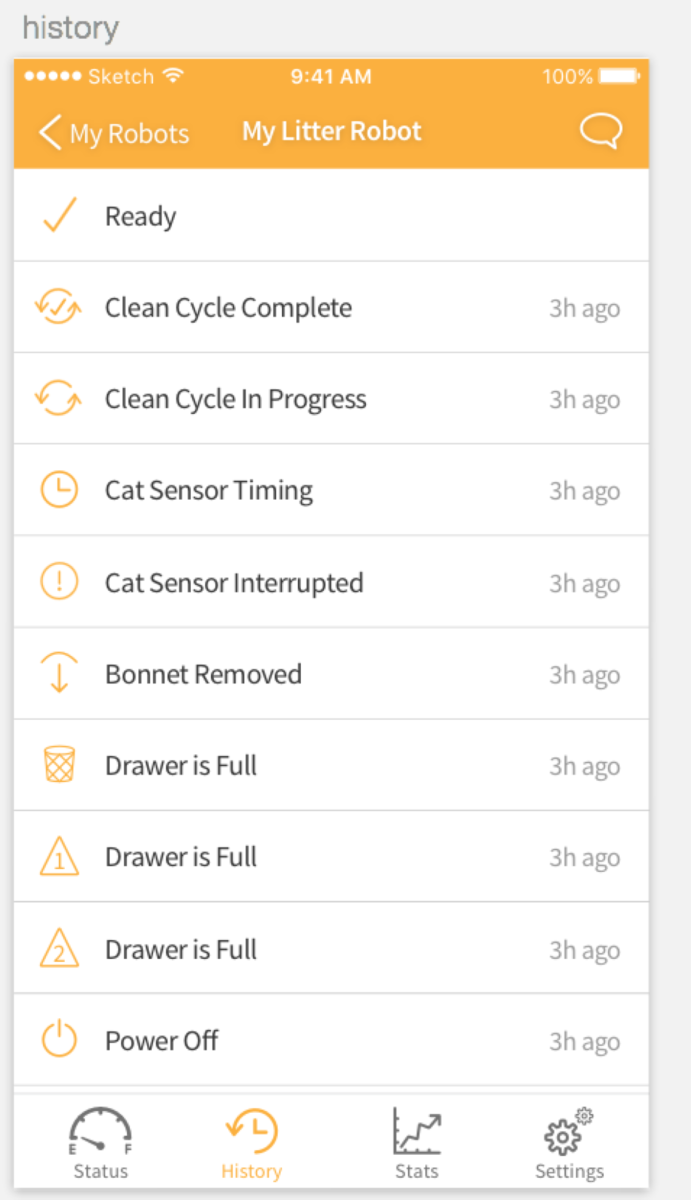 FINAL THOUGHTS
The Litter-Robot 3 Connect a WiFi-enabled, automatic, self-cleaning cat litter box that ensures cat owners never have to scoop cat litter again while giving their kitty a clean bed of litter for each use.
This smart cat litter box is without a doubt one of the best on the market (if not the best).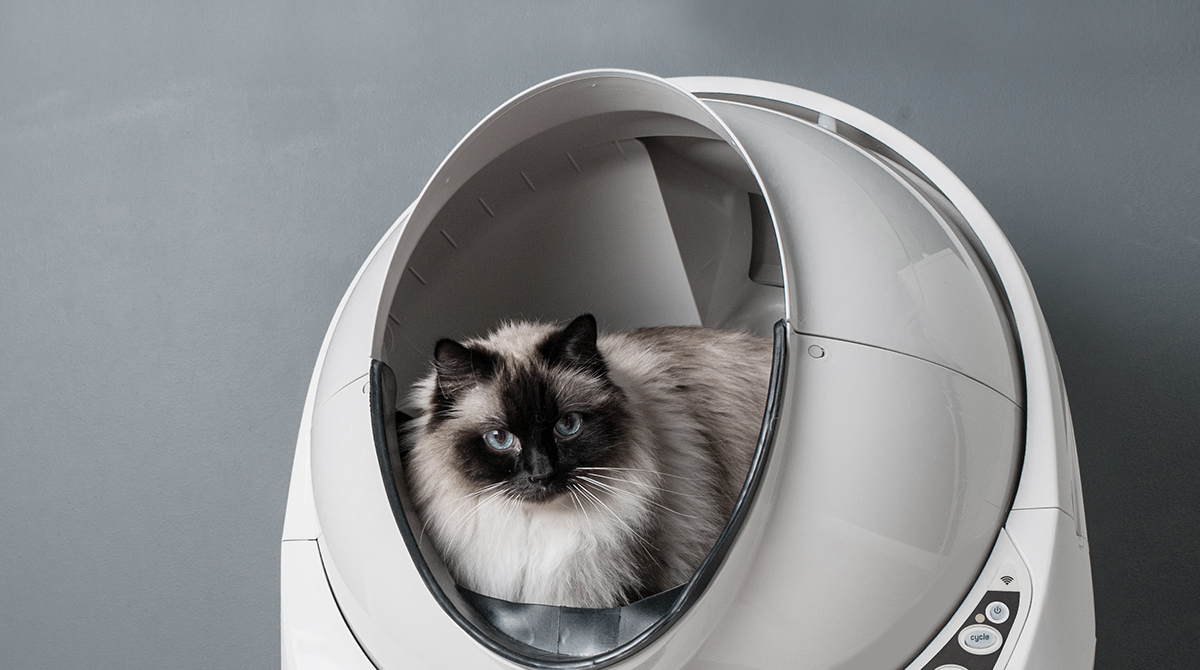 The Litter-Robot is currently available in two different color models: Black or White.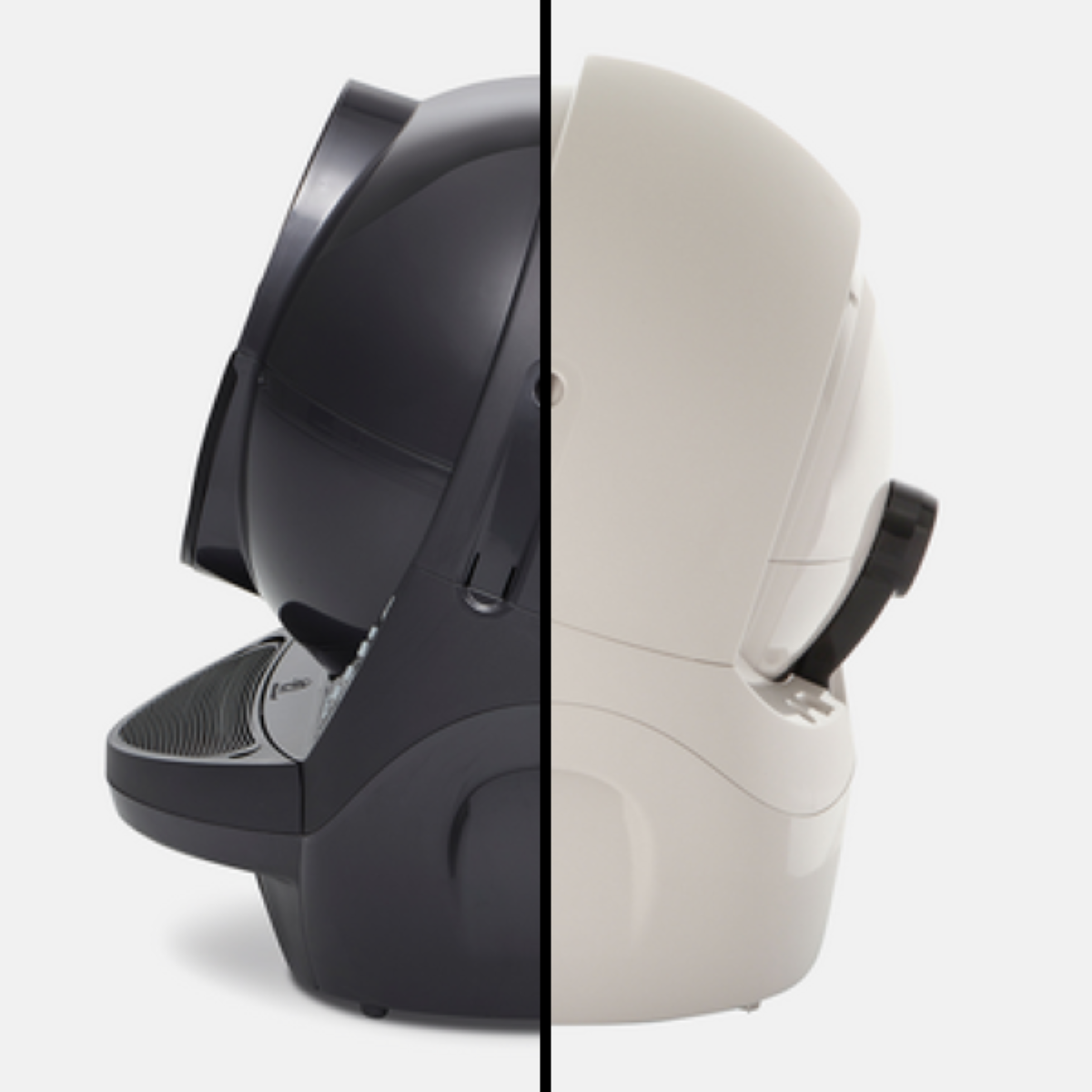 If you're interested in buying the Litter-Robot 3 Connect, each unit is currently going for $500 and comes with a 90-day money-back guarantee and an 18-month warranty. You can order yours online, directly from the official shopping page, which you can access by clicking here.