The Tonal, Stationary Exercise Bikes, The Hydrow, and The Mirror are some of the best Smart Home Gym Equipment for gym enthusiasts in 2021.
Due to the ongoing Coronavirus pandemic, many people are limited to living in their homes amidst the lockdown, with many currently following a work-from-home regime. Not only that, but the current Social Distancing practices are also limiting people's contact with their friends and family members, at least for now. Regardless, for many people who are conscious about their health and are committed to go to the gym to stay fit, the mandatory lockdown that quickly came with the pandemic has been quite frustrating. Consequently, that also means a possible loss in gym gains and muscular development for gym enthusiasts. Nevertheless, thanks to the wonders of technology, there are many smart home gym equipment options available that you can consider and use to exercise at home while you can't get back to the gym. Best of all, these smart workout machines allow users to evaluate their physical fitness in a smart, quick, and very satisfactory manner.
Today, just like our Smartphones, our homes have also become smart due to the many improvements within the tech industry. Speaking of Smart Homes, a great option for these lockdown times is the Spectrum Mobile Plans, which allows to control every single device in your home that is Wi-Fi-enabled and connected to the internet with absolutely no Mobile Data restrictions whatsoever. In sum, a Mobile Plan like this one can ultimately allow you to have better control of all of your Smart Home gadgets, and that even includes your smart gym equipment, which can also be connected to the internet.
By doing so, you can rest assured that all the data and information that your smart gym equipment provides is both reliable and valid. To find out more about your smart gym equipment options, check out all of the following options, which are all great choices to go with.
Tonal Home Gym and Personal Trainer
The Tonal Home Gym and Personal Trainer is an excellent smart home gym machine that uses digital weights to replace your personal trainer at home. To put it simply, this is a unique weight machine that comes with a built-in coach integrated to it. Its digital coach can give you real-time feedback regarding your workout routine, and the machine's smart coach also comes with a plethora of other features. For example, it can tell you to adjust your diet.
Furthermore, the Tonal can also allow users to get access to a range of fitness-analytic tools, which allows you to have a better understanding of your workout, and users can use that information to improve their workout regimes.
The way this machine works is by utilizing electromagnets that help it to create resistance as you pull the strings attached to the device while having it placed against a wall. Depending on your performance, this smart home gym machine will provide you different insights and recommendations against various health factors.
Stationary Exercise Bikes
Home Gym Bikes have always been a great piece of equipment for those who love to exercise. By adding smart capabilities to these awesome gadgets, you can use them for some muscular mass gain and weight loss, depending upon your preferences.
Overall, the primary purpose of a smart bike is to enable you to tone your legs and lose extra calories. Additionally, these devices can also help you in lowering your blood sugar levels as well as help you to release calming hormones (which we all commonly know as "adrenaline").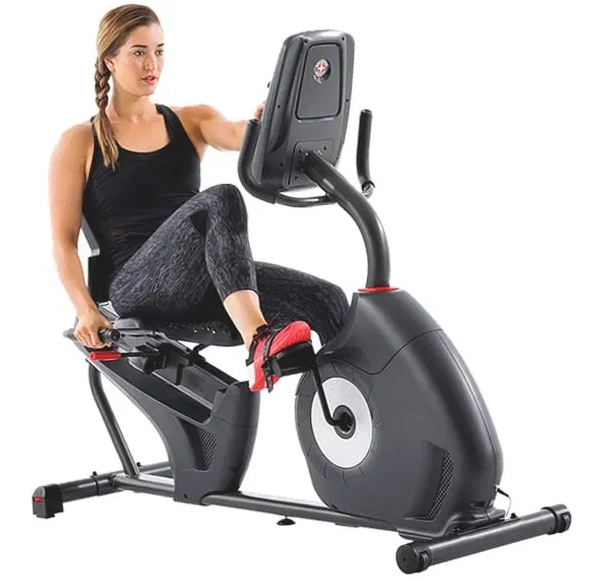 On the other hand, these smart fitness bikes are also great tools to help you lower the levels of a specific stress hormone that is popularly known as "cortisol". That said, if you're currently on your fitness journey, make sure to use a smart fitness bike if you ever can't go for a daily walk.
Smart bikes can provide you with many data insights such as calories burned, your current pulse rate, and your blood pressure levels, just to name a few.
Hydrow Connected Rower
The Hydrow Connected Rower is another smart gym equipment that you can use at home. This immersive "at-home" smart rowing machine comes equipped with rolling equipment that allows you to participate in rowing workouts by simply placing the machine on the floor and within your training area.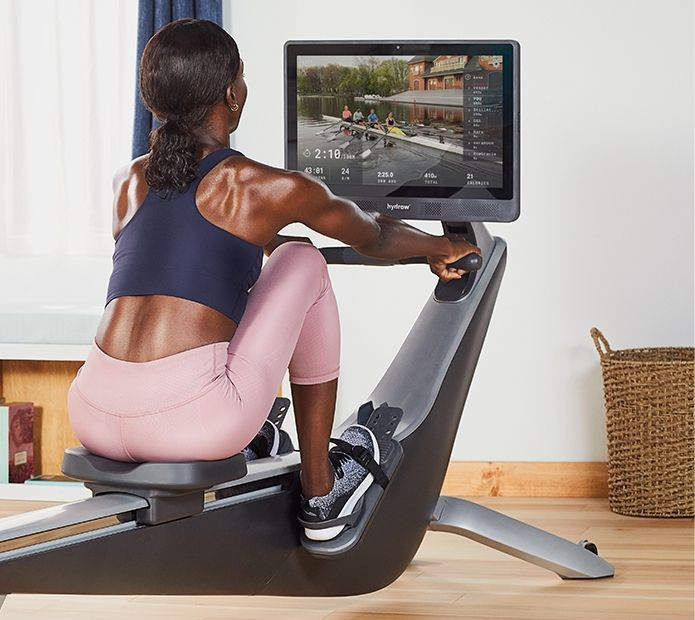 Additionally, the machine's provided conductive gym exercise that's based on its electromagnetic computer control system ultimately allows users to get access to many health-focused insights. This basically allows users to see if their workout is indeed benefiting them or not. It's worth to mention that you can change a few parameters in the Hydrow's workout settings at the time of the unit's adjustment. If you ever decide to get the Hydrow, we hope that you're to have an awesome gym experience.
Mirror – The Invisible Smart Home Gym
The Mirror is a nearly invisible smart home gym equipment that is designed as a full-sized mirror, coming equipped with a built-in LCD screen that offers you easy-to-follow tutorials for many exercises and on-demand classes for unique workout routines.
To set it up, you just have to hang it on a wall, and you can basically use it for a an entire lifetime, but if you ever require, you can also shift the unit from one place to another without any issues whatsoever. Furthermore, this smart home gym device is quite easy to carry, as it is designed to be completely portable.
CONCLUSION
Whether you end up picking a smart fitness bike, a smart rowing system, or even a smart home gym personal trainer, these smart home gym devices can all provide you with many fitness (and health) benefits.
As such, no matter what you decide to go for, you'll still be guaranteed to have several health and fitness benefits by picking up any of these awesome Smart gym equipment systems.