Not long after GigaDrive announced the launch of its brand-new NVMe (Non-Volatile Memory Express) External SSD, the company was able to reach the funding goal for its newest gadget in just one single hour. What's even more impressive is that just a few weeks after, during the 8th week of its live Indiegogo Crowdfunding Campaign, the funding of the GigaDrive External SSD reached a whopping $1,100,000. As a matter of fact, the company's achievement was so astonishing that it was even featured in Forbes' website just shortly after it occurred.
Even crazier than that, since the start of May 2021, that value has been pushed even further, with over $100.000 being additionally funded by even more tech-fans from all over the world. To the date of writing (May 6th, 2021), the company has already raised over $1.2 million for its soon-to-be-shipped GigaDrive NVMe External SSD, but with another seven days still left for its Indiegogo Crowdfunding Campaign to come to an end, that amount will surely be raised once again.
It's important to note that what allowed the company to reach this jaw-dropping crowdfunding target-value that quickly and in such a short amount of time was none other than its super-confident claims of having officially released the "World's Fastest NVMe External SSD" available to date. And I'd like to highlight that "EXTERNAL" part (which we'll known why just shortly ahead).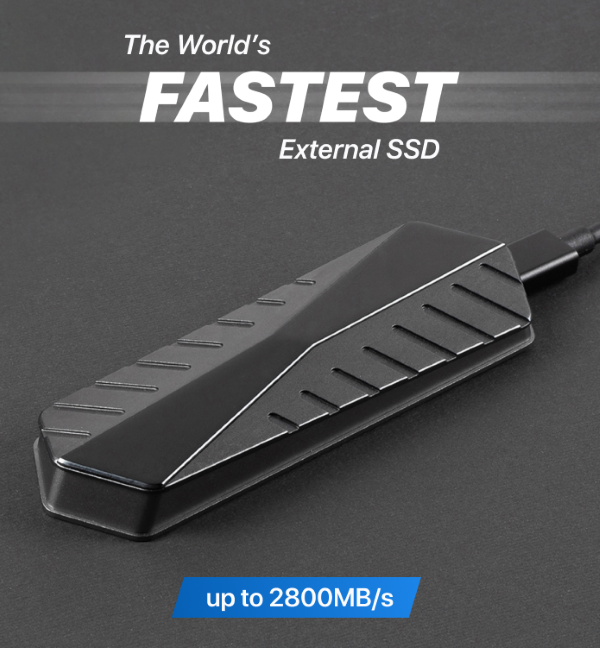 Now, let's have a complete look at everything we know about the GigaDrive External SSD.
Design
Starting with a quick overlook at the GigaDrive External SSD's design, this brand-new NVMe External SSD pocket-sized unit features a "sleek, sci-fi-inspired design" that ultimately gives it a very minimalist and super aesthetically pleasing look.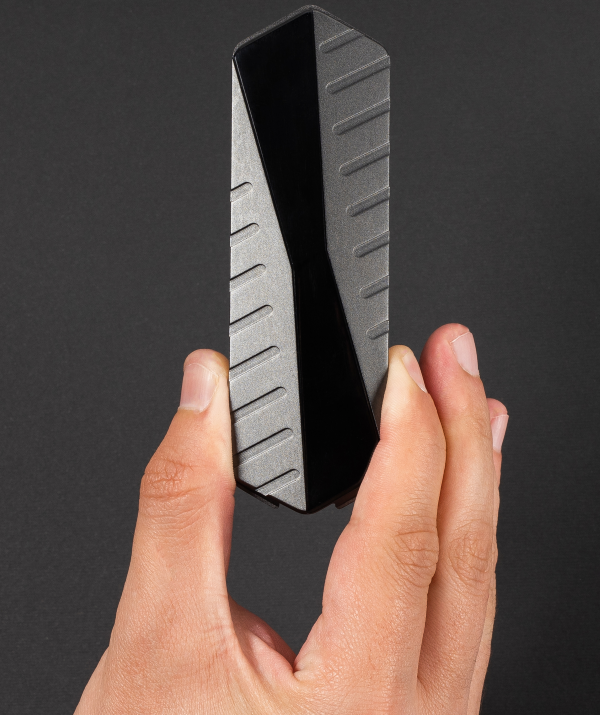 Overall, this gorgeous NVMe External SSD features a reasonably durable and extra-rugged design.
Additionally, while its rugged design makes the GigaDrive both shock-proof (supporting up to 10 ft. drops) and dust-proof, its IP67 rating also makes the unit completely water-proof (up to 3 ft. / 1m of being fully submerged underwater).
Lastly, the GigaDrive also boasts an Anti-Overheating technology, which works based on built-in heatsinks, its Dual Thermal Pads, and its optimized surface area, for which this unique combination of components ultimately helps the unit to better regulate its operating temperatures.
It's also worth to mention that the GigaDrive's case is made of aluminum, which helps to ensure that the whole unit has a steady and "evened-out" heat dissipation so that it never gets too hot.
Never-Seen-Before Reading & Writing Speeds
Featuring the best read and write speeds that are currently available for any NVMe External SSD on the market, the GigaDrive NVMe External SSD can reach up to 2,800MB/s of reading and writing speeds, which, according to the company's own statement within its Official Press Release, is "a milestone unreachable for any other external SSD."
For PC gamers specifically, GigaDrive's recently released NVMe External SSD could very well be a revolutionary game-changer storage unit. The main reason why it because while traditional external SSDs promise to boost your storage capacity in a simple and affordable way, they all come with a downside, which is none other than the fact that these less-powerful external units are often hindered by their classical speed bottlenecks, which ends up making them slower than internal drives.
Even so, contrarily to your standard external SSDs, GigaDrive's NVMe External SSD is powered by Thunderbolt4 and USB4, and thanks to this next-generation universal cable connectivity solution, that ultimately allows this revolutionary External SSD to hit stable read and write speeds of up to 2,800 MB/s.
In other words, by relying on the connection speeds of Thunderbolt 4 and USB4, the GigaDrive External SSD is able to eliminate any speed bottlenecks, thus making it much faster to write and read to than any one external drive that you can currently find available.
In fact, its 2,800 MB/s read and write speeds are almost as fast as some of the fastest internal drives like the PCIe Gen 3.0 NVMe M.2 SSDs. Once, again, I'd like to highlight that the GigaDrive External SSD was designed as an "EXTERNAL" SSD.
For comparison, the PCIe Gen 3.0 NVMe M.2 SSD internal drives can reach up to 3,500MBps speeds, while newer PCIe Gen 4.0-based drives can reach up to 7,000MBps.
That said, with reading and writing speeds like the ones offered by GigaDrive's newly released External SSD, your gaming rig could actually be able to readily and very quickly access any of your game files (or any other digital assets) stored on the external drive without bringing any noticeable slowdowns.
Storage System
The GigaDrive's storage system is mainly powered by its DRAM cache chip, which pre-processes transfers so files can copy simultaneously and efficiently.
Basically, whenever a users starts their data transfer process, the GigaDrive's storage system will automatically check the SSD to see where it will store the data. Thanks to this "catalog", the GigaDrive already knows exactly where its already-existing data is stored, which consequently allows it know exactly where it should add any new data.
For those curious, this is the same system that your computer's DDR4 SDRAM is based on, with the main difference here being that, for the GigaDrive's case, it comes applied directly to this awesome SSD.
Capacity
Regarding the GigaDrive's Storage Capacity, this awesome and revolutionary NVMe External SSD will be shipping with its own enclosure coming in four (x4) different storage capacity options, and those are: 1TB, 2TB, 4TB, and 8TB options.
Compatibility
Compability-wise, according to the company's statement within its Official Press Release, users will be able to use their GigaDrive with any USB-C and USB-A Mac devices like Macs or PCs that feature either Thunderbolt 3 or Thunderbolt 4 ports, and this External SSD will also be fully-compatible with Smartphones, tablets, both Photo and Video Cameras, and even Gaming Consoles like the Xbox, Playstation, etc.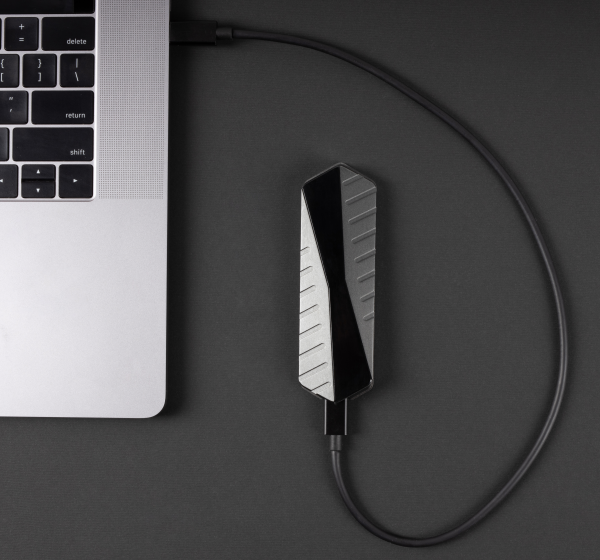 That said, given its Thunderbolt 4 support, the GigaDrive would also be a great gadget to have around for any proud owner of Apple's brand-new M1-powered iPad Pro.
FINAL THOUGHTS
Designed to work as an ultra-fast NVMe External SSD, the GigaDrive promises to take the "file-transferring world" to a whole new level.
In sum, both gamers as well as many professionals that rely on using a computer for transferring their digital data on a daily basis would greatly benefit from having this unique External SSD.
Since the start of its Indiegogo Crowdfunding Campaign, the company is offering its supporters up to a "very-welcomed" 50% discount.
The GigaDrive 1TB version is expected to retail for $299, but if for those getting it now through Indiegogo, that'll only cost you $153, which is a very affordable price for an such an innovative NVMe External SSD.
At the same time, the GigaDrive 8TB version will be costing exactly $729 during its Crowdfunding Campaign (which I'll mention again that it just has 7 more days left before it comes to an end), for which prices are expected to go up to $1,399 once it actually hits retail. Lastly, know that for whatever storage capacity version you end up getting, the GigaDrive will have worldwide shipping available.
If you're interested in getting yours now, simply click the link provided ahead to be taken to the GigaDrive's official Indiegogo page.