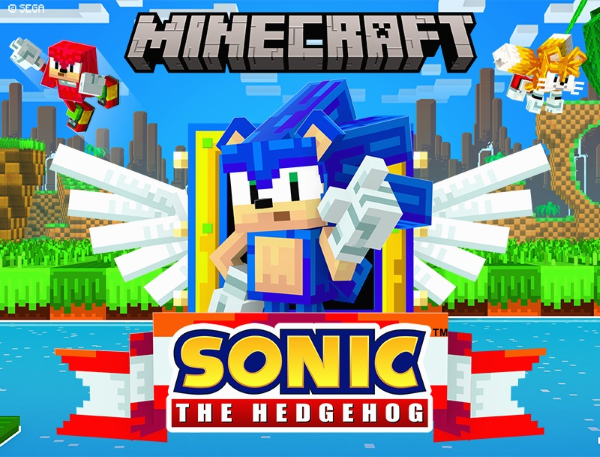 Just recently, Mojang announced that it would be releasing a Sonic the Hedgehog DLC for its extremely popular and worldwide-loved sandbox title Minecraft. The company's new DLC release comes just in time for the celebration of Sonic's 30th birthday, which is exactly today – on the day of writing – June 23rd, 2021.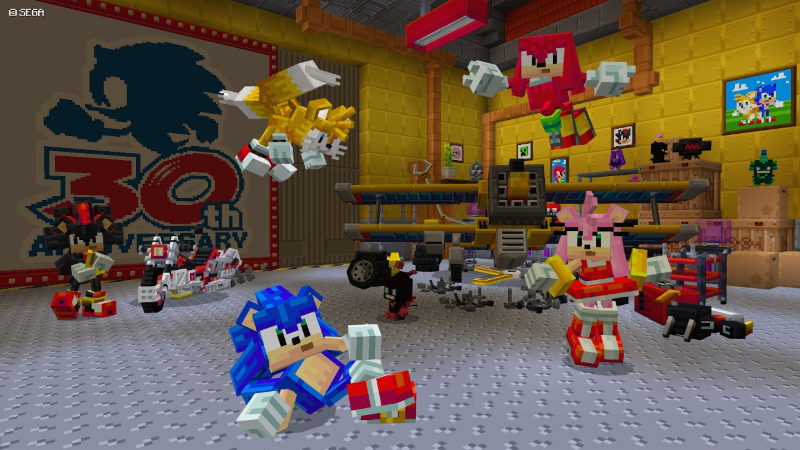 In Minecraft's official teaser video, which you can see just below, fans can see Sonic and his best friends in the blocky-style world that gamers all over the world have come to know simply as "Minecraft".
The "Sonic the Hedgehog DLC" Mini-Game
Now, Mojang's brand-new Sonic-themed downloadable content features a bit of everything, bringing a lot of the classic environments from the Sonic universe directly into Minecraft. That said, on Minecraft's Sonic the Hedgehog DLC, players can "collect rings, dash past obstacles, defeat bosses and build momentum".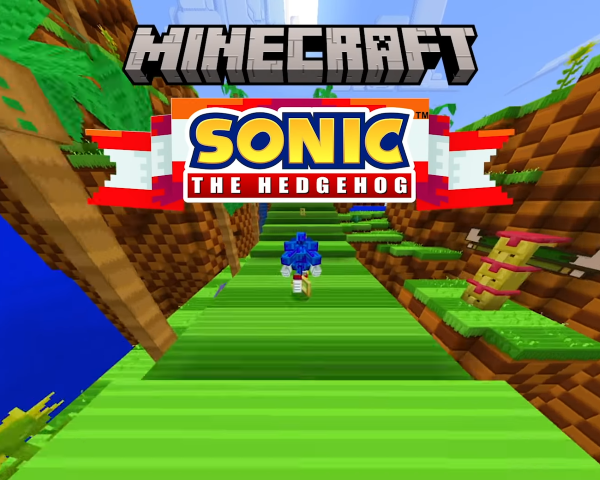 All that "speedy" action takes place in two very iconic fan-favorite Sonic levels, which are none other than the Green Hills Zone and the Chemical Plant Zone, which have both gotten a blocky makeover to them, courtesy of Minecraft's game engine, of course, which ultimately turns these two new playable blocky areas into infinite runners that you can play through with your Minecraft friends.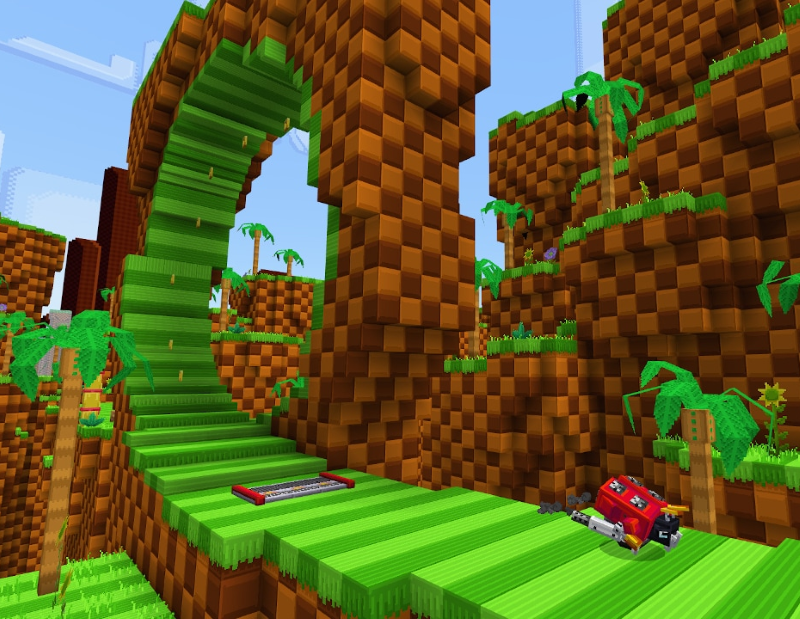 Obviously, the main goal within this infinite procedurally generated 3D Runner Mini-Game is for you and your gaming friends to collect as many rings as possible along the way as you race against each other.
Now, in addition to playing as Sonic, players can also select other franchise favorites, such as Knuckles the Echidna, Miles "Tails" Prower and even Amy Rose.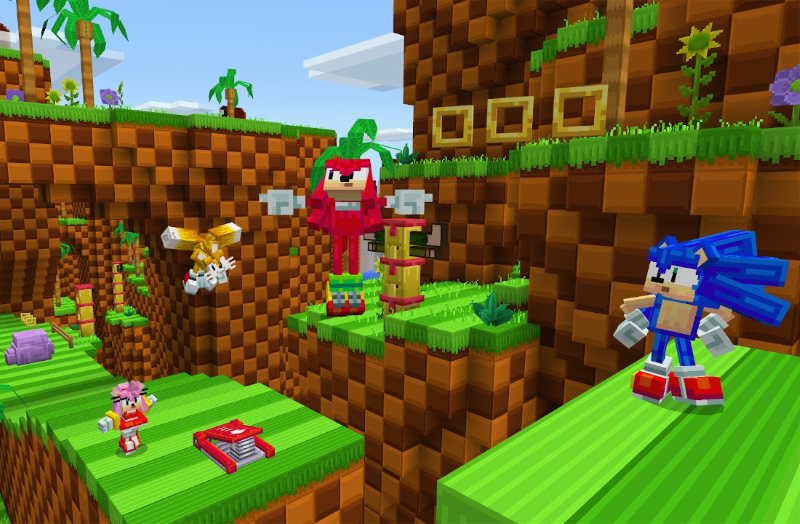 Pricing
Minecraft's new Sonic the Hedgehog DLC is already available for Minecraft: Bedrock Edition, but keep in mind that this is a paid DLC. So, players will still have to purchase it in order to play it.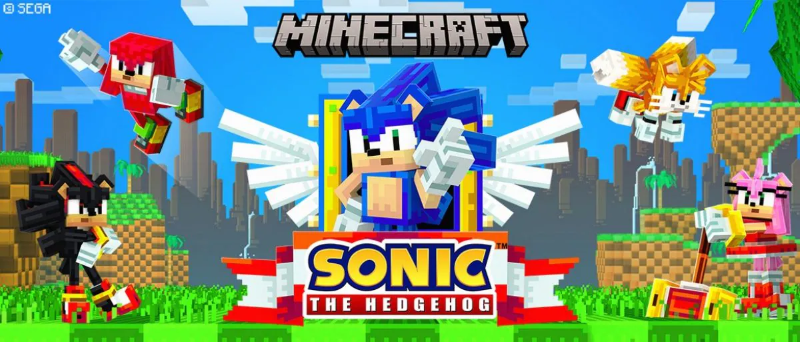 This can be done by simply heading to the corresponding Minecraft Marketplace's page, where you can then buy the DLC for merely 1340 Minecoins, which is equivalent to $7.99 USD, to be exact.
Minecraft's virtual in-game currency called "Minecoins" can be purchased using real money from the App Store of your respective device, where a minimum of $10 will net you 1720 coins, making it more than enough to purchase the DLC.
Extra Minecraft Sonic Additions
Outside of all the additions that this DLC brings, you can also grab a free Sonic the Hedgehog character creator item.
Lastly, there will also be a special server event that will last for two weeks, which will feature Sonic-themed mini-games and "additional surprises" including one that was already hinted for one of the weekends during this time.
So, keep an eye on Minecraft's official Twitter Account (@minecraft) for details of that.
Future Plans for Sega's Sonic Brand
Moreover, as part of Sonic's 30th birthday celebration, the developers at Minecraft have also planned a special server event, which will be running a couple of mini-games and even a "few festive surprises." As such, all Minecraft lovers are encouraged to check back regularly during the weekends for more updates on the topic.
Last but not least, it's worth to point out that Sonic the Hedgehog has actually been Sega's mascot since 1991, and as such, fans should know that Minecraft's new Sonic the Hedgehog DLC was just the latest project to come out of Sega's Year of Sonic, as the Japanese multinational video game developer and publisher has much, much more in the works.
On that note, keep in mind that the renowned toy company Lego is also working on a Sonic-themed Lego Ideas Set, which was mainly designed by a 24-year-old Sonic fan, and will ultimately provide both "LEGO collectors and Sonic fans alike a truly supersonic LEGO experience".
In addition to that, the worldwide-celebrated media-streaming company Netflix announced that it is also planning to release a 3D-animated Sonic-themed Series called Sonic Prime, which is scheduled to arrive during 2022.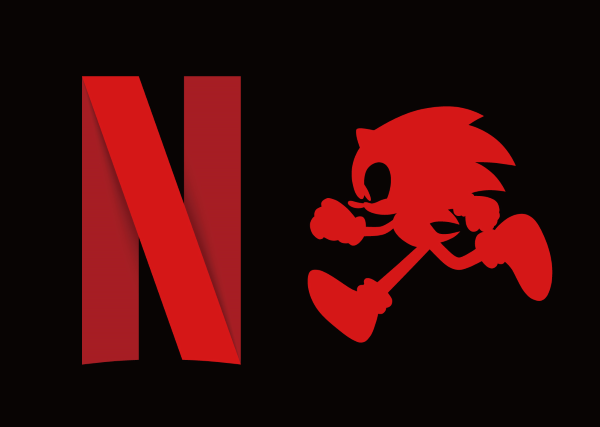 This comes thanks to a recent partnership between Netflix, Sega and WildBrain, for which the companies made their official announcement for the Sonic Prime Series just a few months ago, earlier in February, 2021.
According to the companies' official Press Release, the Sonic Prime series is for "kids, families and long-time fans," so don't expect a gritty and violent rename of Sega's beloved mascot, Sonic. The series will be starting off with a 24-episode run, and it's not clear if that'll be the extent of it or whether Netflix can option more later.
Best of all, for any Sonic Fan's that are truly passionate about the many Sonic games that have been released over the years, there's one last and final treat. Sonic's parent company, Sega, is also planning on releasing a brand-new Sonic game, which, according to a recent Eurogamer article, is rumored to be named Sonic Rangers.
Sega's upcoming new mysterious Sonic game was revealed just a few days ago (May 27th, 2021), right at the end of Sonic Central's Sonic's 30th anniversary Stream, which offered Sonic fans a first look at some of Sega's upcoming projects, partnerships, and events to celebrate the Hedgehog's existence for a full three decades.
According to the company's teaser video, Sega's new Sonic game will be released somewhere in 2022, and it will be coming to the Nintendo Switch, PlayStation, Xbox, and PC.
As we can see, Sega already as a ton of partnerships established to keep up with its brand of its iconic Sonic character, which ultimately makes it safe to say that between 2021 and 2022, it has never been a better time to be a Sonic fan.