Panasonic Lumix GF2 Launches this month
—Today, Panasonic announced pricing for their Lumix GF2, a slimmed down and updated version of the GF1. It comes finished in black, silver or red.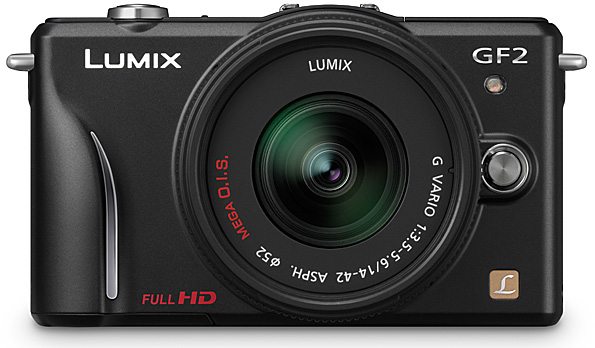 It will launch this month, and for those of you that already have a bevy of compatible lenses you'll be able to pick up the body only for $499.95.  However, if this is your first foray into a compact micro 4/3rd cameras, you might want to consider the lens bundle, which includes a new 14 – 42mm GF2K lens and costs $599.95.  Alternatively there is the GF2C (14mm) lens that brings the total price to $699.95.  Finally, a 3D lens option, the LUMIX G 12.5mm/F12, will set you back $249.95.
The Lumix GF2 can snap 12.1 megapixel photos, capture 1080i video and includes a built-in flash and 3-inch touchscreen LCD.
Here's the release……
Panasonic Announces Pricing For New LUMIX GF2, the Company's Smallest and Lightest Digital Interchangeable Lens System Camera With Flash

Panasonic LUMIX GF2 Digital Camera Available in Mid- February 2011

SECAUCUS, N.J., Feb. 1, 2011 /PRNewswire/ — Panasonic today announces pricing for the LUMIX GF2 – the latest addition to the company's compact system camera (CSC) lineup. The LUMIX DMC-GF2 will be available in mid-February 2011 and will come in black, silver, red, and white models. The LUMIX GF2 (body-only) will have a suggested retail price (SRP) of $499.95.

The Panasonic LUMIX DMC-GF2 is Panasonic's smallest and lightest interchangeable lens system camera – complete with a built-in flash. The LUMIX GF2 is compatible with lenses from the Micro Four Thirds standard, meaning the system is small and compact, while not compromising ease of operation or image quality. The LUMIX GF2 is also compatible with Panasonic's new 3D interchangeable lens, the LUMIX G 12.5mm / F12, so users can take their own 3D photos anywhere.

The LUMIX GF2K (14-42mm) lens will have an SRP of $599.95 while the GF2C (14mm) lens will have an SRP of $699.95. Also available is Panasonic's new 3D interchangeable lens, the LUMIX G 12.5mm/F12, which will have an SRP of $249.95.

For more information on the Panasonic LUMIX GF2 and all its accessories, please visit: www.panasonic.com/lumix.

About Panasonic Consumer Electronics Company

Based in Secaucus, N.J., Panasonic Consumer Electronics Company (PCEC), is a Division of Panasonic Corporation of North America, the principal North American subsidiary of Panasonic Corporation (NYSE: PC) and the hub of Panasonic's U.S. marketing, sales, service and R&D operations. Panasonic is pledged to practice prudent, sustainable use of the earth's natural resources and protect our environment through the company's Eco Ideas programs. Company information for journalists is available at www.panasonic.com/pressroom.
Posted 2/2/11