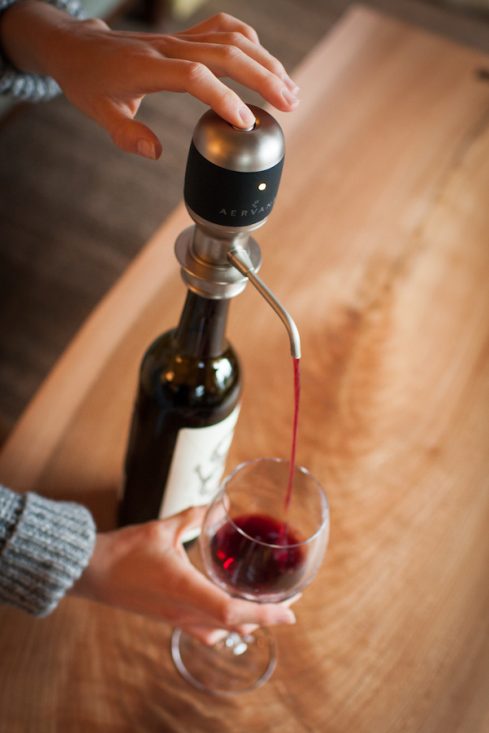 By Merilee Kern, 'The Luxe List' Executive Editor
In 2017, the National Retail Federation's annual survey forecasted that Americans would spend more than ever on Mother's Day gifts, with anticipated spending pushing $23.6 billion –the highest in the survey's then 14-year history, topping the prior year's record of $21.4 billion. For 2018, tens of billions more will surely be generated for the holiday once again as we collectively seek to shower Mom with gifts duly conveying our adoration.  But, one need not spend a fortune to show her your love as there are any number of cost conscious options like these that'll induce that eagerly anticipated smile.
Panasonic Facial Ionic Steamer (www.Panasonic.com) – $99.99
This spa-quality Nano-ionic facial steamer restores the moisture in a user's skin to combat the effects of dry skin that may result in fine lines and wrinkles. It produces ultra-fine steam—thousands of times smaller than a typical steam particle—for easier absorption. The warm steam also helps open pores to gently and easily assist in removal of make-up, dirt, and oil. Nano-sized steam particles help smooth and soften the skin, sloshing away any dirt or excess oil. It brings the spa facial experience home with a quick six-minute steam cycle and in a compact size with one-touch operation, for a fresher, softer feeling face. Anyone who wants to feel younger and revitalized would enjoy the Panasonic Facial Ionic Steamer.
FreezeFrames Cool Care Eyewear (www.FreezeFrames.com) – $89.95
Don't we all suffer from puffy eyes from allergies, beauty treatments, or fatigue? And, don't we often hide our bad eye days behind a pair of shades? So, why not purchase one pair of sunnies that both hides and helps heal your eyes? Try this product created by a medical professional to nurse puffy eyes. FDA-approved and recommended by plastic surgeons, FreezeFrames Cool Care Eyewear provides UVA protection in combination with cooling eye therapy. The company claims other devices can't effectively reach the recessed tissues, structures and nerves around the eye that trigger inflammation and pain, but FreezeFrames do. The secret treatment comes in reusable Gel-Pads that soothe the puffiness with gentle cooling compression customary of how a nurse might apply ice to swollen, symptomatic eye areas. Prior to use, freeze or put in a cup of ice for 20-60 minutes, then magnetically click Gel-Pads into place within the FreezeFrames casing. It fits most any face, male or female, and targets the lower and upper eye areas, and even the nose-bridge area for Botox users. Or, you can apply the Gel-Pads around the temples for headaches or migraines. The pads remain cool for the medical standard of ten minutes, and you can repeat as many times throughout the day as needed for 10-minute intervals.
Code to Canvas Jewelry (www.CodetoCanvas.com) – Starting at $27.25
Bring Mom's jewelry to life this Mother's Day with Code to Canvas, billed as the world's first augmented reality jewelry company. They've extended the experience of jewelry by making it engaging and interactive, connecting people through a shared experience. You can bring Code to Canvas jewelry to life using the technology you carry around with you every day: your smartphone. All you have to do is follow three steps. First, download the free app in the App Store or through Google Play. Second, scan the jewelry with the app. Third, bring it to life. The design signals to your phone's camera, which detects the unique design and triggers a response in your phone. The more you do it the better your camera will recognize the marker. There are no wires inside the pendants, which are composed of three pieces: a pendant that is .999 Fine Silver or 24k Gold Plated, a glass insert to secure the marker, and a trained marker that will trigger an augmented reality experience. The collection includes The Horoscope & Love Series featuring a uniquely beautiful code-embedded pendant key chain. You can get your daily horoscope with a prediction for Health, Emotions, Personal Life, Profession and what Luck might be in-store for you. The Love Series pendants are available as a keychain or necklace with three designs available: The Cat, The Unicorn, and The Butterfly.
Marpac Rohm Travel Sound Therapy Machine (www.HarrisComm.com) – $29.95
The Marpac Rohm Travel Sound Therapy Machine is another great gifting option for travelers or anyone who needs help sleeping in unfamiliar or noisy environments. It's designed to mask noises anywhere, at any time. Rohm is a battery-operated device that creates a soothing, consistent sound environment for sleep, privacy, or to facilitate better concentration. Night or day, wherever you may be, Rohm lets you take control of your sound environment so you can live (or sleep) your very best life, uninterrupted. It has three sound options: bright white noise, deep white noise, or gentle surf. This sound machine is also great for masking unpleasant noises like snoring, hotel background noise, tinnitus (ringing in ears), and more. Wherever the user is staying during the holidays and beyond, they'll want to take their Rohm on the road to sleep easier.
Revolar Instinct (www.Revolar.com) – $59.98
Here's a really thoughtful gift idea Mom is sure to appreciate the sentiment behind: the Revolar Instinct. This stylish and discrete personal safety accessory will help keep Mom safe whether she's going out for a walk, a run or a night on the town. Anytime the user needs to get in touch with trusted contacts, just press the discreet personal alarm button to text alert loved ones with a pre-customized "help" message, which sends along with the user's live, real-time location information. With one click, Revolar, which is connected through the user's smartphone, can also let a friend or family member "virtually" walk you home, make your phone ring so you can excuse yourself from uncomfortable situations, and let you check-in with loved ones. The quarter-sized device, which facilitates getting help exactly when it's needed, can be clipped to keys or clothes.
Coby Waterproof Portable Handheld Bluetooth Speaker (www.Amazon.com) – $19.99
If Mom loves to spend time at the pool or beach and loves to have her favorite music filling the air, or maybe she likes to shower with their tunes, the Coby Speaker is a great gift option. This water-resistant, compact speaker has a built-in suction cup, perfect for use in wet environment and while on-the-go! Users can listen to favorite tunes while showering without having to step out to access any of the buttons, as you can use the speaker directly inside the shower. Featuring a rubberized, rugged exterior for ultimate impact resistance, the Coby Speaker is extremely durable. It's also extremely easy to understand thanks to media shortcut keys that are within easy reach. It also features a built-in microphone and answer button so you can take speakerphone calls on it as well.
Aervana Luxury Wine Aerator (www.Aervana.com) – $99.98
Here's a gadget that's designed to help people enjoy wine at its best in an innovative, effective and fun way. The Aervana Luxury Wine Aerator helps people enjoy wine the way winemakers envision. It uses a patented, advanced one-touch process that provides proper aeration with half the effort. It's reportedly the only wine aerator designed to keep wine sediment in the bottom of the bottle and not in your glass. It also helps reduce tannins, acidity and sulfides and pours a perfect amount of aerated wine with each and every glass—it works especially great with young, tannic red wines. With it, you can say goodbye to messy decanters or aerating time delays. The gadget also boasts a sophisticated, sleek modern aesthetic, food safe materials and takes just seconds to use. Pouring is so easy. Just press the button for a perfect amount of aerated wine—every time. With the Aervana, there's no lifting, aiming, holding or spilling. The technology allowing the simple push of a button for instant wine aeration can give you more freedom to enjoy wine in any environment, in any quantity, quickly and easily. Cheers!
~~~
As the Executive Editor and Producer of "The Luxe List," Merilee Kern is an internationally-regarded consumer product trends expert and hospitality industry voice of authority—a travel, dining, leisure and lifestyle expert who spotlights noteworthy marketplace innovations, change makers, movers and shakers. She reports on exemplary travel destinations and experiences, extraordinary events and newsworthy products and services across all categories. Reach her online at www.TheLuxeList.com, on Twitter at www.Twitter.com/LuxeListEditor, on Facebook at www.Facebook.com/TheLuxeList and on Instagram at www.Instagram.com/LuxeListReviews.
***Some or all of the accommodations(s), experience(s), item(s) and/or service(s) detailed above may have been provided at no cost or sponsored to accommodate this review, but all opinions expressed are entirely those of Merilee Kern and have not been influenced in any way.***
Source: https://nrf.com/media/press-releases/mothers-day-spending-reach-record-high-236-billion?_ga=2.209110037.642457145.1524255718-1538240965.1524255718