BK Cookware bv. is a Netherlands based company that incorporates two brands; BK and Gero (now a subsidiary of BK Cookware), focused on supplying products that form an extension of the daily kitchen that go further than delicious and convenient cooking. The company offers a comprehensive range of cooking, frying and roasting products, as well as beautiful products that enhance anyone's dining experience. Let's us tell you about The Dutch Dutch Oven.
One of their latest creations is based on BK's Dutch heritage. "The Dutch Dutch Oven", part of The Indigo Collection, brings BK's Dutch heritage to the forefront. A Dutch Oven is basically a thick-walled cooking pot with a tight-fitting lid.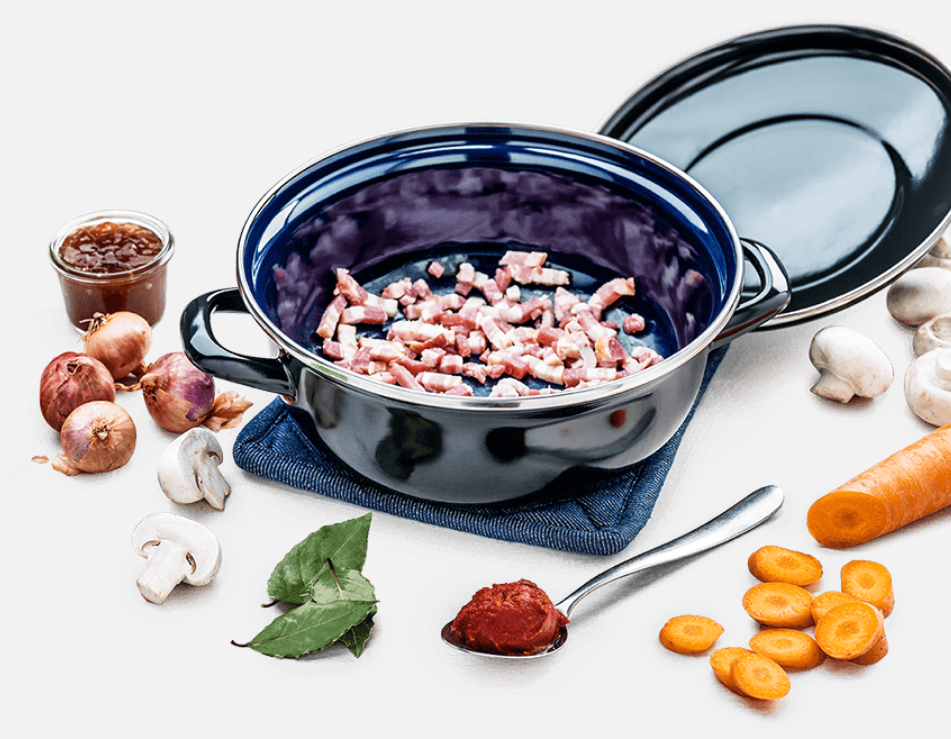 The Dutch Dutch Oven is based on the original oven, the "braadpan" ("roasting pan"), or "sudderpan" ("simmerpan"/"simmering pot"). It's crafted from enameled carbon steel and stainless steel, featuring a pure carbon steel body that's used for classic browning and even cooking. BK Cookware's, it is both powerful and versatile, with a vibrant exterior that looks as stunning on the stovetop as it does on the table. Crafted from natural materials, This  (from the Indigo Collection) features a unique and durable glazeguard coating that's not only nonporous and nonreactive (naturally nonstick surface), but also scratch resistant and dishwasher safe. Since it is dishwasher safe, its durable, wear-resistant enamel that's naturally nonstick is super easy to clean.
BK Cookware's versatile Dutch Oven is an international culinary icon that has inspired many chefs throughout the world. The Dutch Dutch Oven features Anti-Chip Technology, which basically means that the carbon steel core is fused with the GlazeGuard Coating, making it extremely tough and less likely to chip than the typical enameled cast iron cooking pots.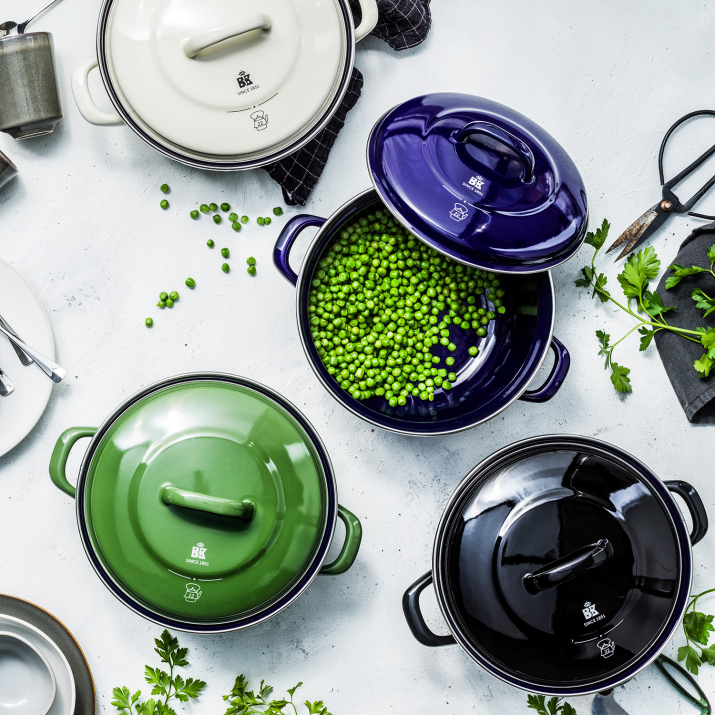 It features a unique lid design that helps you to prevent boil overs, while its domed shape offers you a little extra room for oversized roasts or cooking down vegetables. BK Cookware's this oven also features Quick & Even Heating, meaning its energy-efficient design quickly absorbs heat for fast, balanced cooking while its welded, heatproof grab handles provide you total control of the cooking pot.
The Dutch Dutch Oven by BK Cookware comes enameled in four different colors: Black, Cream, Blue, and Green. The Indigo Collection became available online and in stores with Sur La Table this August, and will be made available market-wide starting this October.
This Oven by BK Cookware is available in three different sizes: 2.5-quart, 3.5-quart, and 5.5-quart.  If you're looking to get this oven, by accessing Sur La Table's website you can get the 2.5-quart model for $100, the 3.5-quart model for $130, and the 5.5-quart model for $160. Click in any of the links to get your order with the desired size.