Maintaining a healthy weight is extremely important for your health. In addition to lowering the risk of heart disease, stroke, diabetes, and high blood pressure, it can also lower the risk of many different cancers. The Withings Body+ Smart Body Composition Wi-Fi Digital Scale was designed to help anyone that's looking to keep a healthy weight, allowing users to gain all the insights they need to lose weight.
Withings is a French consumer electronics company headquartered in Issy-les-Moulineaux, France, with offices in Cambridge, Massachusetts, USA, and Hong Kong, distributing products worldwide. The company offers many different health gadgets that are focused on promoting a healthier lifestyle, like its Withings Sleep Tracking Mat.
The Withings Body+ Composition Wi-Fi Scale provides users with a full body composition analysis. It monitors weight (kg, lb., st lb.), body fat and water percentage, as well as muscle and bone mass. The Body+ lives up to its name by providing insights on more than just weight.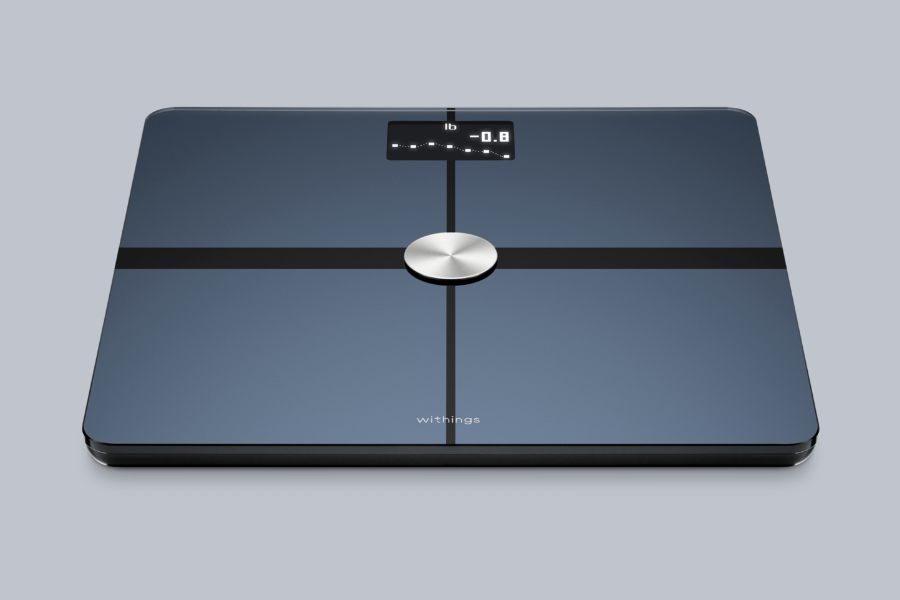 You can see your weight trends from the last few measurements, allowing you to see the big picture. You can view your fat mass percentage to easily get an idea of your overall health, and check your fat mass and muscle mass percentages by pinpointing the results of your efforts to get stronger or lose fat. You can also check your body's water percentage, so remember to stay hydrated and watch out for water retention. Lastly, checking your bone mass offers you a more complete picture of your body composition.
The Withings Body+ Composition Wi-Fi Scale comes equipped with technology that you can trust. Monitoring your weight doesn't work if you can't trust your readings. The Body+ is the best scale for accuracy, providing its users with high accuracy readings with each single reading. The Body+ gives highly precise measurements of up to .2 lbs

It's important to note that a balanced position is necessary to get a good measurement from the Body+. The Withings Body+ Composition Scale uses Position Control technology to help you center your weight easily, providing you with on-screen visual cues. The scale also features Gravity Compensation – the Earth's gravity actually varies according to where you are on the globe – up to 400g. The Body+ adjusts its measurement to compensate for this phenomenon.
The Withings Body+ Smart Body Composition Wi-Fi Digital Scale is even smart enough to provide you with a daily weather forecast. Whenever you step on your scale, you can enjoy a localized weather report. The scale is also Multi-user Friendly, recognizing up to 8 users with independent sync. The Body+ scale also offers in-depth Customization, allowing users to choose between Athlete Mode, Baby Weighing Mode, or any of the free in-App programs that the Withings Health Mate App has to offer (Better Body, Sleep Smarter, Healthier Heart, Pregnancy Tracker).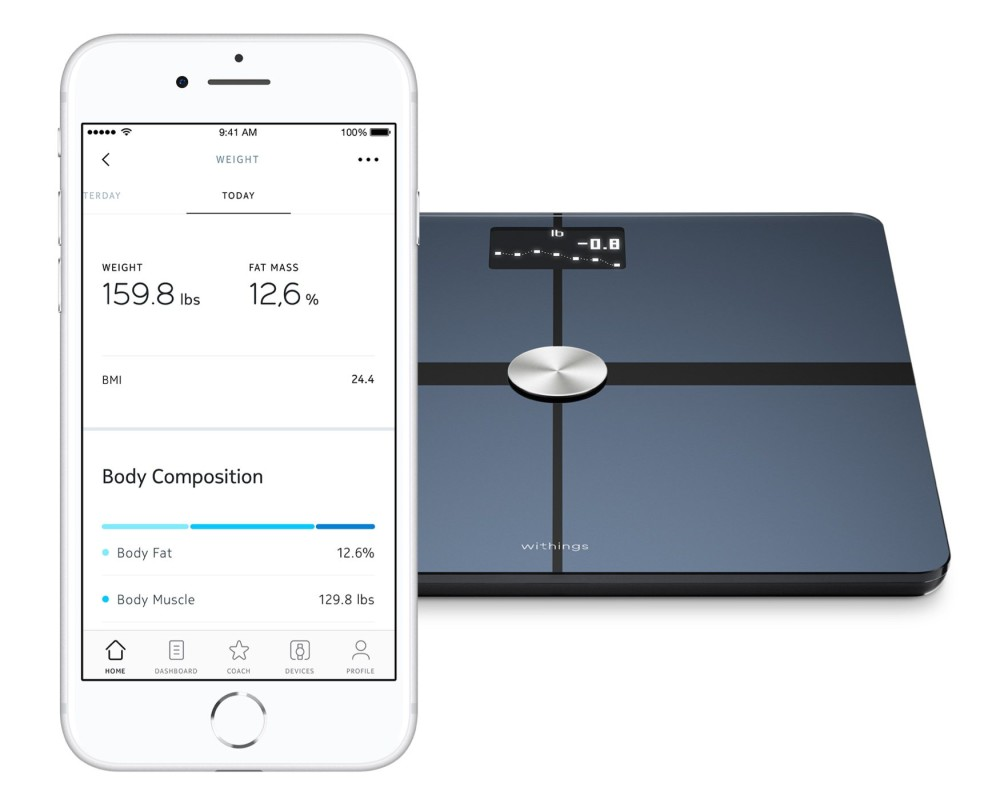 Withings' Health Mate App is a Health & Fitness smartphone App that's the ideal health companion tool for the Withings Body+ Composition Wi-Fi Scale. By using the app, high-accuracy weight and full body composition is just the beginning. Together with the app, the scale can coach you and reward you, all of this while it records all of your data automatically via Automatic Synchronization. And with tools at hand such as trend screens and nutrition tracking, you can set goals for yourself, helping you to visualize your goals and achieve them.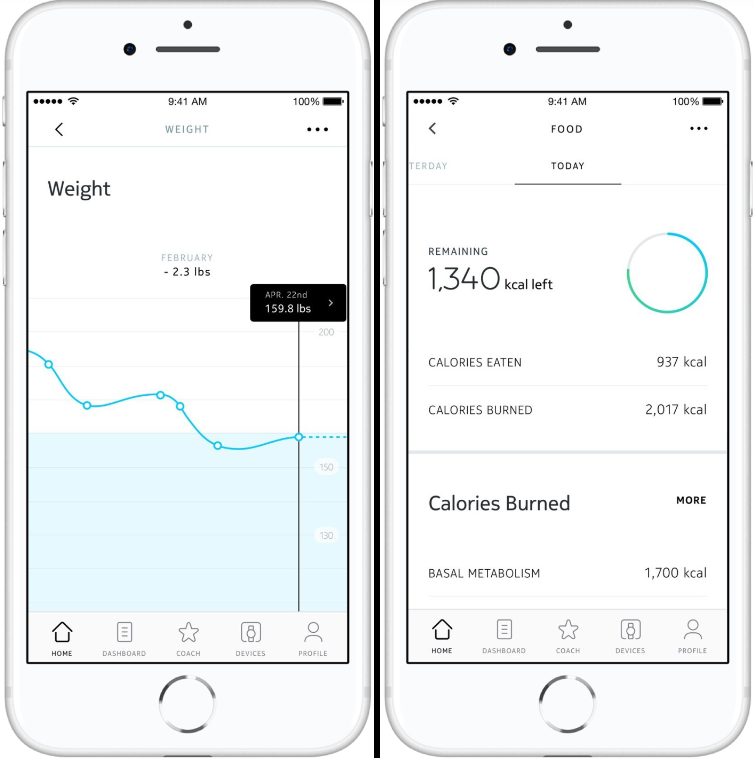 The Withings Health Mate App offers Total Health Tracking, allowing you to see yourself in a better mirror. Every weigh-in appears in the App automatically via Wi-Fi or Bluetooth sync, thanks to the Automatic Synchronization function. With your history available 24/7, you can see what works, reinforce positive behaviors and stay focused on your goals.
The Withings Health Mate App also provides you with Nutrition Tracking. Since knowledge is power, setting a goal, tracking your nutrition, and stepping on the scale regularly helps you lose on average 4x more weight. By using the App, you can easily manage your daily calorie budget.
The App can also be paired with more than 100 health and fitness apps. Users can easily connect it with their favorite food tracking apps like MyFitnessPal, Lose It!, and Weight Watchers. Or they can train for a race with Runkeeper, Runtastic and MapMyRun. Whatever you decide to add to the mix, the Health Mate App centralizes all of your information to help you achieve your goals.
On a side note for iPhone lovers, there's no need for you to be concerned, since the Withings Body+ Composition Wi-Fi Scale also works with Apple's Apple Health smartphone App.
The Withings Body+ Smart Body Composition Wi-Fi Digital Scale is a connected body analyzer scale that easily integrates with the free Health Mate app to record and track your body composition and your healthy lifestyle progress. This Wi-Fi Scale helps you to gain insights and lose weight.

The Withings Body+ Composition Wi-Fi Scale comes in 4 different colors to fit your lifestyle: White, Black, Pastel Green, and Pastel Sand. Its eye-catching look will easily enhance your bathroom or bedroom.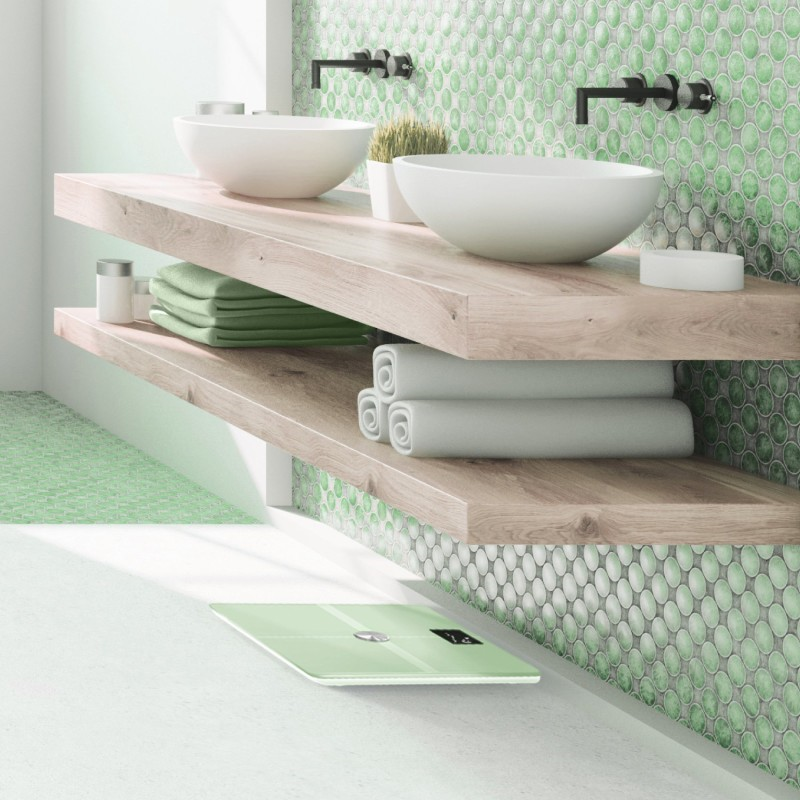 If you're interested in getting the Withings Body+ Smart Body Composition Wi-Fi Digital Scale, each unit is currently going for $100. You can get your Body+ Composition Wi-Fi Digital Scale at Withings' official shopping page, by clicking here.