If you're looking for a new all-in-one Health and Fitness Smartwatch that's equipped with everything needed for all-day activity tracking, then the Fitbit Versa 2 might be exactly what you need.
Unlike the Fitbit Ace 2, which is made for kids, this one is made for all you fitness-dedicated adults out there.
Keep in mind that this is a dumb fitness smartwatch, meaning this it doesn't try to replace your smartphone, focusing primarily on fitness tracking, making it great for people who are into fitness.
American company Fitbit, Inc., based in San Francisco, California is focused on designing activity trackers. These wireless-enabled wearable technology devices measure data such as the number of steps walked, heart rate, quality of sleep, steps climbed, and other personal metrics involved in fitness.
The company just recently released its Fitbit Versa 2 Smartwatch (on September 15th, 2019), a fitness tracker that offers a long battery life of 5~6 days, capable of easily tracking your morning, night and everything in between. The device packs a ton of cool features like On-Screen Workouts, which are played on your wrist and will then coach you through each move, as well as Voice Assistant support for Amazon Alexa, and much, much more.
Let's have a detailed look at everything that the Fitbit Versa 2 Smartwatch has to offer.
DESIGN & SPECS
The Fitbit Versa 2 Smartwatch is an exceptional health and fitness smartwatch. The Versa 2 Smartwatch is extremely comfortable to wear during the entire day, featuring a premium lightweight design. Its wristband is made of a flexible, durable material (same used in many sports watches) and comes with an aluminium watch case, bezel, and buckle that are built to last – because, after all, this is a fitness smartwatch.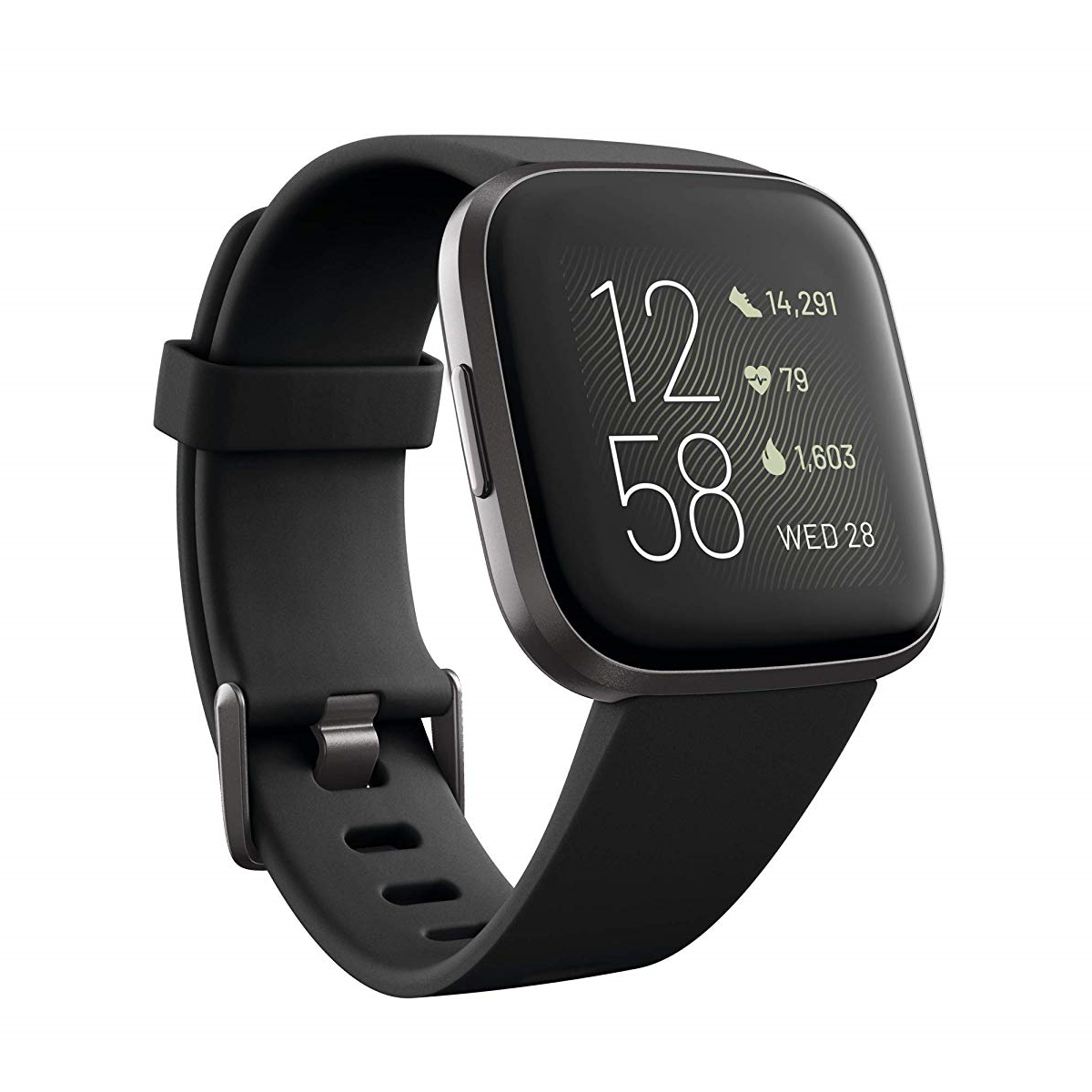 The Fitbit Versa 2 is water-resistant, capable of going underwater up to 50 meters. After swimming or getting the band wet, it's recommended that you dry your wristband because, just like any other wearable device, it's best for your skin if the band is clean and dry. Be aware that you should never use your wearables in hot tubs or saunas, as this can easily ruin the device's circuits and components.
The Fitbit Versa 2 is based on its predecessor (the Versa 1), packing a couple of upgrades when compared to its "little-brother".  While the Fitbit Versa 2 is a tiny bit thicker, you won't really notice that at all while you're wearing it.
This newer model (Versa 2) features a cleaner look when compared to the Versa 1, coming equipped with only one button instead of the Versa 1's three buttons. The company also removed the Fitbit logo from the front of the device, which once again, gives this new model a much cleaner look.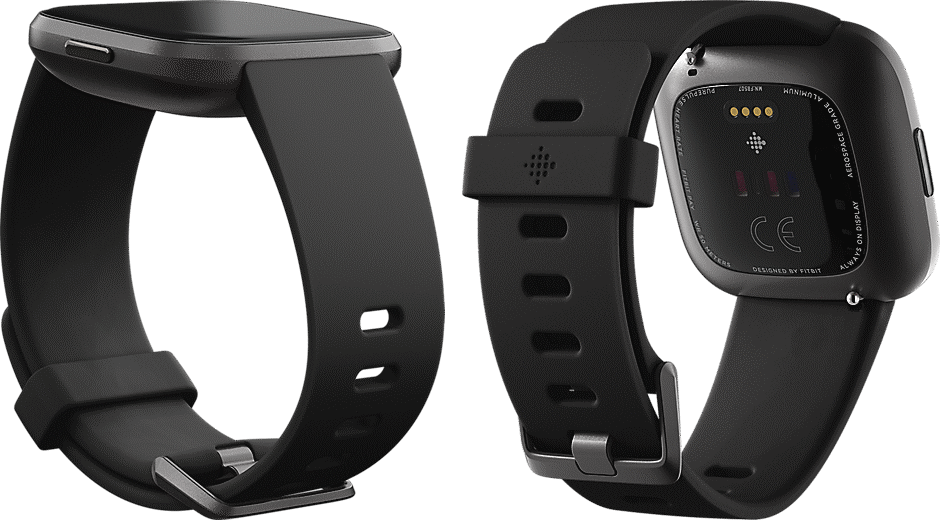 The Versa 2 Smartwatch comes equipped with a color AMOLED Touchscreen Display (made from Corning Gorilla Glass 3), which contrarily to its predecessor's LCD display, helps the device save up on battery life. In theory, OLED screens consume less battery life than LCD screens.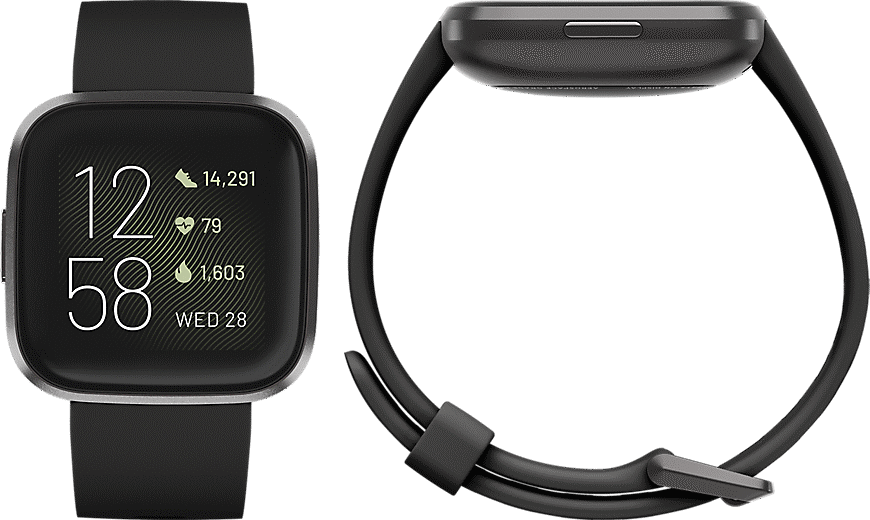 Not only that, but having an OLED display also makes text and images pop better when displayed on black backgrounds. The high-res touchscreen display's quality looks astonishing, offering users amplified brightness up to 1.000 nits (luminance unit – intensity of visible light).
SENSORS & COMPONENTS
Now, on to its sensors and components. The Fitbit Versa 2 comes equipped with: a 3-axis accelerometer, an Optical heart rate monitor, an Altimeter, an Ambient light sensor, a Vibration motor, a Wi-Fi antenna (supports 802.11 b/g/n), a Relative SpO2 sensor, a NFC (Near-field communication), and a Built-in microphone (for its supported Voice Assistant; Amazon Alexa – more on that on the Features section).
BATTERY & BATTERY LIFE
The Fitbit Versa 2 also comes equipped with a Lithium-polymer battery that powers a Bluetooth 4.0 Radio transceiver. The battery offers its users a battery life of around 5~6 days at a moderate use. Charging the device back to a full charge (when going from 0 to 100%) will usually take you around two hours.
Keep in mind that battery life and charge cycles will vary with use, settings, and other factors, so it's recommend that you charge your smartwatch every few days, just to ensure you're always able to track your fitness stats.
MEMORY CAPACITY
The Fitbit Versa 2's memory capacity allows you to save up to 7 days of detailed motion data, minute by minute. The Versa 2 can save your daily totals for the last 30 days, storing heart rate data at 1-second intervals during exercise tracking and at 5-second intervals all other times.
WHAT'S IN THE BOX?
Inside their package users will find: their Fitbit Versa 2 watch, two classic wristbands (both small & large, meaning all wrist sizes are supported – more on the sizes at the end of the article), and the included charging cable.
FEATURES
Full Customization – Clock Faces, App Compatibility, Music and more
First of all, the simplest type of customization – Customizable Clock Faces. The Versa 2 allows you to customize its high-res color touchscreen from your smartwatch (via the App), letting you choose from a variety of clock faces designed for any occasion.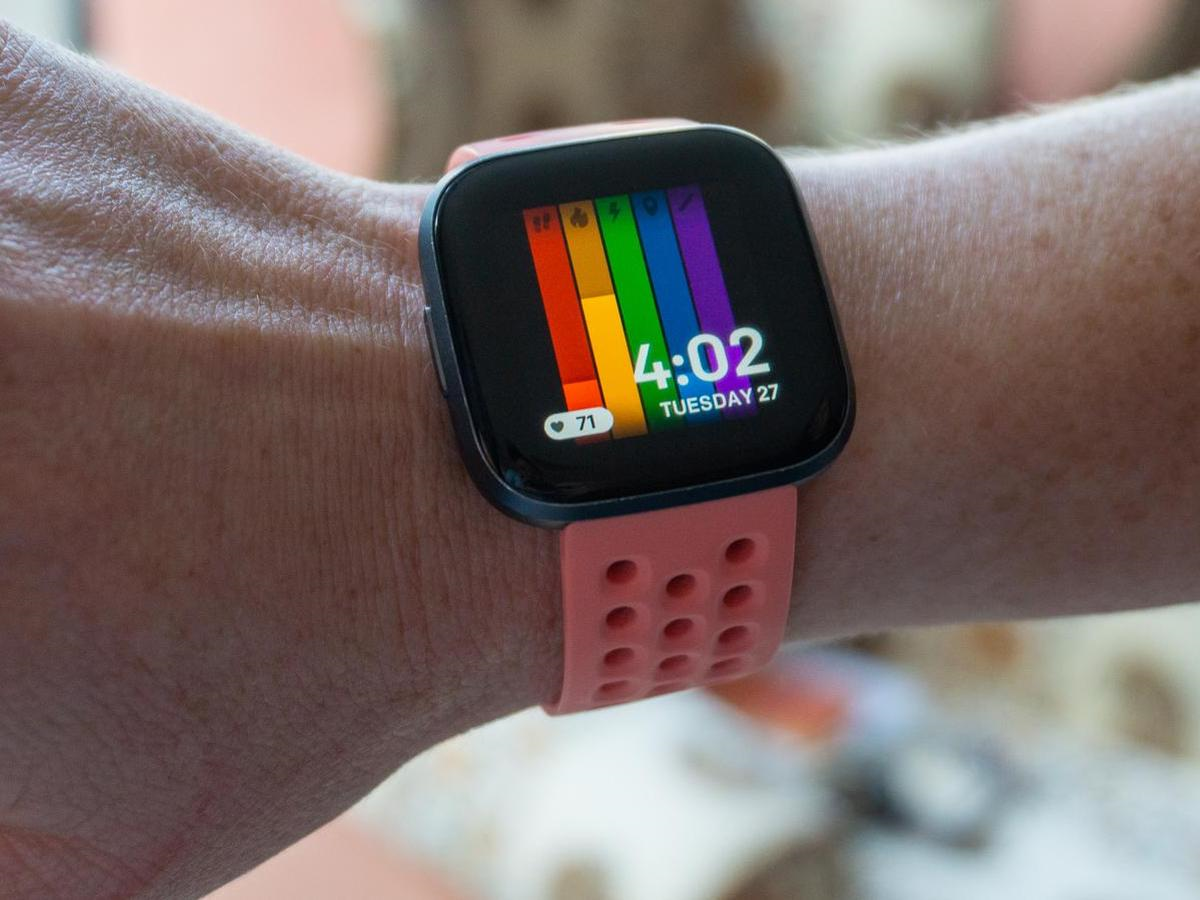 By using the Versa 2's dashboard via the Smartphone App, users can set goals, track progress and get a more complete picture of their health and fitness. The Versa 2 Smartwatch comes prepared for all-day activity, allowing users to track their step-count, heart rate, distance walked, calories burned, floors climbed, active minutes, hourly activity and stationary time.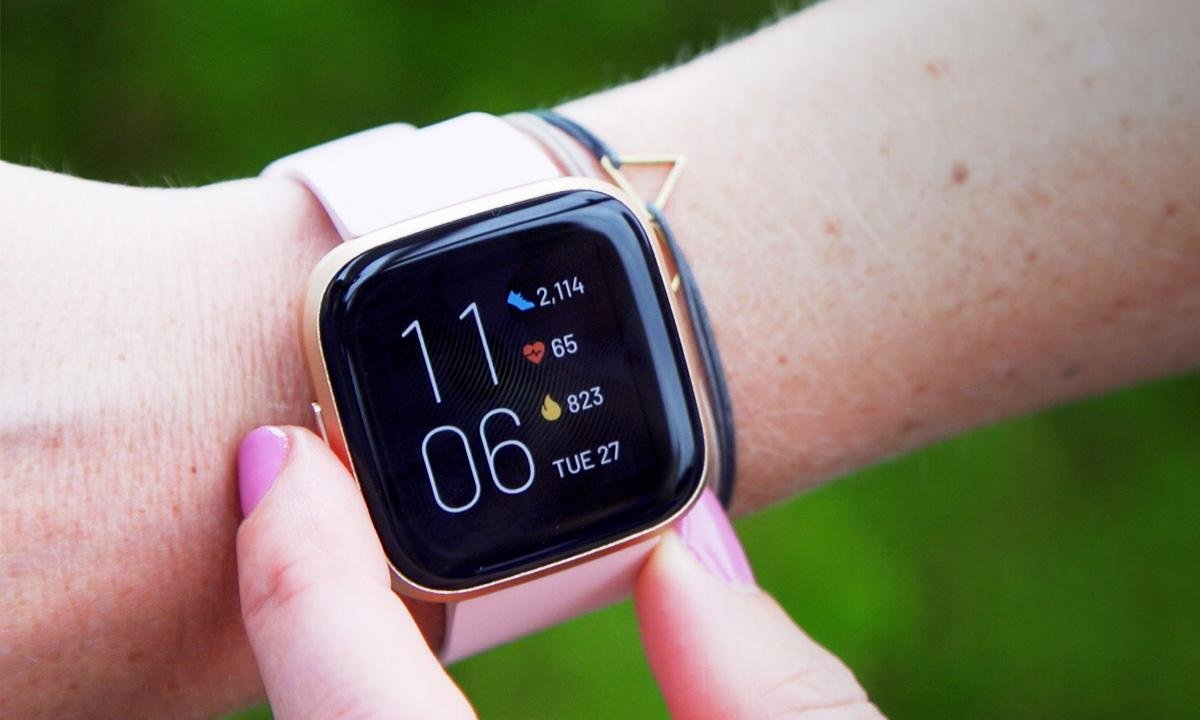 Using the Always-On Display Mode allows you to see real-time exercise stats, as well as check the daytime with just a glance. This mode is extremely useful when both of your hands are full. Turning this mode off offers the Versa 2 a more discrete profile.
The Versa 2 also offers you the ultimate fitness music playlist experience, allowing you to control your Spotify App, and add Deezer playlists and/or store playlists. This way you'll be able to play over 300 songs on your wrist while you work hard to stay in shape.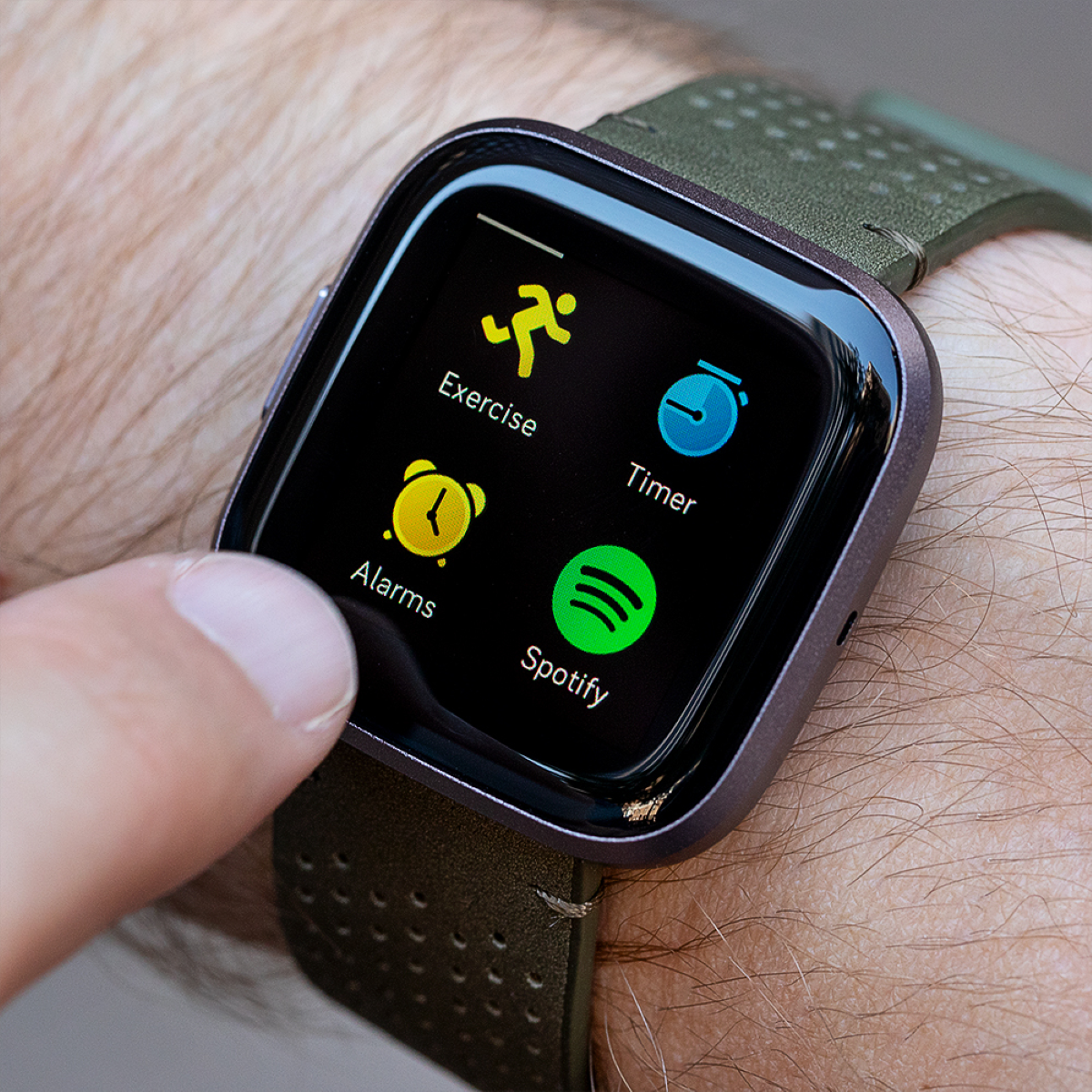 Fully Informative – Tracks all stats and offers TONS of Info
The Versa 2 offers you smartphone notifications after you connect it to your smartphone (your phone needs to be close to the watch), allowing you to see call, text, or calendar notifications on your Versa 2's OLED touchscreen. You can also connect your Versa 2 to all of your favorite Apps. This way you can access fitness and sports Apps, news, travel and transport Apps, and more, all with a simple tap, as well as get push notifications from all those Apps.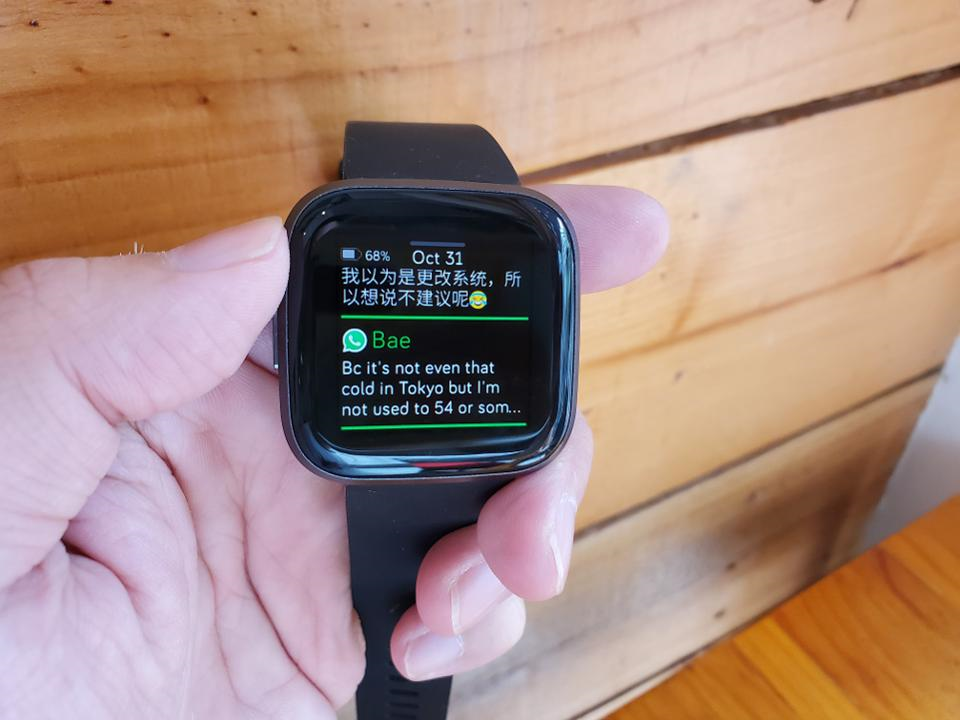 The Versa 2 also offers you Real-Time Pace and Distance information, letting you learn more about your runs and hikes by connecting to your phone's GPS to see pace and distance on the Versa 2's display screen. Using this feature will also provide you with a map of your routes, which you can check in the Fitbit companion App.
You can also set Personalized Reminders to stay on track towards your goals. These help you remember to stay active throughout the day, as well as to get hydrated, stick to a sleep schedule, and even more.
And since we're talking about sleep schedules, know that the Versa 2 also features Sleep Tracking & Sleep Stages Tracking. This means you can see your time spent in light, deep and REM sleep stages, as well as get tips to help you improve your sleeping cycles.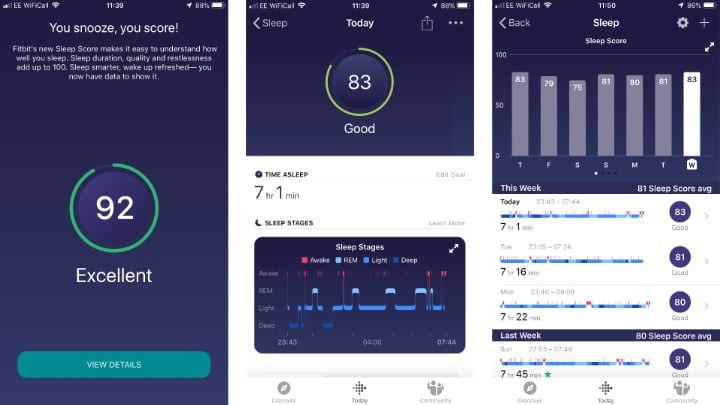 Another great feature is its 24/7 Heart Rate Tracking, which allows you to get continuous heart rate tracking, follow trends over time & even see real-time heart rate zones of your heartbeat. Tracking your heart rate consistently will also have an impact on your Sleep Score, which is based on your heart rate, time asleep and restlessness. Your Sleep Score helps you understand your sleep quality each night.
There's also a Cardio Fitness Level feature, which helps you get a better understanding of your fitness level. This feature offers you a personalized cardio fitness score, letting you know how you can improve over time.
Auto-Connectivity & Auto-Tracking
The Versa 2 offers Bluetooth 4.0 connectivity, allowing you to connect your Versa 2 watch to wireless Bluetooth headphones to listen to your favorite tunes while you work out. The Versa 2 can also sync your stats wirelessly and automatically to computers and 200+ leading iOS and Android devices.
Not only that, but using the SmartTrack Mode allows you to automatically record selected exercises like swimming, running, aerobic workouts and more. You'll then be able to check all those automatically recorded stats on the Fitbit App.
Customizable Guided Workouts & Breathing
The Versa 2 offers its users On-Screen Workouts, which play on your wrist and coach you through each move. There are over 15 exercise modes to choose from, allowing you to track specific workouts in different modes, including run, bike, weights, and more. This allows you to see real-time stats on the Versa 2's display screen and then get post-workout summaries. Since the Versa 2 is a water-resistant smartwatch, it also covers swimming, letting you track your pool workouts with ease.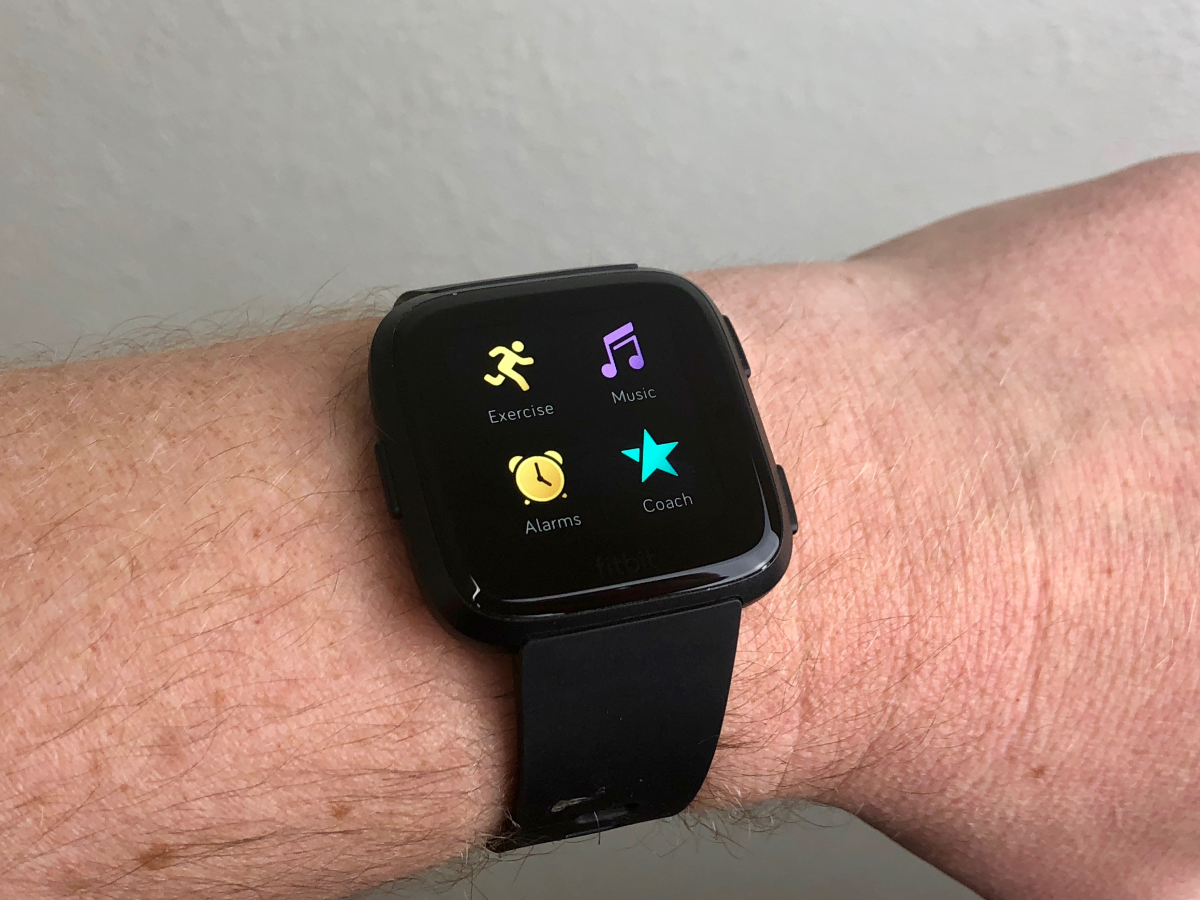 The smartwatch also offers Guided Breathing Sessions, allowing you to have moments of peace and calmness throughout your day. These personalized breathing sessions are always based on your heart rate.
Female Health
The Versa 2 was designed with Female Health in mind, allowing any woman to use the smartwatch with the Fitbit companion App to log her period, record any symptoms and compare her monthly cycle against other health stats like sleep, activity and weight. That's a super cool feature for a fitness smartwatch.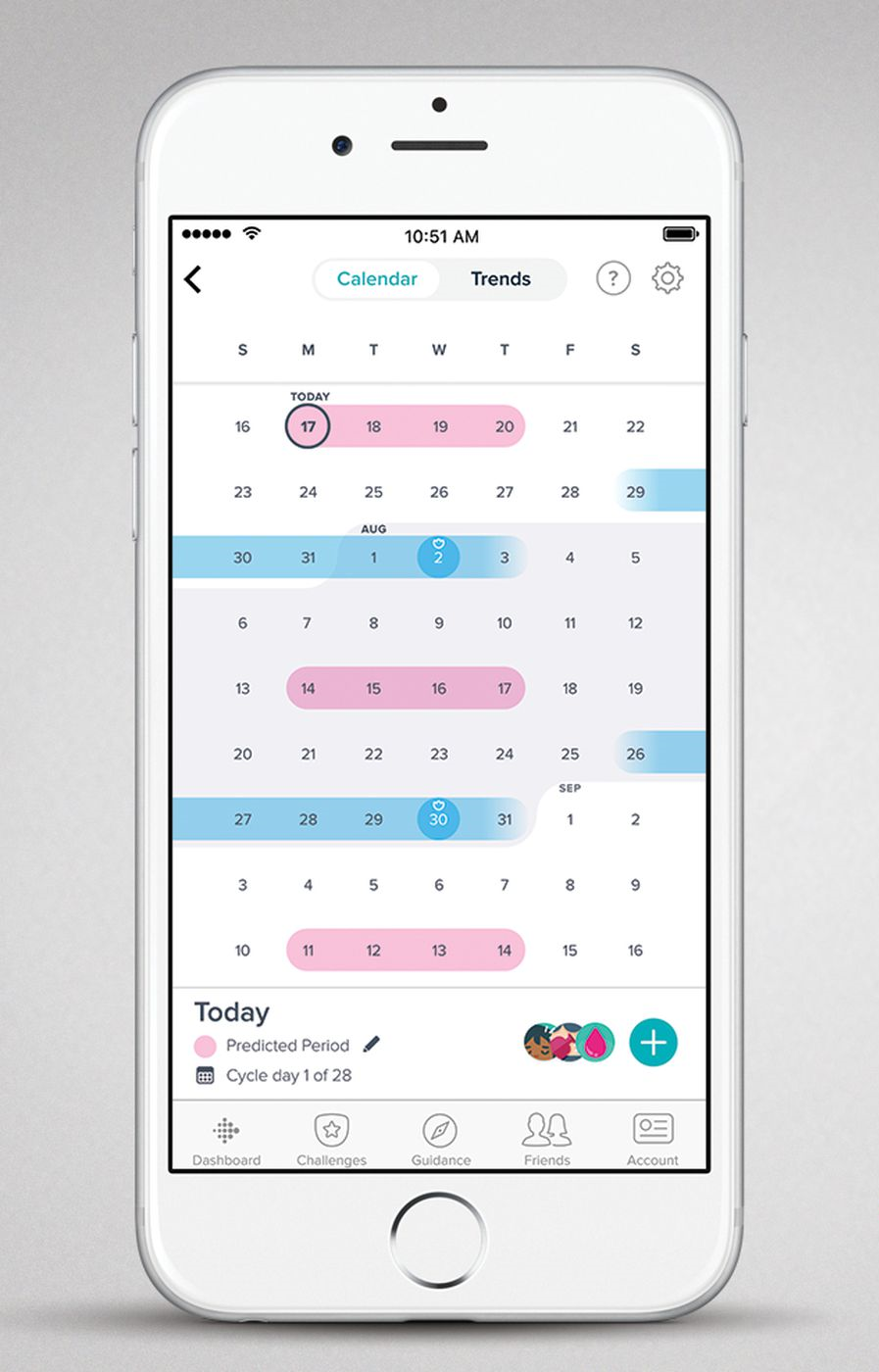 Fitbit Pay
The Versa 2 is also compatible with Fitbit Pay, allowing you to pay without your wallet. You'll be able to upload your credit card and make secure purchases from your wrist.
Amazon Alexa Built-In
Lastly, the Versa 2 comes with Amazon Alexa Built-in, which is one of its most important features. This allows you to simply press its only button to activate Amazon Alexa, and then speak with your voice assistant using any voice commands you can think of. You can tell Alexa to set an alarm, add a reminder, check the weather, and much, much more.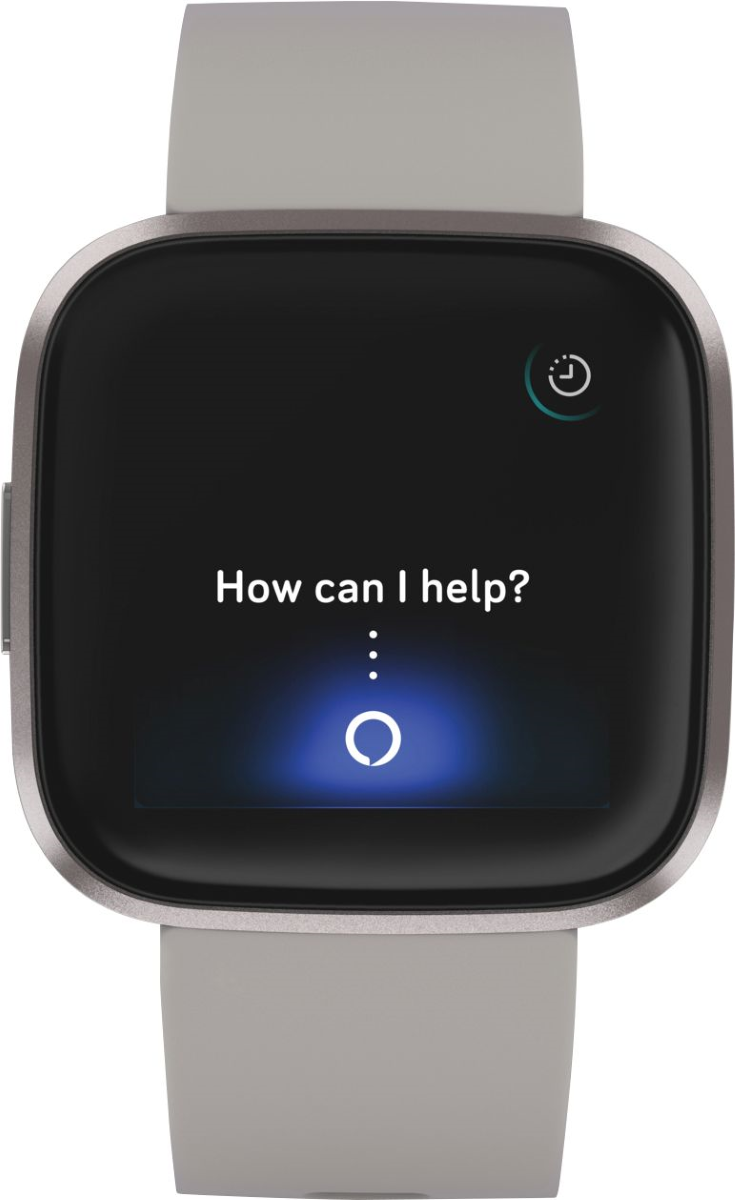 FINAL THOUGHTS
The Fitbit Versa 2 is without a doubt the best smartwatch that Fitbit has ever made. It's probably also the best dumb smartwatch currently available on the market. The Fitbit Versa 2 Smartwatch goes above and beyond with its infinite customization, and you certainly won't feel like you're missing out on any other wearables like the Apple Watch or Android Wear. The Versa 2's tracking experience is second to none.
The device offers the perfect balance between a simple design, battery life, and software features. The Versa 2 can track literally any fitness stat you can think of. It offers full display customization, over 15 customizable workout-tracking plans, features Fitbit Pay, Amazon Alexa compatibility and much, much more.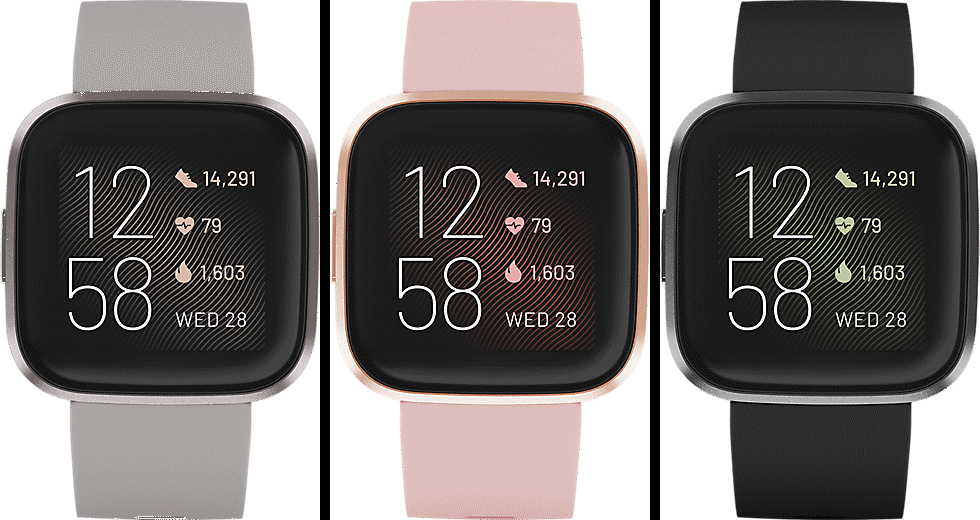 The Fitbit Versa 2 Smartwatch is currently available in 3 different models: Stone/Mist Grey, Petal/Copper Rose, and Black/Carbon.
If you're interested in getting it, each Fitbit Versa 2 Smartwatch will cost you just $200 at Verizon's official website, which in my opinion, is an amazing value for everything it has to offer. You can get yours right now from Verizon's official shopping page, which you can access by clicking this link.