Smartphone grips are basically small accessories that can be easily attached to your Smartphone to ultimately offer you a better grip, which then helps you to reduce the chances of having unexpected drops so that you don't have to see your precious Smartphone shattered to pieces. This brings us to one of the best Smartphone grips currently available, and that's none other than the OtterBox PopSockets PopGrip Symmetry Case for both the iPhone SE (2nd gen) and iPhone 8/7.
While most traditional smartphone cases feature the same basic and simple plain look, there's a bit more to OtterBox PopSockets PopGrip Symmetry Case than initially meets the eye.
This smartphone case comes equipped with an integrated PopSockets PopGrip, thus bringing you both a very durable smartphone case that can keep your iPhone (iPhone SE (2nd gen), iPhone 8, or iPhone 7) fully protected, but also a reliable and sturdy smartphone finger/hand grip that allows to more comfortably and more reliably hold your smartphone, without ever having the worry about dropping it crossing your mind.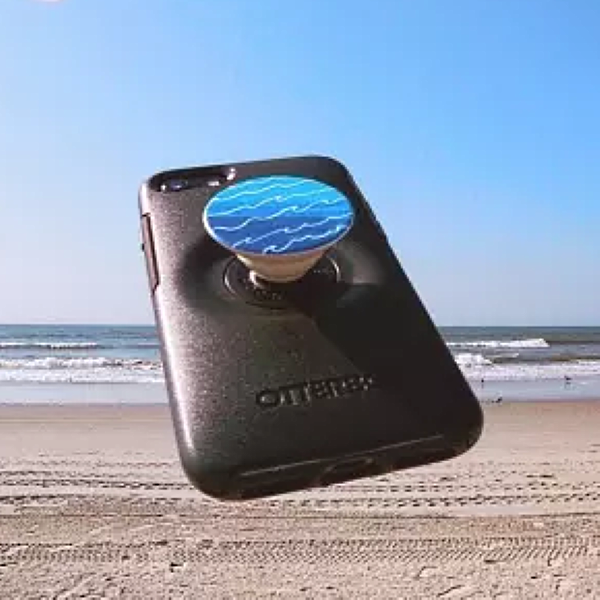 So, let's have a more detailed look at this smartphone protective case with a built-in finger/hand grip and check what its all about.
DESIGN, SPECS & COMPATIBILITY
As mentioned before, the OtterBox PopSockets PopGrip Symmetry Case works like a protective smartphone case that's fully compatible with both the iPhone SE (2nd gen) and iPhone 8/7.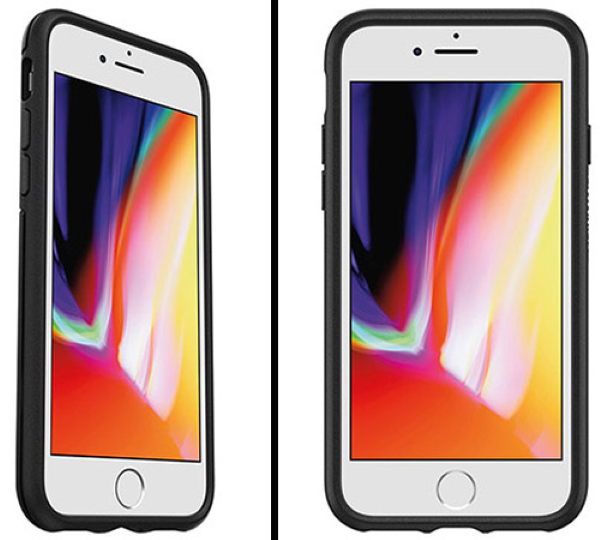 The entire unit is made of high-quality Synthetic Rubber and Polycarbonate, thus giving your phone the ultimate protection for any unexpected drop.
This iPhone grip case combines an outer soft slipcover that can perfectly absorb any unexpected impacts/bumps and an inner hard shell that helps the case to deflect any shocks.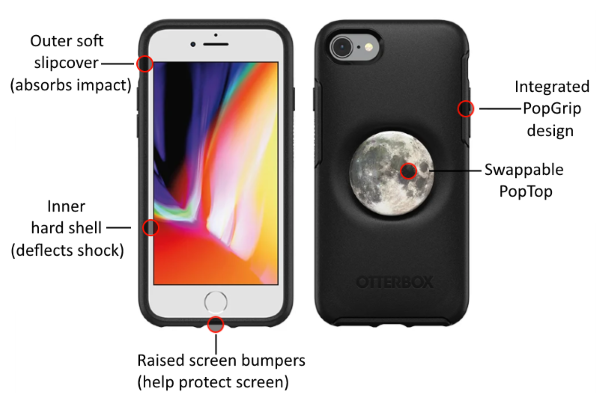 Additionally, the case also features raised screen bumpers that help to keep your iPhone's screen fully protected.
Not only that, but this ultra-durable smartphone protective case also features an integrated PopSockets PopGrip that allows you to have a better hold/grip of your Smartphone.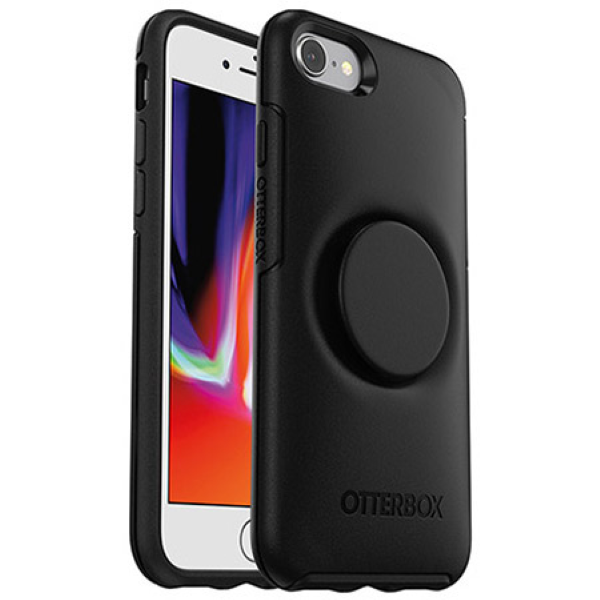 The case's integrated PopGrip, which is located at the back of the case is extremely comfortable to hold between your fingers while you're also holding your Smartphone.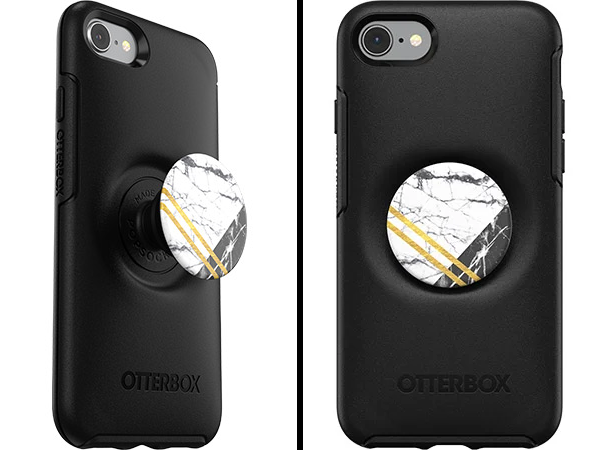 As such, it is guaranteed to give you a better and more comfortable grip of your Smartphone, allowing you to ultimately use it in a more convenient way without ever having to worry about dropping it.
Furthermore, thanks to its PopGrip's collapsible design (which allows you to "Pop" the PopGrip open and closed at any time – pun intended) you can easily pocket your iPhone into your pants' pockets whenever you feel like it, ultimately giving the unit a pocket-friendly look.
It's also worth to mention that this specific grip case (PopSockets PopGrip Symmetry Case) is also compatible with any of the company's PopSockets PopTops, as well as its PopSockets Car Vent Mount and its PopSockets Multi-Surface Mount.
Lastly, thanks to the PopGrip's collapsible design you'll have absolutely no need to remove the PopSockets PopGrip Symmetry Case from your iPhone when you're looking to recharge it via Qi Wireless Charging.
All you have to do is simply close the case's PopGrip and that's it.
SETUP / INSTALLATION
Obviously, as the OtterBox PopSockets PopGrip Symmetry Case is mainly a iPhone protective case, its installation is both simple and quick. Really, it's something that's very easy to do.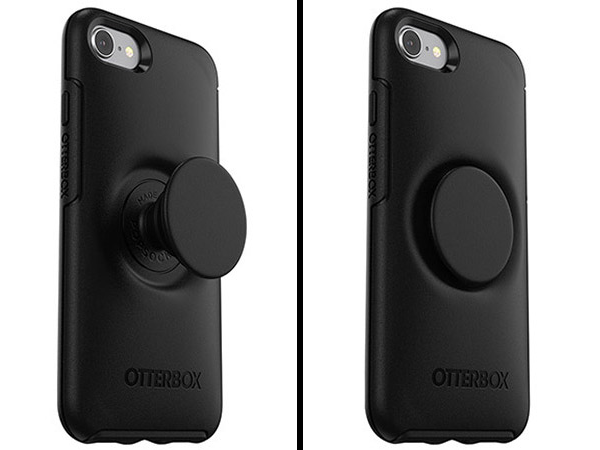 Literally all you have to do is carefully slide either of your iPhone's sides into the case (start with either the left or right side of your iPhone) and then gently line up both your iPhone's action buttons and connectivity ports with the cases matching opening and click the opposite side of your iPhone into the case. And that's it, you're all done.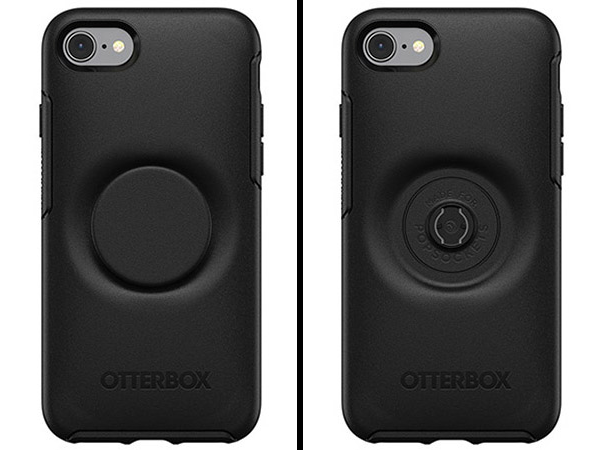 Removing the case is as easily as installing it, and all you have to do is gently pull it away from your iPhone.
Additionally, the case's integrated PopGrip's top – which is called PopTop – can also be swapped for different colorful styles, and for that, all you have to do is close the case's PopGrip into a flat position and then press down and rotate its simple, yet ingenious lock mechanism in either a clockwise or counter-clockwise way to remove your PopGrip's current PopTop.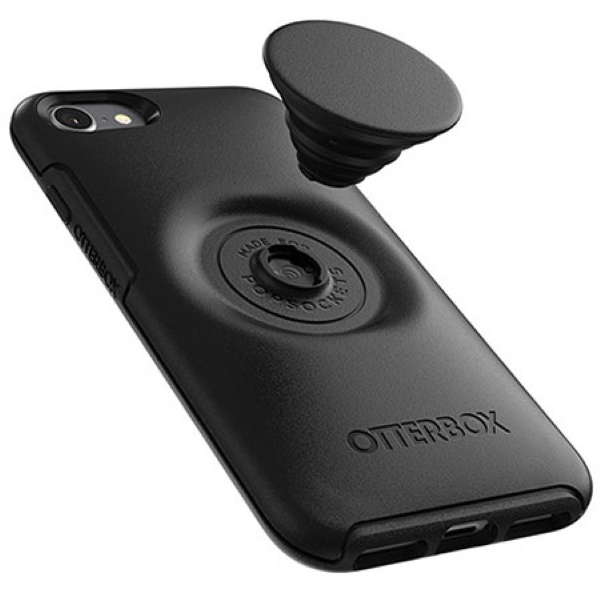 After that, grab your new PopGrip's PopTop and install it in the same way you removed your old one. Press down, rotate either way and let go. That's it, it's that easy to install and change between PopTops for the case's PopGrip.
Lastly, if you have an entire swappable PopGrip (already equipped with a PopTop), all you have to do is remove its base (the PopGrip unit) so that you can end up with just a swappable PopTop, which you can easily install at the case's already integrated PopGrip.
Check the company's installation video below to see just how easy the process really is.
FINAL THOUGHTS
The OtterBox PopSockets PopGrip Symmetry Case for the iPhone SE (2nd gen) and iPhone 8/7 is a protective case with an integrated PopGrip that's easy to grip and store in your pockets, and also fully compatible with QI Wireless Charging.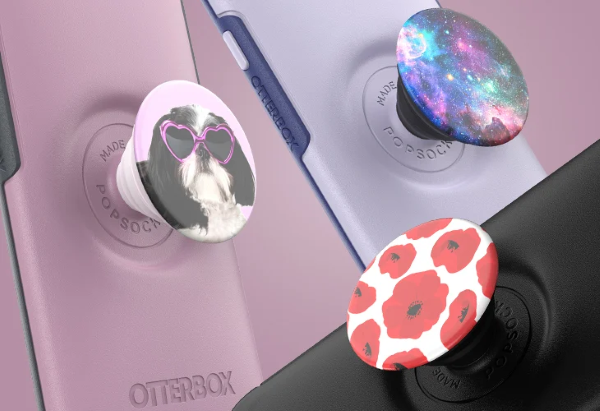 As mentioned before, every case includes a matching PopTop plus an additional PopTop of your choice so you can switch your style and change up your look in a flash.
There are tons of color models for both the case itself and its PopGrip's PopTop.
If you're interested in buying the OtterBox PopSockets PopGrip Symmetry Case, each unit is currently going for $59 (no matter what color model for both the case and PopGrip's PopTop you decide to go with.
You can get yours right now, directly from OtterBox's official shopping page, which you can access by clicking here.