With so many phone carriers across the US looking to bring their powerful 5G networks across the entire country to provide US citizens with a much better internet connection on their Smartphones, 5G is simply the future of mobile internet. As such, newly released 2020 Smartphones with 5G connectivity can literally put wireless fiber on your pocket. However, it's important to note that not every Smartphone will be capable of accessing and harnessing the full potential of 5G, as only newer Smartphone models are 5G-compatible. This brings us to the recently released OnePlus 8 Smartphone.
The OnePlus 8 is a brand-new / recently released Smartphone that not only delivers a solid performance, but also features 5G connectivity, as well as a long battery life with Warp Charge 30T Quick-Charging, and all that comes at a very affordable price.
But sadly, there's a slight catch, as its cameras could be just a little bit better. Still, they're not bad at all for such an affordable 5G-enabled Smartphone, not at all indeed.
Still, with the OnePlus 8 you'll quickly discover a powerful, next-gen 5G experience. This high-end 5G Smartphone will allow you to watch your favorite shows and movies on its cinematic fluid display, and will also empower you to shoot brilliant photos and videos with its Vertical Triple Camera Setup, which includes a powerful 48MP main camera, an Ultra-Wide Angle camera, and a dedicated macro lens.
As the era of cheaper 5G Smartphones is just around the corner, with future Smartphone developers promising upcoming price tags of just around $500, the OnePlus 8 Smartphone is, without a doubt, one of the cheapest ways of currently getting a 5G-enabled Smartphone without having to wait for quite a few months before seeing the prices drop just $100 or $200.
However, the best part about this Smartphone is that you won't have to make too many sacrifices in the name of a less expensive 5G-enabled phone.
Now, let's have a more detailed look at the OnePlus 8 Smartphone and check everything that OnePlus's most recently released Smartphone has to offer.
DESIGN & SPECS
The brand-new OnePlus 8 Smartphone features quite a small body that's super comfortable to grab, measuring just 6.31 inches long by 2.87 inches wide by 0.31 inches tall/thick (160.2 x 72.9 x 8 mm) when resting on top of a flat surface. Furthermore, this Smartphone is also super lightweight, as it weighs just a measly 6.35 oz (180 g).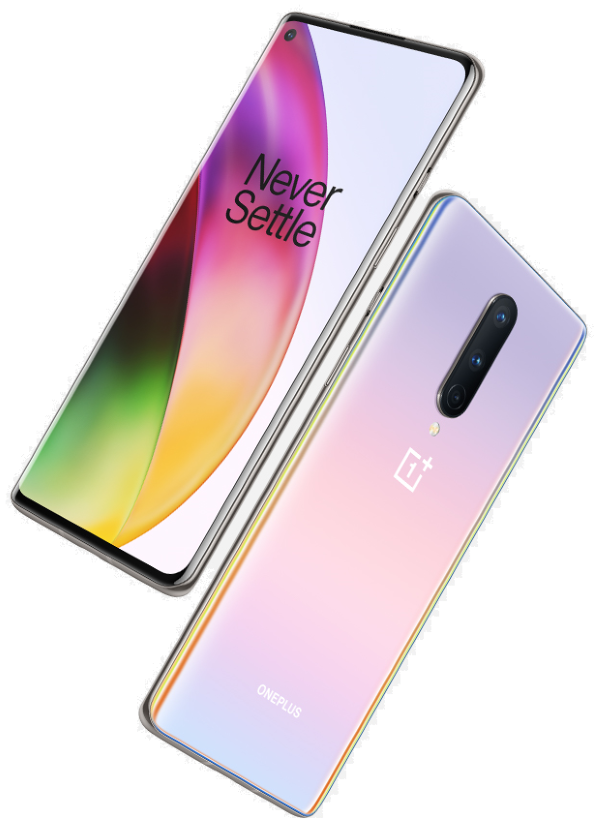 As such, this Smartphone features a very sleek, immersive and slightly curved design – the phone's screen is what gives its body a small curvature – that makes the phone look astonishing from whatever angle you're observing it.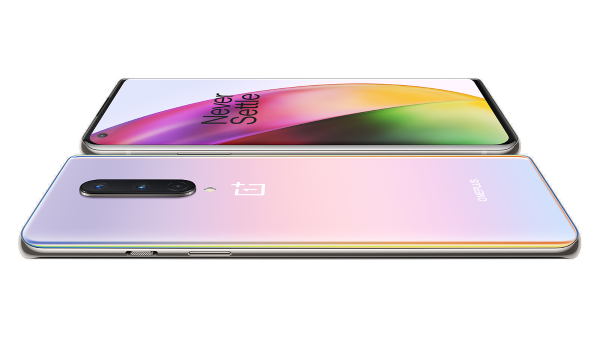 The OnePlus 8 also features a IP68 Water & Dust Protection Rating, making it both water and dust resistant. Basically, its IP68 rating makes this smartphone deemed fit enough to withstand dust, dirt and sand, as well as resistant to be submerged underwater up to a maximum depth of 4.92 ft. (1.5 m) for up to thirty minutes.
Moving on to its display screen, the OnePlus 8 comes equipped with an excellent High-Performance 6.55 inches (~88.7% screen-to-body ratio) fluid AMOLED capacitive touchscreen, which displays up 16M colors and features an amazing and ultra-fast refresh rate of 90Hz.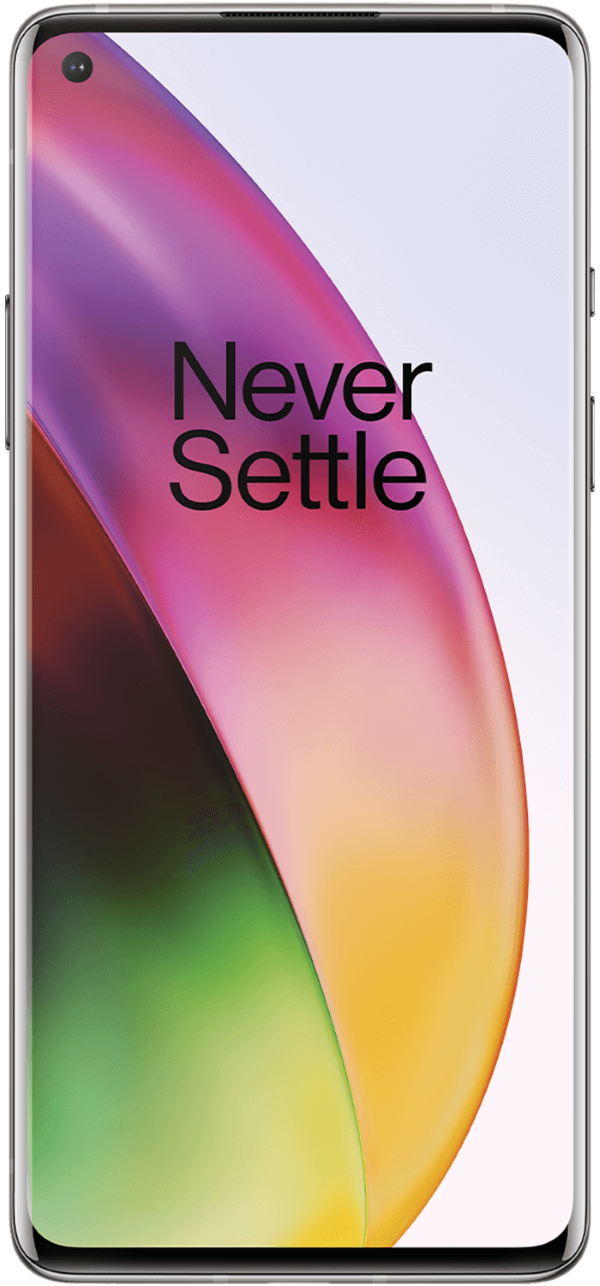 The OnePlus 8's display screen max resolution is equivalent to 1080 x 2400 pixels, meaning a 20:9 ratio, with an approximate pixel-per-inch density of 402 ppi.
Furthermore, as the phone also supports HDR10+ (High Dynamic Range video technology), which basically adds a dynamic metadata to the phone's HDR10 source files. This technology was ultimately developed to make your photos and videos look much more vivid, as well as giving them some extra contrast while also making your media visibly better than ever before.
The OnePlus 8 Smartphone also comes equipped with an Optical Fingerprint Sensor that's located right under the display, as well as some other sensors like an accelerometer and gyro sensors, a proximity sensor, etc.
The OnePlus 8 boasts exactly 8GB of RAM and 128GB of storage space for the basic models (Onyx Black, Glacial Green, and Polar Silver – different color models available at different mobile carriers and other retailers), while our review unit, which is the "Interstellar Glow" color variant will feature exactly 12GB of RAM and 256GB of storage space.
Not only that, but this Smartphone also comes equipped with an Octa-core CPU (1×2.84 GHz Kryo 585 & 3×2.42 GHz Kryo 585 & 4×1.8 GHz Kryo 585) and a Adreno 650 GPU, which are both compatible with the phone's Fnatic Gaming Mode.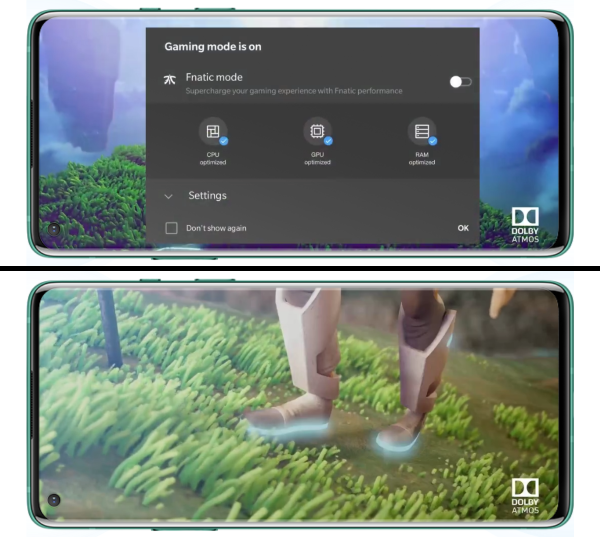 This high-performance Gaming Mode optimizes the OnePlus 8's CPU, GPU and RAM memory so that users get the possible best mobile gaming experience, and that includes both high-quality graphics and a high fps performance. fps performance.
Additionally, just like the other top Android phones with 5G connectivity, the OnePlus 8 also runs all of its operations on a Qualcomm SM8250 Snapdragon 865 processor (7 nm+), which is guaranteed to deliver a faster performance than ever before, and that goes up to 25% when compared to previous generations.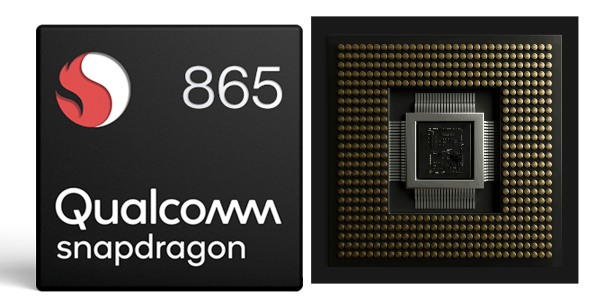 Moreover, since the Smartphone's Qualcomm Snapdragon 865 processor also supports UFS 3.0 (the latest iteration of Universal Flash Storage), users can also transfer any photos, videos, and files at extremely fast speeds, meaning in the blink of an eye, and that can be done by simply using the reliable UFS 3.0 file management system.
This improved file system delivers up to 125% faster write speeds than older OnePlus Smartphones (previous models).
Lastly, everything runs on Android 10 (OxygenOS 10.0).
CAMERA SETUP
While the OnePlus 8 seems to be quite good so far, there' one big sacrifice you'll have to make (as mentioned before), and that is the OnePlus 8's cameras.
As such, the Smartphone comes equipped with a decent Vertical Triple Camera Setup at its back and a single 16 MP Selfie camera at the front.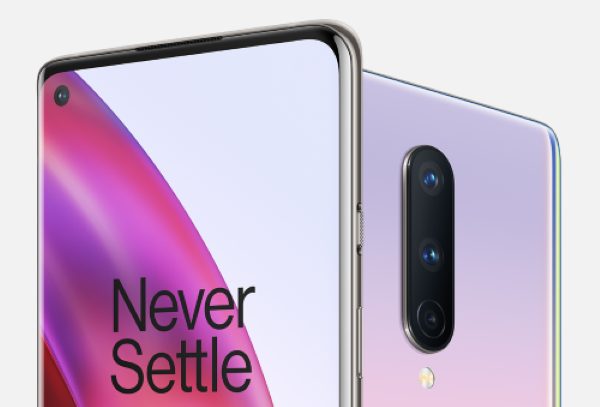 Starting with the OnePlus 8's Vertical Triple Camera Setup, there's a 48 MP Wide Camera (f/1.8, 25mm – 1/2.0″, 0.8µm, PDAF, OIS), a 16 MP 116° ultra-wide-angle camera (f/2.2, 14mm) and a smaller dedicated 2 MP macro lens f/2.4).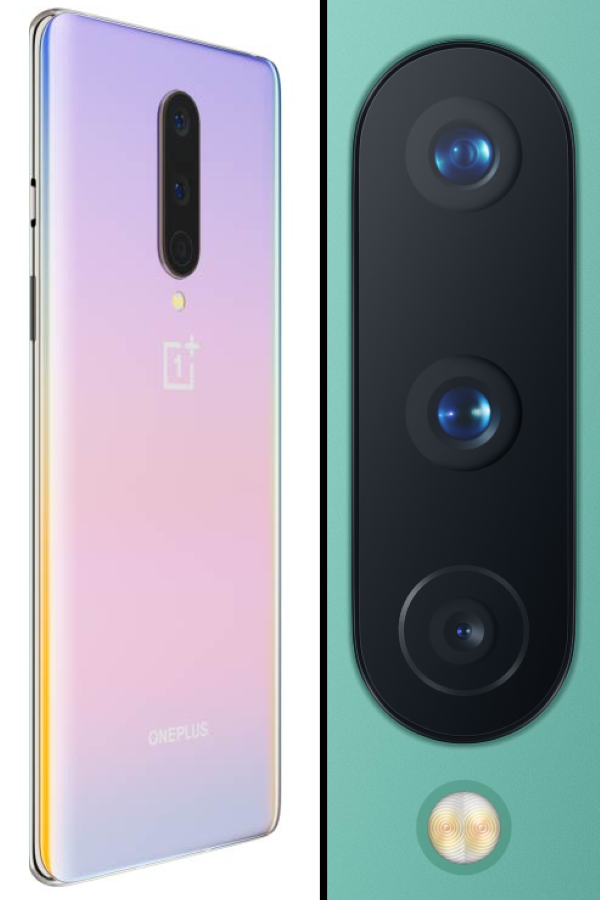 Sadly, while there's no telephoto lens, which means that many of the other pictures produced by the Smartphone's triple-camera array won't be as high-quality as pictures that what you can get from other higher-end Smartphones, the OnePlus 8 is still a great 2020 Smartphone option to go with, especially if what you're looking for is a powerful 5G-enabled Smartphone without having to make a dent in your wallet.
Thanks to the Smartphone's 116° ultra-wide-angle camera, users can easily and reliably capture landscapes and group photos, as well as explore interesting new angles.
Furthermore, the OnePlus 8's Triple Camera Setup also allows users to take pictures with up to 2160p resolution, while also using features such as Dual-LED flash, HDR, and panorama.
Not only that, but users can also record 4K-Video at either 30/60/240 fps and 1080p (with Auto HDR and gyro-EIS included).
Auto HDR is an automatic lighting balance feature that helps to balance the ratio of light to dark in all of your photos. gyro-EIS means that there's a gyro-sensor built into the camera, which is included to help negate the "camera shake" effect.
Moving on to the OnePlus 8's single 16 MP Selfie camera (located at the front), this is a simple 16 MP Wide Selfie camera (f/2.0, 1/3″, 1.0µm), which also includes features such as Auto-HDR and can still record 1080p videos at 30fps (with gyro-EIS included).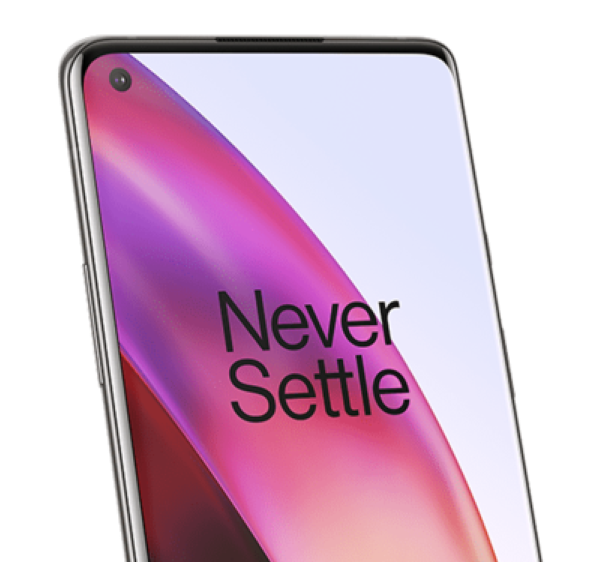 This 16 MP Selfie camera allows you to easily take portraits of your favorite two and four-legged friends as well as shoot really decent quality professional videos with dramatically improved stabilization (the already mentioned included gyro-EIS).
INTERFACE
While the Smartphone obviously comes equipped with built-in high-quality stereo speakers, it sadly doesn't feature a 3.5mm jack, so you won't be able to connect any wired earplugs to it.
There's also a USB-C 3.1 port on the bottom of the Smartphone for USB On-The-Go charging.
CONNECTIVITY
As a 2020 Smartphone, the OnePlus 8 features quite a ton of connectivity options.
This obviously includes Bluetooth 5.1, with support to A2DP (Bluetooth stereo streaming protocol), LE (Low Energy power-conserving variant for Bluetooth connectivity), and aptX HD (enhanced codec that supports 24-bit music quality over Bluetooth).
Not only that, but we also have a great support to Wi-Fi connectivity, including all of the most common Wi-Fi standards (Wi-Fi 802.11a/b/g/n/ac/ax,2×2 MIMO) working both at 2.4G and 5GHz for either dual-band, Wi-Fi Direct, DLNA, or even hotspots.
Furthermore, there's also support for Wi-Fi 6, the next generation of Wi-Fi, which offers peak speeds that can go up to 270% faster than before.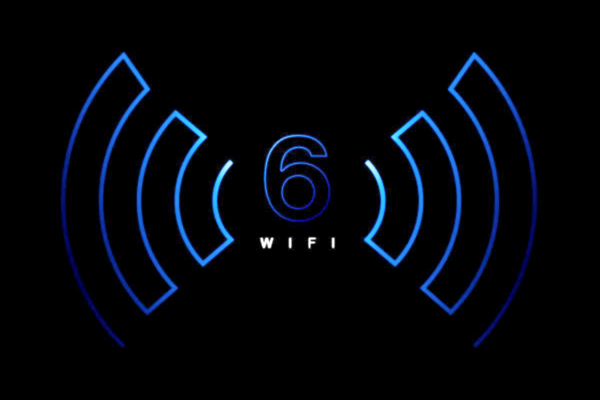 Lastly, as the OnePlus 8 is a 5G-enabled Smartphone, there's also support to 5G connectivity.
As such, the OnePlus 8 also comes equipped with a built-in 5G modem, which will allow you to use the Smartphone on most mobile carriers' 5G networks whenever those are available.
It's also worth to mentioned that the Verizon variant of the OnePlus 8 will support the company's very own 5G millimeter-wave network.
BATTERY & BATTERY LIFE
Moving on to the OnePlus 8's battery, the Smartphone comes equipped with a built-in (meaning non-removable) Li-Po 4300 mAh battery, which is notably bigger than the OnePlus 7T's built-in 3,800-mAh battery.
However, the OnePlus 8's 4300 mAh battery is still not as large as the 4,510 mAh battery you'll be able to get when going for its slightly more expensive bigger brother, the OnePlus 8 Pro.
Still, that shouldn't really matter, as the OnePlus 8 offers its users superb battery life. This will include 108 hours of battery endurance rating (meaning stand-by time), around 11 hours and 4 minutes of web-surfing with the OnePlus 8's refresh rate set to 60Hz or around a shorter 9 hours and 55 minutes when setting the OnePlus 8's display to a 90Hz refresh rate.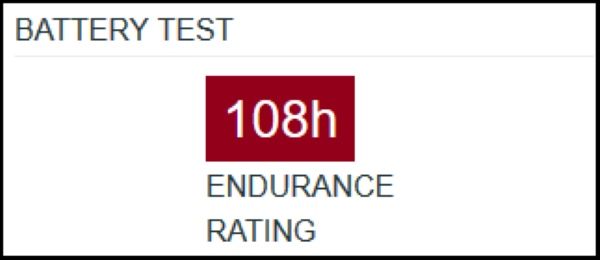 Nevertheless, losing just one hour a few minutes (1 hour and 09 minutes) of battery life to be able to enjoy one of the OnePlus 8's best features isn't ideal, but it's probably a tradeoff that most users won't really mind.
Lastly, the OnePlus 8's 4300 mAh battery also features OnePlus' Warp Charge 30T technology, meaning that it supports Fast Charging at 30W.
This awesome feature will ultimately allow you to charge the phone extra fast, as the phone's Warp Charge 30T technology can very quickly take you from just 1% to 50% battery charge in just 22 minutes.
It's still worthy to mention that, unlike its bigger brother – the OnePlus 8 Pro – the normal OnePlus 8 model doesn't support Wireless Charging (just the Pro model does).
OTHER NOTABLE FEATURES
Smart 5G
Thanks to its Smart 5G technology, the OnePlus 8 can automatically switch between 5G and non-5G networks to not only maintain your connection but also to prolong its battery life.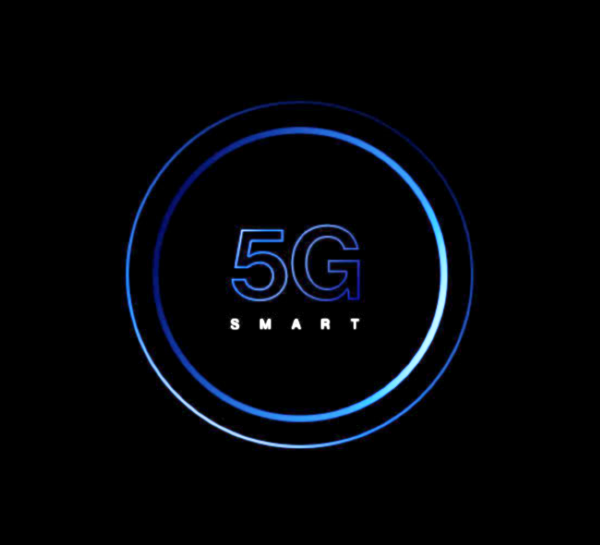 WHAT'S IN THE BOX?
Inside their package users will find: their OnePlus 8 Smartphone (coming at whatever color model/variant they decide to go with – discussed at the end) and the Smartphone's included Warp Charge 30T Power Adapter and Warp Charge Type-C Charging Cable.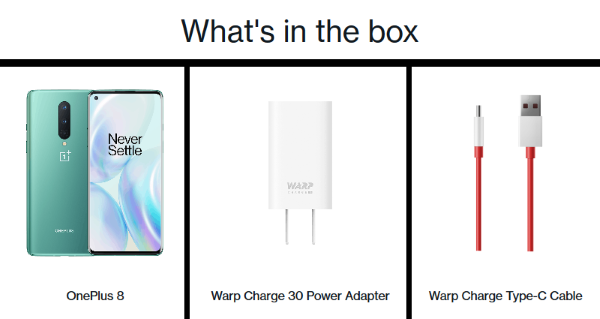 FINAL THOUGHTS
The OnePlus 8 is a durable and lightweight 5G-enabled Smartphone that features a high-performance 6.55 inches fluid AMOLED capacitive touchscreen with a 90Hz refresh rate, a very long battery life, a Vertical Triple Camera Setup at the back and a single 16 MP Selfie camera at the front.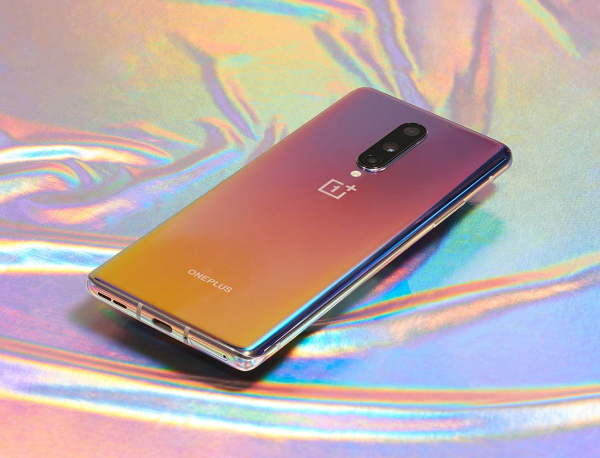 The OnePlus 8 is currently available in four (x4) different, yet very attractive color models: Onyx Black, Glacial Green, Interstellar Glow, Polar Silver.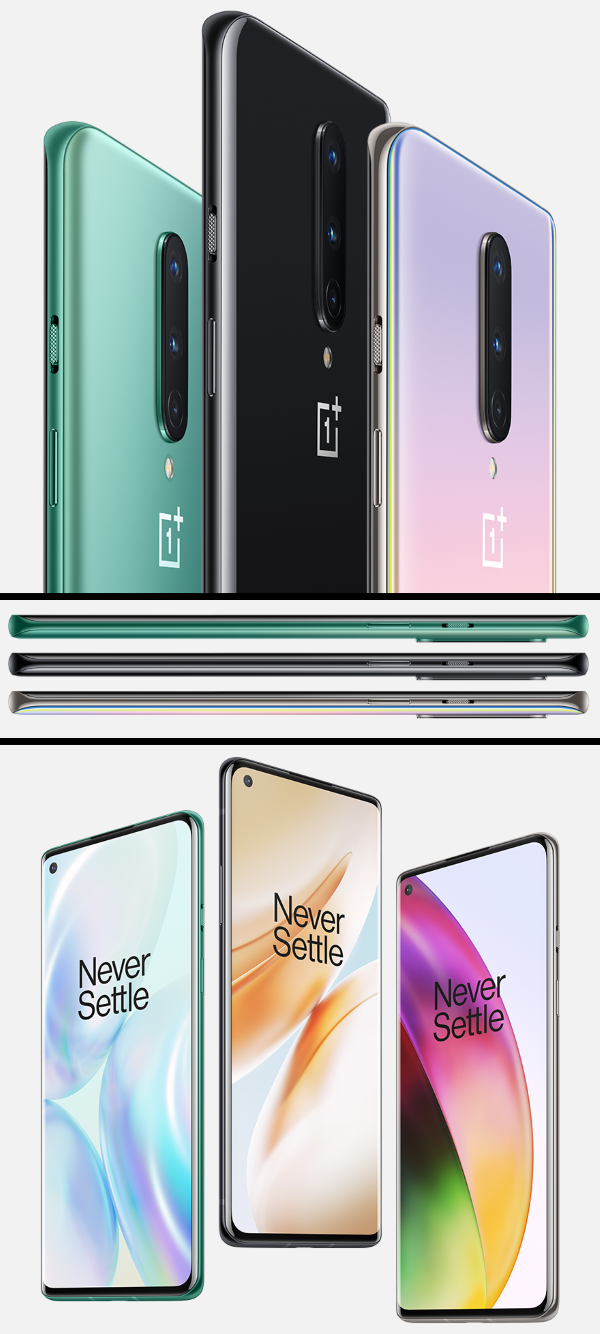 As mentioned before, specifically for the Onyx Black, the Glacial Green and the Polar Silver, these three color variants will only come with 8GB of RAM and 128GB of storage space, while the Interstellar Glow model will give you the best RAM/storage combo (12 GB of RAM and 256 GB of storage space).
If you're interested in buying the OnePlus 8 Smartphone, each unit will cost you $700 for the first three color variants (Onyx Black / Glacial Green / Polar Silver), meaning the weaker 8GB RAM / 128 GB storage models, while the Interstellar Glow specifically (12GB RAM / 256 GB storage) will cost you just an extra $100, which is a very good deal for quite the peak of performance.
---
You can find both the Glacial Green and Interstellar Glow available at OnePlus' official shopping page, which you can access by clicking here.
---
For the Onyx Black color model specifically, you can find it available at T-Mobile's official shopping page, which you can access via this link.
---
Lastly, for the Polar Silver color model, you can find it available at Verizon's official shopping page, which you can access by clicking this link, but be aware that since Verizon's OnePlus 8 variant was specifically built to work with Verizon's millimeter-wave-based 5G network, the company will charge you an extra $100 for a total of $700 (which is still the basic OnePlus 8 model with just 8GB RAM / 128 GB storage).