For those that need a new Smartphone for this Holiday Season, the OnePlus 8T Smartphone is a great choice to go with. This ultra-powerful 5G-enabled Smartphone was just recently released, and is also the newest high-end flagship smartphone from the renowned Global mobile technology OnePlus. With it, the company looks once again to push the limits of the Smartphone industry.
Basically, this powerhouse of Smartphone comes following the success of the company's OnePlus 8 series (the latest series), which were all released earlier this year. As such, the OnePlus 8T Smartphone is mostly based on its predecessor, meaning its older brother, the OnePlus 8 Smartphone, which we also already reviewed here at GadgetGram (on June 2, 2020) right after its original release.
Without a doubt, the OnePlus 8T Smartphone is guaranteed to up your mobile experience to the next level while still coming at an amazing price.
The phone comes featuring a very sleek design, and is rated both IP-68 Water & Dust resistant. It also comes equipped with a 6.55″ Full HD AMOLED Fluid Display that packs a 120 Hz refresh rate, which allows its screen to refresh around 2 times faster than standard displays, ultimately making its everyday use feel so much smoother than many other devices.
Moreover, with a huge 256GB of memory space and 12GB of Ram, this powerhouse of a Smartphone can be used as your go-to pocket laptop. Additionally, it also features a 48MP Quad-Camera setup at the back and a 16MP Front Camera for selfies and video-chatting.
While its 5G-connectivity keeps you up to date at all times, its long-lasting 4500mAh battery can offer you up to 35 hours of talk time or up to 5.3 days of standby time. Lastly, this Smartphone also supports 65W Fast Charging, which allows you to go from 1% to 40% battery in around 10 minutes.
Bottom line, if you're looking for your next device to enjoy the largest nationwide 5G network, this is certainly it. But, in case you're still not convinced, join us on our detailed review and have a look at everything that this ultra-powerful 5G-enabled Smartphone has to offer you.
---
---
🎁
GIVEAWAY NOTICE
🎁
WE'RE DOING A GIVEAWAY FOR THIS SMARTPHONE – THE ONEPLUS 8T 5G SMARTPHONE
YOU CAN PARTICIPATE AT THE END OF THE ARTICLE.
---
---
SOME INFORMATION ABOUT T-MOBILE
I'd like to mention that the renowned American wireless network operator T-Mobile is the company behind this giveaway, as they were the ones who provided us with our OnePlus 8T 5G Smartphone unit for this review.
Furthermore, during the beginning of this Summer (June 01, 2020) T-Mobile was the first phone carrier to proudly make an official roaming deal announcement that they were the first mobile carrier to offer US citizens a nationwide coverage with its own 5G network, meaning that since then, the company has been able to offer its users 5G-connectivty across all 50 states via a roaming deal.
Other than its awesome 5G network that's available nationwide, T-mobile also has several awesome phone carrier deals for new or returning customers.
---
---
DESIGN & SPECS
Starting with its size, the brand-new OnePlus 8T Smartphone is just slightly larger than its predecessor (the original OnePlus 8 Smartphone), still featuring a similarly small body that's super comfortable to grab.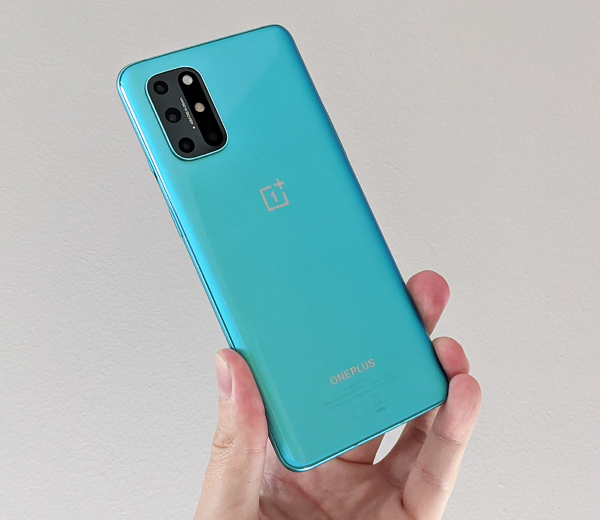 The phone measures exactly just 6.32 inches long by 2.91 inches wide by 0.33 inches tall/thick 160.7 x 74.1 x 8.4 mm) when resting on top of a flat surface. Furthermore, the brand-new 8T Smartphone is also equally as lightweight as its predessor, weighing just a measly 6.63 oz (188 g).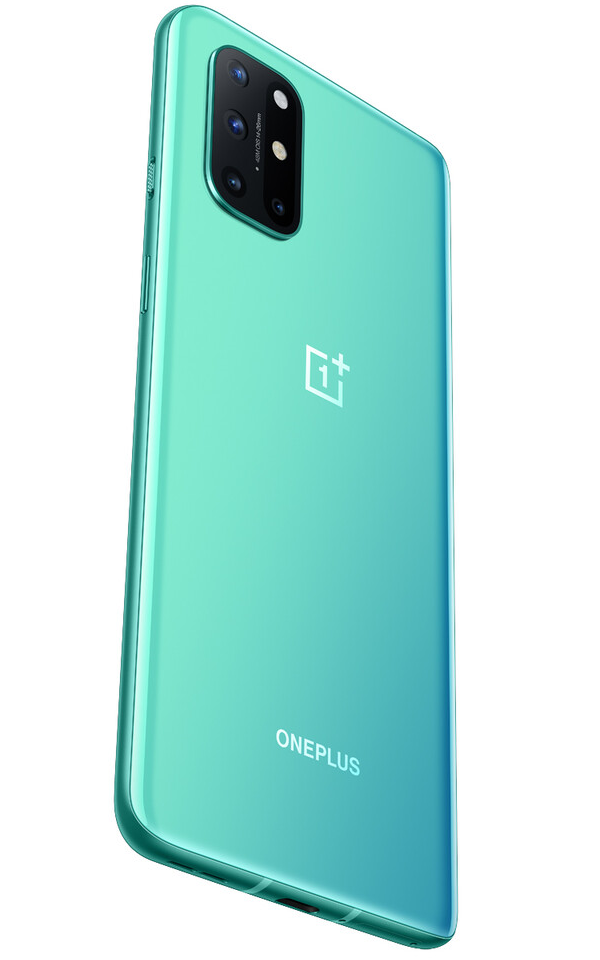 Obviously, since this phone is based on the the OnePlus 8 series of Smartphone, the 8T Smartphone also features a very sleek, immersive and slightly curved design, just like the older models. Its slightly curved screen is what gives the phone's body a small curvature that ultimately makes the phone look gorgeous from whatever angle you're observing it.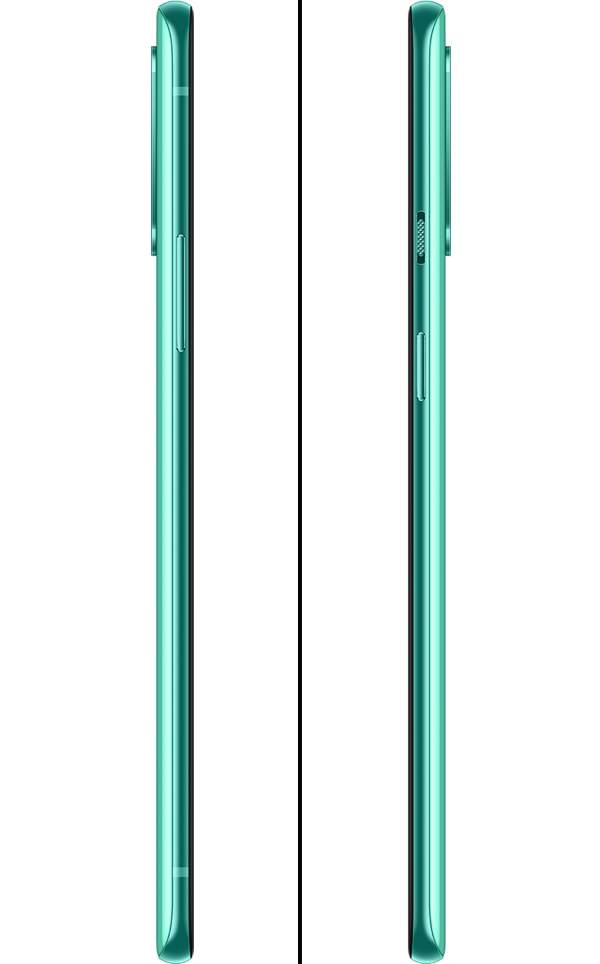 As mentioned at the begging of the article, the company's brand-new 8T Smartphone also features a IP68 Water & Dust Protection Rating, which make it both water and dust resistant. This IP68 rating makes the phone capable enough of withstanding dust, dirt and sand, as well as resistant to be submerged underwater up to a maximum depth of 4.92 ft. (1.5 m) for up to thirty minutes.
Moving on to what you'll be using the most, meaning its display screen, the OnePlus 8T comes equipped with a powerful 6.55″ Full HD AMOLED Fluid Display (~88.7% screen-to-body ratio), that, as mentioned earlier, packs a 120 Hz refresh rate, which ultimately allows the phone's screen to refresh around 2 times faster than standard displays.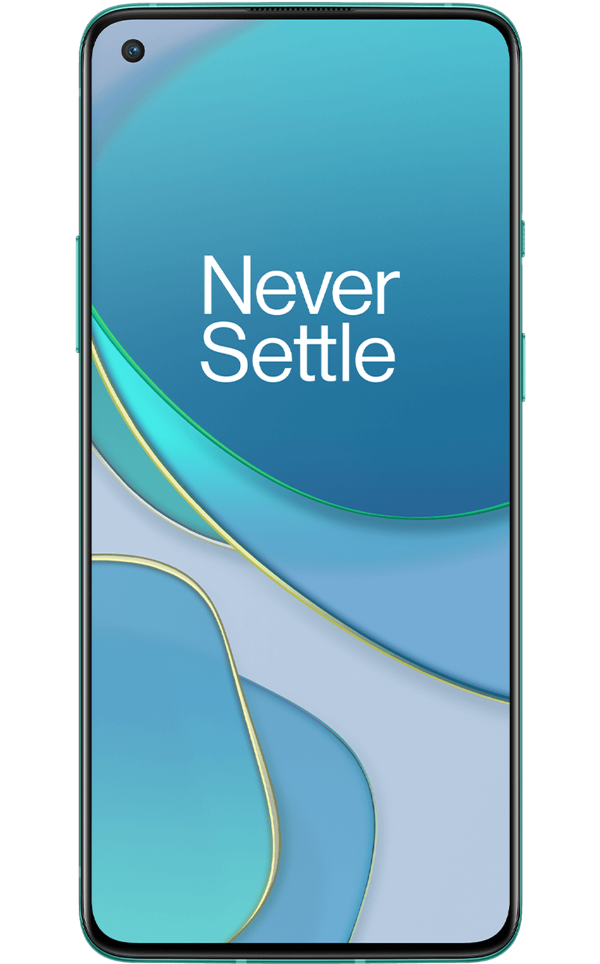 With its display proving capable of displaying up 16M colors and featuring an increase of 30Hz in its refresh rate (from the older model's 90Hz), this newer Smartphone model is even better for everyday use, offering you top screen performance, as its capacitive touchscreen display will feel extremely smooth to touch, no matter what In-App tasks you have to perform in it.
The OnePlus 8T's display screen max resolution is equivalent to 2400 x 1080 pixels, meaning a 20:9 ratio, with an approximate pixel-per-inch density of 402 ppi. On a side note, this hasn't changed from the older version (the original OnePlus 8).
It's also worth to mention that just like its predecessor, the new OnePlus 8T also comes equipped with an Optical Fingerprint Sensor that's located right under the phone's display screen, as well as some other sensors like an accelerometer and gyro sensors, a proximity sensor, etc.
Moving on to more specs, the OnePlus 8T Smartphone boasts exactly 12GB of RAM (which is a 4GB increase when compared to the original OnePlus 8) and a brutal 256GB of storage space (be aware that this is not expandable), which is exactly twice as much storage space from the original model (which most units, depending on their color, had just half, meaning 128GB of storage memory).
Regarding the Smartphone's CPU, the new OnePlus 8T also comes equipped with an Octa-core CPU (1×2.84 GHz Kryo 585 & 3×2.42 GHz Kryo 585 & 4×1.8 GHz Kryo 585), which is just like the older model, so nothing changed there. The phone also packs the same Adreno 650 GPU.
Both units (its CPU and GPU) are compatible with the phone's Fnatic Gaming Mode. This high-performance Gaming Mode optimizes the OnePlus 8T's CPU, GPU and RAM memory, which basically allows users to get the best possible mobile gaming experience, including both high-quality graphics and a high fps performance for their favorite mobile games.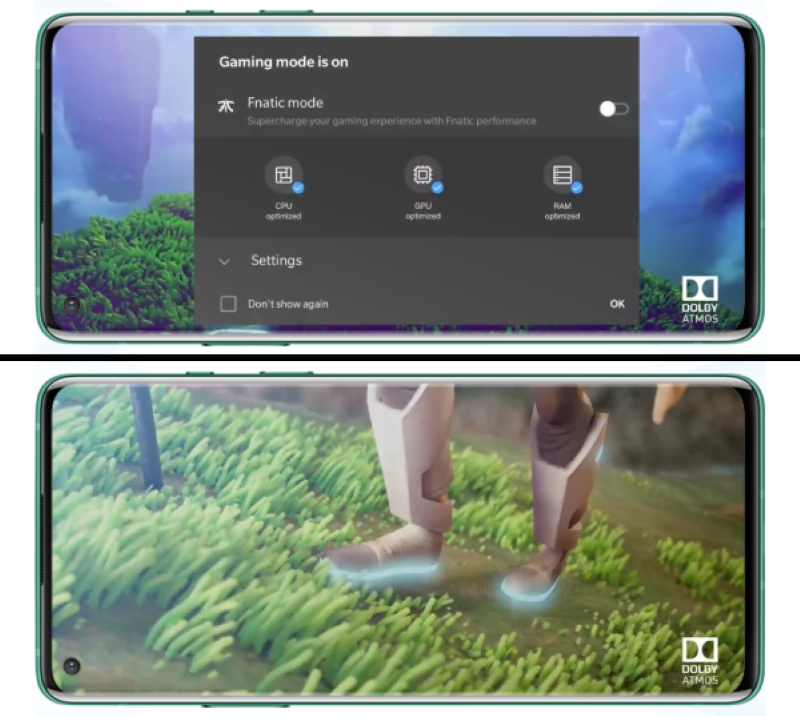 Additionally, just like any other of today's top Android phones that feature 5G connectivity, the OnePlus 8T comes equipped with the same processor has the older model, meaning that it runs everything on a Qualcomm SM8250 Snapdragon 865 processor (7 nm+), which is guaranteed to deliver a super fast performance, going up to 25% when compared to any previous Smartphone generations.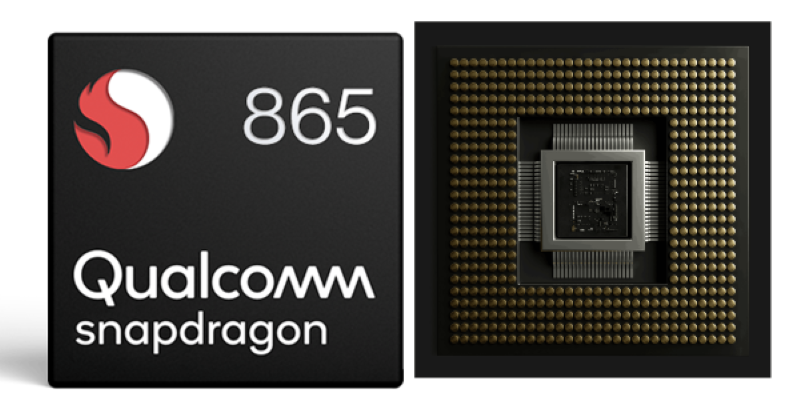 Another great thing about the phone's Qualcomm Snapdragon 865 processor is that it also supports UFS 3.0 (the latest iteration of Universal Flash Storage), which allows users to transfer any photos, videos, and files at extremely fast speeds. This can be done by simply using the phone's reliable UFS 3.0 file management system. This improved file system delivers up to 125% faster write speeds than older OnePlus Smartphones (previous models).
Lastly, everything runs on Android 11 (OxygenOS 11.0).
CAMERA SETUP
Since the OnePlus 8T Smartphone was based on the original OnePlus 8, this newer phone comes with a similar camera setup that gladly, was slightly improved.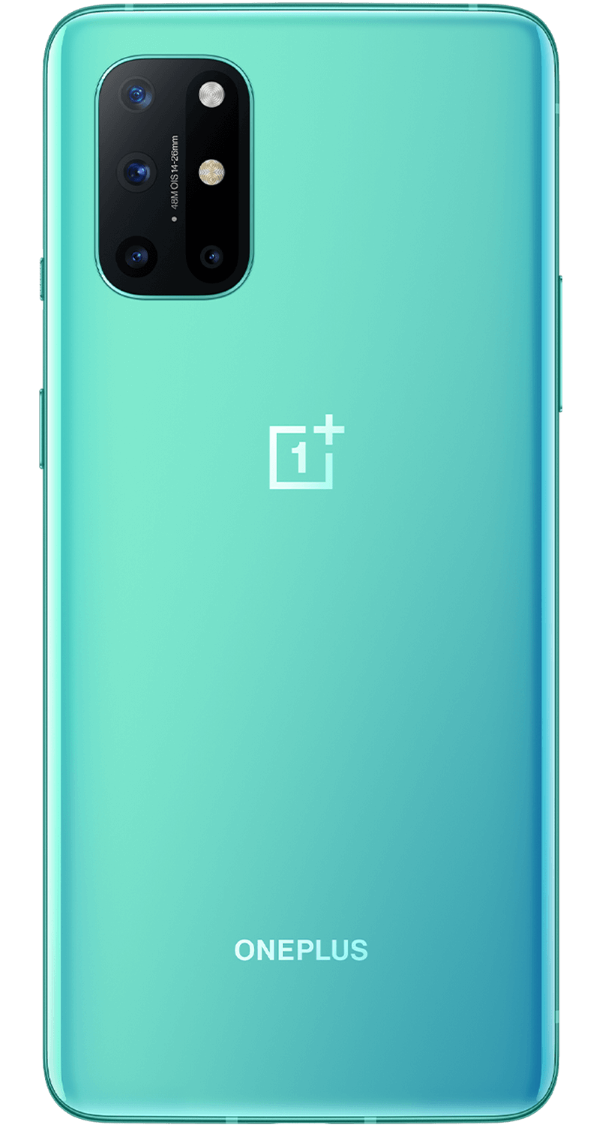 As such, the Smartphone comes equipped with a really nice 48MP Quad-Camera Setup at its back (upgraded from a Vertical Triple Camera Setup) and the exact same single 16 MP Selfie camera at the front.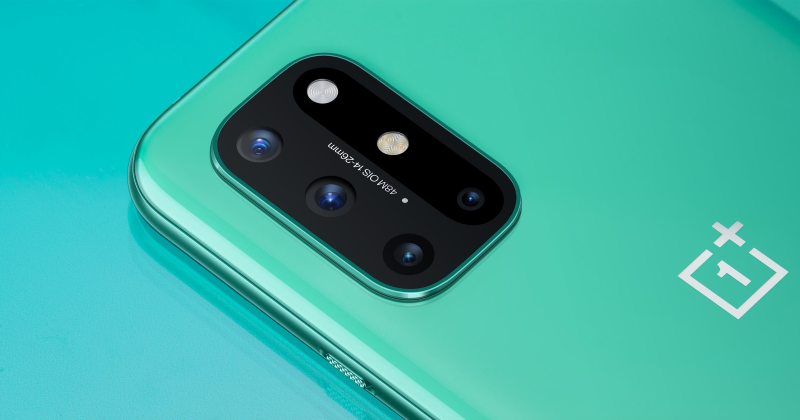 Starting at the back of the phone with its 48MP Quad-Camera Setup, we have a 48 MP Wide Camera lens (barely downgraded from  f/1.8 to f/1.7, still 26mm (wide), 1/2.0″, 0.8µm, PDAF, OIS), a 16 MP 123º (upgraded from 116°) ultra-wide-angle camera lens (f/2.2, 14mm, 1/3.6″, 1.0µm) a smaller dedicated 5 MP macro lens (f/2.4) that was upgraded from a 2MP macro lens, and a brand-new 2 MP depth lens (f/2.4).
Thanks to the Smartphone's slightly expanded 123° ultra-wide-angle camera, users can easily and reliably capture landscapes and group photos, and also explore interesting new angles.
Furthermore, the OnePlus 8T's slightly improved Quad-Camera Setup also allows users to take pictures with up to 2160p resolution, while also using features such as Dual-LED flash, Multi Autofocus (PDAF+CAF), panorama, and HDR.
Speaking of HDR, that's another great thing that stayed the same. The phone's support to HDR10+ (High Dynamic Range video technology) adds a dynamic metadata to its HDR10 source files. This technology was ultimately developed to make your photos and videos look much more vivid, as well as giving them some extra contrast while also making your media visibly better than ever before.
Not only that, but users can also record 4K-Video at either 30/60/240 fps and 1080p (with Auto HDR and gyro-EIS included). Auto HDR is an automatic lighting balance feature that helps to balance the ratio of light to dark in all of your photos. gyro-EIS means that there's a gyro-sensor built into the camera, which is included to help negate the "camera shake" effect.
Moving on to the 8T's single 16 MP Selfie camera (located at the front). This is the same simple 16 MP Wide Selfie camera (f/2.0, 1/3″, 1.0µm) from the original OnePlus 8, which also includes features such as Auto-HDR and can still record 1080p videos at 30fps (with gyro-EIS included).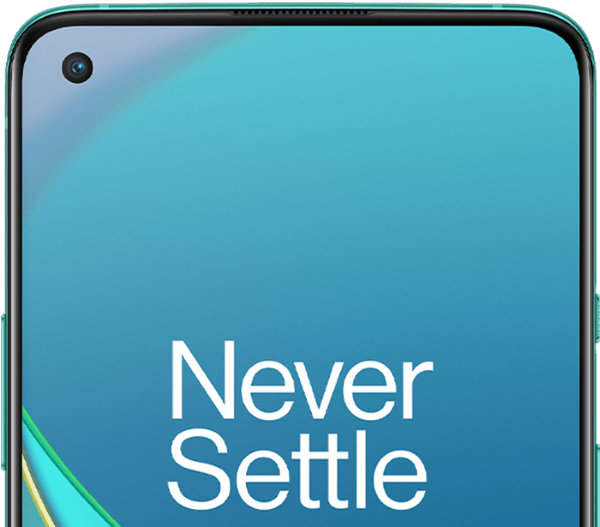 This 16 MP Selfie camera allows you to easily take portraits of your favorite two and four-legged friends as well as shoot really decent quality professional videos with dramatically improved stabilization (the already mentioned included gyro-EIS).
INTERFACE
While the Smartphone obviously comes equipped with built-in high-quality stereo speakers, it sadly STILL doesn't feature a 3.5mm jack (it would've been nice that with its 8 Series upgraded, the company would've decided to integrate a AUX port for 3.5mm headsets, but oh well). That being said, you still won't be able to connect any wired earplugs to this newer version.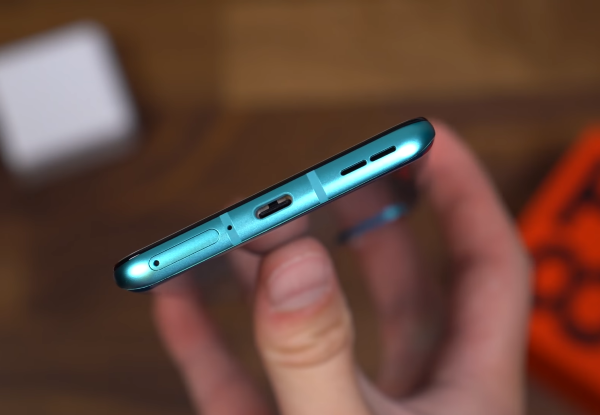 Nevertheless, the phone still comes equipped with also a USB-C 3.1 port (found right at the bottom) for USB On-The-Go charging.
CONNECTIVITY
As an upgraded version of the original OnePlus 8, the 8T is an even better Smartphone for 2020, still coming with all the cool connectivity options from its predecessor. This obviously includes Bluetooth 5.1, with support to A2DP (Bluetooth stereo streaming protocol), LE (Low Energy power-conserving variant for Bluetooth connectivity), aptX HD (enhanced codec that supports 24-bit music quality over Bluetooth), and also LDAC (Sony's very own Bluetooth codec for data transfers) and AAC (audio standard for lossy digital audio compression).
Not only that, but the phone also offers you support to Wi-Fi connectivity, including all of the most common Wi-Fi standards (Wi-Fi 802.11a/b/g/n/ac/ax,2×2 MIMO) working both at 2.4G and 5GHz for either dual-band, Wi-Fi Direct, DLNA, or even hotspots.
The company also kept the phone's ability to offer support for Wi-Fi 6, which, as we all know, is the next generation of Wi-Fi, offering you peak speeds that can go up to 270% faster than before.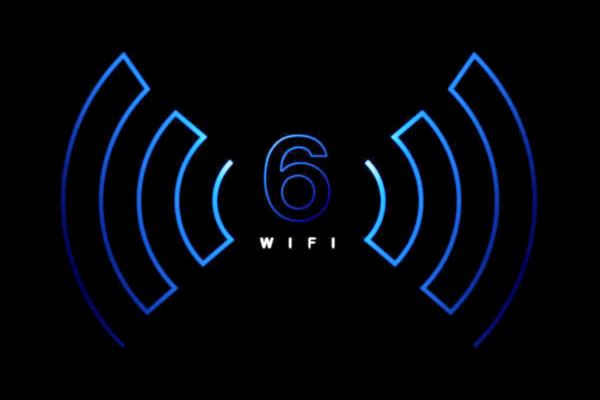 Lastly, as you already figured out from the begining of the article, the OnePlus 8T is a brand-new 5G-enabled Smartphone, so you also get support to 5G connectivity (something that the phone's predecessor also did already).
That being said, the OnePlus 8T Smartphone also comes equipped with a built-in 5G modem, which will allow you to use the Smartphone on most mobile carriers' 5G networks (5G NSA for N2, 5, 25, 41, 66, 71 and 5G SA for N41, 71, 2, 25, 66) whenever those are available.
BATTERY & BATTERY LIFE
Now we'll take a look at the OnePlus 8T's internal battery. Here the company decided to upgrade from the original OnePlus 8's  built-in Li-Po 4300 mAh battery to a slightly more powerful built-in (meaning non-removable) Li-Po 4500mAh battery, which can basically offer you up to 35 hours of talk time or up to 5.3 days (or 127.2 hours – upgraded from 108 hours) of standby time.
Finally, the company decided to match the 4,510 mAh battery that comes integrated in the older OnePlus 8 Pro (which was the original OnePlus 8's bigger brother) with the upgrade to its 8 Series, so that's a really good thing to see.
I'd also like to note that if you want your battery to last you a little longer, then simply remember to set the OnePlus 8T's refresh rate to a lower value (like 60Hz for example), just like we mentioned on our original OnePlus 8 review, as that should give you around 2 more hours of battery life than when using the phone at its max (120Hz) or close to max (90Hz) refresh rate.
While losing close to 2 hours of battery life just to be able to enjoy one of the OnePlus 8T's best features isn't ideal when it comes to using the phone almost throughout an entire day, it's still probably a tradeoff that most users won't really mind, as a better refresh rate does indeed provide you with a better screen experience.
Furthermore, the company also upgraded the phone's Fast-Charging capabilities on its brand-new 8T Smartphone model, going from its older Warp Charge 30T technology (used on the original OnePlus 8) to an amazing support to 65W Fast Charging, which, as mentioned earlier, allows you to have the phone quickly go from 1% to 40% battery in around 10 minutes and no more than that.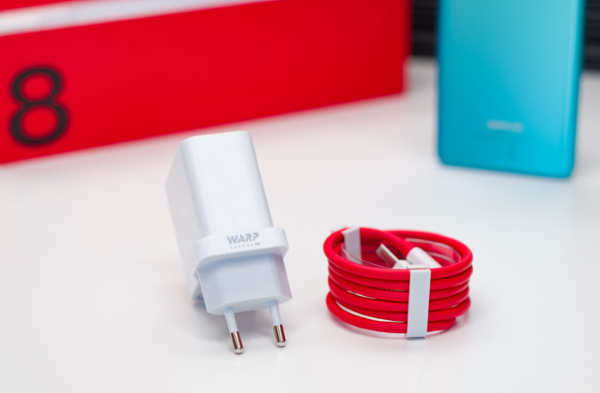 That's a great feature for anyone that has their 8T running extremely low on battery and needs to have just a bit more "juice" on their phone to finish their day at work.
Lastly, we still don't have Wireless Charging on this new phone, and while this would've been great to see on a newer model, the company decided to still not go with Wireless Charging, which is actually a supported feature by its OnePlus 8 Pro Smartphone. Guess we'll have to wait for the OnePlus Series 9 for that.
OTHER NOTABLE FEATURES
Smart 5G
Since the OnePlus 8T is based on the original OnePlus 8, this new phone also supports Smart 5G technology, which allows the Smartphone to automatically switch between 5G and non-5G networks to not only maintain your connection but also to prolong its battery life.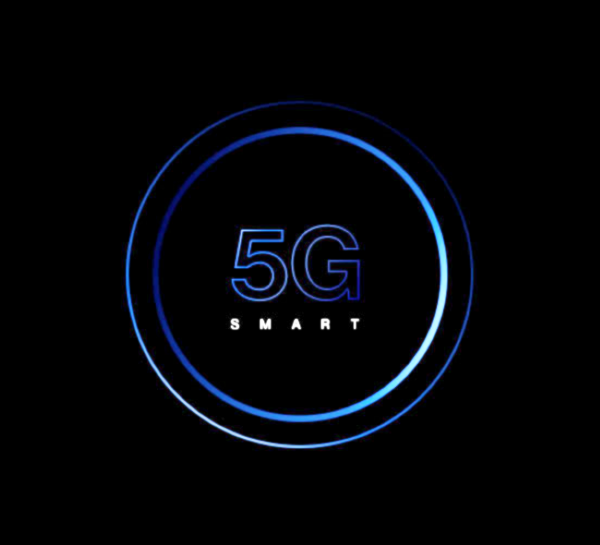 WHAT'S IN THE BOX?
Inside their package users will find: their OnePlus 8T 5G Smartphone, the Smartphone's included Warp Charge 65 Power Adapter and Warp Charge Type-C to Type-C Charging Cable, a Quick Start Guide, a Welcome Letter, a Safety Information Card and the phone's Warranty Card, a OnePlus LOGO Sticker, and the phone's SIM Tray Ejector (for users to easily open its SIM Tray through the pin hole).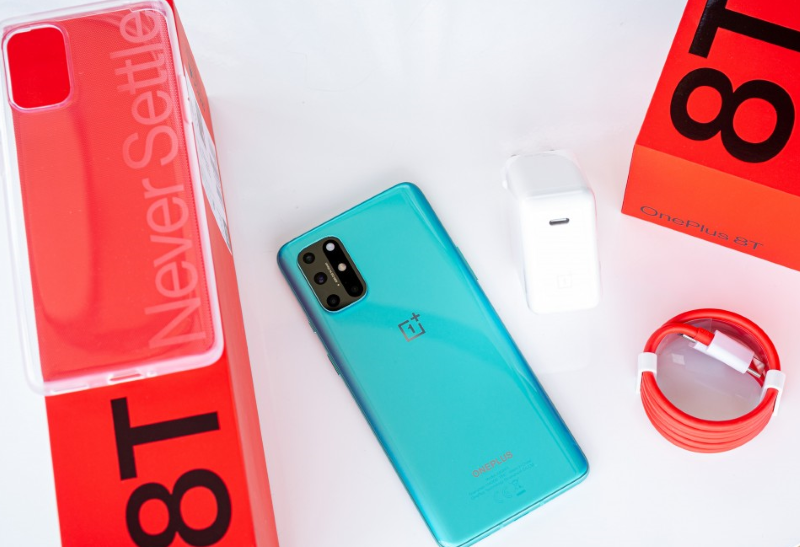 FINAL THOUGHTS
The OnePlus 8T Smartphone is a durable and lightweight 5G-enabled Smartphone that features a high-performance 6.55 inches fluid AMOLED capacitive touchscreen with a 120Hz refresh rate, a long-lasting battery life that offers you up to 35 hours of talk time and around 127.2 hours of standby time while also supporting 65W Fast Charging, as well as integrating a 48MP Quad-Camera Setup at the back and a single 16 MP Selfie camera at the front.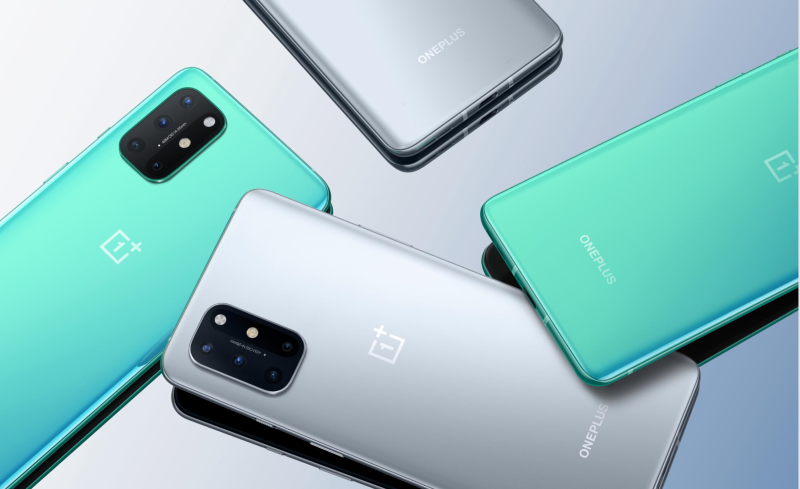 The OnePlus 8T is currently available in two different color models: Aquamarine Green and Lunar Silver.
If you're interested in buying the OnePlus 8T, each unit will cost you $749.99 (no matter what color model you decide to go with). You can order yours online right now, directly from T-Mobile's official shopping page, which you can access by clicking this link.
---
---
🎁
GIVEAWAY NOTICE
🎁
As mentioned earlier, we are giving away a T-Mobile OnePlus 8T 5G Smartphone valued at $749.99.
To submit your entry, send us an email to [email protected], and give us your best Christmas wish as to why you want this phone. Judges will evaluate your answers, pick a winner on December 22nd, and announce a winner, notifying that winner via email.
Thanks for reading and Happy Holidays !